Čas, ktorý uplynul medzi nahrávaním albumu a jeho realizáciou na CD nosič sa dá nazvať – priepastným. Partia šiestich mladých mužov, s renomé už skvelej koncertnej kapely a bez jediného štúdiového zárezu na svojom konte, predstavila koncom roku 1974 vo svojom rodnom meste Harrisonburg veľkolepé multimediálne art rockové predstavenie, ktorého majoritnou časťou bolo živé prevedenie 38 minútovej suity s názvom Death's Crown…
Na základe avíza od svojho dobre informovaného manažéra/agenta bol jedným z účastníkov tejto show aj Peter Gabriel, ktorý práve brázdil po Európe a Severnej Amerike megaturné so živým predstavením koncepčného dvojalbumu The Lamb Lies Down On Broadway svojich materských Genesis. Už vtedy uvažoval o odchode z kapely, ktorá bola na totálnom art rockovom zenite a celkom vážne a úprimne pomýšľal o výmene zabehnutého a veľmi známeho britského tátoša, za ešte mladého, bujarého a neosedlaného amerického. Do hudby a prejavu HAPPY THE MAN sa proste zamiloval, ale história sa nakoniec neprepisovala (resp. prepisovala celkom inak) a Peter Gabriel hral (alebo ešte stále hrá) s HAPPY THE MAN, žiaľ, iba ak v alternatívnom svete…

Ešteže títo dvadsiatnici z Harrisonburgu nahrali v tej istej dobe aspoň v domáckom štúdiu celú nosnú suitu Death's Crown a spolu s ňou skoro deväť minútovú New York Dreams Suite… a ostalo to v obligátnom "šuplíku", spolu so záverečnou Merlin Of The High Places, ktorá bola nahraná obdobným spôsobom na jar 1976. Až v roku 1999, zásluhou chvályhodnej vydavateľskej filozofie US labelu Cuneiform Records, mohol svet nie-mainstreamového rocku a fanúšikov kapely spoznať "posmrtne" tento zaujímavý produkt ranej tvorby HAPPY THE MAN. To, čo je na samotnom albume, vlastne ani neprešlo procesom remasteringu a nejakých zásadnejších úprav, takže kvalita nahrávky je ekvivalentná dobe, vybaveniu "nahrávacieho štúdia" a disponibilných prostriedkov vtedajších mladíkov z kapely.
Jedenásťdielna titulná suita je spoločným skladateľským dielom klávesáka/pianistu Franka Wyatta a speváka a hráča na klasickú gitaru vtedajších HAPPY THE MAN, Dana Owena, ktorý kapelu opustil ešte v dobe pred nástupom ich neskoršieho úspešného obdobia. V tej dobe sa ešte skladateľsky na tvorbe HAPPY THE MAN príliš nepodieľali gitarista Stan Whitaker a flautista a klávesák Kit Watkins. Gitarové pasáže Whitakera v sólových partoch však už jasne evokujú inštrumentálnu bravúrnosť, pripomínajúcu tu najmä Steve Howea. Celý album naspieval Dan Owen. Aj keď sa jedná o ambicióznu prvotinu pomerne mladých muzikantov s množstvom "parciálnych skladbičiek v jednom", ako celok suita vlastne relatívne drží pokope, i keď sa tu striedajú dynamickejšie momenty s chvíľkami trochu mdlými. Pozoruhodné je, že Death's Crown, Part 5 bola neskôr vyňatá, ako samostatná (a veľmi výrazná) kompozícia pod názvom Open Book a umiestená na kultovom, druhom albume HAPPY THE MAN – Crafty Hands.
Úprimne, pred pár rokmi, keď som tento album počúval (a predovšetkým jeho titulný epos), ako "novinku", bral som ho, čoby milovník dlhých hudobných útvarov, ako art rockovú perlu a asi najlepšie dielo HAPPY THE MAN. Z dnešného uhlu pohľadu však viem, že podstatne kratšie a melodickejšie skladbičky, no na druhej strane veľmi silné práve hudobným nápadom, či výrazným nosným motívom v podaní HAPPY THE MAN sú tým skutočným skvostom. História sofistikovaných foriem rocku nám však často ukazuje, že nelimitovaná odvaha a entuziazmus mladých, talentovaných hudobníkov je obyčajne viac, ako neskoršia zrelosť, istá miera predvídavosti, ale aj nepatričnej opatrnosti, či tendencie ku istej komercionalizácii tvorby a obavy z kritiky recenzentov, či prijatia majoritnej verejnosti a následne ňou podmienenej kúpyschopnosti daného albumu…
Dramatická New York Dreams Suite má už isté kontúry iných, z dnešného aspektu tradičných HAPPY THE MAN, ale archaický spev Dana Owena ešte stále charakterizuje aj zvyšky pôvodnej, ranej tváre kapely. Záverečná inštrumentálka Merlin Of The High Places z pera Franka Wyatta je v podstate už typický track HAPPY THE MAN, s efektnou flautou a clavinetom Kita Watkinsa, aké sa nachádzajú bežne na kultových prvých dvoch oficiálnych nosičoch skupiny.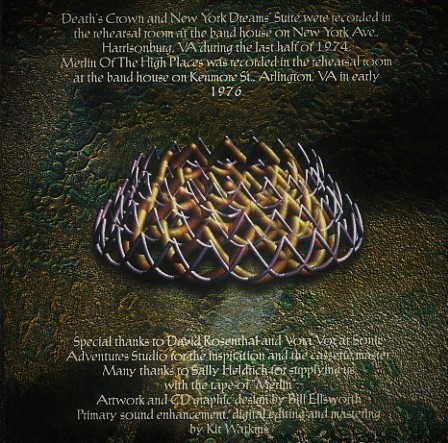 Hodnotiť tento album je pre mňa pomerne ošemetné, no vzhľadom na moju slabosť pre HAPPY THE MAN – považujem ju za najlepšiu kapelu všetkých čias v rámci USA – veľmi silná 4…
SKLADBY:
1. Death's Crown (38:00)
2. New York Dreams' Suite (8:45)
3. Merlin Of The High Places (7:10)
NOTES:
Track 2 is spelled as New York Dreams Suite on the back of the tray card but spelled as New York Dreams' Suite on the CD label.
Death's Crown and New York Dreams' Suite were recorded in the rehearsal room at the band house on New York Ave., Harrisonburg, VA, USA during the last half of 1974.
Merlin Of The High Places was recorded in the rehearsal room at the band house on Kenmore St., Arlington, VA, USA in early 1976.
ZOSTAVA:
Dan Owen – vocals, classical guitar, percussion, bass (2)
Stanley Whitaker – guitar, recorder
Frank Wyatt – electric piano, vocals
Kit Watkins – organ, Moog, string ensemble, clavinet, flute, recorder, Fx
Rick Kennell – bass
Mike Beck – drums, percussion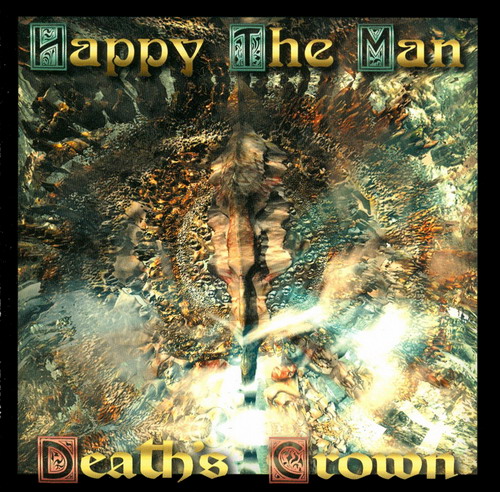 Death's Crown
Happy The Man
Prog Rock
Cuneiform Records
1999
CD
3