VM 2000 – VM CD 003
Italská art rocková skupina Metamorfosi vznikla na sklonku šedesátých let a do svého rozpadu v roce 1973 stihla vyprodukovat dvě velká alba. Legendárním se stalo hlavně to druhé – Inferno – ale špatnej není ani fanoušky tak trochu přehlíženej debut… 
Koncepční album …e fu il sesto giorno vyšlo v roce 1972 u Vedette Records a křesťanskou vírou ovlivněné texty popisujou všelijaké stránky lidské povahy. Tedy nejen ty dobré, ale aj zlé. Klávesově orientovaná hudba se pohybuje od šedesátkami šmrncnutého pop rocku po symfonický art rock a třešničkou na dortu je majestátní tenor Jimmy Spitaleriho. Mám tyhle velké hlasy rád a Spitaleri se může klidně postavit do jedné řady vedle takovejch velikánů, jakými byli Francesco di Giacomo z Banco, nebo Leonardo Sasso z Locanda delle Fate.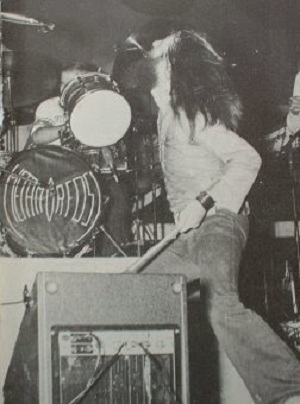 Za jednu z nejlepších položek alba považuji hned úvodní Il sesto giorno, což je takovej art rockově vznešenej majestát a pořádnej ušní červík v jednom. Toho nevyšťourám ani ocelovým hřebíkem a po každé produkci nezbyde než počkat, až samovolně odezní. Z podobného soudku jsou tu ještě následující skladby …e lui amava i fiori a Crepuscolo. Především druhá jmenovaná (a devět minut dlouhá) je výborná a píše povedenou tečku za první polovinou původní vinylové desky.
Žel bohu, s tou druhou – písničkovější – už to tak slavné není. Jakés takés měřítko snese ještě skladba Nuova Luce, ovšem ten zbytek, to už jsou jenom takové šedesátkovým beatem ovlivněné popěvky. Taková Inno di gloria jako kdyby na album ani nepatřila a nemlich ten samej dojem mám aj z písničky Sogno e realtà.
Do sbírky jsem si koupil nedatovanej výlisek od VM 2000, což bude nejspíš repress vydání Vinyl Magic z roku 1989 a tady jsem narazil na jednu nesrovnalost. Nevím, kde udělali soudruzi z Itálie chybu, ale pořadí skladeb mi nesedí jak s bookletem, tak s tím, co se uvádí na discogs, allmusic a tak podobně. Až po skladbu č.4 – Hiroshima – je všechno v pořádku, ale pak mi naskočí píseň Inno di gloria, která je všude uváděná jako poslední. A stejně tak je to aj na Spotify. Při přehrávání skladby č. 5 (Nuova luce) se ozve snadno rozpoznatelnej text odrhovajdy Inno di gloria a nesedí ani zbytek. Pořadí skladeb je celé posunuté a je mi záhadou, že na to ještě nikdo nepřišel.
Ale co už. Booklet je ve formě klasické dvoustránky a obsahuje line up, texty písniček a několik nepříliš zřetelných fotografií. Na trhu těch CD reedicí moc není, ale sehnat se to dá. Horší už je to s původním asfaltem. Jako většina italských desek z té doby vyšel v malém nákladu a ceny originálních výlisků létají pěkně vysoko.
Je to dobrá deska, která nijak nevybočuje ze standartu pro rok 1972 a to hodnocení bych viděl někde mezi třemi a čtyřmi, ale ty tři hvězdule budou nakonec stačit. Jsou to takové první a nesmělé krůčky před následujícím infernem…
SKLADBY:
Lato A
1. Il sesto giorno – 4:36
2. …e lui amava i fiori – 4:38
3. Crepuscolo – 9:05
Durata totale: 18:19
Lato B
4. Hiroshima – 5:23
5. Nuova luce – 3:55
6. Sogno e realtà – 5:57
7. Inno di gloria – 3:29
Durata totale: 18:44
SESTAVA:
Jimmy Spitaleri – voce , flauto
Enrico Olivieri – voce, organo elettrico, clavicembalo , pianoforte , flauto , sintetizzatore
Roberto Turbitosi – voce, basso
Mario Natali – batteria , percussioni
Luciano Tamburro – chitarra ritmica, chitarra solista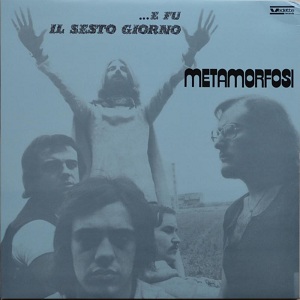 ...E Fu Il Sesto Giorno
Metamorfosi
Prog rock
Vedette Records
1972
LP
7
CD: VM 2000 - VM CD 003