The Aristocrats – tri veľké mená, každé jedno pojem v rockovom svete – Guthrie Govan (gitara), Bryan Beller (basová gitara) a Marco Minnemann (bicie).
Ani jeden z nich nie je žiadnym nováčikom – gitarista hral v kultovej superkapele Asia, basák dlhé roky doprevádzal top hudobníkov ako Steve Vai, Dweezil Zappa, alebo James LaBrie a bubeníka si do štúdia, či na pódia pozýval Adrian Belew, Tony MacAlpine, Paul Gilbert, Tony Levin, The Kelly Family, Jordan Rudess, Eddie Jobson, Steven Wilson, Nena, Udo Lindenberg, Mike Keneally, Gianna Nannini, The Buddy Rich Big Band…
ZAČALO TO ODCHODOM Z ASIE
Napriek tomu, že zo svetových superskupín sa nezvykne odchádzať, Guthrie Govan, vyhlásený prestížnym magazínom Guitarist gitaristom roka 1993, si v roku 2006 zbalil gitaru, rozlúčil sa s kolegami z Asie a postupne sa začal venovať svojim vlastným projektom. Tak v roku 2011 vzniklo trio The Aristocrats, v ktorom sa k nemu pridali dve ďalšie mimoriadne inštrumentálne osobnosti – aktuálna rytmika Joe Satrainiho – basgitarista Bryan Beller a bubenícka extratrieda Marco Minnemann.
Aristokrati vznikli v priebehu jedného vystúpenia na NAMM show, najväčšom hudobnom veľtrhu na svete. Trio malo pred koncertom len jednu skúšku a ako Govan spomína, chémia medzi nimi bola tak veľká, že sa hneď dohodli na ďalšom spoločnom hraní. Po tomto veľtrhu sa muzikanti stretli v Chicagu, kde za necelé dva týždne vznikol debutový, deväťpesničkový album The Aristocrats, odrážajúci hudobný vplyv každého člena trojice. Poslucháč na ňom nájde kadečo, počnúc fúziou 70-tych rokov a la Return to Forever, cez art rock typu King Crimson, inštrumentálne jazdy štýlu gitarových kráľov Joe Satrianiho, či Steve Vaia, vrátane groove motívov Rage Against the Machine a uletených nápadov uvarených podľa kuchárky Franka Zappu.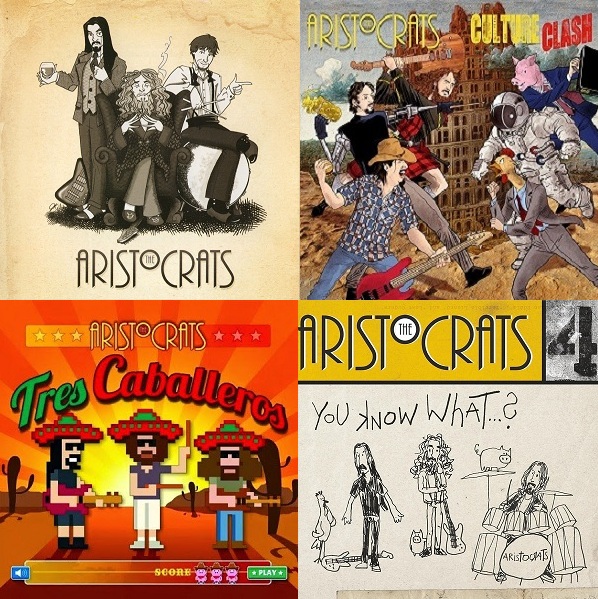 ALBUMY, JEDEN LEPŠÍ AKO DRUHÝ
V priebehu 8 rokov svojej existencie vydali The Aristocrats sedem vysoko hodnotených albumov (štyri štúdiové + tri koncertné), ktoré potešili nielen hudobných kritikov, ale predovšetkým fanúšikov technicky náročného rocku, jazzu, metalu, ba aj tradičného country. Určite každý, kto túto trojicu vynikajúcich muzikantov videl naživo, dosvedčí, že ide o jedinečnú kapelu s nadpriemernými improvizačnými schopnosťami, ktorí svojim nástrojom vdýchli ducha vtipnej a zároveň vysoko technickej hry oslovujúcej široké spektrum poslucháčov.


Koncertný dvojalbum Boing We'll Do It Live! vznikol počas dvoch večerov v Los Angeles, kde skupina odohrala nielen materiál z debutového albumu a nové veci, ale aj skladby zo sólovej činnosti všetkých troch členov. Druhý štúdiový album – Culture Clash –  priniesol silný, vyvážený materiál vynikajúco zohraného tria. V prvom týždni po vydaní sa vyšplhal na ôsmu priečku Billboardu v kategórii Contemporary Jazz Album, v ankete Billboard Jazz sa umiestnil na šestnástej pozícii. Potom prišla prestávka spôsobená záväzkami s Joe Satrianim a celosvetovým turné G3 a v prípade Gutrieho zas účinkovaním v orchestri Hansa Zimmera. V roku 2015 sa Aristokrati úspešne vrátili s trojkou pomenovanou Tres Caballeros a 28. júna 2019 sa ozvali svojou štúdiovou štvorkou, nazvanou You Know What …?.
MUZIKANTSKÁ ŠĽACHTA NA TURNÉ
Virtuózi z Aristokratov sa predstavili fanúšikom na celom svete, neobídu ani Slovensko a Českú republiku…
DISKOGRAFIA:
2011 – The Aristocrats
2012 – Boing, We'll Do It Live
2013 – Culture Clash
2015 – Culture Clash Live! (CD, DVD)
2015 – Secret Show: Live In Osaka
2015 – Tres Caballeros
2019 – You Know What …? (CD, DVD)