Když se zamýšlím nad změnami na postu zpěváka u Deep Purple, vždy si říkám, že po příchodu výrazného hlasu skupina okamžitě vyrukovala s nahrávkou nadprůměrných kvalit. Objeví se Gillan a za chvíli je venku deska In Rock, vystřídá ho Coverdale s Hughesem a ti posluchače nažhaví parádní deskou Burn, znovu se objeví Gillan a na světě je báječná deska Perfect Strangers. A pak přijde Joe Lynn Turner, najednou je všechno jinak a světlo světa spatří nemastné neslané album Slaves & Masters.
Ta deska určitě není úplně špatná, jenom jaksi nesplnila očekávání do ní vkládaná. Úvodní otvírák King of Dreams celkem ujde, má i docela tajemnou atmosféru, ale na druhou stranu je již tady patrné, že se budeme pěvecky držet spíše při zemi.
Následující The Cut Runs Deep se snaží být jakýmsi rychlým kvapíkem, avšak svou kolovrátkovitostí mě velice brzy začne unavovat. Mnohem lepší je třetí skladba Fire In The Basement, v níž poprvé beru zpěv páně Turnera na milost a docela si tento svižný kousek s povedenou Ritchieho kytarou užívám.
V pomalejším tempu se nese skladba Truth Hurts, opět pěvecky zdařilá záležitost, akorát mám dojem, jakoby se spíš hodila na alba Rainbow. Blackmore zde předvádí své typické sólo a celkově se jedná o kousek, který neurazí. Závěr už si dokonce užívám.
Píseň Breakfast In Bed se mi vždy líbila pro svou skočnou atmosféru a zajímavý riff v refrénu. Po ní následuje sladkobolná balada Love Conquers All, v níž je toho cukrkandlu přespříliš. V té době bylo povinností mít na desce nějaký ten "oplodňováček", takže se na této vlně svezli i Deep Purple.
Následuje píseň Fortuneteller, v níž zpěvák podává jeden z těch lepších výkonů. Refrén jakoby pocitově odkazoval někam k Perfect Strangers. Osmý kousek Too Much Is Not Enough s dotěrnými fanfárami jako od Europe naštěstí svižně proletí mými oušky a máme tu závěr.
Ten obstará skladba Wicked Ways, jedna z těch, které patří mezi ty poslouchatelnější. Blackmore zde vyšívá pro něj typické vyhrávky a píseň letí kupředu jako dobře vystřelený šíp.
Na obalu desky se nachází věštecká koule. Zajímalo by mě, zda skupina v té době využila služeb nějakého jasnovidce. Kdyby ano, určitě by jim z oné koule vyčetl, že hudební cesta těchto Deep Rainbow  nebude mít dlouhého trvání.
A jak tedy zhodnotit desku, od níž se čekalo zahájení nové báječné etapy Deep Purple, leč skutečnost byla jiná? Deska je průměrná a takové je i moje hodnocení – 2.5*.
Skladby:
1.King Of Dreams 5:28
2. The Cut Runs Deep 5:42
3. Fire In The Basement 4:43
4. Truth Hurts 5:15
5. Breakfast In Bed 5:17
6. Love Conquers All 3:47
7. Fortuneteller 5:49
8. Too Much Is Not Enough 4:18
9. Wicked Ways 6:37
Sestava:
Joe Lynn Turner – zpěv
Ritchie Blackmore – kytara
Roger Glover – baskytara, doprovodný zpěv
Ian Paice – bicí
Jon Lord – varhany, klávesy, aranže smyčců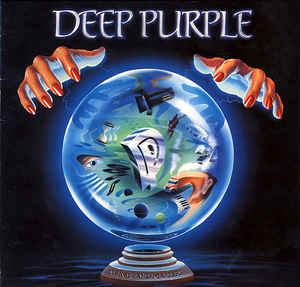 Slaves & Masters
Deep Purple
Hard rock
RCA
1990
LP, CD
9