Rush z Toronta se po vydání prvního alba doma rychle stali velkou atrakcí, což z důvodu malé konkurence na kanadském území nebylo zas tak obtížné. Aby se mohli posunout na vyšší metu, tak již v roce 1974 uskutečňovali jednotlivé výpady do USA, kde si jako předkapela zahráli třeba s Uriah Heep, Kiss či Blue Öyster Cult.
Věhlas kapely stoupal, přibývalo koncertů v čím dál tím vzdálenějších destinacích USA. To přestal zvládat bubeník John Rutsey, který měl cukrovku. Nebyla to však jen nemoc, která vedla k jeho odchodu. Hudebně směroval spíše ke klasickému pojetí hard rocku, kdežto Lee a Lifeson byli okouzleni komplikovanější hudební strukturou skladeb Yes a Genesis.
Proto byl na základě konkurzu vybrán Neil Peart, který doposud hrál v místní barové kapele Hush. To byla obrovská trefa do černého, neboť tímto krokem získali Rush nejen jednoho z později nejlépe hodnocených rockových bubeníků, ale také i skvělého textaře a skladatele, o lidské spřízněnosti s ostatními členy ani nemluvě. Na rozkoukávání nebylo mnoho času, za 14 dní již Neil seděl za novou bicí soupravou před 11 000 lidmi na koncertě, kde Rush otvírali show pro Uriah Heep.
Po spršce koncertů vedly cesty hudebníků do studia, kde již s novým produkčním týmem počali pracovat na druhém albu kapely. Ve studiu se také objevila velmi důležitá persona, která ovlivnila zvuk, aranže i celkové směrování kapely do budoucnosti – dalo by se říci další člen kapely. Nebyl to nikdo jiný, než producent a studiový inženýr Terry Brown, který se od tohoto alba stal důležitým členem týmu po celé invenční období souboru (do alba Signals).

Všichni muzikanti přiložili ruku k dílu a materiál na tehdejší novince Fly By Night jasně ukázal, kam se bude další tvorba skupiny ubírat. Geddy Lee se stal svou nápaditou hrou na basu a nezaměnitelným ječákem trademarkem Rush. Lifesonova kytara získala  kovový, mírně nahalovaný a zkreslený zvuk, který je snadno rozpoznatelný mezi ostatními hard rockovými kytaristy té doby. Rovněž členitá hra nováčka Pearta byla zjevením. Neil se rovněž blýsknul svou textařskou schopností. Na rozdíl od prvního alba, kde se texty ubíraly směrem "Oh děvče, jsem na útěku, potřebuji lásku" nebo "Hej bejby, líbí se mi jak se směješ, asi jsem se do tebe zbláznil" se na tomto albu objevily filozofické texty o smyslu života, o touze začít nový život, nebo o lidských hodnotách. Peart poukázal na ovlivnění Ayn Randovou, která nastínila nový filozofický systém – objektivismus (Anthem). Jinde poeticky popisoval vývoj USA (Beneath, Between and Behind) nebo čerpal z Tolkienovy tvorby (Riverdell).
Po hudební stránce Rush zatím zůstali v hard rockovém hájemství i když struktura jejich songů byla naprosto odlišná od většiny jejich konkurentů – taková komplikovanější a rozmanitější. Management mířil na žebříčky, nechal pořídit klip k titulní písni alba, který zapadl do tehdejší radiové produkce. Vyjímkou na desce  je první nadupaná prog rocková vlaštovka v podobě čtyřdílné skladby By-Tor and the Snow Dog, ve které barvitě a až s určitým filozofickým přesahem hudebníci popisují souboj manažerových psů. Pro náročnějšího posluchače jistě vrchol alba, mě osobně trochu vadí ten nastíněný souboj pomocí zkreslené baskytary s kytarou. V té, psychedelií ovlivněnou dobou však normální záležitost 🙂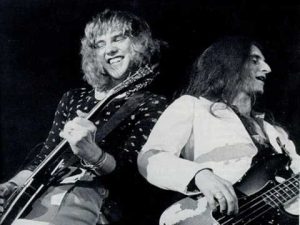 Oceňuji, že kapela nezařadila žádný ploužák, dvě akustické a něžné skladby mi náladu alba nikterak nezkazily (Making Memories a Rivendell).
Kapela Rush na podporu této desky objela 70 měst v USA a v Kanadě získala prestižní ocenění Juno Award v kategorii Největší objev roku. Při poslechu tohoto alba uslyšíte, jak se klepe na brány rockového Olympu…
SKLADBY:
1. Anthem (4:10)
2. Best I Can [Lee] (3:24)
3. Beneath, Between and Behind [Lifeson/Peart] (3:00)
4. By-Tor and the Snowdog (8:57)
– 4a. At the Fobes of Hades
– 4b. Across the Styx
– 4c. Of the Battle
– 4d. Epilogue
5. Fly by Night [Lee/Peart] (3:20)
6. Making Memories (2:56)
7. Rivendell [Lee/Peart] (5:00)
8. In the End [Lee/Lifeson] (6:51)
SESTAVA:
Alex Lifeson – guitar
Geddy Lee – bass, vocals
Neil Peart – drums
Fly By Night
Rush
hard rock, art rock
Mercury
1975
CD
8
CD