V živote to zväčša tak chodí, že ak za sebou máte vplyvnú osobu, všade sú Vám dvere otvorené. Malo by to platiť aj o anglickej hard rockovej skupine Tucky Buzzard, ktorá mala silného "sponzora". Bol ním Bill Wyman, basák The Rolling Stones. Je na mieste otázka, či to skôr nemalo opačný efekt!? Bill sa snažil kapele pomáhať, ale jeho záväzky vo Valiacich sa kameňoch mu svojím spôsobom zväzovali ruky a na Tucky Buzzard jednoducho nezostával čas… 
Chaos, aký je okolo štúdioviek tejto skupiny, snáď nemá v dejinách rocku obdobu. Ide hlavne o začiatok a spory o tom, ktoré dielo sa považuje za debut. Veľmi som uvítal vydanie kompilácie The Complete Tucky Buzzard (2016). Veril som, že prinesie trochu viac svetla do tohto problému. Aj keď v priloženom texte nie je všetko s kostolným poriadkom, jednoznačne mi z toho vyplýva, že prvým na svete bol španielsky album Coming On Again. Prečo?
1. Vyššie spomenutý 5CD box od Edsel Records, ktorý mapuje kompletnú albumovú tvorbu skupiny, zaradil Coming On Again do roku 1971 a na disk č. 1.
2. Nahrávanie prebiehalo v lete 1970 v Madride, malá časť sa dokončila začiatkom roka 1971.
3. HHS 11-208 – katalógové číslo španielskej firmy Hispavox, radí LP do roku 1971 a jeho prvej dekády.
4. LP vyšla v 1972 roku na rovnakej značke aj v Brazílii, preto dochádza k častej zámene v letopočte vydania.
5. Album Tucky Buzzard vyšiel v júni 1971 v USA. Nie je pravdou, že bol pripravený na vydanie už dávno predtým. Nahrával sa totiž priebežne počas rokov 1969 (5 skladieb) – 1970 (2 piesne), dokonca posledné 3 tituly v trackliste z celkového počtu 10 boli zaznamenané až v januári 1971. Z toho vyplýva, že bubeník Paul Francis, ktorý odišiel do Fuzzy Duck a nahradil ho Chris Johnson, bol ukrátený najmenej o polovicu podielu na nahrávaní tohto diela, keďže mu je udelené iba poďakovanie…
Toľko z môjho pátrania. Ak má niekto dôveryhodnejšie informácie, budem rád, ak sa o ne podelí. Vrátim sa ku Coming On Again. Hoci som fanúšikom hard rocku a mojím favoritom v diskografii Tucky Buzzard je Warm Slash (november 1971), toto dielo treba zaradiť k najambicióznejšiemu počinu skupiny. Hudobníci mali veľmi dobré meno v Španielsku, ktoré si vybojovali ešte pod názvom The End a miestna firma Hispavox zabezpečila jeho vydanie. Album je dielom členov kapely a nahrala ho v zložení, aké ponúka titulná fotografia – zľava: Nicky Graham (gitary), Terry Taylor (gitary), Paul Francis (bicie), Dave Brown (basa) a Jimmy Henderson (spev). Na celkovom vyznení sa podieľal aj španielsky filharmonický orchester z Mardidu. Pre objektivitu je potrebné dodať, že filharmonici, hoci v kompletnom zložení, hrajú na Coming On Again druhé husle – jednoznačne dominuje skupina. Vyzdvihnem ešte spev Jimmyho Hendersona, ktorého prejav mi učaroval. Je správne rockovo nabudený. Ak to situácia vyžaduje, tak dokáže aj jemne pohladiť dušu poslucháča.
A stranu tvorí 14-minútová Suita, pozostávajúca zo šiestich častí. "Rozháraný" úvod Coming On Again (Part 1), ako sa na progresívne dielo patrí, neskôr prejde do jemnej inštrumentálnej pasáže For Maryse, v ktorej dominuje akustická gitara. Tej pomáha aj orchester – veľmi pekná téma. Pomalšie tempo pokračuje v Over The Hill, tentoraz aj s rockovejším spevom v zrýchlenej časti skladby. Nasleduje plynulý prechod a suita sa konceptom vracia na začiatok a ponúka druhú časť Coming On Again, aby sa všetko opäť spomalilo do jemnejších akustických odtieňov Believe Me, ktoré vkusne ozvláštňujú dychové nástroje. Koncept ukončuje pomalá Here I Am, v ktorej dominuje živý orchester.
B strana začína jemnou baladickou záležitosťou You're All Alone, ktorú rozbehne akustická gitara. Skladba strieda pomalé a rýchlejšie časti, pomáhajú aj filharmonici. Dá sa povedať, že svojou štruktúrou nadväzuje na suitu. You Never Will predstavuje rockovejšiu tvár kapely a vokály pripomínajú to najlepšie z muziky šesťdesiatych rokov. Ak poznáte tvorbu skupiny, isto mi dáte za pravdu, že táto pieseň by mohla kľudne patriť aj na album Tucky Buzzard z júna 1971. Free Ticket vráti nahrávku k progresívnejšiemu a hutnejšiemu tvaru, svojou štruktúrou sa jemne obtrie o jazzové prvky. LP uzatvára jemná tvár kapely prostredníctvom Lady Fair, ktorej pomáha orchester.
…Aj keď Tucky Buzzard nepatrí k spolkom, ktoré pamätníci a hľadači pokladov zo 70. rokov spomínajú každý deň, tvorba skupiny si zaslúži pripomínať oveľa častejšie a nemali by sme na ňu zabúdať. Jedno je isté – kapela po sebe zanechala 5 štúdioviek, ktoré znesú aj prísnejšie kritéria a určite sa nemá za čo hanbiť. Fanúšikov progresívneho rocku, ktorí inak príliš nefandia hard rockovým spolkom, by mohlo osloviť práve toto dielko, ktoré vybočuje z celkovej tvorby skupiny.
U mňa výborné!
SKLADBY:
1. Suite 14:16
a) Coming On Again (Part 1)
(Taylor/Henderson/Graham/Brown/Francis)
b) For Maryse (Terry Taylor)
c) Over The Hill
(Taylor/Henderson/Graham/Brown/Francis)
d) Coming On Again (Part  2)  (Taylor/Henderson/Graham/Brown/Francis)
e) Believe Me (Dave Brown)
f) Here I Am (Taylor/Graham/Brown)
2. You're All Alone 6:02
(Taylor/Henderson/Graham/Brown/Francis)
3. You Never Will (Taylor/Henderson) 2:55
4. Free Ticket (Taylor/Henderson/Graham/Brown/Francis) 3:39
5. Lady Fair (Dave Brown) 4:16
ZOSTAVA:
Jimmy Henderson – lead vocals, percussion
Terry 'Tex' Taylor – electric and acoustic guitars, backing vocals
Dave Brown – bass guitar, acoustic guitar, backing vocals
Nicky Graham – piano, organ, backing vocals
Paul Francis – drums, timbales, percussion
+
Howard Neldrett (Lennie) – electric and acoustic guitars
Hugh Attwooll – percussion
Madrid Philharmonic Orchestra – orchestral accompaniment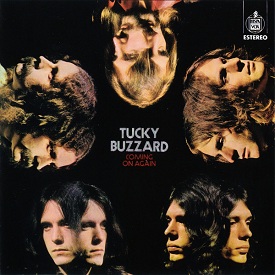 Coming On Again
Tucky Buzzard
progressive rock
Hispavox
1971
LP
5
CD - Edsel Records, 2016