Zatímco řada francouzských, italských (ale i britských) kapel se ve jménu progrocku jen snažila napodobovat Yes a Genesis, legenda německého krautrocku Can si od začátku jakoby řekla: nic takového, vytvoříme si vlastní styl hudby. Nezatížena konvencemi v sobě skupina od začátku míchala primitivní monotónnost s neotřelými, originálními hudebními postupy a nápady. Odvaha šla v jejich hudbě rukou v ruce se svobodou. 
Jádro Can tvořili Irmin Schmidt – klasicky vzdělaný pianista, který hrával před Can i s Johnem Cagem; právě jeho "stockhausenové příměsi" posouvaly hudbu Can do vod skutečné progrese, mnohem víc než kýčovité napodobování děl klasické hudby. Dále zde byl Holger Czukay, hrající na basovou kytaru – původně učitel hudby, neuvěřitelně vtipný člověk. (Zkuste si dát na Youtube do vyhledávače Czukay Ode To Perfume nebo Czukay Photo Song a pochopíte, o čem mluvím.) Nemůžu také zapomenout na bubeníka Jakiho Liebezeita a kytaristu Michaela Karoliho. V jejich nejslavnější sestavě s nimi zpíval japonský zpěvák Kenji "Damo" Suzuki. Právě zpěvák byla v Can osoba, která se nejčastěji obměňovala.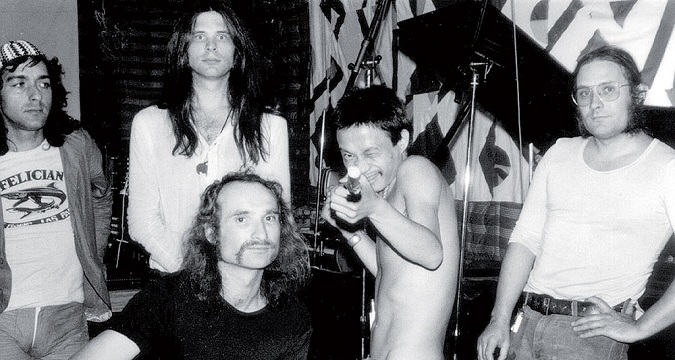 Odkojeni moderní vážnou hudbou a zdravě posedlí filozofií dělat hudbu vycházející z improvizace, přinesli do světa progrocku nevídaný, skutečně progresivní a na výsost originální styl muziky. Jejich hudbu, která se nikdy neklaněla před zavedenými teoriemi a klišé, zdobil poprašek geniality zejména v letech 1969–1975, kdy vznikla jejich nejlepší alba – v tomto koneckonců Can nejsou výjimečně výjimeční, řada (ne-li většina) nejlepších děl progresivního rocku (ale třeba i hard rocku) vznikla právě v této době. I když pro mě osobně žádné jejich album není špatné. Can byli ve své době skutečně pionýři, jejich hudba přímo voněla svobodou. Jako první (pokud se nemýlím) v hudbě koketovali s techno/trance/housovými postupy, a to už v první polovině sedmdesátých let. Jako jedni z prvních občas používali jakýsi elektronický rytmický automat nahrazující bubeníka. Přesto jejich hudba byla vždy neuvěřitelně živelná.
Zatímco v druhé polovině sedmdesátých let minulého století většině rockových skupin (které začaly v šedesátých letech) začal docházet dech (škrcený navíc nástupem punku), Can stále tvořili originální, svěží hudbu a na rozhraní sedmdesátých a osmdesátých let se namísto neinvenčního plácání v poprocku s lehkostí sobě vlastní koupali ve vodách ochucených ambientem, elektronickou hudbou, funky příchutěmi a reggae.
Jejich nejslavnější alba jsou skutečně ta nejlepší. Jsou to ta s japonským zpěvákem Damem. 2 LP Tago Mago (1971), Ege Bamyasi (1972) a Future Days (1973). Experimentální, psychedelická, jakoby jen improvizovaná, kreativní, šílená – takové přívlastky mě k jejich hudbě napadají, když si v hlavě daná alba hudebně zkratkovitě promítnu.
Album Ege Bamyasi mám nejraději. Je to opravdu hypnotická, nenapodobitelná a také ve své době nenapodobovaná hudba. Žádná skladba na albu není slabá, žádná neční nad druhou. Pro mě osobně nejsilnější chvíle přichází s titulem Vitamin C. Jen tak pro zajímavost – tato skladba, stejně jako píseň Spoon, se také tehdy objevila jako "podmaz" v jedné německé kriminálce. Vitamin C – silná, zpívaná skladba, která je v druhé půli obohacena o excelentní, nádherné, originální klávesové sólo (alespoň mě to tak přijde), hrané do pozvolna finišující části písně. Každá jiná kapela by tak silný hudební nápad nevyplýtvala jen jako hudební vložku do již existující písně, vytvořila by z toho námětu píseň novou, samostatnou, ale Can, ti si takové "plýtvání" prostě mohli dovolit.

Když deska vyšla, Melody Maker napsal: "Can jsou bezpochyby nejtalentovanější a nesoudržnější experimentální skupinou v Evropě."  I ostatní reference byly podobně nadšené. Ostatně stejně jako je asi nadšený i tento můj pokus o recenzi. Je velká škoda, že Can a německý krautrock je obecně i v hudebním světě poměrně neznámým, neprobádaným pojmem. Až mě tak napadá, že za originalitu, nepodbízivost, svobodný přístup k hudbě se platí. Za Anglii lze jako příklad uvést zastíněné Van der Graaf Generator nebo Gentle Giant. Za Francii lze uvést např. skupinu Carpe Diem. Kdo je dnes, mimo skalní fandy artrocku, zná? Z německého krautrocku bych rád vypíchl kromě Can např. Ash Ra Tempel – skupinu, ve které se občas objevovala dnes již legenda progresivní elektroniky Klaus Schulze.
Pokud se chcete s poměrně avantgardní hudbou Can seznámit, doporučil bych na úvod právě Ege Bamyasi nebo album Soon Over Babaluma (1974). Každé je jiné, žádné není slabé a to i včetně řady kompilací, zachycujících materiál, který se nedostal na řadové desky.
SKLADBY:
1. Pinch (9:28)
2. Sing Swan Song (4:18)
3. One More Night (5:35)
4. Vitamin C (3:34)
5. Soup (10:25)
6. I'm So Green (3:03)
7. Spoon (3:03)
SESTAVA:
Damo Suzuki – vocals
Michael Karoli – electric, acoustic & 12-string guitars, shenai
Irmin Schmidt – organ, electric piano, violin, steel guitar
Holger Czukay – bass
Jaki Liebezeit – drums, flexatone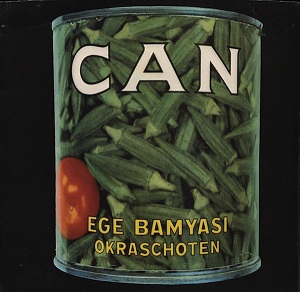 Ege Bamyasi
Can
Krautrock, Experimental
United Artists Records
1972
LP
7