Devadesátá léta přinesla na poli rocku a metalu spoustu zásadních změn. Rock a metal vyklidili pozice v prodejních žebříčcích. Zatímco ještě v 80. létech byla mezi stovkou celosvětově nejprodávanějších alb bezmála polovina rockových/metalových (!), v devadesátých to bylo třikrát méně.
Pokud se tedy budeme dnes bavit o vzedmuté "druhé" vlně neoprogu, půjde víceméně o bouři ve sklenici vody. Malé scéně kraloval neoprog odvozený od MARILLION. Soundu dominovaly – namísto hammondů a mellotronů GENESIS – syntezátory se symfonickými rejstříky. Kytarová hra se výrazově zúžila na atmosférická vazbená sóla. Kompozice se zjednodušily, melodické linky napřímily, nároky na muzikanty i posluchače snížily.
Relativně nejnápaditější neoprog se v oné době odehrával v Itálii. Díky přirozenému smyslu pro chytlavou melodiku nehrozila u tamějších souborů nuda.
Clive Nolan
Jednou z nejaktivnějších a současně nejkontroverznějších osobností progrockové scény je Clive Nolan. Právě on stojí za vícerými nápodobami stylu a soundu Fishových MARILLION, a bohužel i za postupným ředěním jejich odkazu.
Narodil se v hrabství Gloucestershire na jihozápadě Anglie. Je ročník 1951, ve své době byl nejmladším, šestnáctiletým, absolventem London College of Music v oborech: kompozice, orchestrace a dirigování. Ovládá mimo klávesy i housle, violoncello a violu. Od poloviny devadesátek co chvíli vyhrává ocenění Classic Rock Society coby nejlepší klávesák.
PENDRAGON
Kapele jsme se obšírněji věnovali v minulém dílu. Clive Nolan nastoupil k PENDRAGON v roce 1987, a je vedle Nicka Barretta dodnes určující personou skupiny, i když se nepodílí na kompozicích, a soustředí se o to více na roli muzikanta a aranžéra.
STRANGERS ON A TRAIN
V roce 1990 se dala dohromady nerozlučná dvojice Clive Nolan & Karl Groom se zpěvačkou Tracy Hitchings. Skupina nahrála dvě alba, The Key (1990) a The Key Part II: Labyrinth (1993), Nolan v nedávných rozhovorech mluví o kompletně zkomponovaném třetím albu, čekajícímu jen na svůj čas.
Neoprog prostý jakýchkoliv vazeb na marillionovské pojetí. Když Clive preluduje na piano a Tracy Hitchings se kolem něj vlní jak liána, anebo mu nečekaně šlehne nad hlavou hlasem jak bičem, jde o vrcholný neoprog bez déjà vu přívlastků, viz niterná i majestátně klenutá Perchance To Dream.
Tracy Hitchings
Nolanova múza, s níž spolupracoval na nejednom albu. Plavovlasá kráska vydala v roce 1991, za vydatné pomoci dvojskifu Nolan & Groom, své doposud jediné sólové album From Ignorance To Ecstasy. O hudbu a texty se tak jako u STRANGERS ON A TRAIN postaral Clive. Oproti výše uvedenému projektu je sólovka Tracy více o zpěvu a sem tam i skladbách typu verze-refrén-verze, viz kupříkladu Hide A Seek. Stále se ale pohybujeme na poli neoprogu, viz příkladově Caamora, podle níž pojmenoval novodobý projekt s polskou vokalistkou Agnieszkou Świtou, anebo orchestrací vyzdobená Behind The Scenes.
CASINO
Jednoalbová záležitost z roku 1992, na níž se vedle Cliva podílel jeho věrný souputník Karl Groom a hlavně: Geoff Mann z TWELFTH NIGHT. Jeho hlas a poetika povýšily eponymní album k nejoriginálnějším kouskům Nolanova neoprogu devadesátých let. Větší prostor než jinde dostala Groomova vypjatě zpěvavá kytara. Vícedílné kompozice jsou spíše mechanickou skládačkou jednotlivých částí, de facto písniček. Nolan na LP testoval širší paletu rejstříků svých kláves. Něco se povedlo, něco ne. Mezi nejkrásnější pasáže alba patří dvanáctiminutová Drunk, kde Geoff naplno předvádí, jaký byl pan zpěvák a rockový šansoniér v jednom. Tam, kde Nolan vytváří svými klávesami kolem Manna masivní krunýř, je ale znát, že Geoff není úplně ve své kůži.
SHADOWLAND
Nolanův projekt z počátku devadesátých let. Vedle kláves se ujal i zpěvu. Kytaru obsluhuje, jak jinak, Karl Groom. Na debutu Ring Of Roses (1992) hraje Karl chvílemi drnkavě zvonivým (Edgem z U2 inspirovaným) stylem, viz úvodní The Whistleblower i další skladby. Samozřejmě, že albu jinak dominuje jeho klasické zpívající pojetí hry na kytaru. O lehce teatrální neoprog se SHADOWLAND pokoušejí v jedenáctiminutové Jigsaw. Dlužno podotknout, že Nolanovi občas parádně sedne mikrofon "do huby". Jeho hlas nezáří barvou ani technikou, je rozechvělý, přirozeně zajíkavý, věrohodný, a nepouští se do žádných větších akci á la STS Chvojkovice-Brod.
SHADOWLAND nahráli v 90. letech další dvě alba: Through The Looking Glass (1994) a Mad As A Hatter (1996). Reunion z roku 2009 je zatím poslední aktivitou zachycenou na hudebním nosiči.
LANDMARQ
Skupina, kteroužto Clive Nolan zpočátku takříkajíc vodil za ručičku. Společně s Karlem Groom produkoval první dvě alba, třetí pak sám. Napsal pro LANDMARQ pár textů, přivedl k nim Tracy Hitchings. I když se pětice později víceméně z vlivu Nolana vymanila, svůj styl a sound nijak radikálně nezměnila. Fungují dodnes.
ARENA
Erbovním "marillionovským" projektem Nolana byl vznik skupiny ARENA v roce 1995. Autenticitu dodal původní bicmen MARILION, Mick Pointer. Zpěvák John Carson se hlasově stylizoval do Fishe, a i když neměl jeho charisma a hlas rockového šansoniéra, působil celkově věrohodně, v některých polohách svého hlasu dokonce exceloval, viz jeho hebký a ohebný falzet.
Debutové album Songs from the Lion's Cage (1995) graduje bezmála patnáctiminutovým opusem Solomon, jenž si v ničem nezadá s titulní kompozicí marillionovské dvojky Fugazi. Celkově je ale deska přeci jenom výrazově a kompozičně plošší než originální klenoty Fishe a spol. Clive Nolan zakrátko vydal s PENDRAGON podobně laděné LP The Masquerade Overture (1996).
Po Carsonově odchodu Clive Nolan měnil kurs kapely podle momentálního rozpoložení. Loni ARENA slavila XX, její příběh by určitě stál za rozsáhlejší profil.
CLIVE NOLAN & OLIVER WAKEMAN
"Potkali jsem se víceméně náhodou, zašli do hospody a probrali různé nápady, co a jak udělat. Nakonec jsme se domluvili na společném albu. Jediným důvodem přitom bylo, že nám to přišlo jako zábavná kratochvíle. Nakonec z toho byla zvláštní zkušenost, pracovat se slovutnými zpěváky. Vzpomínám hlavně na perfektní nahrávání s Bobem Catleyem z MAGNUM," říká Nolan v rozhovoru pro Let It Rock ohledně alba Jabberwocky (1999), jež je v podstatě rockovou kantátou na téma stejnojmenné bláznivé básně Lewise Carrolla.
Hudebně jde o ne moc nápaditý "fanfárový" klávesový rock s teatrálními prvky. K tomu dvojice přidala pár typických anglických vaudeville pasáží, jak z tullovské klasiky A Passion Play.
Nad vodou drží desku pěvecké party (Bob Catley, Tracy Hitchings, James Plumridge, Paul Allison, Rick Wakeman coby uvaděč). Zvláštností je účast prvního kytaristy YES, Petera Bankse.
Svůj velký vliv na neoprogovou scénu si Clive Nolan udržuje dodnes, je stále členem souborů ARENA a PENDRAGON, plus polovinou dua CAAMORA. Působil v projektu NEO, spolupracoval na All Star projektu A Forest of Fey GANDALF'S FIST. Loni absolvoval evropské turné s Lee Abrahamem z GALAHAD, plánuje napsat dva muzikály, "Dark Fables" a "King's Ransom".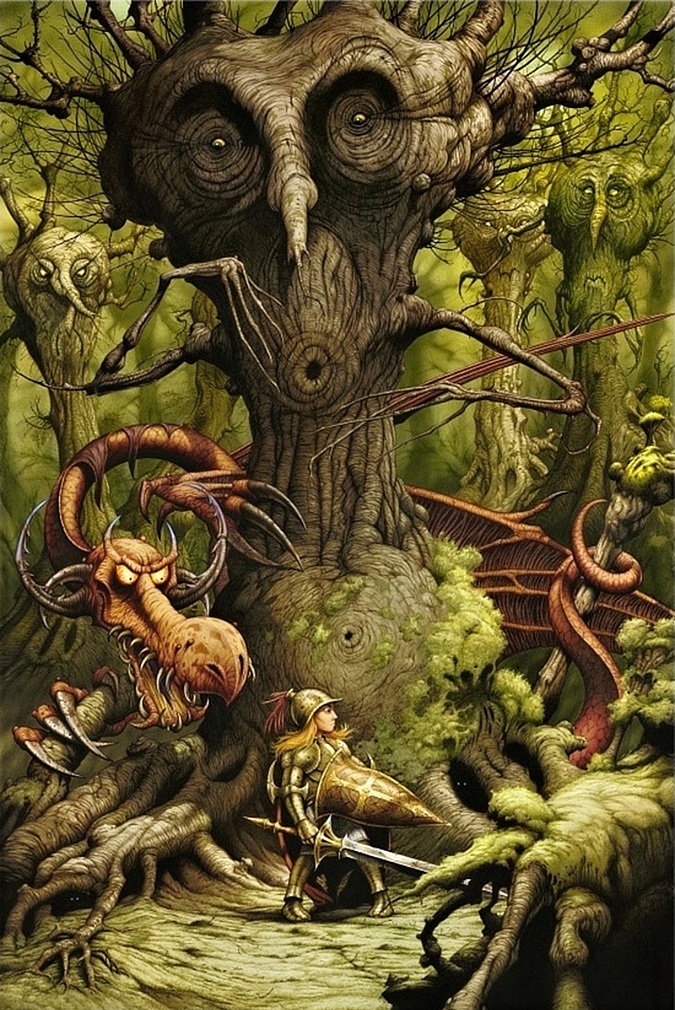 Samozřejmě, že anglický neoprog poslední dekády minulého století nepředstavoval jen Clive Nolan & spol.
GALAHAD
Mezi neoprogové UK stařešiny patří od druhé poloviny osmdesátých let dodnes působící GALAHAD. Ze začátku byli hodně pod vlivem raných MARILLION, k čemuž napomáhal i lehce fishovský hlas Stuarta Nicholsona, vedle kytaristy Roye Keywortha jediného aktivního původního člena souboru.
První regulerní studiové album Nothing Is Written vydali v roce 1991. Oproti velkému vzoru chybí elegance a charisma. CD z konce 90. let a 2K+ jsou oproti prvním třem poměrně tvrdá, kdy až metalové riffy doprovázejí zbyvší poetické proklady marillionovského typu. Některá nová alba jsou pro svůj disco/electronic/metal sound pro classic rockera takřka neposlouchatelná (Beyond The Realms of Euphoria z roku 2012).
FINAL CONFLICT
Skupina z Newcastle, fungující od konce osmdesátých let doposud. Redress The Balance (1991) je prvním plnohodnotným albem. Přímočaré melodické kompozice ozvláštňují nápadité pompézní aranže a dvojice sólových vokalistů/kytaristů: Andy Lawton a Brian Donkin. Jeden z nich má zajímavé tremolo, druhý fishovskou barvu. Jejich vokální dialogy i dvojhlasy jsou na FINAL CONFLICT tím nejzajímavějším. O rok později nahrálo sexteto ambiciózní koncepční opus Quest. Volnějším tempem pak v letech 1997-2012 vydali FC další čtyři tituly.
JADIS
Přestože jihoangličtí JADIS působili na hudební scéně již v druhé polovině osmdesátých let, kdy doprovázeli na turné IQ i MARILLION, jejich vrcholná tvorba spadá do devadesátých let, proto si je krátce připomeneme v dnešním pokračování. Erbovní More Than Meets The Eye (1992) nahrálo kvarteto: Gary Chandler (kytara, zpěv), Stephen Christey (bicí), Martin Orford (klávesy, flétna) a hostující John Jowitt (baskytara), oba poslední jmenovaní z IQ. Středobodem soundu byla Garyho tekutá kytara, jež posunovala JADIS směrem k Latimerovým CAMEL. Pod vedením Garyho Chandlera fungují JADIS stále.
ARK
Kdykoliv si chci poslechnout nejříznější z klonů MARILLION, sáhnu po albu Spiritual Physics (1993) skupiny ARK. Anthony Short zpívá vroucně jak Fish, kapela hraje na tisíc způsobů, od jemných pavučin po metalické kovářské riffy, skladby mají švih, spád, zapamatovatelnou melodii, energii.
Písně z těžce sehnatelných mini LP The Dreams Of Mr. Jones (1988) a Cover Me With Rain (1992) vyšly v roce 2010 na kompilaci Wild Untamed Imaginings. Neuvěřitelný drajv & hammond sound raných nahrávek posunuje ARK v některých skladbách směrem k hardrockovým ikonám typu URIAH HEEP. Jinak ale samozřejmě azimut MARILLION/GENESIS. Skupinou prošel jako basák již zmíněný John Jowitt (IQ).
GREY LADY DOWN
Ve své době poměrně populární oxfordská nápodoba MARILLION. První album (The Crime, 1994) trpělo podfinancovanou produkcí, jak zdůrazňuje v rozhovorech zpěvák Martin Wilson. Právě jeho přirozeně chvějivý a nezalykavý falzet má hlavní zásluhu na tom, že GREY LADY DOWN patří mezi nejlepší představitele "marillionovské" větve neoprogu devadesátých let. Za vrchol je všeobecně považována dvojka Forces z roku 1995. Personální otřesy a nepovedené třetí LP Fear (1997) vedly postupně k ukončení činnosti.
V krátkém reunionu se nová sestava soustředila na koncertování, nicméně v roce 2002 to GLD opět zabalili. V roce 2011 obnovují činnost, o dva roky později ale z rodinných důvodů odchází Martin Wilson (dnes v THE ROOM). Ostatní se sice nechtěli vzdát, nicméně na oficiálních stránkách je už dva roky mrtvo…
BIG BIG TRAIN
BIG BIG TRAIN z jihoanglického Bournemouthu nejsou pečlivým čtenářům Sparku neznámí, viz například recenze na předposlední album English Electric z roku 2012. Devadesátá léta reprezentuje první dlouhohrající kus Goodbye To The Age Of Steam (1994). Dominující originální kombinaci akustických kytar, klavíru a členité rytmiky sráží dolů plytké kompozice a fádní zpěv Martina Reada. BBT v celkem pravidelných intervalech vydávají studiová alba, dochází u nich postupně k několikeré obměně sestavy muzikantů. Z otců zakladatelů zůstávají už jen dva: baskytarista Andy Poole a kytarista Greg Spawton.
Z pozdější tvorby je částí kritiky ceněna především novátorská The Difference Machine (2007), u níž ale budou mnozí art/prog puristé zaskočeni četným užíváním prvků post-rocku, jakými jsou: zahlušení a rozrušení zvukového obrazu, disharmonie, zkreslení, "blátivé" kompozice bez pevné struktury, atd. Úlevu staromilcům přinese závěrečná kompozice Summer's Lease.
V dnešním pokračování Příběhů progrocku jsme zůstali ve Spojeném království, zemi, jež dala světu artrock, potažmo prog rock. Ani tak se bohužel nedostalo se na všechny tamější dobové interprety, zkrátka přišly mj. ABEL GANZ, QUASAR, THE VIOLET HOUR, CREDO…
Příště se porozhlédneme po evropském kontinentu.