CD Akarma AK 1040 /2003/
Kuriózní, jednoalbumová vykopávka a sběrateli vyhledávaná rarita v jednom. Materiál na debutové LP italské hardrockové skupiny Crystals se natáčel v roce 1974, ale vyšel až o osmnáct let později zásluhou labelu Mellow Records. Ještě v roce 2003 se na trhu objevila mini vinyl replika od pirátů Akarma a to je všechno. Jiné edice neexistují a případným zájemcům tak nezbyde nic jiného, než sledovat nabídky v bazarech a aukcích. Mě se poštěstilo koupit vydání od Akarmy v naprosto dokonalém stavu a jsem rád, že ho mám.
Ve skupině Crystals se sešla celá řada zkušenejch harcovníků, pocházejících z kolikrát aj docela renomovaných kapel a tak by se dala s klidným svědomím označit za takovou malou supergroup. Ostatně, posuďte sami:
Asi největšími hvězdami byli kytarista Marcello Todaro a basista Giorgio Piazza, kteří nahráli po třech albech s Banco del Mutuo Soccorso, respektive s Premiata Forneria Marconi. Druhej kytarista Giovanni Civitenga byl důležitým článkem v řadách Raccomandata Ricevuta Ritorno, nebo Samadhi a bubeník Giorgio Santandrea si vydobyl ostruhy u Alphataurus. Jediným nováčkem tak byl jen zpěvák Carlo Degani, ovšem i ten už se dříve objevil u beatové skupiny I Condors. Nu a všechny skladby složil (a také to aj produkoval) Paolo Tofani, který působil v sestavách I Califfi, Area a také v projektu Electric Frankenstein.
Člověk si musí položit otázku, proč tolika osobnostmi nabušenej projekt sešel na úbytě a těch možných odpovědí se nabízí hned několik. Co třeba ega? Veškerej materiál složil Paolo Tofani a skupinu tvořili jen najatí hráči bez možnosti něco změnit. Což nemuselo být každému po chuti a navíc, známá jména nejsou všechno. Pokud chybí vzájemná chemie, tak to asi nemůže dlouho fungovat. Další možností je to, že vycouval vydavatel. Trh se zdál být nasyceným, Cramps se navíc specializovali na hudbu trochu jiného ražení a tak mohli nabýt přesvědčení, že by se to neprodávalo. Nu a pak tady máme ještě samotného Paola Tofaniho, kterej se v té době netajil levicovými názory a produkovat muziku v angličtině, navíc vyloženě v angloamerickém stylu, mu muselo být přinejmenším trapné. Nicméně, všechno to jsou čistě teoretické a ničím nepodložené konspirace a tak pojďme raději k muzice.
Komplet album má necelejch pětatřicet minut a vešlo se na něj osm skladeb. Pět jich je s vokály v angličtině, zbytek bez. Jejich zvuková kvalita je poněkud kolísavá a tak si myslím (i vzhledem k relativně vysokému počtu instrumentálek), že nepůjde o finálovou verzi, ale vem to ďas. Obsah desky bych popsal jako klasickej, lehce Led Zeppelin orientovanej hardrock s výtečnými instrumentálními výkony. Především práce obou kytaristů (včetně basisty) stojí za povšimnutí a jsou to právě dvě kytary, které hudbu Crystals odlišují od výše uvedené, britské legendy.
Na úvod je tady pořádná dávka adrenalinu v podobě svižné, instrumentální řachandy Wrought Iron. Obě kytary předvádějí skvělou práci a zdatně jim sekunduje aj živelná a kouzelně brblající basa. A právě basová kytara odpálí asi největší šlágr desky, těžkotonážní a zemitou Time Out. Jasně, je to ve stylu Led Zeppelin a rovněž Carlo Degani tady má pořádnej "plantovskej" nátisk, ale co na tom. Skladba je to fantastická a podobnost s britskou legendou je třeba brát trochu s nadhledem.
Pěkná a uvolněná Feeling mírní emoce a docela mi připomíná skladbu Felicità, sorriso e pianto z alba Fiore di metallo (1973) souputníků I Califfi. Podle mého mají obě skladby společného jmenovatele v osobě Paola Tofaniho a to, že v té době u I Califfi už dávno nebyl, na tom zas tolik nemění. If She's Still Mine  je opět instrumentální a melodické, kytarové výšivky jsou fajn, ovšem díky vlažnému tempu se začíná vytrácet tah na branku a s pátou Sad Story to není o moc lepší. Je taková neslaná, nemastná a těch (necelejch) šest minut je na ni moc…
To Persian Carpet už má v sobě energie víc, než v plechovce ekrazitu a instrumentální dovednosti kytaristů s bubeníkem mě dostávají znovu do varu. Ovšem to už se dostávám k vrcholu alba, kterým je předposlední pecka Policeman. Mám dojem, že to co slyším není akustická kytara, alébrž mandolína a jde o příjemné oživení jinak plně elektrifikovaného zvuku kapely. Atmosféra skladby má příchuť středomoří a připomíná mi debuty kapel Procession (1972), nebo Mediterranea (1981). Na úplnej konec je tu ještě instrumentálka Women Under Water, ale vzhledem k horšímu zvuku a disharmonickému závěru skladby bych se bez ní klidně obešel.
Je to dobré album, ovšem zasloužilo by si lepší produkci. Jeho zvuk je zahuhlanej, víceméně mono a tím pádem mu chybí prostor. Trochu výraznější stereo slyším až v poslední Women Under Water, ovšem to už je trochu pozdě. Nejspíš to bude pracovní verze, nebo demo, ale je dobře, že se ta nahrávka dostala vůbec na světlo.
Za tři.
SKLADBY:
1. Wrought Iron  4:00
2. Time Out  3:14
3. Feeling  5:00
4. If She's Still Mine  3:56
5. Sad Story  5:42
6. Persian Carpet  3:53
7. Policeman  4:31
8. Women Under Water  4:13
All songs by Paolo Tofani
SESTAVA:
Carlo Degani – lead vocals, percussions
Nanni Civitenga – guitars
Marcello Todaro – acoustic & electric guitars
Giorgio Piazza – bass guitar
Giorgio Santandrea – drums, percussions
NOTES:
Recorded at Fono Roma Studios, Cologno Monzese, during March / April 1974.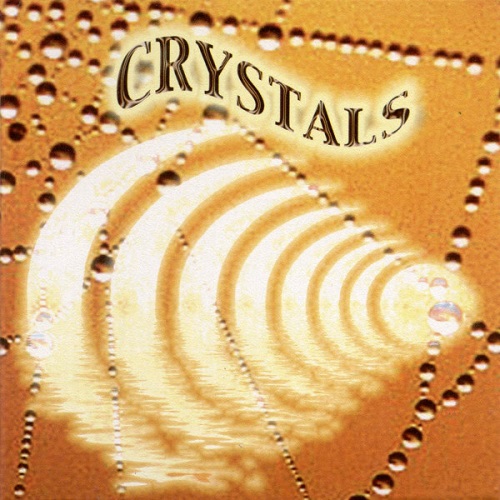 Crystals
Crystals
Hard Rock
Mellow Records
1992
CD
8
CD Akarma AK 1040 /2003/