CD AMS – AMS 184 CD  /2010/
Nástup punku koncem sedmé a disca začátkem osmé dekády minulého století znamenal další zásadní obrat v hudebních dějinách. Do té doby silnej art rock najednou vyklidil pozice a pro jeho fanoušky nastaly krušné časy. Také italská progressive rocková scéna tou dobou prakticky neexistovala a desky z oněch časů by se daly spočítat (s trochou nadsázky) na prstech jedné ruky. Rozhodně to nebyla žádná masovka a dneska už je znají jenom archiváři, nebo hudební fajnšmejkři. Bylo toho fakt málo, ale bylo a mohl bych vzpomenout např. Diapason Pierpaola Bibbò, Tunnel mladíčků z Abissi Infiniti, nebo La Scimmia Sulla Schiena Del Re kapely Mo.Do. Všechno alba z let 1980 – 1981. A podobně zapomenutou zaprášeností je i trio Mediterranea.
Skupina Mediterranea pochází z italského Caserta (oblast Kampánie) a v roce 1978 ji založil kytarista Fausto Mesolella. Jediné album, nazvané Ecce Rock jí vyšlo v roce 1981 a kapela se na něm prezentuje zemitým heavy rockem, kořeněným prvky středovýchodní a středomořské lidové hudby. Podotýkám, že v ryze instrumentálním provedení…

Všichni tři se tady představují jako skvělí instrumentalisté, ovšem nejvíc na mě zapůsobil "čarostřelec" Fausto Mesolella. Stačí mrknout na wikipedii a z toho jeho životopisu mi jde hlava kolem. Je tady hodnocenej jako jeden z nejlepších hudebních skladatelů a kytaristů v Evropě a přitom jsem o něm v životě neslyšel. Pochopitelně neznám ani jeho alba z dob působení v relativně slavných Avion Travel, ale tady mi svým stylem – i zvukem – hodně připomíná českého kytaristu Michala Pavlíčka. Třeba u svižné a rozjuchané Mandovolando se nemohu ubránit přirovnání k Michalově skladbě Big Heads. Na kytaru sice umím zahrát jen "Letí šíp savanou", ale ten jejich feeling a skladatelskej přístup mi připadá hodně podobnej. Nemluvě o Faustově hře ve skladbě Viaggio In 2° Classe, to je Michal jak vyšitej, ovšem rytmické orgie v jejím závěru už jsou naprosto unikátní a Santoro se Ziccardim šlapou, jak švýcarské hodinky.
Nějaké ty vokály tady sice jsou, ale zcela beze slov a ve skladbě Casa Hirta jako kdybych slyšel Gattch a jejich "Neznámu tvár". Tady nám Mediterranea ukazuje svou přívětivější tvář, ovšem taková Sonata už má chvílema nakročeno směrem k NWOBHM. Fakt. Za zmínku stojí též legrácka A Sazietà. Je totiž jedinou, ve které se ve větší míře prosazujou i dechy a jejich zhulená variace na lidovou "Jede jede poštovský panáček" je k sežrání. Zabrat mi dala výše uvedená Viaggio In 2° Classe. Její jednoduchej, klávesovej podmaz mi něco připomínal a já si nedokázal ani za boha vybavit co. V hlavě mi to šrotovalo jak v kafemlejnku, nejedl jsem, nespal, až mi to jednou z čista jasna seplo – Van Halen a Feels So Good…
Původní asfalt vyšel u italského labelu Amiamoci (AM4001) a se zcela jiným obalem také až v dalekém Japonsku (King K22P-186). Sehnat se dá kupodivu docela levně, ta japonská verze by byla v současnosti k mání za nějakejch dvacet Euro. Vůbec první reedice na CD se album dočkalo až v roce 2010, zásluhou agilního vydavatelství AMS. Je to jednoduchá (tedy nikoliv rozkládací) mini vinyl replika s osmistránkovým bookletem. Ten obsahuje krátké bio, které napsal Pasquale Ziccardi a tři fotografie. Vedle těch archivních je zajímavá především ta z roku 2010, pořízená při příležitosti přípravy tohoto vydání.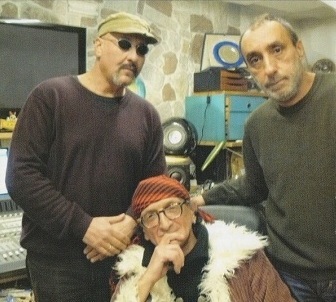 Soudě podle Progarchives – bez recenze, pouhých deseti hodnoceních a průměrné známce 3,5 – je to sice album poněkud zapomenuté, ale výborné a já se při jeho poslechu královsky bavím. Za čtyři.
SKLADBY:
1. Vai Facile (4:00)
2. Sonata (3:27)
3. Mandovolando (2:52)
4. Casa Hirta (3:46)
5. Viaggio In 2° Classe (4:40)
6. Madama Terra (4:49)
7. A Sazietà (3:38)
8. Petroleum (2:20)
9. Spartacus (7:52)
SESTAVA:
Fausto Mesolella – guitars, keyboards, mandolin
Pasquale Ziccardi – bass, mandolin
Agostino Santoro – drums, percussion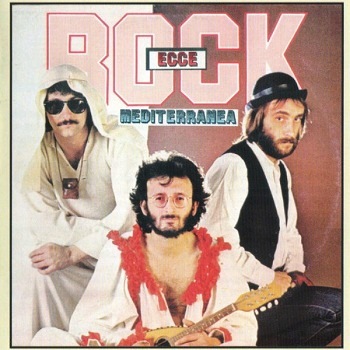 Ecce Rock
Mediterranea
Prog Rock
Amiamoci
1981
LP
9
CD AMS – AMS 184 CD /2010/