CD btf.it – VMCD122 /2008/
V našich končinách asi ne zas tolik známí I Califfi (Kalifové) byli skupinou dvou zcela odlišných sestav a alb. Ta první debutovala v roce 1966 a do svého rozpadu začátkem sedmdesátých let natočila nejméně jedenáct singlů a LP Così ti amo. To vyšlo v roce 1969 a navzdory svému obsahu, složeného z coververzí, popu, beatu a psychedelie by se dalo považovat za jeden ze základních kamenů italského progresivního rocku.
Druhá sestava začala krystalizovat kolem posledního z původních členů I Califfi, baskytaristy Franca Boldriniho. Tomu se podařilo najít pár novejch spoluhráčů, podepsat smlouvu s labelem Fonit Cetra a nahrát album Fiore di metallo, které vyšlo v roce 1973. Ovšem jeho náklad byl malej, podpora vydavatele mizerná a tak není divu, že úplně zapadlo a dnes patří k nejvzácnějším položkám z katalogu Fonit. Původní výlisek se dá v současnosti sehnat za 600, ale i za 1100 Euro a žádnej zázrak to není ani s reedicemi. Ty poslední jsou víc, jak deset let staré a s jejich dostupností to bude všelijaké.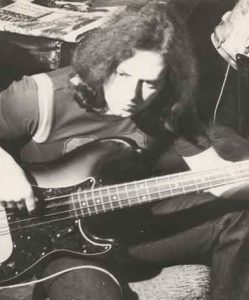 Je to škoda, protože tady máme dalšího z řady výbornejch reprezentantů subžánru rock progressivo italiano. I Califfi se inspirovali, kde se dalo a tak je tu slyšet všechno možné. Od art rocku, přes symphonic prog a hard rock až po (italo) pop, s pěknými melodiemi a vokály v italštině tak, jak je to pro tuto éru i škatulku typické. Připomíná to kde co, Formula 3 počínaje a Dik Dik, nebo PFM konče a vypíchnul bych hlavně široké spektrum mnohdy velice zvukomalebnejch kláves. 
Podle názvu – "Květina z kovu" – a obálky to vypadá na nějaké závažné poselství, ale texty písniček tomu tak úplně neodpovídaj a po introdukci, připomínající hluk písečné bouře je tu první song, Nel mio passato. Ten už se objevil aj na debutovém albu Così ti amo, ale v popovém aranžmá. Tady se drží jinší šablony a piánko pasáže střídá rychlej, rockovej hurhaj. Prvně si vychutnávám pěkné vokály a pestrobarevnou škálu bzučivejch kláves. Prvním z vrcholů alba je následující, přímočará a neodolatelně melodická pecka Fiore finto, fiore di metallo. Pořádnej ušní červ, kterého nevyšťourám ani stovkou hřebíkem. Bubeník uhání, jako kdyby mu v zatáčce mizel ranní autobus, pod tím bublá živelná basová linka, kytara skřípe a hned na to sází chytlavé vyhrávky. Zkrátka a dobře, parádní šlágr a jako takovej si zaslouží palec nahoru. Skladba Alleluia gente… představuje kapelu z té "přístupnější" stránky. Je to takovej pop song, s akustickou kytarou a mňoukajícími klávesami a právě ty, vcelku jednoduchou písničku s pěkným refrénem, posouvají o level vejš. Dalším z vrcholů desky je instrumentální palba Varius. Sandro Cinotti předvede, že opravdu "umí" a představuje se jako kříženec těch nejlepších klávesistů všech dob. Doprovod je pořádně zběsilej a bubeník hraje, jak v záchvatu epilepsie. Po krátkém intermezzu je to tady znovu a v samotném závěru dojde i na trochu jazzové improvizace…
Následující, sladká a melancholická Felicità, sorriso e pianto je návratem k pop music a klidně by se mohla zúčastnit festivalu v San Remu. Ona by nebyla tak strašná, ale ve srovnání s Varius fakticky bledne a vypadá, jak chudá příbuzná. Skladba A piedi scalzi už naštěstí opět těží z hard rocku, hlavní slovo má zkreslená kytara a klávesy dělaj křoví. Písnička pochází z nemlich stejného soudku, jako dvojka Fiore finto, fiore di metallo, jenom ta melodická linka není v tomhle případě až tolik výrazná. Jedním z nejsymfoničtějších kousků na desce je, díky skvělým klávesám, skladba Madre, domani… Její klenutá melodie je nádherná a podepřená okázalým hudebním doprovodem patří k tomu nejlepšímu, co je na desce k mání. Což se nedá říct o předposlední Col vento nei capelli. Patří sice k tomu tvrdšímu, ale už je to trochu rutina a tak ji považuji za nejslabší článek celé kolekce. Na samotnej závěr si kapela připravila další (druhou) instrumentálku, výbornou Campane. Tempo tentokrát není ani zdaleka tak zběsilé, jako v případě Varius, skladba plyne celkem klidně, ale sugestivní atmosféra a pompézní klávesy z ní dělají tu nejlepší možnou tečku za celým albem.
Do sbírky se mi podařilo sehnat velmi pěknou, rozkládací mini vinyl repliku vydanou ve spolupráci firem Vinyl Magic a BTF. Uvnitř rozevřeného obalu jsou vytištěné texty písní s několika fotografiemi a vloženej booklet obsahuje krátkou biografii v angličtině.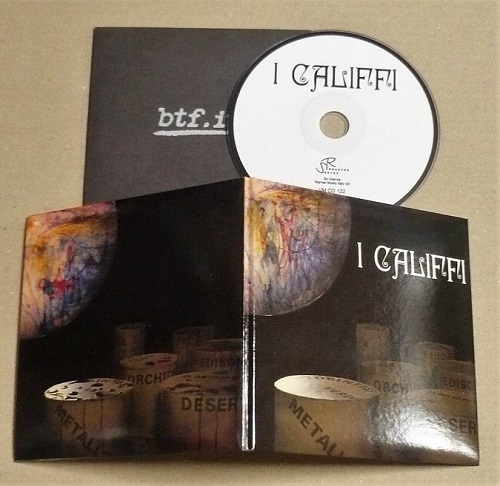 Zásadní album italského rocku to není a nebude, ale to neznamená, že by nebylo pěkné a nestálo za poslech. Ostatně, skladby Fiore finto, fiore di metallo, nebo Varius patří k těm nezapomenutelným…
SKLADBY:
1. Nel mio passato  (5:10)
2. Fiore finto, fiore di metallo  (3:35)
3. Alleluia gente…  (4:45)
4. Varius  (5:10)
5. Felicità, sorriso e pianto  (4:05)
6. A piedi scalzi  (3:13)
7. Madre, domani…  (4:25)
8. Col vento nei capelli  (3:48)
9. Campane  (5:10) 
SESTAVA:
Vincenzo Amadei – chitarra solista, chitarra acustica, canto
Franco Boldrini – basso, "Sinty", canto
Sandro Cinotti – organo, piano, "Sinty"
Maurizio Boldrini – baterria, canto, percussioni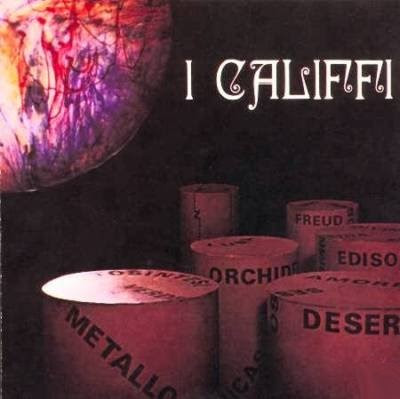 Fiore Di Metallo
I Califfi
Prog Rock
Fonit Cetra
1973
LP
9
CD btf.it ‎– VMCD122 /2008/