"Vidím svět stejně jako Stephen Hawking: 'Jsme pouze moderní plemeno opic na malé planetě s velmi průměrnou hvězdou. Ale máme příležitost, abychom pochopili vesmír. To z nás dělá něco jedinečného.'"
Rick Evans, 17. 8. 2013
Když Katapult v devětasedmdesátém přišel se skladbou Až…, jen stěží jsem si dokázal představit, že se jednou vážně bude psát rok 2006 a že mi někdy bude přes čtyřicet. Ale stalo se, bo čas si nevybírá time-out v žádné době. A událo se mnoho dalšího, co by i na knihu vydalo, pro tentokrát je ovšem klíčová jediná událost.
Právě v roce 2006 vychází poprvé na CD album Whichwhat's First (1970) zapomenuté nottinghamské formace Whichwhat a mezi čtveřicí bonusových skladeb nechybí předělávka písně In the year 2525, kterou skupina poprvé představila na singlu v březnu 1969, nedlouho po vydání originální verze v podání amerického pop-folkového dua Zager & Evans.
A přestože následně vznikly desítky dalších variací včetně instrumentálních, či vydařeného českého provedení, se songem v jakékoliv podobě jsem se bezmála čtyřicet let od jeho vzniku míjel. Příštích několik vět tak budiž splátkou dávného poslechového dluhu.
Zpěváci s kytarou Richard Stanley Evans (*20. 1. 1943, Lincoln, Nebraska) a Dennis Zager (*15. 2. 1943, Wymore, Nebraska) se poprvé setkali v roce 1960 po Evansově vystoupení na Nebraska Wesleyan University v Lincolnu. Padli si do oka, tož po vzoru místních zavedených souborů The 4 Seasons a The Reflections zakládají s baskytaristou Denzilem Millsem a bubeníkem Paulem Maherem kapelu The Eccentrics a vyráží na nekonečnou pouť po lokálních štacích.

Nasazené tempo v roce 1963 neustojí Maher, jehož vystřídá David A. Trupp (*10. 7. 1943, Grand Island, Nebraska) se zkušenostmi z The Green Dandys, The Gas Company, The Quidons a The Pacesetters. S novým spoluhráčem vydávají The Eccentrics v září 1964 u Applause Records první singl Share Me/Stars, zatímco další Evansova připravená skladba In the year 2525 byla pro svůj trudný obsah spoluhráči odmítnuta a skončila v šuplíku.
"Ta píseň mě neoslovila, protože to nebyl styl, který jsem chtěl dělat," vyjádří se o budoucím celosvětovém hitu Denny Zager a pro jistotu odchází z kapely a zakládá Denny Lammar and the Echoes, s nimiž ještě v roce 1964 u Applause vydává autorský singl Listen To The Raindrops/Lonesome For Your Love. Prosadit se ale nedokáže ani s dalším projektem The Devilles (někdy uváděno i jako The De Villes).
V sestavě The Eccentrics je nahrazen kytaristou Jerrym Wingatem, který se v roce 1965 podílí na druhém singlu I Still Love You/Night Time Noon Time i bezpočtu vydařených večerů, než to regionálně slavná formace po sedmi letech vytrvalého hraní na konci roku 1967 zabalí.
Evanse vzápětí kontaktuje zevlující odpadlík Zager, na svět tak přichází kytarové duo, které se zapíše do hudební historie jako jeden z nejpozoruhodnějších jednohitových zázraků.

Tentokrát už odložená skladba s podtitulem Exordium & Terminus (počátek a konec) v repertoáru místo najde a okamžitě se u publika setká s ohromnou odezvou. Vlna nadšení donese protagonisty až do nahrávacího studia Westex v západotexaském městě Odessa, jehož majitelem byl kytarista Tommy Allsup1, který coby člen The Crickets, doprovodné kapely Buddyho Hollyho, jen díky prohrané sázce přežil "den, kdy zemřela hudba", jak tragickou událost ze 3. února 1959 nazve o dvanáct let později ve svém songu American Pie písničkář Don McLean.
Za účelem pořízení singlu In the year 2525/Little Kids byla sestavena studiová kapela, do níž si Evans se Zagerem vybrali starého známého Davea Truppa, t. č. v nebraském The Liberation Blues Bandu, odkud přivedl i Marka Daltona (*9. 10. 1947, Hickman, Nebraska), vyhledávaného basistu, který svou kariéru odstartoval v roce 1962 ve školní skupině The Starfires a svižně pendloval zdejší scénou (The Exploits, The Impacts, The Vogues, Scottie's Shadows, The Jacks, The Benders) než se v roce 1966 nakrátko přesunul do Chicaga.
Omámen rozmarným létem 1967 po návratu zakládá undergroundovou legendu The Antelope Pavillion, v níž se mihne i Trupp. Stávají se hlavní hvězdou psychedelického happeningu pořádaného na Creighton University v Omaze, jehož úspěch vedl k uspořádání podniku Love-In v lincolnském Pioneer Parku, kterého se zúčastnilo přes 10.000 lidí.
Daltonovou rozlučkou s kapelou i žánrem bylo vystoupení v City Auditorium v nebraském Columbusu v dubnu 1968, návrat k bluesovým kořenům záhy zpečetil členstvím v zavedeném The Liberation Blues Bandu.
V pozdějším rozhovoru pro rádio KTGL uvedl, že 500 dolarů potřebných pro čas ve studiu výpravě poskytl majitel jednoho z hudebních barů v Lincolnu se slovy: "Ten song má rád úplně každej. Myslím, že to bude hit2."
Nahrávka vychází koncem roku 1968 na labelu Truth Records a lokální rozhlasové stanice její věhlas šíří krajem rychlostí žloutenky typu A. Vzápětí zde může v popularitě směle konkurovat o pár měsíců starším filmovým sci-fi trhákům Planeta opic a 2001: Vesmírná odysea, které na jaře 1969 získají dva Oscary3.
"Měli jsme 5.000 desek, které jsme prodávali z kufru auta," zavzpomínal Trupp v roce 2012 v rozhovoru pro Journal Star. "Už za týden se ale musely nechat dělat další."
Jen v samotné Nebrasce se počet prodaných kusů brzy vyšplhal ke 14.000 kopií, což neuniklo pozornosti úspěšného manažera, promotéra a filmového producenta Jerryho Weintrauba, který chlapce získal pro RCA Records, v jejichž chicagském Studiu B Zager s Evansem a osvědčenou off-stage rytmikou nahrávají vyladěnou In the year 2525 na singl, který vyjde v červnu 1969, kdy David Bowie s Gusem Dudgeonem v londýnských Trident Studios teprve pracují na Space Oddity, příběhu fiktivního astronauta Majora Toma4.
A velehit nemůže chybět ani na albu 2525 (Exordium & Terminus), jež se na pultech objeví o měsíc později. Nejasný zůstává podíl druhého bubeníka Norma Christiana, jehož bratr Bobby se postaral o dechová a smyčcová aranžmá.
Skladba ihned boduje v Billboard Hot 100 (#72), cestu na samý vrchol americké hitparády urazí za tři týdny a usadí se tam na celých šest neděl, což bylo déle, než toho roku dokázal kdo jiný. V ten samý čas se příhodně udály takové neskutečnosti, jako bylo přistání člověka na Měsíci, či hudební festival ve Woodstocku.
Maximem alba v čele s nepostradatelným kusem bude v americkém žebříčku umístění na konci třetí desítky, zato singl na přelomu srpna a září předvede úspěšné tažení světem – první místo v Kanadě, Británii (#1 tři týdny), Irsku, Německu, Švýcarsku, první desítka v řadě dalších evropských zemí a nádavkem druhá pozice v Austrálii.
Do roka a do dne se prodá přes 4.000.000 kusů, nahrávka získá zlatou desku RIAA (Asociace amerického nahrávacího průmyslu) a nominaci na Hugo Award udělovanou nejlepším dílům v oblasti sci-fi a fantasy.
Čím to?
K enormnímu úspěchu písně paradoxně přispěl i několikaletý odklad, jenž při znalosti všech okolností možno považovat za největší Zagerův přínos.
Revoluční doba konce šedesátých let byla pro zdar podobného díla jako stvořená. Nesla se totiž nejen ve znamení mohutné vlny odporu proti establishmentu, masových protestů proti válce ve Vietnamu, černošských nepokojů ve jménu boje za rovnoprávnost, či studentských bouří v západní Evropě, ale zároveň ve znamení trvale rostoucího bohatství společnosti, úzce souvisejícího s nevídaným rozvojem vyspělých technologií, masám srozumitelně prezentovaným Armstrongovým špacírem po Měsíci. To nešlo načasovat líp!
Dokážu si představit, že vedle armády nadšených jeho kroky mnohé znejistěly, či alespoň přiměly k zamyšlení nad budoucností. Však i pokrok má svou odvrácenou stranu.
A právě Evansův katastrofický scénář, předkládající v 1010letých intervalech5 postupné odsouzení lidstva k absolutní závislosti na moderních technologiích, vedoucí k totální devastaci života i planety, kdy budou slova, myšlenky i činy na vydrancované Zemi předem naprogramovány do jediné pilulky, navíc umně zasazený do příjemně chytlavé melodie, vyjádřil naprosto dokonale obavu, která rezonovala v myslích mnoha lidí na celém světě. Co víc by si autor mohl přát?
Snad jen prožít to ještě jednou.
Nyní je to už deset tisíc let
člověk vyplakal miliardy slz
Nikdy se nedozví proč
teď jeho vláda končí
Žádné další příště se ale nekonalo. Naopak, duo Zager & Evans by se klidně mohlo stát synonymem termínu "One-hit wonder".
Společnost RCA Records sice v roce 1969 přispěchala s dalšími dvěma singly Mr. Turnkey/Cary Lynn Javes a Listen to the People/She Never Sleeps Beside Me, které byly předzvěstí druhého alba, výsledkem však bylo jen mohutné rozčarování, když se pouze v Austrálii Mr. Turnkey, (ne)cenzurovaný příběh násilníka, který vykrvácí přibitý za zápěstí ke zdi vězení, dostane do první stovky (# 86).
A dobře se snad ani nemohlo vést kompilačnímu slepenci The Early Writings of Zager & Evans and Others (1969), který na trh hbitě vyslal kalifornský label White Whale Records6, když smíchal singlové skladby The Eccentrics s ranou tvorbou kapely J. K. And Company kytaristy Jaye Kayeho, přičemž za práci The Eccentrics vydával i jediný singl Zagerovy formace The Echoes…
Avšak mnohem silnějším impulsem k rychlému vystřízlivění z hvězdného snu byl nulový ohlas na album Zager & Evans, jež vznikalo ve studiích RCA v Chicagu a v Hollywoodu na Sunset Boulevard, kde nahrávali i Jefferson Airplane, Creedence Clearwater Revival nebo Rolling Stones.
Deska s deseti Evansovým suchopárnými songy vychází na jaře 1970 v kýčovitém obalu s futuristickým nádechem a násilným odkazem na včerejší slávu a je doprovázena singlem s nealbovými čísly Help One Man Today/Yeah 32, jehož celosvětovým maximem je bídné 94. místo u protinožců. A tristní bilanci nevylepší ani singl s vybranými skladbami Crutches/The Plastic Park (1970), který historie zaznamená jen jako rozpačitou tečku za spoluprací dua s RCA Records.
Za poslední pokus o záchranu značky Zager & Evans možno považovat album Food for the Mind (1971) s výrazně pestřejším a důkladněji proaranžovaným Evansovým materiálem s tradičně netuctovými texty, jež vznikalo v newyorském studiu firmy Vanguard Records, která se odvržené dvojice ujala.

Její dlouholetý umělecký ředitel, malíř a grafik Jules Halfant byl autorem kresby na přebalu, fotografii dodal Joel Brodsky, jenž má na svědomí přes 400 obalů alb a proslul i kolekcí The Young Lion s Jimem Morrisonem (1966). Ale ani poctivá snaha všech zúčastněných, jež z díla sálá, či doprovodný singl, pro který byly vhodně zvoleny skladby Hydra 15.000 a I Am, již nezvrátily chod dějin.
Cesty Ricka Evanse a Dennyho Zagera se ještě v roce 1971 rozešly.
Evans vyrazil do Nashvillu, hlavního města státu Tennessee a žánru country, kde v sedmdesátých letech natočil dvě desky, na nichž se podíleli osobnosti tamní hudební scény, mj. Norbert Putnam a Mike Leech (baskytara), Charles 'Chuck' Cochran a David Briggs (klávesy), Kenneth Buttrey (bicí), či Weldon Myrick (steel kytara), jejichž služeb zhusta využívali Elvis Presley, Roy Orbison, Joan Baez, Donovan, Neil Young, J. J. Cale, Johnny Cash, ad.
Album I Need This Song, které vyšlo u Truth Records s Evansem nazpívala Pam Herbert z country-folkové formace Sour Mash, v níž se vyučili všichni členové dosud aktivního souboru The Melody Wranglers, v němž zpěvačka vystupuje po boku svého manžela, kytaristy Randyho Bargera.
Zajímavostí budiž zařazení dříve nezveřejněného čísla Clocks, pořízeného ještě v Odesse s Davem Truppem za bicími.

Druhé album Fun Songs, Think Songs vydal Evans na vlastním labelu Fun Records. Mezi tuctem skladeb možno znovu najít novou verzi Clocks i další vzpomínku na minulost v podobě songu Cary Lynn Javes z alba 2525 (Exordium & Terminus).
Jak ukáže čas, šlo o poslední vydanou nahrávku Ricka Evanse, který v osmdesátých letech vystupoval už jenom příležitostně, načež dal hudebnímu světu navždy sbohem.
Nějaký čas pobyl v Arizoně, kde se živil jako realitní makléř, než definitivně zakotvil v Novém Mexiku: "Jsem milovníkem samoty, což je důvod, proč žiju v Santa Fe. Je to nevelké pouštní město, přes 2000 m vysoko, samé světlo, nebe a klid. Ano, je i centrem umělců, ale já jsem jednoho dne, asi před dvěma desítkami let, ztratil vášeň pro hudbu, takže kytary leží ve skříni. A nemám ani webové stránky, Facebook, Twitter a nedělám rozhovory. Narušují soukromí a samotu," vysvětlil v srpnu 2013 svůj postoj v ojedinělé mailové komunikaci s americkou blogerkou, k níž byl motivován stále rostoucím počtem článků na internetu o Zagerových zásluhách na úspěchu jejich majstrštyku.
Vybrané texty a videa začal Evans komentovat osobitým stylem: "Skladba In the year 2525 (Exordium & Terminus) byla napsána výlučně Richardem (Rickem) S. Evansem, který vlastní práva na text i hudbu a má zásluhu na rozšíření této písně k uším veřejnosti. Rick Evans byl autorem, kytaristou a hlavním zpěvákem, Mark Dalton hrál na basu, Dave Trupp na bicí a smyčce obstarali členové symfonického orchestru z Odessy, kde se natáčelo. Denny Zager se ve skutečnosti podílel jen doprovodným zpěvem a pobrnkáváním na akustickou kytaru. Tu píseň nesnášel. Že je legendou?"
Pravda, jméno Dennyho Zagera nelze ve spojitosti se slavným songem minout a sám se k němu hlásí i na svých webových stránkách. Divit se tomu ale nemůže vůbec nikdo, však "u toho" opravdu byl.
Po krachu podniku s Evansem sice na další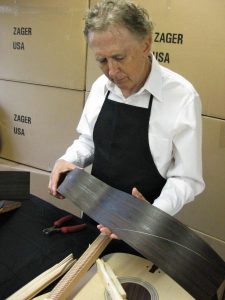 muzikantskou kariéru rezignoval, přesto svůj život zasvětil kytaře. Po návratu do domovského Lincolnu se začal zabývat úpravou nástrojů, kterých mu rukama prošly stovky, než rozjel výrobu vlastní značky Zager EZ-Play. Současně vyvíjel unikátní systém výuky hry na kytaru, který údajně dovedl k takové dokonalosti, že by naučil hrát i mě.
Poutavému řemeslu rozkvetla pšenka naplno s příchodem internetu, dnes je Zager uznáván jako jeden z předních stavitelů kytar ve Spojených státech: "Moje kytary i vzdělávací systém úspěšně používají tisíce hráčů na celém světě."
Skutečností zůstává, že faktické nepřesnosti, proti nimž se rovněž z velmi snadno pochopitelných důvodů ohrazoval Evans, nemá na svědomí jeho bývalý parťák, ale špatně informovaní přispěvatelé na internetu a početný zástup jejich bezduchých kopírovačů.
A rozumět se jistě dá i povzdechu Davida Truppa, který po hvězdné epizodě založil v coloradském Fort Collins vlastní kapelu Cotton, s níž se po čase vrátil do Lincolnu, kde jako vůbec první získali angažmá v proslulém Zoo Baru. Ani to ale neodvrátilo rozpad formace v roce 1973, který zároveň znamenal definitivní Truppův konec v branži.
V civilním životě vystřídal řadu zaměstnání, od barmana po prodavače vinylů a ojetých aut, a zůstával v kontaktu s Daltonem a Evansem.

V rozhovoru pro Lincoln Journal Star z 27. 2. 2012 uvedl: "Celé roky jsme spolu mluvili, ale Rick najednou přestal komunikovat, jednoduše přerušil všechny kontakty… Tu skladbu napsal, takže má nárok na tantiémy. Takhle to funguje, beru, i když si myslím, že s námi mohl zacházet férověji. Kdyby aspoň zavolal a řekl: 'Ahoj, jak se máš? Jen jsem se chtěl ujistit, že jsi v pořádku. Jo, a dík, žes mi pomoh' vydělat 10.000.000 dolarů.'"
Dave Trupp zemřel na plicní embolii v nebraském Lincolnu 17. listopadu 2015 ve věku 72 let.
Na svých 15 minutách slávy nezbohatl ani čtvrtý člen tehdejší studiové sestavy Mark Dalton: "Hodně jsme zkoušeli už v Lincolnu, než jsme jeli nahrávat. Jen vokální harmonie nám zabraly hodiny a hodiny. Ve studiu jsme tu píseň natočili na jeden zátah. Rick nám dal 50 dolarů a zaplatil naše náklady na cestu do Texasu a zpátky. Až druhá session v Chicagu nám vynesla pár tisíc."
Dalton jako jediný z kvarteta nehodil muzikantskou flintu do žita a po návratu z akce "2525" ochutnal vůni country v lincolnských formacích The Farm Security Administration (1970) a Blackjack (1971-72), načež se v roce 1973 vydal do Seattlu, kde se dokonale etabloval na bluesové scéně. Byl členem The Isaac Scott Blues Bandu, s The Slamhound Hunters natočil několik alb a podíval se i do Evropy. Vystupoval na významných bluesových festivalech po celém severozápadě, hrál s legendami žánru (Lazy Lester, Hubert Sumlin, J. B. Hutto, Eddie Taylor), či s králem bluesové foukací harmoniky Charliem Musselwhitem, který se onehdá představil i v Česku.

V roce 1992 se Dalton probluesoval k titulu nejlepší basista podle Washington Blues Society a ocenění hráčsky plodné kariéry se dočkal i v někdejší domovině. Kdosi porušil pravidla společenské hry Y2K na konec světa, nic tedy v roce 2000 nestálo v cestě jeho uvedení do Nebraska Music Hall of Fame (mj. ve společnosti The Eccentrics!).
Na podzim roku 2003 nastoupil do Chris Stevens Bandu a dál je i vyhledávaným spoluhráčem jak ve studiu, tak na pódiu. O hudbě píše pro Blue Suede News, WBS Blues News, Jet City Blues a další regionální periodika.
A třeba zachytil i zprávu o tom, že po teroristických útocích z 11. září 2001 si na píseň, kterou pomáhal proslavit7, vzpomněla mediální společnost Clear Channel Communications, Inc. se sídlem v texaském San Antoniu (nyní patřící korporaci iHeartMedia), která sestavila tzv. 2001 Clear Channel memorandum, jež obsahovalo seznam 158 písní (některé ve více verzích) nedoporučených k rozhlasovému vysílání a obeslala jím přes 1200 stanic ve Spojených státech…
Evansův song se tak rázem ocitl mezi díly jako Mother (Pink Floyd), Stairway to Heaven (Led Zeppelin), Imagine (John Lennon), Hey Joe (Jimi Hendrix), Holy Diver (Dio), Sabbath Bloody Sabbath (Black Sabbath), Bridge Over Troubled Water (Simon & Garfunkel), Knockin' on Heaven's Door (Bob Dylan i Guns N' Roses), či Lucy in the Sky with Diamonds (The Beatles) a hned sedmičkou kusů blacklistových šampiónů AC/DC (mj. Highway to Hell, Hells Bells, T.N.T.).
Podobnému nesmyslu kapitálních rozměrů může konkurovat snad jedině dávná spekulace v týdeníku Time, která autorství skladby In the year 2525 přisoudila supervýkonnému počítači z RAND Corporation, prestižní výzkumné instituce amerického letectva, založené v roce 1946.
V souvislosti s písní se ovšem nejednalo o první přijaté opatření. Soudruhy z USA o celá tři desetiletí předběhly úřady v tehdejším socialistickém Československu, které neschválily distribuci již vylisovaného singlu s převzatými čísly Hare Krišna a V století dvacátém devátém, jež pro Supraphon natočila Marta Kubišová. Celý náklad byl zničen a její poslední předrevoluční nahrávka Kde máš svůj dům ze 17. června 1970 se na desky už vůbec nedostala. Zbyl po ní jen předpřipravený obal.
Česká variace na globální hit se znamenitým textem Zdeňka Rytíře tak nevešla v obecnou známost ani u nás, natožpak ve světě, kde začaly předělávky různého stupně vydařenosti vznikat bezprostředně po vydání "texaského" singlu. Dnes existuje přes šedesát cover verzí (mj. REM, Laibach, Ian Brown), ovšem světlejší zítřky ve vzdálené budoucnosti nenabízí žádná z nich.
Byl to ale právě Rick Evans, kdo na svém posledním singlu nastínil tuze lákavou vizi osudu lidstva, snad jako kompenzaci za předchozí pochmurnou předpověď: "Hydra 15.000 je názvem fiktivního vědeckého projektu, který studuje DNA a genetickou povahu. Konečným výsledkem má být schopnost přeskupit naše geny tak, aby se změnila negativní stránka lidského myšlení v pozitivní. Tyto změny v naší povaze by mohly automaticky vytvořit harmonickou, mírumilovnou společnost."
S katastrofickým scénářem dobyl svět, optimistická prognóza byla začátkem jeho konce.
                                                      ***
Poznámky:
1 Tommy Allsup zemřel 11. ledna 2017 na komplikace při operaci kýly. Bylo mu 85 let.
2 Část Evansova textu se dostala mj. i na web helpforenglish.cz do článku pojednávajícím o správném čtení letopočtů v angličtině. Nelze než souhlasit s autorem, že "pokud byste do písničky měli vměstnat 'in the year two thousand, five hundred and twenty-five', asi by to takový hit nebyl."
3 Schaffnerova Planeta opic obdržela zvláštní cenu za masky (nominace i za kostýmy a hudbu Jerryho Goldsmithe), Kubrickovo kultovní dílo 2001: Vesmírná odysea získalo Oscara za vizuální efekty (plus nominace v kategoriích nejlepší režie, scénář a výprava).
4 Bowieho Space Oddity byla natočena 20. 6. 1969, vyšla 11. 7. 1969, do UK Singles Chart pronikla až 6. 9. 1969 (#48) v době, kdy In the year 2525 byla už druhý týden v čele britské hitparády. O poznání líp se povede, především v Americe, až reedicím ze sedmdesátých let.
5 Evansova časová osa (2525 – 3535 – 4545 – 5555 – 6565 – 7510 – 8510 – 9595 – 2525) nechybí v databázi celočíselných posloupností On-Line Encyclopedia of Integer Sequences (OEIS).
6 Label White Whale Records skončil v roce 1971, jeho katalog nyní vlastní Sundazed Music.
7 Dostupné údaje o počtu prodaných nosičů s nahrávkou In the year 2525 povětšinou uvádí přes 10 milionů kusů, skladba zazněla i v několika filmech a sci-fi sériích (Vetřelec 3, Tunelové krysy, Divnej týpek, Cleopatra 2525, Millennium).