"Rád listujem v starších časákoch a pripomínam si zaujímavé články. Nedávno som sa hrabal v Classic Rock_u. Naďabil som na spomienku, ktorá sa vzťahuje na dnešný dátum a jej autora požiadal o zverejnenie. Pôvodný text bol publikovaný v čísle 5/2002."  (Pito)

LIVE PO DESIATICH ROKOCH

RUSH: 28. apríl 1992 – Norimberg, Frankenhalle
Sú koncerty, ktoré ich návštevníkom zostanú v pamäti pár hodín, sú také, na ktoré si fanúšik pamätá týždne alebo mesiace, ale sú aj také, ktoré bunky šedej mozgovej kôry zachovávajú v spomienkach človeka až do samého konca. Verím, že v mojom prípade sa posledná alternatíva vzťahuje k (vzácnej) udalosti, ktorej bude v týchto dňoch už 10 rokov. Zatiaľ posledné turné, ktoré torontskí RUSH absolvovali po Európe, sa totiž uskutočnilo v apríli 1992.

3. septembra 1991 vyšiel album Roll The Bones. Na prelome roka kapela podporila predaj platne intenzívnou koncertnou aktivitou na území Kanady a USA. Vo februári 1992 mi moja agilná sestra priniesla k narodeninám v Nemecku kúpenú LP, ešte zaliatu v ochrannej fólii. Na prednej strane prebalu svietila nálepka Europa – Roll The Bones Tour 1992 a štrnásť zastávok: šesť v Británii, jedna v Rotterdame i Paríži a šesť po území Nemecka. Dilema, ktorá sa rýchlo zúžila na alternatívu, či to bude Berlín alebo Norimberg, bola čoskoro vyriešená mojou sestrou, ktorá v rámci marcovej služobnej cesty do Nemecka šikovne vybavila u organizačného šéfa norimberskej Frankenhalle tri lístky s označením "Presse", hoci nikto z nás nebol profesionálnym novinárom alebo hudobným publicistom. A tak som absolvoval 650 km cestu vlakom do Prahy a 350 km autom na miesto vysneného koncertu.
Desaťtisícová Frankenhalle bola zaplnená tak z troch štvrtín tesne pred dvadsiatou hodinou. A to ďalší a ďalší ľudia stáli vonku v rade na lístky. Takmer presne úderom celej na okraj pódia pred ťažkým tmavočerveným závesom nastúpila trojica – vtedy len do povedomia vstupujúca, dnes takmer kultová americká alternatívno rocková skupina PRIMUS. Les Claypool (basa, spev), Larry La Londe (gitara) a Tim "Herb" Alexander (bicie) vo svojom 50 minútovom sete zahrali fláky zo svojej novinky Sailing The Seas Of Cheese a z predchádzajúcich albumov Suck On This a Frizzle Fry. Nemecké publikum prijalo nárez Američanov, hoci ich mnohí počuli prvýkrát, veľmi pozitívne.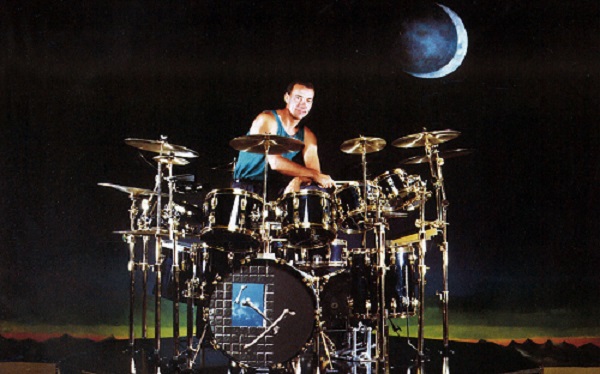 Iba 10 minút stačilo usporiadateľom na demontáž Alexandrových bicích a odstránenie mohutného závesu odhalilo priestorové pódium, na ktorom sa skvela bicia súprava, nie každodenný pohľad. Rozsiahla kombinácia akustických a elektronických bicích, rôzne perkusie a na špeciálnej kovovej konštrukcii upevnené rôzne cingrlátka v akčnom priestore tohto Pána bubeníka. Nad bicími sa rozprestieralo projekčné plátno (obrazovka), pod stropom a na bočných stenách sústavy reflektorov.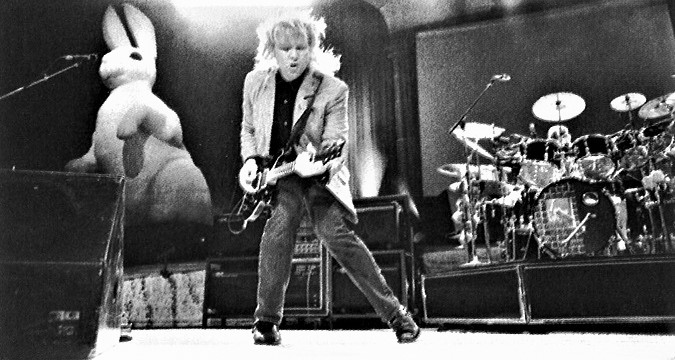 Päť minút po deviatej to vypuklo. Za plného osvetlenia pódia, z pohľadu divákov po ľavej ruke, prišiel v tmavom saku a modrých džínsoch blonďák Alex Lifeson, zprava Geddy Lee v čiernom tričku, čiernych nohaviciach a s čiernymi okuliarmi – lennonkami, tradične dlhé vlasy zopnuté do copu. Za bicie sa posadil mág Neil Peart v akejsi skrátenej bielej tóge, s orientálnou čapicou na hlave. Svetlá pohasli, motív obalu platne na videoprojekcii hovoril jasne – otvárak Force Ten z albumu Hold Your Fire. Živá verzia hitu a vizuálna zložka videoklipu prebehli v absolútnej symbióze. Famózne. Kapela ani nečakala na potlesk a vypálila ďalšie skladby, ktoré mali v dobe svojho vydania ambície rockových hitov: Limelight, Freewill, Distant Early Warning voľne prechádzajúci do peciek Red Sector A, Time Stand Still.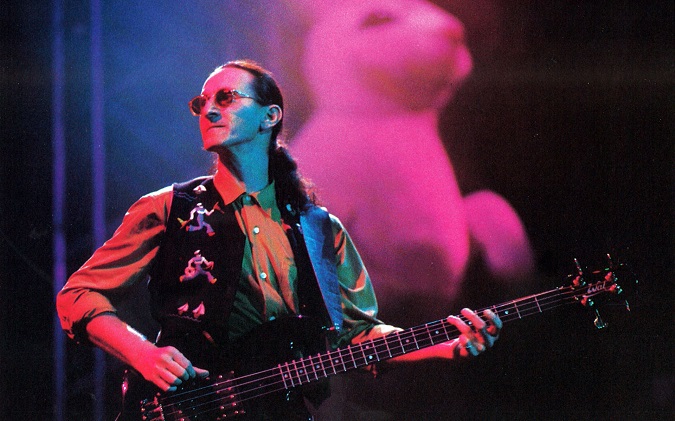 Obecenstvo, hoci sa o Nemcoch vraví, že sú chladní, bolo vo vare sotva po 35 minútach koncertu. Až teraz Geddy zdraví publikum a súčasne ohlasuje tri kúsky novinky – Dreamline, Bravado a titulný Roll The Bones. Opäť beží videoprojekcia s opakujúcim sa motívom z domina skladajúcej sa steny a malého chlapca kopajúceho do lebky – všetko korešponduje s obalom platne. Alex počas koncertu strieda tmavomodrého Fendera, ktorý má výrazne ostrý zvuk, s hnedočerveným Gibsonom, zvukovo oveľa príjemnejším a známejším z platní skupiny. Taktiež využíva pred ním stojaci gitarový syntezátor a basový pedál. Štvorstrunový Geddy hraje na čiernom Fenderi, v náročnejších pasážach berie do ruky dvojkrkovú kombináciu basgitary a dvanásťstrunovky. Pred ním, prirodzene, stojí často využívaný syntezátor Roland a taktiež basový pedál. Nasledujú ďalšie pecky – Show Dont Tell, The Big Money, Subdivisions, The Pass, potom opäť novinka Ghost Of Chance a po nej takmer desaťminútová The Trees. Obecenstvo, hlavne v prvých radoch, buráca. Po inštrumentálke Wheres My Thing? ohlasuje Geddy desaťminútovú pauzu.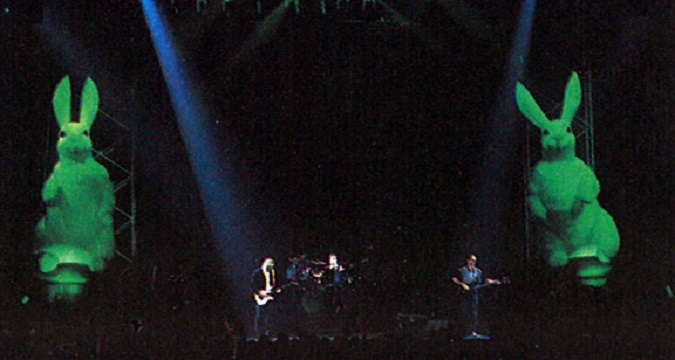 Po takej nakladačke vôbec neuškodilo tých pár minút na nadýchnutie. Usporiadatelia zatiahli tmavočervený záves – signál, že na pódiu budú nejaké úpravy. Po pár minútach to bolo jasné – zmizlo plátno, zato po oboch stranách pribudli dva gigantické nafukovacie biele zajace stojace na čiernych klobúkoch – rekvizity korešpondujúce s obalom albumu Presto, zrejme využité na predošlom kanadsko-americkom Presto Tour 1990. Svetlá opäť pohasli, kužele reflektorov sa zabodli do monštróznych bicích, za ktoré sa posadil Neil a spustil The Rhythm Metod – Drum Solo – lekciu pre všetkých muzikantov tohto remesla – takmer päťminútový kúsok, známy zo živáku A Show Of Hands. Sála buráca, ale to už je na pódiu Alex, ktorý vybrnkáva veľmi známy motív, do ktorého nastupuje vysoký Geddyho vokál – Closer To The Head – koncertná hymna RUSH s textovým posolstvom, pri ktorej sa rozsvietili stovky zapaľovačov medzi obecenstvom. Nasledujúca dvanásťminútová Xanadu je nostalgickou remeniscenciou do druhej polovice 70. rokov, na artrockové obdobie vo vývoji kapely. Po nej prichádza trochu nečakane veselá vypaľovačka Superconductor, pri ktorej nafukovacie zajace komicky podskakujú. Po mega pecke Tom Sawyer sa trojica "prekvapivo" lúči, ale snáď každý tuší, že to zďaleka nie je od RUSH všetko.

Frenetický aplauz vráti kapelu behom dvoch minút naspäť na "pľac" a začína nevídaný 40 minútový prídavok. The Spirit Of Radio, skladba, ktorou vo svojej dobe RUSH definitívne prerazili v severoamerických FM rádiách. 2112 (Overture) pripomína slávne sci-fi dielo kapely. Finding My Way, návrat ku koreňom, otvárak z prvého albumu skupiny, evokuje dobu raných Led Zeppelin a Hendrixa. Takmer desaťminútová inštrumentálka La Villa Strangiato z Hemispheres je ukážkou Alexovej gitarovej ekvilibristiky. Druhá hymna kapely – hardrocková Anthem, je jedinou sondou z druhej štúdiovky Fly By Night. Ďalšia perla dynamického hard rocku – Red Barchetta – a publikum je na bode varu. Alexovo opakované gitarové intro z The Spirit Of Radio voľne prechádza do skrátenej verzie ďalšieho veľdiela – Cygnus X-1. Geddy odspieval celý koncert v úžasnej forme, časté vysoké polohy mu nerobili problémy. Hviezdny výlet končí, svetlá sa rozsvecujú, trio sa nenávratne lúči. Iba Geddyho "See you in next time"  zaznie nad lesom zdvihnutých a mávajúcich rúk… 
Pred Frankenhalle si za dvadsať mariek kupujem tričko s motívom Roll The Bones Tour, ktoré je funkčné a kultové dodnes. Bolo to moje najlepšie koncertné rozhodnutie v doterajšom živote. Droga, zvaná muzika, láme vzdialenosti…

Poznámka:
Fotografie RUSH sú iba ilustračné, nepochádzajú z norimberského koncertu.