Nešťastní bankoví a vlakoví lupiči Butch Cassidy a Sundance Kid vo svojom krátkom živote netušili, že o 70 rokov neskôr traja mladíci v newyorskom Brooklyne budú volať v mene lorda Baltimora; príď, kráľovstvo nebeské – Kingdom Come. Vo filme, ktorý bol inšpirovaný ich životom, meno ich úhlavného nepriateľa a prenasledovateľa Sira Lorda Baltimora, ktorý v skutočnosti žil pár storočí pred lúpežníkmi (reálne to bol Joe Lefors), bolo fiktívne pridané do filmu z roku 1969. Sundance Kida, bleskurýchleho strelca a kartára, stvárnil Paul Newman a Butcha si zahral Robert Redford. Film končí záverečnou scénou, kde sú Butch a Kid v Bolívii, v meste San Vincente, spoznaní a pri prestrelke im dochádzajú  náboje. Rozprávajú sa o budúcom živote v Austrálii. Musia sa prebiť cez obkľúčenie a podniknú poslednú akciu. Tá však skončí tzv. filmovou "mŕtvolkou" – scéna sa zastaví a koniec filmu neukáže ich zabitie. Neskôr však niektorí verili, že žijú.
My však vieme, že sa mýlili a s istotou tých neborákov uistíme, že Sir Lord Baltimore bola jedna z najtvrdších amerických skupín (ak nie najtvrdšia) v obrovskej severnej Amerike na prelome 60-70 tych rokov. Traja ani nie dvadsaťroční mladíci položili obrovský základný kameň v hudobnom svete. Nevedeli, že zakladajú nový rockový hudobný štýl, heavy metal. Označenie "heavy metal" bolo použité v článku o skupine v časopise Creem. Napísal ho Mike Saunders v máji 1971. Nebolo to po prvýkrát, keď toto označenie (slovné spojenie) bolo použité. Kapela Steppenwolf ho mala v piesni Born To By Wild, sám Saunders heavy metal spojil 6 mesiacov predtým v neprajnej a hanlivej recenzii na LP Humble Pie v časopise Rolling Stone. Nech je ako chce, aj Sir Lord Baltimore je tvorcom tohto hudobného smeru. Tak ako Sundance Kid a Butch Cassidy, aj SLB mali krátky životný príbeh, ani oni veľa vody vo svojej dobe nenamútili a z vytúženého finančného zisku sa netešili.

Sir Lord Baltimore za svojej existencie absolvoval iba 29 koncertov, vydal dva albumy a na treťom začal pracovať. Skupina ho nedokončili a rozpadla sa. Začalo to tak ako vždy, stredoškolák John Garner chcel založiť hudobnú skupinu. Oslovil Garyho Justina a Louisa Dambru a v roku 1968 začali spolu skúšať. Prihlásili sa do konkurzu vyhlásenom v časopise "The Village Voice" Mikeom Appelom, ktorý vyhľadával mladé hudobné talenty, hľadal "heavy" skupinu. Mali nacvičené 4 piesne. Gitarista Louis Dambra hral v skupine Koala a práve v tej dobe im vyšiel album. Mikeovi Appelovi sa chlapci páčili a vymyslel im meno podľa postavy v spomínanom filme – Sir Lord Baltimore. Chlapci neprotestovali, v podstate im to bolo jedno.
Mike Appel im dohodol termín (1970) vo Vantone Sound Studios, a tak začali nahrávať v štúdiu, ktoré bolo vo West Orange (v mestečku býval Thomas A. Edison) neďaleko New Yorku. Nemali žiadne veľké hudobné ambície. Ich hudba bola agresívna, rýchla, veľmi hlasná. Brooklyn bola časť New Yorku (všetci dobre poznáme z dobových filmov), veľmi drsná, neprajná a nebezpečná. Toto prostredie malo určite významný vplyv na muzikálny a dynamický prejav ich hudby. Pri nahrávaní skladieb zaujali manažéra Dee Anthonyho, ktorý sa ich ujal (producent) a zabezpečil v štúdiách Electric Lady Studios, ktoré dal urobiť Jimi Hendrix, významného zvukára Eddieho Kramera na pokračovanie nahrávania nových piesní a nahrávanie "over dubingu" surových nahrávok kapely zo štúdia Vantone. Eddie Kramer nahrávky aj zmixoval. Neskôr pri koncertoch im tieto "znásobené" gitary robili veľké problémy, lebo kapela nedokázala hrať tak isto ako na platni.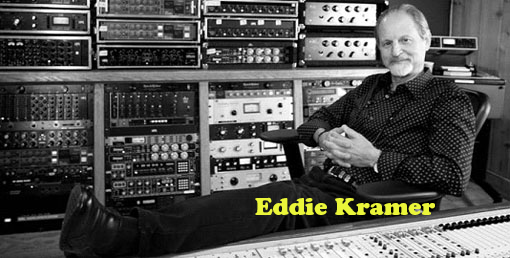 Pristavím sa pri Kramerovi, jeho zvukárska kariéra obsahuje zvučné mená, spomeniem iba nahrávku Woodstocku, albumy Led Zeppelin, Jimiho Hendrixa, Small Faces, Kiss a mnoho, mnoho ďaľších. Bol vyhľadávaným zvukárom na nahrávku live koncertov, v Electric Lady pracoval asi 5 rokov.
Pri písaní tejto recenzie som prešiel množstvo komentárov a drvivá väčšina poslucháčov hudbu skupiny Sir Lord Baltimore hodnotí veľmi pozitívne a nadšene sa k nej hlási. Zaujalo ma však aj pár negatívnych hodnotení ( sú to skôr výnimky) a nad niektorými som sa zamyslel. Chlapci vo veku 18-20 rokov nemohli byť hudobnými virtuózmi a ich hudba určite nemohla byť dokonalá. Mali úžasné šťastie, že natrafili na Appela (neskôr spolupracoval s Bruce Springsteenom), ktorý im pomohol pri aranžovaní i písaní skladieb a dostali sa do štúdia Jimiho Hendrixa. Pri písaní im pomohol aj koproducent Jim Cretecos. Stranou B tohto príbehu je, že producenti ich obrali skoro o všetky peniaze.
Pre svoju neskúsenosť nevydržali tlak prostredia, v ktorom sa ocitli, ale to je možno pre nás dobre, lebo ich hudobný štýl nemal šancu na veľké zmeny, ktoré sa týkajú mnohých slávnych skupín. Originalitu im však nikto nevezme. Bubeník John Garner spomínal, že počúval nahrávky vydávané vydavateľstvom Motown a obdivoval Hendrixa a Led Zeppelin. Do svojich bicích búchal tak agresívne, že činely praskali a trhali sa napoly. Spev mal hrdelný a snažil sa spievať čo najhlasnejšie, z celých síl. Dambra s Justinom /18-roční chlapci/ tiež neboli pripravení na showbiznis a prvý koncert v Carnegie Hall veľmi ťažko psychicky zvládali. Dokonca sa im splnil aj ich "americký sen", nasledoval koncert vo Filmore East ako predskokani J.Geils Band a Black Sabbath. V šnúre pokračovali vo februári 1971 ako predkapela Black Sabbath (americké turné k LP Paranoid) na šiestich koncertoch.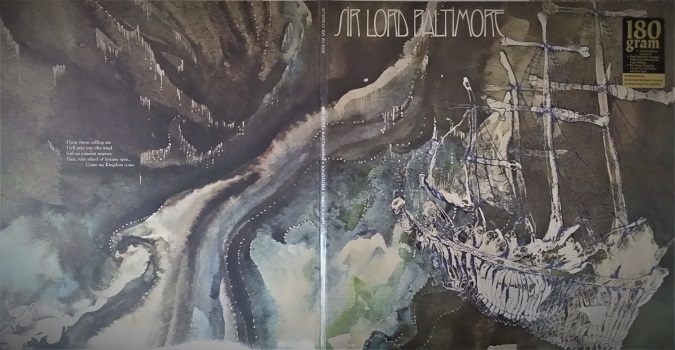 Sir Lord Baltimore – Kingdom Come
Album Kingdom Come vyšiel na značke Mercury v decembri 1970. Obal platne je desivý, zobrazuje loď "Kingdom Come" bez plachiet, plávajúcu na rozbúrenom mori so sloganom z textu titulnej piesne. Nie je to obal, ktorý by kupujúceho zaujal a vyzval na kúpu. Názov platne je napísaný na lodi, ale bolo aj vydanie, kde je názov pod názvom skupiny. Neskoršie vydania často dali B stranu ako prvú, takže album začínal titulnou skladbou. Traja mladí muzikanti v obsadení gitara, basa a bicie (bubeník spieva) vytvorila absolútne neuveriteľne znejúci zvuk s dokonalou rytmikou a feelingom, ktorý teraz vzbudzuje obdiv. Drive skupiny je taktiež výnimočný a hoci má debut iba 38 minút, skrýva v sebe drahokamy.

STRANA A
1. Master Heartache (4:37)
/Louis Dambra, Mike Appel, Jim Cretecos/
"Žena, ty si moje trápenie", v rôznych textových podobách vykrikuje spievajúci mladý bubeník Garner. Úvodná skladba SLB v tvrdej forme, skupiny, ktorá definovala pojem "heavy metal". Kapela v trojici bravúrne zvláda rytmus. Určite je výhodou, že bubeník spieva, lebo spev je absolútne podriadený rytmu skladby. Ten je podľa môjho úsudku veľmi dobrý a odráža tvrdý sound. Trochu mi vadí, že bicie a hlas sú viac vľavo, ale Kramer chcel zrejme dať na vedomie, že spieva bubeník. Skreslená basová gitara drží melódiu, aby sólová gitara mohla sólovať. Ústredný motív sa donekonečna opakuje.
2. Hard Rain Falling (2:56)
/Louis Dambra, Mike Appel, Jim Cretecos/
Nástup bicích, basa znovu v útoku a sólová gitara krásne pripája zaujímavo znejúci zvuk. Všetci dostávajú svoj priestor, aby mohli pridať rýchlosoľ do variacej sa polievky. Úžasný drive ženie krátku rýchlu pieseň dopredu. Sólujúca gitara kľudne môže byť učebnicou muzikantom. Ťažký dážď mi padá na hlavu (symbol nemohúcnosti), a ja chcem niekam uniknúť, ale nedá sa to.
3. Lady Of Fire (2:53)
/Louis Dambra, Mike Appel, Jim Cretecos/
Začína "oheň". Eddie Kramer sa pohral s mixážnym stolom a dáva skupine možnosť zahviezdiť v skladbe, ktorá mieša tvrdý rock s odviazaným bežeckým zábavným rytmom "tanečnej skupiny". Dnes je zvukový efekt "zvláštne jednoduchý" zbytočný. Nič sa nemuselo robiť. Skladba pripomína neskoršie nahrávky anglických skupín "novej vlny". Po tejto novovlnnej srandovačke začína to, čo sa mi páči, ale iba na chvíľu. Celkom slabá vec, nepáčilo sa mi to. S ohnivou ženou by som si vedel predstaviť aj lepšiu vec.
4. Lake Isle Of Innersfree (4:03)
/Mike Appel, Jim Cretecos/
Akustická skladba. Od doterajšieho soundu skupiny sa líši atmosférou aj hudobne. Pomalá skladba s výraznou melódiou. Spev s vokálnou podporou. Bez bicích a bez basovej gitary. John Garner spieva výborne, má hudobné cítenie a skladba vyznieva vierohodne. Priznanie desaťročného chlapca k láske k 17-ročnému dievčaťu a s nenaplnenými túžbami. Krásna vec. Zvuk gitár mi evokuje renesančnú hudbu starých trubadúrov. "As time goes bay", čas nezastavíš, nemuselo to skončiť.
5. Pumped Up (4:07)
/Louis Dambra, Mike Appel, Jim Cretecos/
Tu už Sir Lord Baltimore začína svoju "pumpovačku", ktorú poznáme. Viac priestoru dostáva Louis Dambra na sólovke. Mal by som to začať porovnávať s Jimmym Pageom, ale veľmi sa mi nechce. Dambra hrá po svojom, má svoj štýl, aj keď sa určite nevyhol vplyvu iných gitaristov. Dobrá skladba, žije to a treba naozaj pozorne počúvať, aby neušli všetky tie zvláštnosti a vychytávky. Basová gitara sa nezastaví a ani na okamih neprestáva hnať pieseň dopredu. Ale občas predsa len zastane. Vypomôžem si textom piesne, "Oh, shit, never got so pumped up. Look out!" Vybuchnem! Radšej to nechám v originálnom znení.
STRANA B (niekedy ako Strana A)
6. Kingdom Come (6:35)
/Louis Dambra, Mike Appel, Jim Cretecos/
Predstavenie B sa začína basovou linkou s razantnou podporou bicích nástrojov. Nalepšia skladba prvotiny trojky z Brooklynu. Kľudne nedýchajte a iba počúvajte, volume na "plné gule". Riff a za pár sekund nastupuje gitara kvílivým tónom, aby sa bubnujúci John Garner pridal spevom. Už po prvých slovách piesne je jasné, že mladík spievať vie. Nemá sa za čo hanbiť. Skladba nie je rýchla, ale o to lepšie vychádzajú všetky nástroje. Ide im to a kto doteraz túto kapelu nepočul, môže ľutovať. V texte je odkaz na vieru Louisa Dambru v obraze "počujem volanie sirén, vietor ma unáša a volám; Príď, kráľovstvo nebeské". Pieseň stvárňuje aj obal platne. Skladba stále pokračuje a úvodná melódia sa opakuje. Teraz hrá basová gitara spoločne s gitarou ústrednú melódiu. Basa zakončuje riff nádherným oblúčikom (hák), ktorý dodá skladbe zaujímavý šmrnc. Nie je mi jasné, ako dosiahli tajomný zvláštny zvuk, ktorý sa v skladbe objavuje. Dambra nastupuje do sóla, Justin na base hrá opakovane riff skladby, zvuk gitary a basy je viac vľavo, iba bicie hrajú vpravo. Škoda, mohol z toho byť lepší sound, ak by bol dodržaný stereo efekt pri nahrávke. Kramer bol však perfekcionalista a možno táto nahrávka bola z Vantone štúdia a už s tým nemal čo urobiť. Záver je rýchly, so sólujúcou gitarou, agresívnymi bicími a basou, ktorá hrá riff.
7. I Got A Woman (3:03)
/Louis Dambra, Mike Appel, Jim Cretecos/
Začiatok sľubný, nástup spevu v rezkom tempe. Vyzývavý hrdelný spev. Basová gitara hrá riff, aby gitara Garyho Justina hrala sólovo. Skladba je rýchla a krátka, objaví sa aj sólo na bicie. Jasná vec, Garner má ženu a ona má jeho. Všetko sa to motá okolo ich lásky. Jednoduchšia skladba postavená na opakovom hudobnom motíve. Spev je niekedy málinko skreslený, ale to vôbec nevadí.
8. Hell Hound (3:20)
/Louis Dambra, Mike Appel, Jim Cretecos/
Veľmi rýchla a úderná pieseň. Trošku ako zvuk Led Zeppelin. Dambra má podobný zvuk ako Jimmy Page. Garner sa snaží rýchlymi brejkmi dotvárať plný zvuk kapely. Pekelný pes je naozaj rýchly, tentoraz sólová gitara hrá prím. Ostatní dvaja sa pridávajú do mohutnej zvukovej steny. Ani sekundu nikto z nich neváha a hrá ako o život. Krátky spomalený oddych, aby pieseň pokračovala v divokej živočíšnej tvrdej forme. Záver skladby je ukážka overdubingu pri nahrávaní gitary. Nešťastný príbeh lásky s neverou milovanej ženy a smrťou milenca. Čierna mačka bola predzvesťou nepekného príbehu, ale prirovnanie ženy k zvieraťu by dnes bola náročná dilema.
9. Helium Head (I Got A Love) 4:02
/Louis Dambra, Mike Appel, Jim Cretecos/
Bicie v útoku, gitara v odozve. Basa pridá drive a preberá opraty, aby sólovka pridávala druhý hlas. Stredná časť je pekelná práca kapely vo vytržení, zvukové efekty Eddieho Kramera podčiarkujú nenásytnosť mladíkov vytvoriť a zahrať svoje party čo najrýchlejšie. Sólujúce bicie na konci končia v stíšenom zvuku. "Mám lásku, potrebujem telo", vyspevuje Garner dookola a kapela sa rúti v rytme uháňajúceho draka. Je mi jasné, že kapela nemohla byť v trojke tak úspešná na koncertoch, lebo traja nemohli hrať za štyroch.
10. Ain't Hung On You (2:24)
/Louis Dambra, Mike Appel, Jim Cretecos/
Záverečná bodka debutu. Znovu omračujúca palebná sila v zdrvujúcom rytme. Duet basa-gitara v súzvuku. Garner sa trošku stráca v speve, skladba totiž nemá bohvieakú melodickú linku, je to skôr rýchlo sa opakujúci riff. Bubeník si občas dá stop time, aby znovu pokračoval. Nie som na tebe závislý a hotovo.

Sir Lord Baltimore sa svojou hudobnou agresiou nedočkal vytúženého úspechu. Ich hudba bola príliš hlučná a texty piesní s malou inšpiráciou z náboženskej tematiky tiež neuspeli. Na základe dosiahnutého neúspechu pribrali na nahrávanie druhého albumu štvrtého muzikanta, bol to Louisov brat Joe Dambra. LP Sir Lord Baltimore vyšla v roku 1971. Dvojka sa vôbec nepredávala a Mercury Records kapelu pustil k vode. Skupina strácala popularitu a koncerty sa im nedarili. Začali vznikať hádky o tom, kto a začo môže, nastali finančné problémy. Schválne som uvádzal autorstvo piesní z debutového albumu. Iba Dambra bol uvádzaný ako autor piesní. Garner a Justin neboli autorsky činný. Všetok zisk tak dostávali producenti a niečo Dambra, ale skupine sa ušlo len málo, skoro nič. Prejavovalo sa aj používanie návykových látok a skupina nastúpila na cestu, z ktorej nebolo návratu. V polovici 70-tych rokov sa ešte snažili vstať z mŕtvych a začali znovu v trojici pracovať na treťom albume. Všetko prebiehalo sľubne a vydanie bolo naplánované v roku 1976. Pri nahrávaní vznikali nezhody a hádky medzi Garnerom a Appelom. Mike Appel speváka a bubeníka zo skupiny vyhodil a "americký sen" Sira Lorda Baltimora sa rozplynul ako hélium.
John Garner po rozpadnutí skupiny pracoval v New Yorku a manažoval svadobné skupiny. Bol veľmi nahnevaný na účinkovanie SLB kvôli problémom týkajúcich sa financií, mladíci boli veľmi neskúsení pri zmluvách a peniaze z nich nemali. Louis Dambra sa stal pastorom a pôsobil Los Angeles. Reinkarnácie skupiny nebudem spomínať, tie už pre hudobný svet nemali veľký význam.
John Garner zomrel pokojne v roku 2015 na zlyhanie pečene, bol v kóme.
Louis Dambra zomrel v roku 2019.
Producent Dee Anthony (1926-2009).
Aký je to paradox, vždy mienkotvorná kultová skupina, o ktorej som predtým písal, vydala iba dva albumy (May Blitz, High Tide). Sir Lord Baltimore sa dočkal priazne poslucháčov až v 21. storočí. Mnohí ju považujú za výnimočný zjav, mnohí za nevycválaných amatérov, ktorí boli nabití energiou a svoj temperament vyjadrili v priamočiarej tvrdej hudbe. Skončili neslávne ako mnohí iní, ale ja ich prínos oceňujem a hodnotím 4 hviezdičkami z 5.
Sir Lord Baltimore:
John Garner – lead vocals, drums
Louis Dambra – guitar
Gary Justin – bass
Nahrané v Electric Lady Studios a Vantone Studios.
Výroba: Edwin H. Kramer, Mike Appel, Jim Cretecos.
Producent: Dee Anthony.
Zvukár: Eddie Kramer, Kim King.
Mastering: Sterling Sound.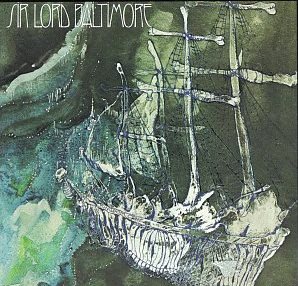 Kingdom Come
Sir Lord Baltimore
Hard Rock
Mercury
1970
LP
10
LP Mercury SR 61328 /2010/