Rok 1975 bol pre AC/DC zlomový. Po vydaní debutového albumu High Voltage vo februári toho roku nezaháľali, a popri koncertnom kolotoči s už zastabilizovanou zostavou stihli nahrať druhý album, ktorým jasne definovali svoj štýl. A ten im viac-menej vydržal až dodnes.
Klasická zostava
Turbulentný prvý rok existencie kapely bol poznačený hľadaním – rytmickej sekcie, speváka a napokon aj hudobného štýlu (viac o tom tu). Ale v marci roku 1975 všetko do seba zapadlo, keď po Bonovi Scottovi (spev) a Philovi Ruddovi (bicie) sa čerstvým členom AC/DC stal basák Mark Evans.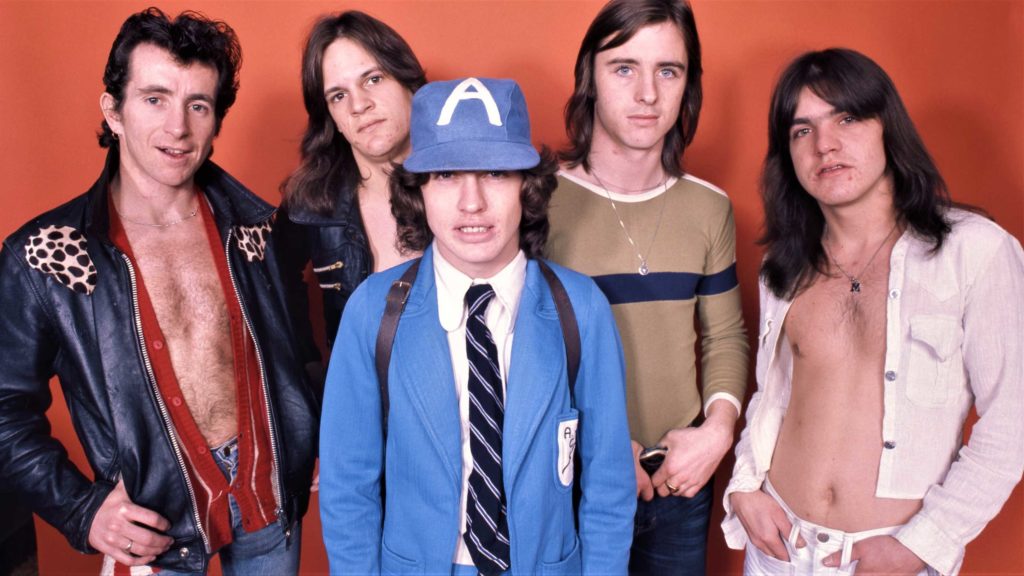 Aj garderóba kapely sa postupne zmenila – Angus ostal definitívne pri školskej uniforme a Malcolm a spol. sa postupne zbavili čižiem s vysokými podpätkami a glamom ovplyvneného šatstva. Iba Bon Scott ešte vystupoval na pódiu bosý, ale to sa dalo pochopiť, keďže bol o dekádu starší od ostatných a tak trochu hipík.
Tá najdôležitejšia zmena sa však týkala hudby a zvuku samotného. Kapela sa oprostila glamu a pritvrdila. Bubeník Phil Rudd si postupne osvojil a doviedol k dokonalosti štýl, ktorého základy položil Tony Currenti na predchádzajúcom albume. A dnes je vo svete hudby synonymom tohto priamočiareho a naoko jednoduchého hrania. Jednoduchého dovtedy, pokiaľ sa o to nepokúsite sami. Ale to platí pre hudbu AC/DC ako celok. Marka Evansa si pod ochranné krídla vzal George Young, ktorý nahral väčšinu basových liniek na prvých troch albumoch. A Malcolm Young prestal so sólovaním úplne a dnes je vzorom pre každého rytmického gitaristu.
Táto hviezdna rytmická sekcia tak umožnila zažiariť dvom frontmenom kapely. Sólovému gitaristovi Angusovi Youngovi a spevákovi Bonovi Scottovi. Oboch bola radosť nielen počúvať, ale aj sledovať na pódiu.
Klasický album
Prejdime však k albumu s priliehavým názvom T.N.T. Nahrávanie jeho piesní prebiehalo v domovskom Alberts štúdiu číslo 1 medzi mesiacmi marec až júl 1975. Kedykoľvek bola kapela popri koncertovaní naprieč Austráliou späť v Sydney, navštívila štúdio, kde s dvojicou Harry Vanda a George Young pracovala na nových songoch. Malcolm a Angus si prešli s bratom Georgeom nové riffy a melódie za klavírom, čo bol prvotný test kvality. Následne kapela džemovala okolo riffu v štúdiu a song formovala do výslednej podoby. Vanda & Young boli tí najlepší mentori – austrálsky ekvivalent dua Lennon & McCartney.
A niet lepšieho príkladu geniality Georgea Younga ako úvodná pecka s názvom It's a Long Way to the Top (If You Wanna Rock 'n' Roll), ktorú naštartuje neskutočný riff Malcolma Younga a poháňa po celých vyše päť minút. Tento skvost je totižto zostrihaný jam kapely v štúdiu. George to prosto s nožom a páskou vedel – kam sa hrabú dnešní zvukári odchovaní na ProTooloch. Aj gajdy boli jeho nápad. Narozdiel od populárneho mýtu, Bon na ne v skutočnosti nevedel hrať. Ten síce bol ako mladík členom kapely, ktorá hrala pochodovú hudbu, ale hral v nej na bicie. Opäť za všetkým stál George a jeho vynaliezavosť. A koľkí si všimli Bonov predčasný štart na začiatku? Výborný text je inak hymnou každej kapely, pokúšajucej sa dobyť hudobný panteón. Austrálsky dídžej Holger Brockmann zo stanice 2JJ v roku 1975 premiérovo zahral túto pieseň v rádiu – a to päťkrát v rade!
Následuje ďaľší parádny kúsok s názvom Rock 'n' Roll Singer kde Bon odmieta spoločenské konvencie a jasne deklaruje svoj zámer stať sa speváckou hviezdou. Neskutočne chytľavý refrén, ktorý vás prijme spievať ho spolu s kapelou.
The Jack má veľmi zaujímavý príbeh. Inšpirovaný skutočnosťou, keď údajne Malcolma počas turné listom informovala jedna dievčina s ktorou predtým bol, že od neho chytila kvapavku. To inšpirovalo Bona, aby napísal ultimátny song o tejto nie moc príjemnej záležitosti, ktorá sa v tej dobe medzi členmi kapiel šírila ako mor. Pôvodný text bol pre šéfa vydavateľstva Teda Alberta príliš silná káva, a tak ho Bon prepísal a majstrovsky skryl ódu na kvapavku do kartovej hry (kvapavka = jack = dolník). Naživo samozrejme spieval pôvodný explicitný text. Teda, až na jedinú výnimku – živák Live from the Atlantic Studios, ktorý bol nahraný v newyorskom štúdiu Atlantic Records ako promo pre rádiá počas prvého amerického turné v roku 1977. Tí všímavejší započujú na albumovej verzii aj dievčenský smiech. Jedno z najlepších sól Angusa Younga. Až do konca Malcolmovho pôsobenia v kapele bol tento song koncertnou stálicou a dosť možno aj najčastejšie hraným číslom v histórii AC/DC.
Stranu A uzaviera paradoxne otvárací song Live Wire. Táto pieseň s parádnym stupňovaním začínala každý koncert kapely až do Bonovej smrti. Basa, rytmická gitara, bicie, Bon a explózia v momente keď sa pridá aj Angus. A druhá kulminácia po sóle na konci inštrumentálnej pasáže. Najmä naživo elektrizujúce číslo. Presne ako ten drôt pod prúdom, ku ktorému sa Bon v piesni prirovnáva.
Titulný song T.N.T. začína Malcolmov nekompromisný riff a Angusov pokrik "Oi! Oi! Oi!" Ďaľšie explozívne číslo a koncertná stálica. Čo viac k nemu dodať? Frenetické zvyšovanie tempa na konci akoby signalizovalo, že knôt dynamitu už dohára a čochvíľa nastane výbuch.
Ani nie trojminútový Rocker šliape naplno hneď od začiatku a do konca nepoľaví na tempe. Ďaľší Bonov autobiografický text s repetitívnym refrénom, ktorý ale Scottovi veríte. Koncertná verzia v 70. rokoch bola jeden dlhý jam, počas ktorého sa Angus na pleciach niektorého z bedňákov vydal sólovať do hľadiska.
Can I Sit Next to You Girl je prerobená verzia prvého singlu kapely, ktorý nahrala ešte s pôvodným spevákom Daveom Evansom. Táto je dlhšia, má upravený aranžmán a aj text. A je definitívne lepšia.
Predposledný song s názvom High Voltage mal v čase vydania albumu už zhruba rok, keďže ho nahrali tesne po skončení nahrávania debutového albumu s rovnomenným názvom. Za bicími nesedí Phil Rudd, ale Tony Currenti. Ďaľšia ťažká klasika v repertoári kapely. A jediný song, ktorý Malcolm Young nahral s inou gitarou než jeho legendárnou Gretsch Jet Firebird – tá bola totižto v oprave. Nahral ho na gitare Gibson L6-S, ktorú je možné vidieť aj vo videu Baby, Please Don't Go. A až do konca života s tým zvukom nebol spokojný…
Záverečná School Days je samozrejme cover piesne od Chucka Berryho. A veľmi dobrý! Symbolicky uzatvára album, keďže Berry bol jednou z inšpirácii a Angus si od neho okrem iného "požičal" aj kačaciu chôdzu. A pokiaľ ma pamäť neklame, tak je to aj posledný cover, ktorý AC/DC nahrali a vydali na albume. Tantiémy z coverov dostáva totižto skladateľ.
Pozamykajte dcéry
Singel High Voltage bol vydaný už v júni '75 a paradoxne dopomohol predajom rovnomenného debutového albumu, na ktorom ale nefiguroval. Nový album vyšiel v decembri toho roka spolu so singlom It's a Long Way to the Top, ku ktorému natočili aj legendárne video, v ktorom AC/DC hrajú na korbe nákladiaku idúceho centrom Melbourne. Vrátane troch gajdošov. Menej známy fakt ale je, že boli natočené dve verzie. V tej alternatívnej hrá kapela na námestí, kde končí prvé video. Inak, v austrálskom rebríčku to T.N.T. dotiahol až na 2. priečku.
V apríli 1976 AC/DC opustili domovskú Austráliu a vyrazili smer Londýn, kde sídlila britská pobočka Atlantic Records, ktorá kapelu vďaka jej viceprezidentovi Philovi Carsonovi podpísala pod medzinárodný vydavateľský kontrakt. A tak sa Londýn stal jej prechodným domovom. V Británii aj odohrala svoje prvé turné, ktoré bolo pokračovaním toho austrálskeho s totožným názvom Lock Up Your Daughters [Pozamykajte svoje dcéry] a následne zotrvala koncertovaním po Európe a Britských ostrovoch až do sklonku roku. Paradoxne, už v čase príchodu do Európy bol nahraný aj tretí album, o ktorom si povieme nabudúce.
Nie je debut ako debut
Prvým AC/DC albumom, ktorý medzinárodne vydalo Atlantic Records v máji 1976, sa stal High Voltage. Ten ale s austrálskym debutom toho veľa spoločného nemal. V zásade išlo o premenovaný T.N.T. album s novým obalom a dvoma vymenenými piesňami. Strana A zostala totožná a na strane B dostali kopačky Rocker a School Days. Medzi Can I Sit Next to You Girl a High Voltage tak vkliesnili dve čísla z austrálskeho debutu, a to Little Lover a She's Got Balls.
Britské, talianske a francúzske vydanie mali obal hýriaci farbami s kresleným Bonom Scottom a Angusom Youngom. To americké, ktoré vyšlo v ostatných krajinách (a dnes je jednotným pre celý svet), zas kolorovanú fotografiu Angusa s bleskom. Originálnu foto pripájam dolenižšie.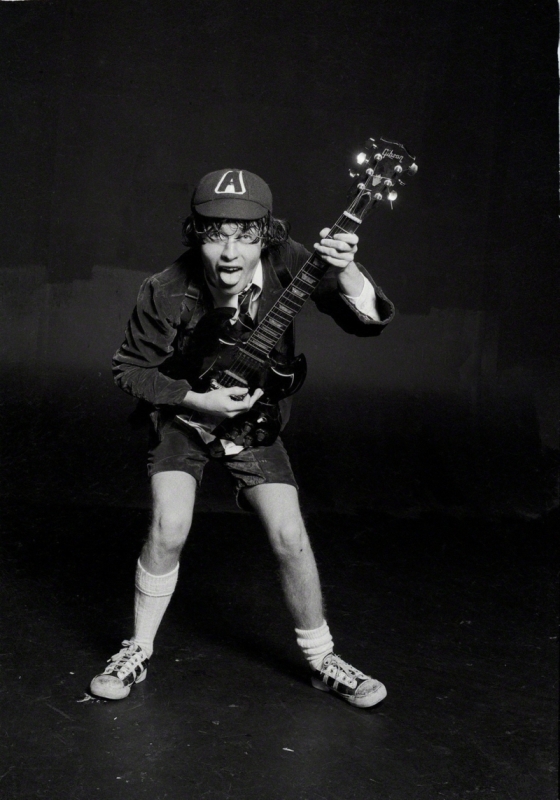 Rezultát
Názov druhého albumu kapely neklame a je to skutočne dynamit. Osobne na ňom nevidím slabé miesto. Medzinárodná verzia, logicky, vymenila cover za silnejšie piesne z debutu a tak v podstate ešte album vylepšila. Na komerčný úspech si AC/DC ešte museli počkať; to ale nič nemení na fakte, že sa jedná o klasický album v tvorbe kapely. Za mňa veľmi silné štyri hviezdy (de facto 4,5).
Skladby

It's A Long Way To The Top (If You Wanna Rock 'n' Roll) (5:16)
Rock 'n' Roll Singer (5:04)
The Jack (5:52)
Live Wire (5:50)
T.N.T. (3:35)
Rocker (2:50)
Can I Sit Next To You Girl (4:12) *
High Voltage (4:02) ↯
School Days (5:23) ✯
Všetky skladby zložila trojica Young/Young/Scott,
s výnimkou * Young/Young a ✯ Chuck Berry.
Bon Scott – spev
Angus Young – sólová gitara
Malcolm Young – rytmická gitara
Mark Evans – basa
Phil Rudd – bicie
George Young – basa [pravdepodobne celý album]
Tony Currenti – bicie ↯
Pre úplnosť pridávam aj zoznam skladieb z medzinárodnej verzie:
High Voltage (1976)
It's A Long Way To The Top (If You Wanna Rock 'n' Roll) (5:16)
Rock 'n' Roll Singer (5:04)
The Jack (5:52)
Live Wire (5:50)
T.N.T. (3:35)
Can I Sit Next To You Girl (4:12) *
Little Lover (5:39) ↯
She's Got Balls (4:48) ↯
High Voltage (4:02) ↯
T.N.T.
AC/DC
Hard rock
Albert Productions (AUS)
1975
9