Rockovou operu jakožto rozsáhlejší kompoziční celek s epickým příběhem přinesla druhá polovina šedesátých let.
Časté dohady o prvenství v této atraktivní disciplíně způsobil smutný fakt, že řada průkopníků upadla v zapomnění i se svým činem dřív, než stačila vejít v obecnou známost, stejně jako skutečnost, že tímto termínem nemožno označit každé koncepční album. Nepřísluší mj. kultovním titulům Pet Sounds od Wilsonových Beach Boys, beatlesovskému Seržantu Pepperovi, ani miniopeře The Who Sell Out, pohádkovému příběhu Small Faces Ogdens' Nut Gone Flake, či Bowieho nejznámějšímu alter egu Ziggymu Stardustovi.
Podle dostupných informačních pramenů se primátem může honosit originální Nirvana s Patrickem Campbell-Lyonsem a Alexem Spyropoulosem, která své dílo The Story of Simon Simopath v produkci Chrise Blackwella, spoluzakladatele labelu Island Records, vydala v říjnu 1967.
V níže uvedeném seznamu první vlny rockových oper možno natrefit na londýnské The Who, jejichž kytarista a geniální skladatel Pete Townshend se do světa oblíbeného hudebního útvaru opakovaně vydá i v dalších letech.*
1) The Story of Simon Simopath (Nirvana, říjen 1967): Prapodivné životní osudy psychycky nevyrovnaného Simona Simopatha, který se spřátelí s kentaurem a ožení s malou bohyní.
2) Mass in F Minor (The Electric Prunes, leden 1968): Rocková mše Davida Axelroda zpíváná v latině, jejíž úvodní část Kyrie Eleison zněla ve filmu Easy Rider.
3) Miss Butters (The Family Tree, květen 1968): Třináct písní rozdělených do čtyř etap symbolizujících jednotlivé fáze života staré panny, učitelky Miss Butters.
4) S. F. Sorrow (Pretty Things, prosinec 1968): Písňový cyklus vyprávějící příběh hlavního hrdiny Sebastiana F. Sorrowa od narození až k rozčarování ze stáří.
5) House Of Leather (The Blackwood Apology, leden 1969): Nevšední příběh z americké občanské války, který se odehrává převážně v nevěstinci.
6) Tommy (The Who, květen 1969): Po traumatickému zážitku z dětství ztratí Tommy všechny smysly – je hluchý, němý a slepý, přesto se stane vůdcem mesiášského hnutí.
7) Arthur Or The Decline And Fall of the British Empire (The Kinks, říjen 1969): Příběh poznamenaného Londýňana, který se po druhé světové válce rozhodl přesídlit do Austrálie.
8) Jesus Christ Superstar (Tim Rice a Andrew Lloyd Webber: září 1970): Poslední týden života Ježíše Krista od jeho příchodu do Jeruzaléma až po jeho ukřižování očima Jidáše.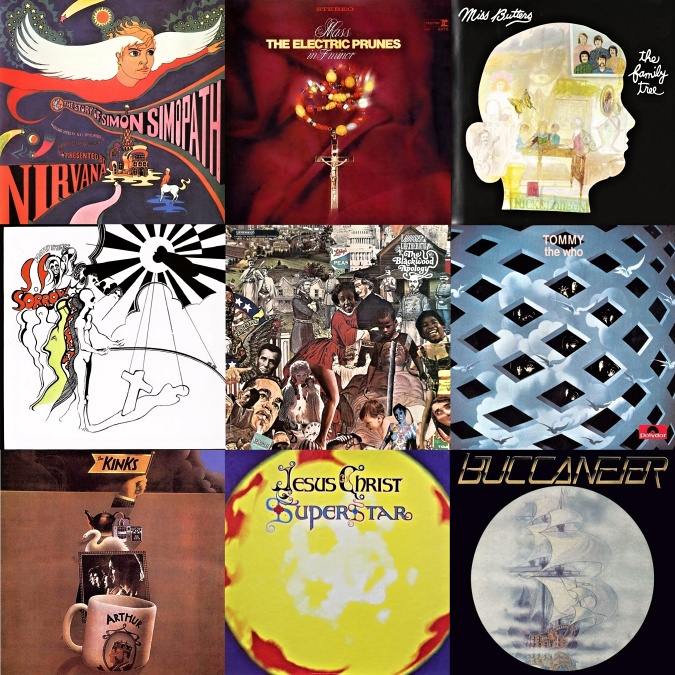 Zkušenost praví, že mezi nejméně známé tituly patří House Of Leather americké skupiny The Blackwood Apology zformované v Minneapolis zpěvákem, kytaristou a autorem Dalem Mentenem na troskách rozpadlých The Castaways a Miss Butters kanadské kapely The Family Tree, kterou založil zpěvák a kytarista Bob Segarini v létě 1966 v San Francisku (jejich příběh osamělé dámy vznikal v čase, kdy americký Beatle Harry Nilsson se stejným producentem nahrával Aerial Ballet). A ani pre-cobainovská Nirvana se na čele celkového pořadí nevyskytuje v takové míře, jak by zasloužila.
Avšak titul "nejzapomenutější rocková opera všech dob" náleží bez nejmenších pochyb dílu o desetiletí mladšímu, z období The Wall, Joe's Garage (obě 1979), či Dialogu s vesmírem (1980) brněnských Progres 2, prvního zástupce této kategorie, který byl realizován v Československu.
Na svědomí ho má trojice krvežíznivých pirátů ze Středozápadu, která pod názvem Buccaneer a přezdívkami William Bonney, Lord Vendetta a Madjack vydala v roce 1980 stejnojmenné album na nezávislém labelu Blunderbuss Records.
Víc toho informace z jinak vymazleného provedení alba neposkytla. Jen samotné ztotožnění sestavy fanouškům následně zabralo přes 20 let. Ale to už je na samostatné povídání…
_____________________________________________________
* S The Who Quadrophenia (1973), sólo White City: A Novel (1985), The Iron Man (1989) a Psychoderelict (1993).