Oživit ducha starého dobrého hard rocku ze 70. let se snažil už kdekdo. A jakmile se taková nová retro kapela vycházející z odkazu Black Sabbath, Deep Purple a Led Zeppelin objevila, pisálkové se slétli jako vosy na cukrkandl a začali slintat blahem nad tím, jakáže ta a ona deska je úžasná a čeho všeho se od jejích tvůrců v budoucnu dočkáme. Většinou se očekávání do těchto spolků kladená tak úplně nenaplnila. Je celkem jedno, zda se tak stalo snahou vydavatelských firem novou ovečku okamžitě vydojit, ztrátou tvůrčí invence samotných hudebníků či snad kombinací obojího. Výsledek byl bohužel stejný. Nadějný potenciál vyšuměl a kdysi zajímavá skupina se pomalu stala parodií sebe samé.
Nelze se tedy divit, že jsem k současné vlně tzv. retro rocku zaujal docela negativní postoj a veškeré další hledání jsem hodil za hlavu se slovy, že mi stejně asi nic zajímavého neuteče. A to až do doby, než mi svěží hardrockový větřík přivál do ouška jméno Greta Van Fleet. Musím se přiznat, byl jsem poněkud skeptický, navíc nálepka kopírky Led Zeppelin mohla spíš odpuzovat, ale zvědavost byla nakonec silnější. Pořídil jsem si jejich desku Anthem Of The Peaceful Army a již po pár posleších jsem se nestačil divit tomu, co čtveřice mladíků odněkud z Michiganu v desítce skladeb zde prezentovaných předvádí.
Valil se na mě hard rock té nejvyšší kvality, já nevěřícně seděl s otevřenou hubou a snad i slintal blahem. Kolem svištěly ostré kytarové riffy a sóla, které sice mohou připomínat něco, co už tu kdysi bylo, ale zahrané s takovým mladistvým zápalem a zaujetím pro věc, že jsem okamžitě veškeré pochyby odhodil stranou a plně propadl kouzlu bratří Kiszků. A ti dobře ví, co dělají. Jelikož si uvědomují, že nevystačí jen s vyvoláváním ducha Led Zeppelin, hledají i v jiných inspiračních vodách. To je patrné hned u první skladby Age of Man, u níž mám pokaždé vtíravý pocit, že vzdáleně slyším Jona Andersona a Yes. Ale i z této skladby se nakonec vyklube parádní hard rock, stejně jako z velice ostré kompozice When the Curtain Falls. Za ten riff by se nemusel stydět ani Jimmy Page.
Vynikající zde jsou pomalé baladické skladby. V nich má zpěvák Joshua Kiszka šanci předvést, co v něm vězí. Možná se narodil do špatné doby, neboť v sedmdesátých letech by určitě měl tisíce obdivovatelů a asi by se stal jedním z výrazných hlasů své generace. Když slyším skladbu You're the One, tak mám pocit, že jsem se přenesl do doby, kdy jsem se teprve narodil, je mi zrovna sedmnáct, já prožívám první lásku a společně s ní posloucháme tuto píseň.
Mou srdcovkou je píseň The New Day. Beru ji jako připomínku zeppelinovské trojky a čtyřky, ale věřím, že takhle to chlapci nezamýšleli, prostě jim to tak vyšlo. To spojení akustických nástrojů, Joshuova hlasu a Jacobovy sólující kytary je prostě kouzelné. A co teprve závěrečná paráda Anthem, ta se dá poslouchat do nekonečna a neomrzí se.
Uvědomuji si, že to Greta bude mít v dnešní době velice těžké. Doba hudebnímu průmyslu nepřeje, nové kapely mnoho šancí na dlouhodobější úspěch nemají. Doufám, že to nebude zrovna případ této sympatické rockové party. Každopádně se na příští počin Grety Van Fleet těším a doufám, že se posunou víc k současnosti a všem pochybovačům, kteří je považují za pouhou kopírku vzducholodi, konečně zacpou ústa.
Skladby:
1.  Age of Man – 6:06
2.  The Cold Wind – 3:16
3.  When the Curtain Falls – 3:42
4.  Watching Over – 4:28
5.  Lover, Leaver (Taker, Believer) – 6:01
6.  You're the One – 4:25
7.  The New Day – 3:44
8.  Mountain of the Sun – 4:30
9.  Brave New World – 5:00
10.  Anthem – 4:41
Sestava:
Joshua Kiszka – vocals
Jacob Kiszka – guitar, backing vocals
Samuel Kiszka – bass guitar, keyboards, backing vocals
Daniel Wagner – drums, backing vocals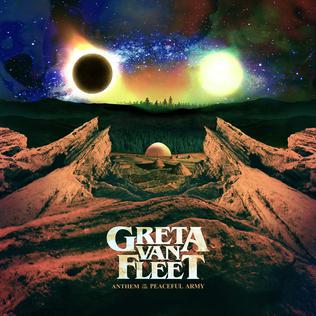 Anthem Of The Peaceful Army
Greta Van Fleet
Hard rock
Republic Records
2018
CD
10