Michael Schenker po natočení alba Walk On Water v roce 1995 kapelu UFO opustil, tandem Phil Mogg a Pete Way však nelenil a začal skládat materiál na další desku.
Angažovali matadora Aynsley Dunbara – bubeníka, který své kvality předvedl již mimo jiné u J. Mayalla, F. Zappy či Whitesnake a roli kytaristy převzal Američan George Bellas, multiinstrumentalista a skladatel, jež později nahrával desky třeba s Magellan či Ring of Fire. Tehdy však začínajícího umělce dohodila vydávající firma Shrapnel Rec., potažmo velký lovec talentů, producent Mike Varney. Tím zabila dvě mouchy jednou ranou – zpěvákovi a baskytaristovi vytrhla trn z paty, neboť ti již nemuseli složitě hledat vhodného kandidáta na tento post a Bellas si vytvořil výbornou self promotion kampaň. To se hodilo, neboť firma v roce 1997 vydala jeho první instrumentální album.
Jelikož se Michael Schenker stal spolumajitelem značky UFO, nemohli výše jmenovaní hudebníci hotové písně pod tímto názvem bez jeho účasti vydat. Proto se uskupení pojmenovalo jednoduše Mogg/Way.
Nutno říci, že George Bellas se role sólového kytaristy zhostil dokonale a to do té míry, že Schenkera plně zastoupil a nahradil. Na desce je podepsán překvapivě pod sedmi písněmi. Má sice trochu jiný herní styl, tehdy odkazující na Y. Malmsteena (což je znát třeba v uragánu jménem Gravy Train) nicméně ve většině songů zachovává klasickou atmosféru UFO. Je to axeman každým coulem, v nahrávkách pulzuje jeho kytara každou sekundu ve všemožných variantách, v určitých okamžicích je slyšet ve třech stopách najednou. Povedené písně oblékl do bohatě vyšívaného a slušivě moderního heavy kabátu. Někteří ufologové nemohou jeho stylu přijít na chuť, já tyto negativní pocity nesdílím, ba právě naopak. Důležité  je, že jako celek vše působí velmi svěže a povedeně.
Deska je pestrá, najdeme tu balady Save Me From Myself či Spell On You, instrumentálku Totaled, kde Bellas vypouští páru, dvě dřevní hard rockové flákoty podobající se v základu Rolling Stones – House Of Pain a It's A Game, až speedovou jízdu Gravy Train, úvodní temnou středně tempou Change Brings A Change s procítěným zpěvem a ponurými klávesami či těžkotonážní a valivou Fortune Town. CD obsahuje i další cover UFO – tentokrát byla vybrána Mother Mary, kde si zazpíval společně s Moggem i Eric Martin.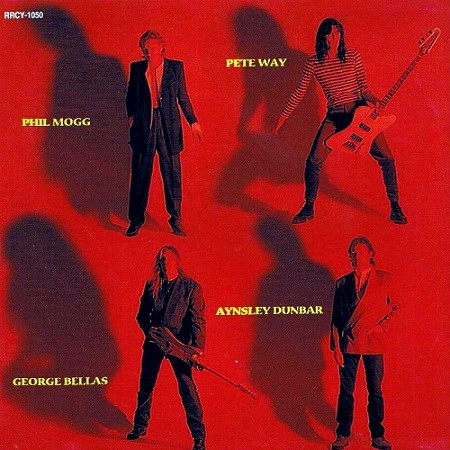 Nahrávka vznikla v Sound Temple studiu v Kalifornii, jehož majitelem je James Murphy, kytarista Testament, Cancer či Death. Na desce si vzal na starost zvuk basy, kytar a kláves, částečně se podílel i na výsledném mixu nahrávky. Spolu s Mooka Rennickem  se jim podařilo vytvořit sakra hutnej sound.
Závěrem: šťavnaté hard rockové album kapely UFO, na kterém není slabého místa. Že vyšlo pod jménem Mogg/Way je mi úplně jedno.
SKLADBY:
01. Change Brings A Change
02. All Out Of Luck
03. Gravy Train
04. Fortune Town
05. Highwire
06. Saving Me From Myself
07. Mother Mary
08. House Of Pain
09. It's A Game
10. History Of Flames
11. Spell On You
12. Totaled

SESTAVA:
Phil Mogg – zpěv
George Bellas – kytary
Pete Way – basová kytara
Aynsley Dunbar – bicí
Hosté:
Matt Guillory – klávesy
Eric Martin – doprovodný zpěv (7)
Jesse Bradman, Louis Maldonado – sbory
Edge Of The World
SH 11052
Mogg/Way
hard and heavy, hard rock, heavy metal
Shrapnel Rec.
1997
CD
12