Shining out of the darkness, British quartet get on with the times and stage a stellar set across the ocean from their new home.
For all of this band's initial brilliance, it took them a few years to establish a pattern different to progressive drift that had always been there, but the difficulty was a result of the change in the musical climate, not the ensemble's own creative conflicts. 1976 found WISHBONE ASH finally regaining their self-confidence, though, relocating to America and embracing a fresh type of sound, the collective's show in Cologne reflecting the shift in uncompromising terms, which might puzzle the audience while giving the players a lot of freedom. Released as a 2CD/DVD package after years of bootlegging, the concert captures them in enviable form, firing on all cylinders, with light and shade in abundance.
The foursome – dressed like a buccaneer crew about to board the ship – bring more than a half of the recently released New England LP to the stage and waste no time in introducing novel material, as Martin Turner, flanked by Andy Powell and Laurie Wisefield, lays down the menacing swing of Runaway at the feet of Steve Upton's heavy beat. Stepping up to the center, the guitarists trade licks, go for unison, decouple their lines and assert their individual styles – all quite demonstratively, deploying vibrant dynamics – in The King Will Come before the former soars on Warrior that the latter embroiders with nuanced pointillism, and the band seem dewy-eyed only to unleash funereal march and triumphant storm, and unfold the quartet's entire dynamic within the single piece.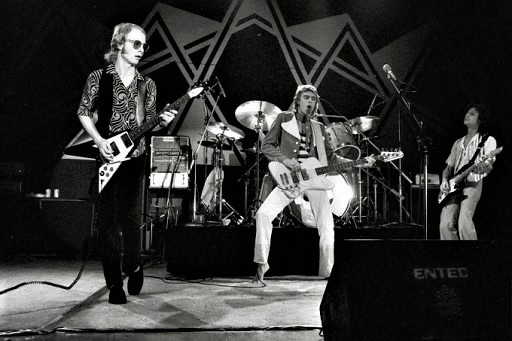 So impressive on instrumental Outward Bound – revealing the previously concealed synthesizer sounds – the emotional Wisefield and reserved Powell deliver equally inspired parts, their twin-barrel unit most delicate, if muscular, in the otherwise dry balladry of You Rescue Me and on the ever-exquisite Persephone where Turner's vocals hit soulful depths and his bare feet come to symbolize the ensemble's cocky vulnerability. The subtle touch is absent from the excitingly raw Mother Of Pearl yet, live, Lorelei is truly mesmeric in its romantic, glossy and punchy, anticipation of new wave, the group visually falling into the groove with their little dance routine and tight but loose interplay, and rolling out their three-part harmonies on the choruses of It Started In Heaven which, indeed, finishes with infectious rock.
Although Time Was sees them simultaneously relaxed and energetic, Blowin' Free makes obvious how much fun the band had on stage, and the encore Bad Weather Blues – a traditional form piece that bypassed studio to this day – takes it to the dust-snorting, smiles-laden limit. Still, nothing can beat Jail Bait in the footstomping stakes: it's a great finale to an almost great show – immortalizing WISHBONE ASH in their prime.
SETLIST:
CD1
01. Runaway (3:40)
02. The King Will Come (6:44)
03. Warrior (7:05)
04. Lorelei (6:29)
05. (In All Of My Dreams) You Rescue Me (7:19)
06. Persephone (8:27)
07. Outward Bound (4:13)
CD2
01. Mother Of Pearl (6:26)
02. It Started In Heaven (8:09)
03. Time Was (7:48)
04. Blowin' Free (7:23)
05. Bad Weather Blues (11:01)
06. Jail Bait (6:44)
MUSICIANS:
Andy Powell – guitar, vocals
Laurie Wisefield – guitar, vocals
Martin Turner – bass, lead vocals
Steve Upton – drums
NOTES:
Live At Rockpalast 1976 – Sporthalle Cologne, Germany, 01st December 1976.
Originally published: DME – LET IT ROCK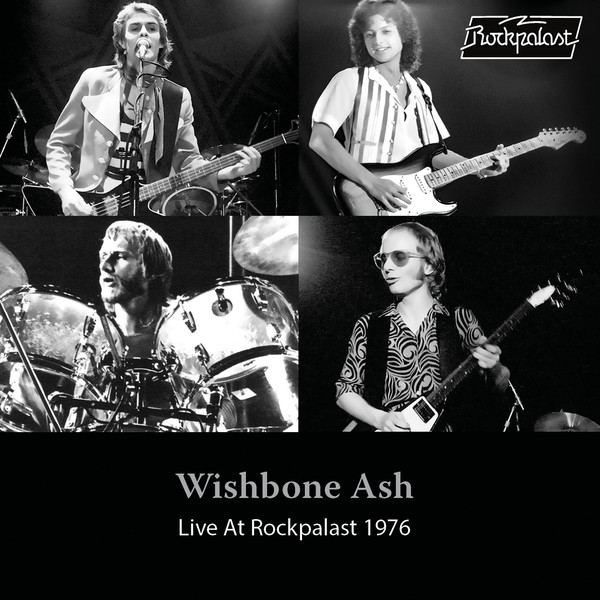 Live At Rockpalast 1976
Wishbone Ash
Hard Rock
MIG
2019
2xCD, DVD
13