POZEMSKÁ KAPELA HVĚZDNÉHO KLÁVESISTY
Manfred Sepse Lubowitz se narodil 21. října 1940 v jihoafrickém Johannesburgu v provincii Gauteng. Ve městě zlata se od šesti let učil hrát na klavír, během studií hudby na univerzitě Witwatersrand cvičil osm hodin denně, navíc brigádničil jako jazzový pianista v několika nočních klubech.
Na jaře 1961 vyrazil do Anglie, kde se poprvé představil pod uměleckým jménem Manfred Mann(e), inspirovaným americkým jazzovým bubeníkem Sheldonem 'Shellym' Mannem. Po seznámení s všestranným muzikantem Mikem Huggem spolu zakládají jazzové combo The Mann Hugg Quartet, s nímž se časem probluesují k formaci The Mann-Hugg Blues Brothers s Glynem Thomasem (bicí) a Tonym Smithem (baskytara). Ale až sestavě Manfred Mann (klávesy), Mike Hugg (bicí), Paul Jones (zpěv), Mike Vickers (kytara) a Dave Richmond (baskytara) působící na přelomu let 1962-63 jako Manfred Mann & the Manfreds, se podařilo zaujmout producenta Johna Burgesse, který v březnu 1963 pomohl k podpisu smlouvy s His Master's Voice.
Již s bas/kytaristou Tomem McGuinnessem a jen kapelníkovým jménem v názvu soubor mezi lety 1964-68 celosvětově uspěl s řadou hitových singlů, natočil několik alb vycházejících v dobově tradičním diskografickém guláši a na vrcholu tehdejší popularity přijel v říjnu 1965 do Československa. Dvakrát se představil v Praze, jednou v Bratislavě a Uherském Hradišti. Optikou přímých účastníků nezapomenutelnost.
Sdružené duo Mann & Hugg následně rozjelo jazzově orientovaný projekt Manfred Mann Chapter Three, po němž zbyla dvě alba z let 1969-70 a nevydané třetí. Na něj plynule navázala klíčová etapa kapelníkova hudebního života, kterou rozepsal s Chrisem Sladem, velšským bubeníkem od Toma Jonese, zpívajícím kytaristou Mickem Rogersem (vl. jm. Michael Oldroyd) se zkušenostmi z australské rockové scény (The Playboys, Bulldog, Procession) a basákem Colinem Pattendenem (Roy & The Aztecs, Tekneek).
Manfred Mann: "Nezajímá mě, co bylo, beztak k tomu došlo vlastně náhodou. Jo, na krátkou chvíli mi trochu vylítlo ego, ale brzy jsem k tomu měl spíš odpor."
Nažhavená formace si odbyla koncertní premiéru 22. dubna 1971 v římském Piper Clubu, kdy už měla za sebou i první nahrávací sessions a před sebou cestu do Austrálie, kde se ještě jako Chapter Three představila po boku Free, Deep Purple a střídajících se domácích nadějí Pirana a Spectrum. Od protinožců se ale vrátila předčasně potom, co v Melbourne kdosi frontmanovi vyhrožoval smrtí. V srpnu 1971 si v Paříži střihla debut v TV a krátké britské turné odjela pod názem Manfred Mann, až při zpáteční cestě z Headland Festivalu v irském Dublinu 11. září navrhl Chris Slade přejmenování na Earth Band, jež vstoupilo definitivně v platnost 1. prosince 1971.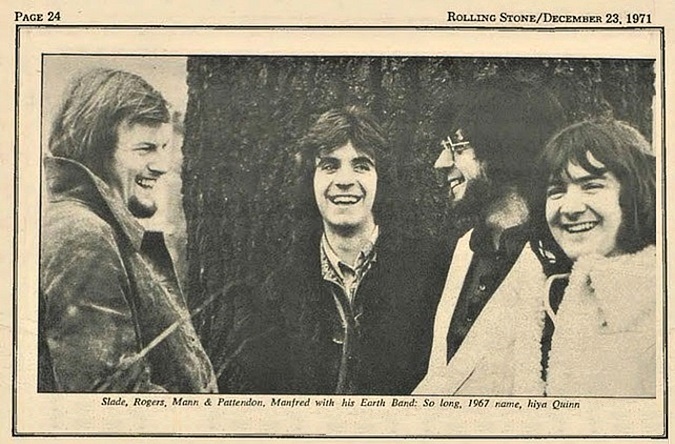 Jeho budoucnost neohrozilo ani stopnuté vydání debutového LP s pracovním názvem 'Stepping Sideways', když s ohledem na změnu stylu z připraveného materiálu nakonec vzešla jen trojice singlů a na první album si našla cestu pouze pětice porůznu upravených skladeb. Několik zkušebních výlisků se přesto dostalo mezi lidi, jeden z nich je tč. k mání za 1800 €.
Manfred Mann's Earth Band (1972) **¾
V Evropě se eponymní album prodávalo o měsíc později než ve Státech, kde se mu vedlo mnohem líp u kritiky než posluchačstva. Jeden z publicistů se rozplýval, že "Earth Band se ukázal být mnohem lepší než ostatní zástupci britské bluesové invaze sedmdesátých let," jiný si zas "konečně oddychl od záplavy klasického hard rocku doby" a další "tleskal Mannovým inovativním syntezátorovým partům a hypnotickým instrumentálkám." Na starém kontinentě to sice žádná velká sláva nebyla, album ale každopádně stojí za slyš, už jenom kvůli klasice Captain Bobby Stout od amerického renesančníka Laneho Tietgena, rozkurážené dylanovce Please, Mrs. Henry, či Mannem odzpívané dumce Part Time Man.
Manfred Mann: "Kdybych měl znovu vybírat mezi soukromím a slávou, vždycky bych dal přednost soukromí."
Kvartet dál naživo pilně piloval nový styl, ať už doma, při návratu k protinožcům nebo za velkou louží. Tuhle fázi vývoje po letech přiblížilo DVD Then & Now se čtveřicí skladeb natočených v The Roundhouse Theatre v Sydney pro TV show Get To Know. Osvědčená čísla Mighty Quinn a Captain Bobby Stout s fragmentem z Glorified Magnified, zbrusu nový kus I'm Gonna Have You All, cover Black and Blue, o němž ještě bude řeč, a vlastně i přidaná chapterovská One Way Glass najdou uplatnění na dalších albech Bandu, na kterých svůj osobitý sound s charakteristickým zvukem Mannova Minimoogu a Rogersovy neokázalé kytary již dovedl k dokonalosti. V rychlém sledu tak mezi zářím 1972 a srpnem 1975 vychází pětice kvalitních alb.
Glorified Magnified (1972) ***
Přebalu druhé desky z konce září vévodí nápadné logo souboru z designérské dílny Bloomsbury Group na bílém pozadí (ve Státech bůhví proč zčernalo). V historii Earth Bandu se jedná o jediný titul s naprostou převahou vlastní tvorby (8/10), kterou se prostřednictvím BBC dařilo propagovat i v rádiu (Sounds of the 70's, Top Gear) a televizi. V pořadu The Old Grey Whistle Test už na jaře '72 zazněla přímočará Our Friend George se singlovou vegetariánskou hymnou Meat. Sedět na moderátorský židli Boba Harrise, donutil bych kapelu zahrát ještě smutnokrásku Ashes To The Wind a strhující atmosférickou instrumentálku, která dala albu název. K ostatnímu dění mi tady moc nepasuje (ne)úprava Dylanova songu It's All Over Now, Baby Blue.
Messin' (1973) ****
Vývojový mezník, první z klasických alb Earth Bandu s Huggovým úderným titulním songem, co předběhl dobu. Až s podivem, že jeho refrén nezněl na všech akcích záchranářů světa. Za oceánem Polydor vyměnil trefný obal a desku přejmenoval na Get Your Rock Off, ať si. Nehorázný cenzorní zásah do tracklistu by ale vykolejil i Buddhu z fiktivního setkání na albu. Znamenitá předělávka australského hitu Black And Blue ryzích bluesrockerů Chain, která připomíná otrokářskou minulost země, byla označena za nevhodnou pro americký trh ("You'll never break my spirit – When my body's black and blue") a nahrazena plytkým coverem Pretty Good country/folkaře Johna Prineho. Ještěže přes bdělé oko amerického úředníka pro textovou nezávadnost prošla čarokrásná Mannova instrumentálka Cloudy Eyes.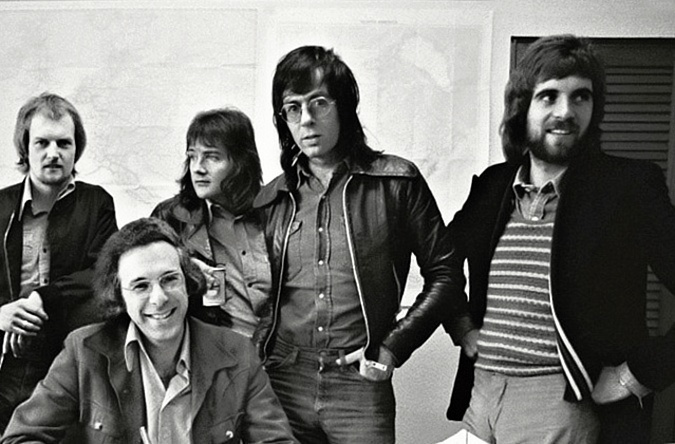 Solar Fire (1973) ****½
Podle Micka Rogerse spolu s The Roaring Silence nejlepší album v diskografii Earth Bandu. S kytaristou souhlas, jen bych na špici přihodil ještě příští desku. Pozoruhodné dílo, jemuž dominuje zmajestátněná cover verze Dylanovy nenápadnosti Father Of Day, Father Of Night, jíž zdatně sekundují především obě přehozené části Earth: The Circle, vynalézavé instrumentální plochy a titulní dialogový song. I mnohými fans je považováno za vrchol Mannovy kariéry, co na tom, že to dotáhlo pouze na konec první stovky zaoceánských žebříčků a v Británii uspěl jen mimoalbový singl Joybringer (#9) s první inspirací plodným anglickým skladatelem a vášnivým zájemcem o astrologii Gustavem Holstem. Byl poslední nahrávkou MMEB pro Vertigo a na americké verzi alba pohotově nahradil první díl Earth: The Circle.
Good Earth (1974) ****½
"Nevěřím štěstí a krásným ženám, zradí tě dřív, než kohout třikrát zakokrhá," padlo kdysi v jednom filmu. Na albu se tak stane hned zkraje, ovšem proradnost tu žádná nehrozí. Rok strávený převážně hraním v Americe přinesl další skvělou desku mj. s dvojicí kumštovních předělávek Mikea Rudda z ausrockových Spectrum (Ariel, ad.), plnotučnou instrumentálkou Sky High a prvotřídní dvoudílnou kompozicí Earth Hymn, které tvoří pomyslné vrcholy alba proslulého nápaditou propagační akcí. Každý majitel LP měl možnost získat něco málo přes jednu čtvereční stopu půdy nacházející se v Llanerchyrfa ve velšském kraji Brecon, kde Mann zakoupil pozemek o rozloze půl milionu čtverečních stop. Stačilo vyšmiknout kupón z vnitřního obalu desky a zaregistrovat se do konce roku '75, což prostřednictvím labelu učinily tisíce fanoušků. Schválně, zkuste sehnat LP s nepoužitým ústřižkem.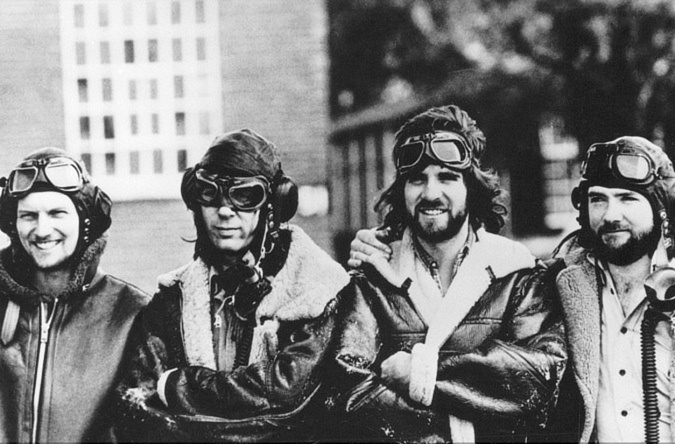 Nightingales And Bombers (1975) ****
Vydařená studiová tečka za nejslavnější érou Earth Bandu ani nedávala tušit, že se blíží její konec. Název 'Slavíci a bombardéry' převzala z ornitologické nahrávky se zlověstným rachotem 197 bombardérů RAF letících 19. května 1942 na Mannheim. Možno ji slyšet v závěrečné As Above, So Below, majstrštyk se ale nachází na opačné straně desky v podobě další ultimátní předělávky Spirit(s) In The Night. Avšak i mezi nimi je pořád dost co poslouchat, ať už je to strhující jízda Countdown, rozkošatělá Time Is Right, či emoční nálož Visionary Mountains. Americká verze navíc obsahuje dylanovku Quit Your Low Down Ways, bo hlavouni z Warner Bros. měli dílo za přehnaně instrumentální. Možná kdyby z Fat Nelly kapelník vypustil toho Janáčka…
Manfred Mann: "Cítili jsme, že se naše cesty za chvíli rozejdou. Dokončování alba bylo jako tápání ve tmě."
Zatímco se tedy první polovina sedmdesátých let nesla ve znamení příkladné personální stability souboru a houstl jen seznam vydaných desek a odehraných koncertů (s Uriah Heep, ELO, Savoy Brown ad.), v jejich druhé pětiletce se v Bandu dveře netrhly. Fluktuační spirálu svým odchodem roztočil Rogers, na jehož post byla přijata dvojice kytaristů, David Flett a Chris Thompson, který převzal i roli hlavního pěvce.
Obrozená sestava nejdřív podnikla sérii "zkušebních" koncertů, na nichž ani nebyla prezentována jako Earth Band, už na podzim 1975 ale vyrazila na další americké turné a po Novém roce zamířila do domovského nahrávacího studia Workhouse, kde vznikala i trojice předchozích titulů. Netrpělivě očekávané album bylo k mání uprostřed léta a předložený výsledek předčil všechna očekávání.
The Roaring Silence (1976) *****
And the winner is… Mistrovské dílo, v němž do sebe všechno zapadá jako na nejslavnější kostce světa. Bezpočet vynalézavých adaptací a dovedně uchopených témat umocněných další geniální předělávkou Blinded By The Light, co víc si přát. Album se na obou březích Atlantiku vyšplhalo na 10. místo hitparády a nádavkem i na samý vrchol v rámci diskografie MMEB u autora těchto řádek. A zatímco největší hit kapely opustil žebříčky po 37 týdnech, u mně s pozicí alba nehnulo ani 37 let, bo splňuje všech pět "Po". Dokáže pobavit, potěšit, povzbudit, posílit i pohltit. Samostatný článek jsem mu věnoval poprvé v Rocku plus 4/2011, upravená verze je k dohledání i na Rockovici.
Ani výrazný komerční úspěch ale nezamezil dalším změnám ve složení Earth Bandu. V roce 1977 dohrál původní basák, kterého na doporučení manažera Maloneyho nahradil skotský muzikant Pat King (ex-Shanghai), jehož první aktivitou byla účast na americkém turné a práce ve studiu během druhé poloviny roku.
V hudebním světě se mezitím odehrála punková pseudorevoluce, jež přinesla jedinou zjevnou změnu. Zavedené formace, které v minulosti nesčetněkrát přesvědčily o svých kvalitách, dostaly nálepku dinosaurů a rypec nad nima začalo ohrnovat kdekterý pahudební nemehlo, ať už stálo na pódiu, křepčilo pod ním nebo dřepělo v kanclu, kde smolilo moderní desatero.
Tož ani nepřekvapil minimální zájem o první singlovou ochutnávku z nové desky, jež byla k mání 18. listopadu 1977 v podobě jímavé balady California napsané zpěvačkou Sue Vickers, manželkou někdejšího Manfredova spoluhráče. Nejlíp se jí vedlo na Novém Zélandu (#31).
Watch (1978) ***½
Nikdy se nestanu příznivcem hybridních alb (Davy's On The Road Again a jubilující Mighty Quinn byly nahrány živě s následnými úpravami) a taky v tomhle případě jsem výrazně preferoval ryze studiovou část desky s příjemnou softrockovicí Circles, naléhavou Drowning On Dry Land/Fish Soup a zpěvnou Chicago Institute s trochu vlezlým refrénem. Kdepak bych se tehdy nadál, že za třicet let uslyším kompletní druhou stranu alba v podání Earth Bandu naživo? A pravda, od tý doby se na ni při poslechu těším víc než kdy předtím. A což teprve fanoušci v NSR, kteří prvních pět alb MMEB odignorovali. Přes půl milionu prodaných kopií, 69 týdnů v žebříčku (top #3) a platinová deska šprechtí za všechno.
Manfred Mann: "Slyšel jsem spoustu kapel hrajících vlastní písně. Od mizerných autorů."
Po jarním evropském turné si Earth Band vybral krátký oddechový čas a dvě nová jména. Do studia v malém irském městečku Clonakilty nastoupil koncem léta 1978 s bubeníkem Geoffem Brittonem (ex-Wings, Rough Diamond) a nepřehlédnutelným kytaristou Stevem Wallerem (ex-Gonzales).
Chris Slade svou další kariéru ozdobil členstvím ve věhlasných souborech (mj. Uriah Heep, Firm, Asia, AC/DC), Dave Flett absolvoval japonské turné s Thin Lizzy, založil epizodní Special Branch a šmitec. Vědět o sobě dal znovu až v dubnu 2014 sólovým albem Flying Blind, na němž si zahrál i Manfred Mann.
Angel Station (1979) ***
V roli producenta se bůhvíproč objevil experimentátor Anthony Moore, který dílo nasměroval k vodám AOR. Album se v nich kupodivu neutopilo. Podmanivá Hollywood Town, krasosmutná perla 'Belle' Of The Earth z Mannova pera, atmosférická Angels At My Gate a melancholická Waiting For The Rain s houslemi nepotřebovaly ani záchranný kruh. Zajímavostí budiž instrumentální miniatura Platform End (1:32), pod níž je podepsán hned půltucet autorů. V 90. letech dá název oficiálnímu magazínu fanklubu MMEB a později i jeho webovým stránkám. Zmínit třeba i spojitost díla s tvorbou holandského umělce M. C. Eschera, Mannovo předčasné loučení s Thompsonem i tuplovaný cenzorní zásah ve Státech. Zahalené poprsí neudivilo, nepřetisknutí textu Resurrection napodobilo zhůvěřilý čin Supraphonu u licenčního LP Déja vu.
Těsně před zahájením turné došlo k vynucené změně na bubenický stolici, bo Geoff Britton musel skončit kvůli mononukleóze. Byl nahrazen Johnem Lingwoodem (ex-Steamhammer, East Wind) a jako by toho nebylo dost, Chris Thompson přišel s plánem na vlastní projekt.
První akcí s nováčky v sestavě bylo zahřívací vystoupení na univerzitním velikonočním plese v půli března, po níž následovalo čtyřměsíční evropské turné s finálovým večerem v manchesterské hale Apollo. Z aktuálního alba se na setlist dostala hned čtyři čísla, novinkou bylo nad pódiem zavěšené plátno, na něž byl k vybraným skladbám promítán filmový doprovod.
Chance (1980) **½
Na vzniku desáté studiovky se v letech 1979-80 podílela celá plejáda hostujících muzikantů, mezi nimiž nechyběl ani Thompson, jenž zároveň vedl vlastní soubor Night (neúspěšná alba Night a Long Distance). S Earth Bandem spolupracoval i v příštích letech, zatímco Rogersův comeback byl zatím jen dočasný. Kapelníkův krajan Trevor Rabin se spolupodílel na produkci alba, jež pro nedobro věci zaznamenalo posun směrem k elektroničtějšímu soundu. Do stejné řeky tentokrát nevstoupila ani singlová For You, již třetí předělávka z Bossova debutu (US #106), přesto patří mezi to nejlepší na albu. Na druhý pokus se do setlistu dostala přepracovaná Heronova Stranded, původně určená pro Watch, ale album jako celek svou šanci promrhalo. Minimalistický přebal je adaptací díla Strandstole dánského umělce Oleho Kortzaua.
Po skončení turné, jež se po rezignaci na americký trh opět odehrávalo výhradně v Evropě, přenechal Pat King svůj post basistovi Mattu Irvingovi. K Bandu si však zachoval úzké vazby a v roce 1991 se zabydlel v pozici světelného technika a fotografa kapely, v níž vydrží až do prosince 2013, kdy se odebere na penzi. Bezpočet jeho snímků najde uplatnění v koncertních programech.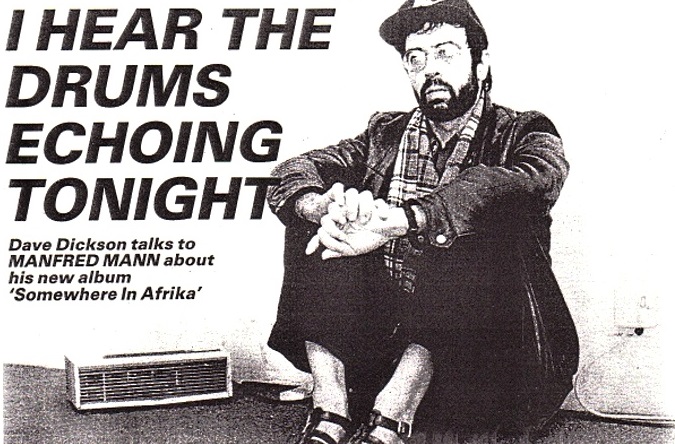 Irving se po svém nástupu zapojil do práce na rozpracovaném koncepčním projektu Somewhere In Africa, přidala se i novozélandská vokalistka Shona Laing, kterou možno slyšet na několika singlech ze začátku osmdesátých let. Manfred Mann se tehdy začal angažovat v mezinárodním hnutí proti apartheidu v JAR, načež mu byl zakázán vstup do země. Autentické nahrávky afrických hudebníků pro album tak musel jet pořídit služebně nejmladší člen skupiny.
Somewhere In Afrika (1982) **¾
Nevšední dílo, jež se zabývá tématem Bantustanů, uměle vytvářených rezervací pro původní černošské obyvatelstvo, představuje celkem zdařilou kombinaci rockového zvuku s etnickými prvky. Ze tří převzatých věcí – Stingův Demolition Man, (Eyes Of) Nostradamus od Ala Stewarta a Marleyho Redemption Song s kytarou hostujícího Trevora Rabina – vyčnívá posledně jmenovaná, nad kterou ještě vystoupá čtyřdílná Africa Suite. V Británii bylo LP k mání se zpožděním v únoru 1983, v Americe dokonce až 18. listopadu v podstatně odlišné verzi. Několik skladeb přibylo, jiné byly změněny, upraveny, či aspoň přeházeny. Nevkusem zavánělo zejména zakomponování úspěšné singlovky Runner (US #22), jež v originále vzdávala hold rakovinou trpícímu Terrymu Foxovi a jeho běhu napříč Kanadou.
Manfred Mann: "Rozhodně si nemyslím, že by rock'n'roll mohl změnit svět. Jak by to měl udělat? Bláznivá představa."
V rámci jarního turné Somewhere In Europe vidělo Manfredův Earth Band přes 350 000 lidí na 50 koncertech v 10 evropských zemích. Ve dnech 6. a 7. dubna 1983 se zjevil dokonce v Budapešti, kde se mezi 30 tisícovkami fanoušků tísnily i stovky šťastlivců z Československa, kteří si během dvouhodinové show mohli užít i kreslené projekce a vizuální efekty. A taky si užili, budiž jim přáno. Nezúčastnění vzali zavděk alespoň koncertním LP, které bylo prvním oficiálním živákem v historii kapely.
Budapest Live (1984) ***¼
Navzdory svému názvu album obsahovalo rovněž nahrávky z londýnského Dominion Theatre, kde formace týden po maďarských koncertech zakončila úspěšnou šňůru. Mnohými fanoušky bylo kritizováno za radikální úpravy v podobě zkrácení či úplného odstranění některých instrumentálních pasáží, rušivé slyšitelné střihy, přidané reakce publika a další studiové korekce. Úplná absence celé řady skladeb šla potom na vrub nesmyslnému rozhodnutí o vydání záznamu na jediném LP, do něhož se promítl jak končící kontrakt s labelem Bronze, tak jeho počínající finanční trable. Přesto mám tuhle desku odjakživa rád. Ostatním možno doporučit DVD, které s výjimkou skladeb Eyes of Nostradamus a Davy's On The Road Again obsahuje kompletní záznam budapešťského vystoupení.
S koncem turné bylo ukončeno angažmá problémovému Wallerovi, který s Johnem 'Poli' Palmerem (ex-Family) a rytmikou Peter Stroud (baskytara), Glen Le Fleur (bicí) založil Steve Waller's Overload a vyrazil na nekonečné turné po anglických klubech a pubech. Po dvou pohostinských letech se tak Mick Rogers opět stává oficiálním členem Earth Bandu, zatímco nový baskytarista Steve Kinch (od Jima Capaldiho) bude přijat na plný úvazek až v roce 1991. Jeho předchůdce Matt Irving se mihne např. v koncertní sestavě Lords Of The New Church nebo ve Watersově doprovodném The Bleeding Heart Bandu při natáčení soundtracku k animovanému filmu When the Wind Blows (1986).
Kinchův příchod oživil práci na prvním albu pro Virgin Records po jedenácti letech strávených ve stáji Gerryho Brona. O basové party se podělil s multiinstrumentalistou venezuelského původu jménem Durban Betancourt-Laverde a studiovým hráčem Johnem Giblinem.
Koncertní šňůra zahájená s příchodem jara 1986 na Ostrovech tentokrát formaci zavedla nejen do Budapešti (29. a 30. 5.), ale následující den taky do Bratislavy, kde svým vystoupením na Bratislavské lyře nadchla halu na Pasienkoch. Nové album spatřilo světlo světa ještě před koncem turné, jehož poslední štací byl Open air festival v Mnichově.
Criminal Tango (1986) **
S muzikou se to má jako s hokejem, ani nadupaná sestava není zárukou dobrého výsledku. Mann – Rogers – Lingwood – Kinch – Thompson, tuhle pětku by bral každý trenér, ale koukat na jejich hru by se v probíhající sezoně dalo jen se sebezapřením. A zrovna tak poslouchám i tohle syntetické album. Nic nepomáhají ani sympatie k týmu, ani náklonnost k žánru, bo Criminal Tango (název byl převzat z animovaného filmu) mi evokuje nevydařenou parodii na AOR. Není divu, že propadlo na všech frontách a líp se nevedlo ani singlům Do Anything You Wanna Do a Going Underground. Naplnění tak došel dávno avizovaný Thompsonův odchod. Kladem snad je, že se jednalo o první titul MMEB vydaný na CD.
Masque (1987) **½
Projekt odložený v polovině semdesátých let kvůli nedohodě o autorských právech dotáhl MMEB do zdárného konce až v triu s mnoha podílníky (mj. zpěvačka Maggie Ryder, basák z minula Durban Betancourt, Mark Feltham s harmonikou). Album nese podtitul 'Songs And Planets' a jak psáno na obalu: "Joybringer a ostatní instrumentální témata vycházejí z instrumentálního díla The Planets, napsaného Gustavem Holstem v roce 1917." Žádný 'Solar Fire, part 2' se však nekoná. Tohle je tak rozmanitá směsice stylů a zvuků, že ani Earth Bandu nemohla držet pohromadě. Rock vedle klasiky, do toho dechy, jazzová improvizace, Maggie Ryder a aby toho nebylo málo, na poslední chvíli se zamíchalo tracklistem, takže u prvního vydání neladí ani údaje na obalu a etiketách.
Úspěch se nedostavil, turné se nejelo, přelom 80. a 90. let tak přinesl pouze utlumení činnosti Earth Bandu, které Manfred Mann využil k uskutečnění projektu inspirovanému hudbou severoamerických Indiánů.
Album Plains Music vyšlo uprostřed léta 1991 a s výjimkou Barbary Thompson se na něm podílela jen málo známá jména (př. Peter Sklair, Ian Hermann, Smiler Makana, Kelly Petlane), mezi nimiž vynikal vokalista Noel McCalla. Část alba natočil Mann ve staré vlasti, kam celé desetiletí nesměl kvůli svému postoji k apartheidu. Projekt vydaný pod hlavičkou Manfred Mann's Plains Music stál na počátku restartu samotného Earth Bandu, který navíc v zimě 1992 podpořilo první číslo bulletinu Platform End vydávaného oficiálním fanklubem.
Manfred Mann: "V Británii by se Earth Band nezbavil svých desek snad ani zadarmo. Profesně jsem zklamaný, ale osobně je to příjemné, protože mě nikdo neobtěžuje."
Během nekonečných příprav nové studiovky vznikající mezi lety 1992-96 vykrystalizovala příští podoba kapely. Stabilní jádro vytvořil kvartet Manfred Mann, Mick Rogers, Steve Kinch a Noel McCalla, kolem něhož se v různých intervalech střídali bicmeni. V první fázi to byl Clive Bunker známý zejména z působení v Jethro Tull (prvních pět alb), s nímž restartovaná formace 3. června 1991 zahájila koncertem v Guildfordu první část evropského turné, které zdárně pokračovalo i v dalších dvou letech.
Soft Vengeance (1996) ***½
Už v únoru 1992 bylo v několika verzích připraveno jedenáct skladeb včetně úvodního klenotu Pleasure and Pain napsaného hitmakerem Mikem Chapmanem. Po zapojení producenta Richarda Burgesse v roce '93 se všechno překopalo, což se zřejmě pro velký úspěch zopakovalo i následující rok. Až návrat ztraceného syna Thompsona posunul v prvním pololetí '95 práce do finále. A výsledek? Britské hudební měsíčníky Q a Mojo napsaly, že novinka je uhlazená, nevýrazná a hlavně zastaralá. Zmínka o archaičnosti ale staromilce neodradí, naopak navede na stopu. Šel jsem po ní a vysledoval, že album nabízí jak duchaplné prog-light songy, tak mistrovské výkony všech zainteresovaných a nádavkem nejeden odkaz na nejslavnější dny kapely. U mně rostlo s každým poslechem. Reminiscenční terapie.
Na startu Soft Vengeance European Tour už místo Bunkera seděl za bicími John Trotter, jeho průběh byl zaznamenán na druhý oficiální živák souboru Mann Alive, jenž se na pultech objeví v květnu 1998 jako 2CD 'The Gig' a 'Encore & More'. Už jenom zpívající trio Thompson, McCalla, Rogers je poukázkou na zážitek.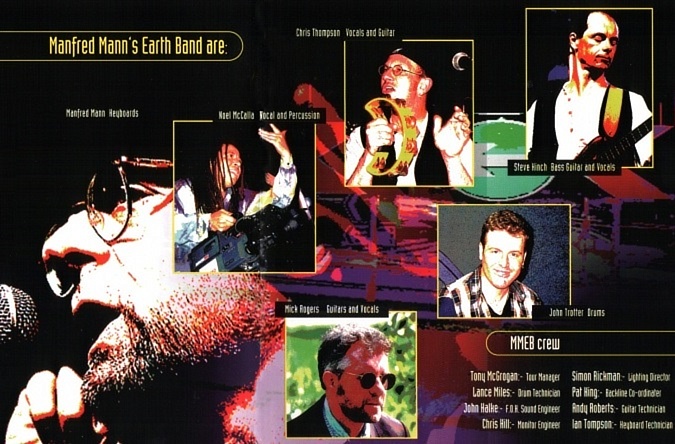 Přelom tisíciletí se nesl ve znamení vytrvalého a úspěšného koncertování kapely po Evropě s drtivou převahou zastávek v Germánii a jak ukáže čas, ve stejném módu proběhnou i následující dvě dekády. K občasným změnám dojde akorát za bubnama a mikrofonem, kde se prostřídá vícero borců (bicí: Richard Marcangelo, Pete May, Geoff Dunn, Jimmy Copley, plus návrat Johna Lingwooda 2016; zpěv: Peter Cox z Go West, McCalla na záskok 2010, od 2011 Robert Hart z Bad Company).
Nedostek času a pověstného klidu na práci ve studiu se odrazil i na titulu vydaném koncem října 2004 pod značkou Manfred Mann '06 with Manfred Mann's Earth Band. V naprostém protikladu s kapelníkovou touhou po dokonalosti, minule dovedenou ad absurdum, se nyní všechno odehrálo v mnohem svižnějším režimu. Snad jedině proto se na albu dostal ke slovu třeba i německý rapper Thomas Dürr a s rokem vydání prapodivně neladil ani název alba 2006. Sám kapelník s odstupem prohlásil, že jde spíš o jeho sólovku s řadou skladeb natočených jen pokusně, které kapela ani dostatečně neodzkoušela.
Manfred Mann: "Nikdy jsem nebyl v pokušení oživit kapelu ze šedesátých let, navíc by klidně mohla hrát beze mně. Posluchačům by nezáleželo na tom, jestli jsem to já nebo někdo jiný, kdežto v Earth Bandu jsem nedílnou součástí celého procesu."
Hojivou náplastí na rozpačitý studiový skutek byla v polovině února 2009 informace o návratu Manfreda Manna do České republiky po čtyřiačtyřiceti letech k jedinému koncertu v Praze (28. května). Darmo znovu tahat dříví do lesa, na Rockovici je od loňského jara dobový report z akce, doplňující poznámkou budiž tehdy netušený fakt, že Noel McCalla, jenž svým výkonem nadchl kompletní Retro, po dvaceti letech ve službách Earth Bandu o necelé tři měsíce později v německém Hagenu odzpíval poslední koncert coby řádný člen sestavy.
Na rok 2010 byly avizovány hned tři termíny na území bývalé federace (26. – 28. listopadu Praha, Zlín a Bratislava), z nejasných důvodů však kapela odvolala bez náhrady všechna vystoupení plánovaná na poslední dva měsíce roku. Fanoušci v Česku se tak znovu dočkali až 11. května 2014 v brněnském Sono Centru.
V říjnu Manfred Mann vydal sólové album Lone Arranger (pracovní název 'Rational Anthems'), na němž možno vedle aktuální sestavy Earth Bandu slyšet mj. basistu Billyho Sherwooda, německého trumpetistu Tilla Brönnera nebo vokální příspěvky od Carleen Anderson, Krise Kristoffersona, Chrise Thompsona a Noela McCally. A když se formace vrátila do Čech po necelém roce, aby 9. dubna 2015 zahrála v Lucerna Music Baru, při jejím koncertním apetitu by se jen málokdo nadál, že to bude naposledy.
V dalších letech se v nabitém programu místo pro zastávku v ČR nenašlo a co hůř, rozjetý Earth Band na jaře 2020 zastavila pandemie. Nic to však nemění na faktu, že bez jeho interpretace převzatých songů a originálního soundu a stylu, v němž se progresivní rock umně prolíná s prvky artu, jazzu a popu, by hudební svět byl o poznání chudší.
ZÁKLADNÍ DISKOGRAFIE MMEB:
Manfred Mann's Earth Band (18. 2. 1972, Philips)
Glorified Magnified (29. 9. 1972, Philips)
Messin' (15. 6. 1973, Vertigo)
Solar Fire (30. 11. 1973, Bronze)
The Good Earth (11. 10. 1974, Bronze)
Nightingales And Bombers (22. 8. 1975, Bronze)
The Roaring Silence (27. 8. 1976, Bronze)
Watch (24. 2. 1978, Bronze)
Angel Station (9. 3. 1979, Bronze)
Chance (10. 10. 1980, Bronze)
Somewhere In Afrika (18. 2. 1983, Bronze)
Budapest Live (17. 2. 1984, Bronze)
Criminal Tango (13. 6. 1986, Virgin)
Masque (16. 10. 1987, Virgin)
Plains Music (17. 8. 1991, Intuition Records)
Soft Vengeance (3. 6. 1996, Grapevine)
Mann Alive (05. 1998, Cohesion/Virgin)
2006 (25. 10. 2004, Edel Records)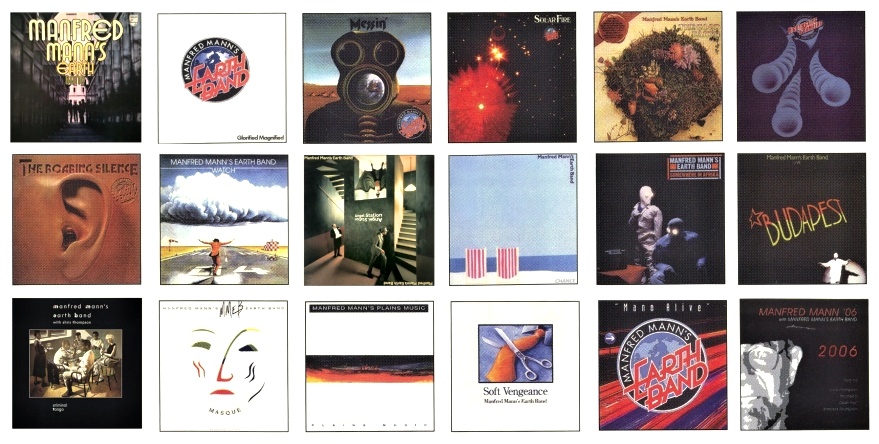 VÝBĚR Z OSTATNÍCH TITULŮ:
4CD Box Odds & Sods – Mis-takes & Out-takes (2005)
Obsahuje alternativní verze, nevydané skladby a další rarity z let 1969 – 2002, plus 32stránková brožura.
DVD Unearthed: The Best of 1973 – 2005 (2006)
Sbírka 20 skladeb napříč historií kapely, zachycuje personální změny a vývoj kapely, plus animace, promo filmy a 16stránkový booklet.
DVD Budapest Live (2007)
Záznam z budapešťské Sporthalle 6. a 7. dubna 1983, parádní booklet je replikou původního tour booku.
5CD Box Bootleg Archives Volumes 1 – 5 (2009)
Zoficiálněné záznamy koncertů v období únor 1981 – červen 2007.
DVD Then And Now (2009)
Obsahuje v textu zmíněné vystoupení v Sydney 1972 a na Burg Herzberg festivalu 2005.
21CD Box 40th Anniversary Box Set (2011)
Všech 18 řadových alb MMEB plus bonusová CD, k tomu 2 knížky fotek, vzpomínek, dobovýho materiálu, rozkládací plakát, bio.
5CD Box Bootleg Archives Volumes 6 – 10 (2017)
Druhý díl dříve ofiko nevydaných koncertů, tentokrát z období prosinec 1991 – prosinec 2014.
2CD Radio Days (Vol 4) – Live At The BBC 70-73 (2019)
Série BBC, záznamy z rádiových pořadů pořízených mezi červnem 1971 a listopadem 1973, plus 12stránkový booklet.
Poznámka: Základem profilu je text vypracovaný pro Progboard v červnu 2009.