CD Polydor 273 815-0   /2010/
Atlantis je třetím albem Earth & Fire a kapela ho uklohnila podle stejného receptu, jako předcházející (a přelomové) Song Of The Marching Children…
Sestava skupiny zůstala stejná, muzika taky. Obě desky dokonce vznikly podle shodného vzorečku, tzn. titulní dlouhá suita na jedné straně původní vinylové desky, zbytek materiálu ve formě několika kratších skladeb na straně druhé. U tohoto alba došlo jen k výměně pořadí. Suita Atlantis zabrala stranu A, dalších pět kousků pak stranu B.
Pořád je to prvotřídní a vysoce melodický symfonický rock, ale ani po mnoha důkladných ochutnávkách se nemůžu zbavit pocitu déjà vu a jisté stagnace. Jako kdyby kapela vsadila na jednou osvědčený koncept a bála se pohnout z místa. Především v úvodní skládance Atlantis na mě některé pasáže působí poněkud bezradně a spíš, než skladatelského potenciálu si všímám studiových triků.
Můj trochu rozpačitý dojem z první strany desky však notně vylepšuje pokračování na straně druhé a velkou zásluhu na tom má sice jednoduchej, leč neskutečně chytlavej crossover sympho progu a pop music Maybe tomorrow, maybe tonight. Á propos, právě skladba Maybe tomorrow, maybe tonight se stala dalším velkým hitem skupiny, v holandské Top 40 vystoupala až na třetí příčku a vydělala nějaké ty žluťásky navíc. Protože o peníze jde vždy až v první řadě…
Interlude je krátkou, podivně useknutou instrumentálkou a po ní přichází druhý z vrcholů desky, hypnotická a tíživě temná Fanfare. Zpěvačka Jerney Kaagman tady podává skvělý výkon a z mellotronových ploch v závěru skladby skutečně mrazí. Další výborná instrumentálka Theme From Atlantis je hlavním motivem úvodní suity a dělá takovou pomyslnou tečku za celým albem. Tečkou skutečnou je pak jemná, poloakustická balada Love Please Close The Door.
Album Atlantis sice nedosahuje kvalit svého předchůdce, ale je pořád ještě velmi dobré a neudělá ostudu v žádné prog rockové sbírce. Slabší čtyři.
SKLADBY:
Side One:
01. Atlantis (Chris Koerts, Gerard Koerts, Hans Ziech) – 16:22
– Prelude
– Prologue (Don't Know)
– Rise and Fall (Under a Cloudy Sky)
– Theme of Atlantis
– The Threat (Suddenly)
– Destructions (Rumbling from Inside the Earth)
– Epilogue (Don't Know)
Side Two:
02. Maybe Tomorrow, Maybe Tonight (G. Koerts, Ziech, C. Koerts) – 3:12
03. Interlude (G. Koerts, C. Koerts) – 1:57
04. Fanfare (Ton van der Kleji, Ziech, G. Koerts, C. Koerts) – 6:03
05. Theme From Atlantis (C. Koerts, G. Koerts) – 1:50
06. Love Please Close the Door (G. Koerts, Ziech, C. Koerts) – 4:11
SESTAVA:
Jerney Kaagman – lead vocals
Chris Koerts – electric and acoustic guitars, backing vocals
Gerard Koerts – organ, backing vocals, Mellotron, piano, synthesizer, flute, virginal
Hans Ziech – bass
Ton van der Kleij – drums, percussion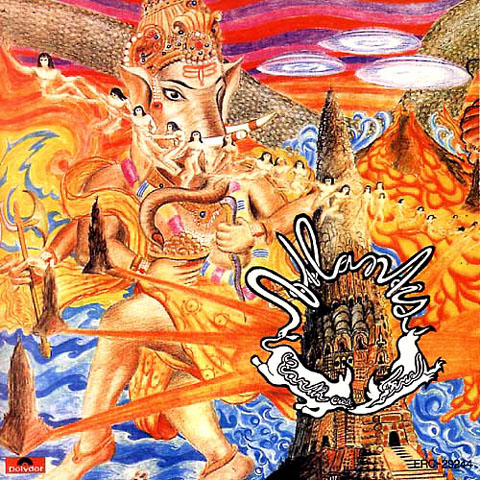 Atlantis
Earth & Fire
Symphonic Rock, Prog Rock
Polydor
1973
LP
6
CD Polydor 273 815-0 /2010/