Krátky návrat do minulosti – september 1978.
Prvé dni na strednej škole, zemiaková brigáda, magneťák.
"Súboj": neskúsený prváčik vs. ostrieľaný študent 4. ročníka.
Dôvod konfliktu: baby, kočky, dievčatá, spolužiačky.
Použité zbrane: Nazareth, Expect No Mercy, 1977 vs. Queen, A Night At The Opera, 1975.
Víťaz: Uhádnete?
Som fanúšik Nazareth, možno trochu zaujatý, ale nie nekritický. Viem, čo sa so skupinou stalo v 80. rokoch, aký je všeobecný pohľad na ich tvorbu v tomto období, ale o tom niekedy inokedy…
Platňa patrí k tomu najlepšiemu, čo vzišlo z tvorivej dielne Nazareth. Prečo? Pretože to stále považujem za hard rock, má patričnú silu a razanciu, z hry muzikantov cítiť 100%-né nasadenie, nahrávka je pestrá a výborne sa počúva. Pod pestrosťou mám na mysli tvrdšie veci (Expect No Mercy, Revenge Is Sweet, Gimme What's Mine), bluesovky (Busted, Kentucky Fried Blues), funky (New York Broken Toy), balady (Shot Me Down, All The King's Horses) i singlové hitovky (Gone Dead Train, Place In Your Heart). Zastavím sa pri niektorých z nich.
Expect No Mercy a Revenge Is Sweet sú ostré jazdy, takže nečakajte žiadne zľutovanie, lebo pomsta je sladká. Skvelé gitary, presvedčivý výkon McCaffertyho i ostatných. To však platí aj na zvyšný materiál. Gone Dead Train, prvá z dvoch prevzatých skladieb, pochádza z roku 1971, kedy ju nahrala country rocková skupina Crazy Horse. Jack Nitzsche, jeden z autorov, bol blízkym spolupracovníkom Neila Younga. Pekná rockovica, pri ktorej si tlieskam do rytmu spolu s hudobníkmi. Precítené balady Shot Me Down a záverečná All The King's Horses sú jasným dôkazom, že skupina túto stránku tvorby ovláda na jednotku. Vydarená cover verzia Busted, pôvodne contryovka z pera Harlana Howarda z roku 1962. Jedna z mojich najobľúbenejších na albume. Len pre zaujímavosť, najviac ju preslávili Johnny Cash a Ray Charles. Singel Place In Your Heart som si nechal na záver. Môj favorit. Možno trochu presladený, ale na mňa zabral a zaberá dodnes. Akoby sa nás Dan doslova pýtal, či nám v srdci ešte zostalo miesto pre Nazareth. A ako je to u Vás? Ja ho tam mám vyhradené natrvalo.
Expect No Mercy, deviaty štúdiový počin škótskych hard rockerov, považujem za smoliara. Narodil sa v čase, kedy v Británii zúrila punková vlna, takže jeho šance na úspech boli minimálne. Napriek nepriazni osudu i nahrávacích spoločností sa skupina pochlapila. Album dokázal, že ostrovný hard rock mal stále čo povedať a ponúknuť. Z vtedajšej hudobnej produkcie, ktorú mnohí považujú za dobu temna, je to pre mňa excelentná nahrávka daného žánru. Dielo, ktoré by mohlo presvedčiť aj tých, ktorí svoje randenie so skupinou ukončili po roku 1975. Viem, že to nemá silu Hair Of The Dog, ale mne táto tvár Nazareth sedí. Proste – srdcovka.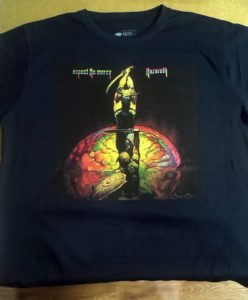 Súčasnosť.
Celkom by ma zaujímalo, čo bolo hlavným dôvodom, že sa v roku 1978 pomyselné misky váh víťazstva naklonili na moju stranu. Hudba z albumu Expect No Mercy, či snáď neodolateľný chlapčenský šarm fanúšika Nazareth? Kto vie? 🙂
P. S.: Jedna poznámka k obalu.
Myslím, že je nás viac, ktorých oslovila tvorba Franka Frazettu. Nedávno som na internete čítal zaujímavú pripomienku, názor: "Nie je to určitý paradox? Ako sa ten meč zvezie dole, keď má v ceste rohy?"
Skladby:
01. Expect No  Mercy (McCafferty/Charlton/Agnew/Sweet) 3:27
02. Gone Dead  Train (J. Nitzsche/R. Titelman) 3:45
03. Shot Me  Down (M. Charlton) 3:34
04. Revenge Is  Sweet (M. Charlton) 3:07
05. Gimme What's  Mine (McCafferty/Charlton/Agnew/Sweet) 3:45
06. Kentucky Fried Blues (McCafferty/Charlton/Agnew/Sweet) 3:18
07. New York Broken Toy (McCafferty/Charlton/Agnew/Sweet)3:42
08. Busted (H. Howard) 3:46
09. Place In  Your  Heart (M. Charlton) 3:05
10. All The  King's  Horses (Charlton/McCafferty) 4:28
Zostava:
Dan McCafferty – lead vocals
Manuel Charlton – guitar
Pete Agnew – bass guitar
Darrell Sweet – drums
Ďalšie informácie o albume na Discogs.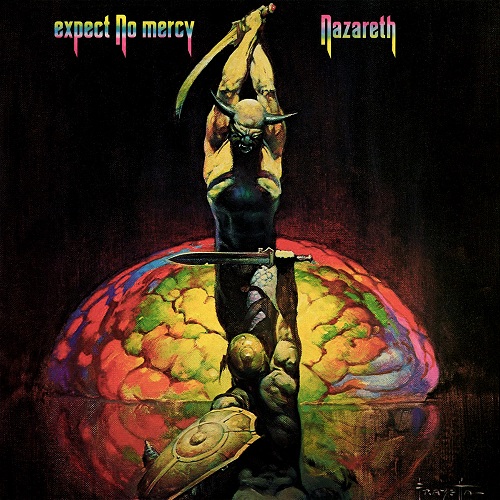 Expect No Mercy
Nazareth
hard rock
Mountain
1977
LP
10
CD - Castle Classics, 1990