V roce 1994 se mnohým fanouškům částečně splnil sen, který je pronásledoval od smrti Johna Bonhama. Hlas a kytara legendárních Led Zeppelin se po dlouhých čtrnácti letech sešli ke společné spolupráci, jež nebyla pouhým jednorázovým setkáním zasloužilých rockerů a přinesla nahrávku, na níž byl resuscitován materiál dostatečně známý ze slavného období, akorát dostal nový kabátek, který některým z písní vyloženě slušel.
Jimmy Page po nepříliš vydařených osmdesátých letech napnul své síly k opečovávání odkazu své nejslavnější skupiny a v roce 1993 si střihnul velice zdařilé album s dalším vynikajícím zpěvákem Davidem Coverdalem. Robert Plant se v témže roce dostal na tehdejší vrchol své sólové tvorby deskou Fate of Nations, na níž začal pošilhávat po nedozírných lánech world music. Staronová dvojice se obklopila hráči na různé, u Led Zeppelin většinou nezvyklé nástroje, hudebníky z Egypta a Maroka a to vše obalila do smyčcového, leč nijak podbízivého hávu.
K těm deseti zeppelinovským klasikám přibyly čtyři nové skladby, které jsou ve svém soundu zřetelně ovlivněné horkými písky a dalekými obzory severní Afriky. Především píseň City Don't Cry je pro mě plnohodnotným hitem, v němž hráči na různé bubínky, tabla a kdovíco ještě vytváří atmosféru horkého dne v ruinách mnoha písečnými bouřemi ošlehaného města.
Podobný náboj dostávají i mnohé z těch již známých skladeb a některé z nich se dokonce zprvu mění k nepoznání. Hned úvodní, původně svižný hard rock Nobody's Fault But Mine z alba Presence zde prochází neuvěřitelnou metamorfózou, z níž naštěstí vychází píseň vítězně a nestává se parodií na sebe samu. Použití skladeb Thank You, Since I've Been Loving You a Gallows Pole se na podobném projektu jeví jako logické, avšak mám dojem, že síly původních verzí nedosahují. To neznamená, že by byly špatné. Trošku se při poslechu ztrácím v tajemné No Quarter, tak nějak kolem prošumí a je pryč. Zkrácení skoro o polovinu jí evidentně neprospělo. Povedla se nová verze nádherné The Battle of Evermore, v níž se podařilo zachovat tu křehkost a jiskřivost originálu.
Vrcholem je poslední nahrávka a tou je legendární Kashmir, jemuž se zde daří vyvolávat v posluchači představu tajemného orientu snad ještě více, než se tomu děje na albu Physical Graffiti. K tomu všemu si připočtěte jako bonus velice zklidněný projev Roberta Planta, který se zde snaží vyhýbat přehnaně expresivním polohám, a máte před sebou poměrně zdařilý projekt.
Page s Plantem o čtyři roky později vydali další společné album Walking into Clarksdale obsahující pouze nový materiál. Na víc však už jejich síly nestačily a dvojice se rozchází a vydává vlastními cestami. Ty se znovu sejdou na památném koncertě v londýnské O2 Aréně, na němž pánové i s Johnem Paulem Jonesem a "mladým Bonzem" na chvíli vyvolají ducha starých Led Zeppelin. Asi už opravdu naposledy.
Skladby:
Nobody's Fault But Mine 4:06
Thank You 5:48
No Quarter 3:45
Friends 4:37
Yallah 4:59
City Don't Cry 6:08
Since I've Been Loving You 7:30
The Battle Of Evermore 6:41
Wonderful One 4:57
Wah Wah 3:59
That's The Way 5:35
Gallows Pole 4:09
Four Sticks 4:52
Kashmir 11:42
Sestava:
Acoustic Guitar, Electric Guitar, Mandolin – Jimmy Page
Bass, Percussion – Charlie Jones
Bendir [Egyptian Ensemble], Percussion [Merwas – Egyptian Ensemble], Finger Cymbals [Egyptian Ensemble] – Ibrahim Abdel Khaliq
Cello [London Metropolitan Orchestra] – Ben Chappell, Caroline Dale, Cathy Giles, Jonathan Tunnel, Stephen Milne
Drums, Percussion – Michael Lee
Guitar, Banjo – Porl Thompson
Hurdy Gurdy – Bill Curbishley
Mandolin, Bodhrán – Jim Sutherland
Musician [Marrakech] – Abdelhak Eddahmane, Brahim El Balkani, El Mahjoub El Mathoun, Hassan El Arfaoui
Ney [Nay – Egyptian Ensemble] – Bashir Adel Al
Organ [Hammond], Arranged By [Arrangements For English & Egyptian Ensemble] – Ed Shearmur    Oud [Egyptian Ensemble] – Abdel Salam Kheir
Percussion [Duf – Egyptian Ensemble], Bendir [Egyptian Ensemble] – Ali Abdel Salem, Farouk El Safi
Percussion [Reque – Egyptian Ensemble], Bendir [Egyptian Ensemble] – Farid Khashab
Strings [Egyptian Ensemble] – Amin Abdel Azim, Bahig Mikhaeel, Hanafi Soliman
Strings [Egyptian Ensemble], Soloist [Strings] – Wael Abu Bakr
Viola [London Metropolitan Orchestra] – Andrew Brown, Andrew Parker, Bill Hawkes, Jane Atkins, John Jezard, Nichalas Pendlebery, Rusen Gunes
Violin [London Metropolitan Orchestra] – Ann Morlee, Cathy Thompson, Clare Thompson, David Juritz, David Ogden, Ed Coxon, Harriet Davies, Ian Humphries, Jeremy Williams, Jessica O'Leary, Elisabeth Layton, Mark Berrow, Pauline Lowbury, Perry Montague-Mason, Peter Hanson, Rita Manning, Rosemary Furniss
Vocals – Najma Akhtar, Robert Plant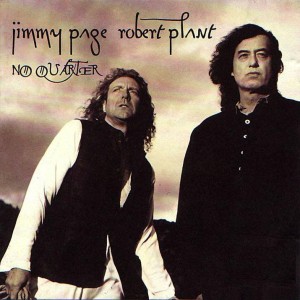 No Quarter
Jimmy Page & Robert Plant
Hard rock, world music
Fontana
1994
CD
14