Pawn Hearts. Zadaná srdce. Pink Floyd mají The Dark Side of the Moon (nebo The Wall), Yes své Close to the Edge, třeba Deep Purple nesmrtelné album In Rock a Van der Graaf Generator (vyvažující svou temností spolu s King Crimson "světlejší" hudbu Yes nebo Genesis… Gentle Giant podle mě stáli rozkročenýma nohama na obou březích) měli a mají album Pawn Hearts. Dnes již legendární, vynikající, nadčasovou nahrávku. 
Pamatuji si, byť to moc nelichotí mé znalosti anglického jazyka, že jsem žil dlouhou dobu v domnění, že správný překlad je Srdce v zástavě. Samozřejmě ta srdce. Tak by se to také dalo přeložit, ale já slovo ´zástava´ chápal ve smyslu zastavení se – že srdce přestane tlouct, ne tedy zástava ve smyslu zastavárny… No, prostě mě nenapadlo po pravém významu zapátrat, protože jsem si jednoduše myslel, že mu rozumím správně… Na druhou stranu dodnes čtu nové výklady těch dvou slov… Klidně to může být i někde uváděný spoonerism.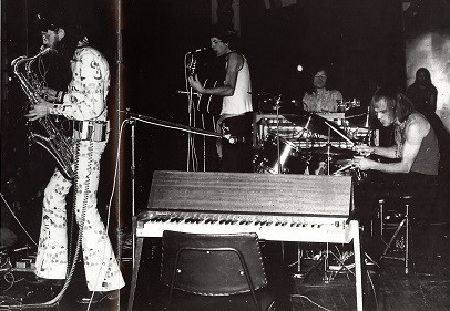 Jak začít, resp. spíš jak pokračovat?… Pojmu tento pokus o recenzi trochu osobně. V roce 1992 jsem měl přímo dvojí štěstí. Skupinu Van der Graaf Generator jsem teprve začínal objevovat a album Pawn Hearts bylo první, které jsem od nich slyšel. Nemohl jsem začít lépe. Dodnes ho mám nahrané na magnetofonové kazetě (na B straně mám také pětihvězdičkové album – sólového Petera Hammilla z roku 1979 – pH 7).
Druhé štěstí spočívalo v tom, že jsem měl souběžně s albem k dispozici také jeho český překlad. Hammillovy texty – Hammillova temná poezie plná originální (někdy matoucí, nebo zmatené) symboliky (i když vliv E. A. Poea je zřetelný) můj dojem z poslechu Pawn Hearts hodně ovlivnila – umocnila. Filozofická mnohovýznamovost a originální, byť poněkud těžce stravitelná (natož přeložitelná) Hammillova symbolika je zde nicméně v úžasném souladu s propracovanou hudbou.
Teď něco k albu samotnému. Se vzbouřeným rozumem se ženeme do neznáma…, zpívá Peter Hammill v první kompozici. Jmenuje se Lemmings – Lumíci. Lumíci jsou sama o sobě hodně zvláštní zvířátka. Není neobvyklý – v realitě – následující obraz: stádo lumíků o překot běží, div se nekutálí, z kopce k mořskému útesu, z něj naskáčou do moře, plavou daleko od břehu, do hloubky, kde vysíleni spáchají hromadnou sebevraždu utopením. Tato tajemná zvířata se prý opravdu takto chovají a nikdo jejich pohnutky nedokáže plně odborně vysvětlit. Byť jiní tvrdí, že to není pravda, že se takto nechovají… Toto téma přímo volá po metaforickém zpracování a Peter Hammill něčemu takovému nemohl odolat. Navíc je zde prostor pro Hammillův oblíbený a častý motiv – moře. Hudba je tichá i mimořádně hlasitá a vášnivá, sytá, nespoutaná, ponuře barevná, plná originálních, jazzrockových hudebních vsuvek – což je přímo taková poznávací značka zejména raných Van der Graaf Generator, řekl bych. Jejich nedodržování konvenčních pravidel písně je pověstné, i když s něčím takovým přicházely v té době i ostatní artrockové skupiny. Hammillův zpěv je zde ve vrcholné formě – zahrnuje spodní skorošepot i nejvyšší "choromyslné" výkřiky.
Druhá skladba, Man-Erg, začínající dnes se již dá říct klasicky hammillovským klavírem, je kompozičně podobně vystavěná, s opět úžasnými texty (a téměř šokujícími hudebními přechody). Vím, že nejsem hrdina… Jsem prostě člověk… Celá skladba je emociálně silná; hudebně záměrně rušivá vsuvka s neméně šíleným textem: Jak mohu být svoboden? Jak mohu dostat pomoc? Jsem já skutečně já? Nejsem někdo jiný? neomrzí ani po padesátém poslechu. Fakt výborné. Hudba i text. V angličtině se navíc rýmující. Nadšeně tleskám.
Tyto dvě skladby zabírají první polovinu alba. Celou druhou stanu vyplňuje kompozice A Plague of Lighthouse Keepers, tvořená několika spojenými skladbami a popisující zjednodušeně řečeno pocity člověka-vyděděnce, žijícího na opuštěném majáku. Poměrně komplikovaná hudba i smutné, silně poetické texty jsou opět chvílemi romanticky křehké, chvílemi démonicky strašidelné, jeden hudební nápad střídá druhý. Dodnes si pamatuju, jak jsem vytřeštil oči, když jsem poprvé slyšel Petera Hammilla zpívat: Jeden další vyzáblý utopenec!, protože slovo utopenec Hammill tak maniakálně zařval, že něco takového jsem snad ještě do té doby neslyšel. Co by tomu řekli v jezuitském sboru, kde Peter Hammill kdysi coby žák střední školy zpíval?

Album bylo původně plánované jako dvojalbum, nahraného materiálu bylo dost, ale nakonec k jeho realizaci v takovém formátu nedošlo. Některé instrumentální skladby, plánované do tohoto původně dvojalba, se objevily později na CD v roce 2005 ve znovuvydané, rozšířené verzi. Možná škoda, že k původně zamýšlené realizaci dvojalba nedošlo a víc prostoru k hudebnímu vyjádření nedostali Hugh Banton a David Jackson…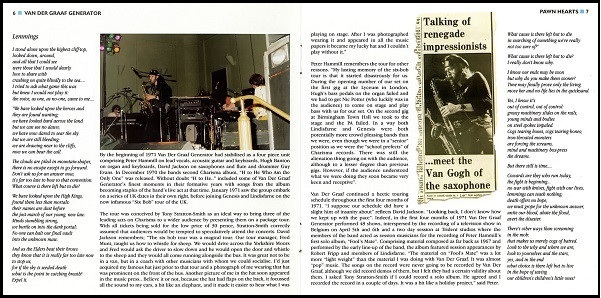 Pawn Hearts. Velká porce originálního, temného progrocku, plného emocí. Vynikající instrumentální výkony všech (včetně přizvaného Roberta Frippa z King Crimson). Existenciální poezie plná nejednoduché symboliky. Takové je album Pawn Hearts. Takoví byli a jsou Van der Graaf Generator. Pawn Hearts – velký klenot světového progresivního rocku… Troufám si říct, že stvořit něco takhle kvalitního (byť tohle slovo nemám rád, je tak impotentně nicneříkající), to se často neslyší. A Hammillovi se něco takového podařilo i zopakovat, např. v roce 1974 (za pomoci ostatních členů Van der Graaf Generator) na albu The Silent Corner and the Empty Stage.
Větší úspěch než v Anglii zažilo dané album (a vlastně skupina samotná) ve Francii a zejména v Itálii, kde deska dokonce vyšplhala na 1. příčku tamějších hudebních tabulek. Škoda, že se v roce 1972 Van der Graaf Generator rozpadli, ale zase bychom pravděpodobně byli ochuzeni o vynikající sólová alba Petera Hammilla, která Hammill v letech 1973-74 natočil.

Hugh Banton vzpomíná na hektický rok 1972 a turné po Itálii takto: "V Itálii jsme dělali dva koncerty denně, v létě. Teplo, drogy, šílenství… Nebyli jsme zvyklí, aby na stole stály lahve vína, ale v Itálii jsme si dopřávali velké banketové pokrmy a víno teklo proudem, takže to bylo poněkud jiné… Lezli jsme si na nervy a Peter toho byl prostě plný…. Když jsme se vrátili, Peter se velmi rychle rozhodl: ´Už to nebudu dělat. ´"
Peter Hammill dodává (narážející také na vzrůstající popularitu a ztrátu soukromí, album Pawn Hearts z roku 1971 v Itálii se umístilo na 1. místě po dobu celých šesti týdnů): "Retrospektivně bych řekl, že rozdělení bylo nevyhnutelné."
A Hugh Banton souhlasí: "Itálie byla místem, kde jsme poprvé měli velký úspěch. Věci se staly poněkud bláznivými, až do té míry, že nešlo vejít do baru a nebýt rozpoznán, a zůstávali jsme zavřeni v šatnách."

A když už jsme (resp. jsem) u tohoto tématu, tak poměrně zajímavá situace nastala v roce 1976: Hugh Banton vzpomíná na odchod z Van der Graaf Generator v roce 1976: "Peníze nebyly. David Jackson se oženil a já také… Podíváte se zpátky a přemýšlíte: ´Ach, všechny tyto skvělé nahrávky a koncerty´, ale být uprostřed toho a nedostávat žádné peníze a myslet si, že se nikam nedostáváte…  ´Nemohu si to dovolit, nemůžu si dovolit se uživit´- to vás může táhnout dolů, takže jsem se rozhodl, na konci roku 1976, že toho mám dost." Peter Hammill to nicméně viděl trochu jinak, Hugh měl prý nepřiměřené nároky…: "Hugh ztratil trochu smysl pro realitu…" Nicméně o nedostatečném finančním zabezpečení hovořil i Guy Evans… No, koneckonců proč by nemohli být pravdu všichni tři?
Já jsem hlavně rád za ty desítky úžasných alb (a hodin mého užaslého poslechu), které nám Peter Hammill, ať již sólo či s Van der Graaf Generator, po sobě zanechal. Resp. stále zanechává. A to mu před pár dny bylo sedmdesát (psáno v listopadu 2018).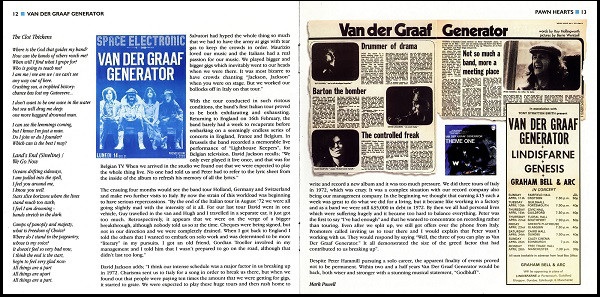 SKLADBY:
1. Lemmings (11:39)
2. Man-Erg (10:21)
3. A Plague of Lighthouse Keepers (23:04)
a) Eyewitness
b) Pictures / Lighthouse
c) Eyewitness
d) S.H.M.
e) Presence of the Night
f) Kosmos Tours
g) (Custard's) Last Stand
h) The Clot Thickens
i) Land's End
j) We Go Now
SESTAVA:
Peter Hammill: lead vocals, acoustic & slide guitars, piano, electric pianos
Hugh Banton: Hammond (E & C) & Farfisa Professional organs, piano, Mellotron, bass & bass pedals, ARP synthesiser, Fx, backing vocals
David Jackson: tenor, alto & soprano saxes, flute, Fx, backing vocals
Guy Evans: drums, timpani, percussion, piano
+
Robert Fripp: electric guitar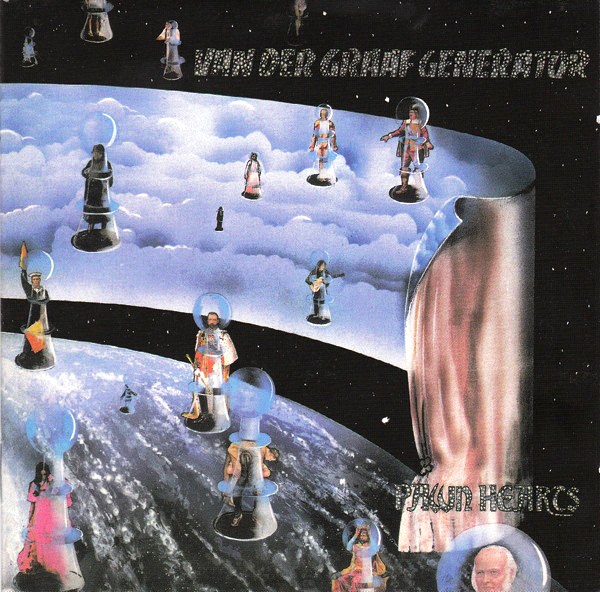 Pawn Hearts
Van Der Graaf Generator
Prog rock
Charisma
1971
LP
3