Pekných pár rokov po najväčšom ošiali, ktorý spôsobila hudobná stanica MTV vďaka "unplugged" koncertom, prišli ostrieľaní hard rockeri Uriah Heep so svojou porciou "bez napätia". Ako začať? Čo k tomu napísať? Vychvaľovať? Presviedčať ostatných o kvalite, o výnimočnosti, o kráse, o opodstatnenosti tejto nahrávky? Nie, nič také neurobím, fanúšikov ničím novým neohúrim, ďalších sotva získam a tých, ktorí túto kapelu zatratili po odchode Davida Byrona, nepresvedčím.
Kým prejdem k tomu podstatnému, v krátkosti dodám, že nikdy zo mňa nebol, nie je a ani nebude televízny maniak, ktorý by čumel na hudobné kanály. Prešlo ma to ešte skôr, ako som stihol poriadne naladiť satelit na družicu Astra. Keď mi tá slávna eMTiVíčka začala od rána do večera diktovať, že musím milovať istého Axla s jeho skupinou, ktorí sa celý víkend predvádzali ožratí na akejsi jachte, povedal som si – dosť! To isté s flanelovými košieľkami z upršaného Sítlu. Vetre alebo neverte, dodnes som nepočul ani jediné kompletné dielo zaradené do priečinku grunge. Prežil som bez toho a prežijem i naďalej – užívam si svoju obľúbenú muziku. To isté môžem povedať na adresu DVD – jednoducho ma to nebaví, neláka. K tomu, aby som si vychutnal hudbu, nepotrebujem obraz. Vždy sa však nájde pár výnimiek…
Acoustically Driven je porcia 15 skladieb, vrátane záverečného Medley, vybraná priaznivcami skupiny a zahraná 9. decembra 2000 v útulnom prostredí londýnskeho divadla Mermaid. Staršie a novšie kompozície v upravenom šate, kde Uriášom na celkovom vyznení nahrávky vypomáha zástup sprievodných hudobníkov a trio doprovodných vokalistiek. Od začiatku do konca nádherná atmosféra a veľmi slušné výkony účinkujúcich. Áno, aj Bernieho Shawa! Úvod z fantázie – Why Did You Go. Aké je to jednoduché a ľahké, keď sa to vie. Nastúpená cesta pokračuje ďalej – The Easy Road. Pripomienka magických osláv – Echoes In The Dark. Ochutnávka z nenávidenej a zatracovanej štúdiovky Fallen Angel (1978) – Come Back To Me. Krásna balada Cross That Line. The Golden Palace – môj favorit zo Sonic Origami (1998).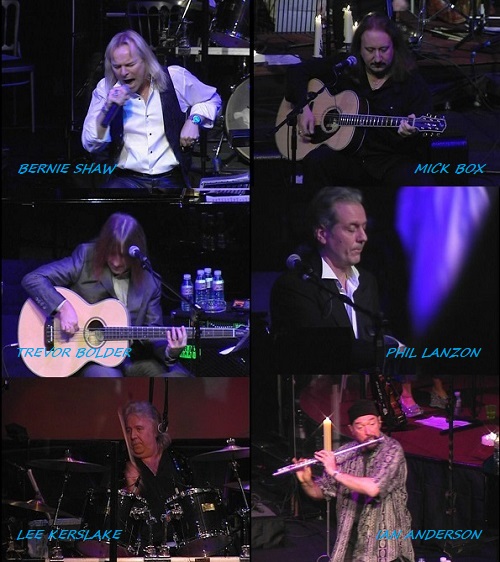 Skladba The Shadows And The Wind s povestným "La la la la la", ktorú mnohí kvôli tomu neznášajú, ja ju milujem. Tretia perla z nedocenej radovky – rovnomenná Wonderworld. Správa z iného sveta – Different World. Prišiel i Ian Anderson, trubadúr z Jethro Tull, aby svojou legendárnou flautou obohatil Circus a Blind Eye. More Fool You – zástupca Raging Silence (1989), prvého štúdiového zárezu Shawa. Klasika – Lady In Black. Čo k nej napísať? Paráda! Pri záverečnej zmesi The Wizard / Paradise / Circle Of Hands mi pri každom prehrávaní behá mráz po chrbte a gajdy hosťujúceho Stefana Hannigana sú okúzľujúcou bodkou za výnimočnou nahrávkou.
Od nahrávania tohto diela ubehlo už 20 rokov a dodnes mám pred očami moment, keď som po zakúpení CD v jednom z prešovských obchodov stretol kámošov na Hlavnej ulici. Po zdvorilostnej konverzácii v jednej z letných kaviarní prišla rada na práve zakúpený prírastok do zbierky. Po zodpovedaní otázky ohľadom ceny si tí dvaja určite ešte dnes klepú na čelo, čože som to za magora…
DVD verzia tohto diela je v mojom prehrávači najčastejšie hraným obrazovým nosičom. Nie kvôli krásnym šikmookým huslistkám v pozadí, ale vďaka tejto nádhernej hudbe. Acoustically Driven je vlastne jediné dielo v zbierke, ktoré mám v dvoch rozličných formátoch. Excelentná akustická porcia hitov Uriah Heep!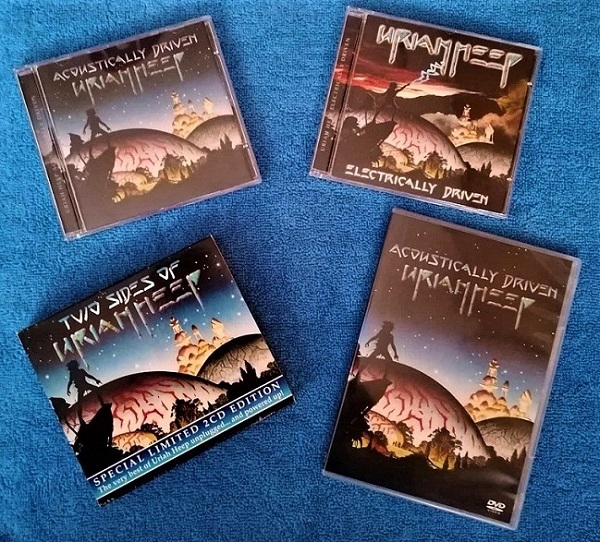 SKLADBY:
01. Introduction 0.47
02. Why Did You Go (Byron/Box/Hensley/Kerslake) 3.59
03. The Easy Road (Ken Hensley) 2.41
04. Echoes In The Dark (Ken Hensley) 4.44
05. Come Back To Me (Kerslake/Hensley) 4.40
06. Cross That Line (Box/Lanzon) 5.56
07. The Golden Palace (Box/Lanzon) 8.17
08. The Shadows And The Wind (Ken Hensley) 4.30
09. Wonderworld (Ken Hensley) 4.33
10. Different World (Box/Lanzon) 5.03
11. Circus (Thain/Box/Kerslake) 4.21
12. Blind Eye (Ken Hensley) 3.37
13. Traveller In Time (Byron/Box/Kerslake) 2.50
14. More Fool You (Box/Lanzon) 3.30
15. Lady In Black (Ken Hensley) 6.15
16. Medley: The Wizard (Hensley/Clarke)/ Paradise (Ken Hensley)/ Circle Of Hands (Ken Hensley) 9.24
Released in March 2001, Classic Rock Legend CRL0676
Recorded live 9. 12. 2000 at the Mermaid Theatre, London
Recorded on the Fleetwood Mobile and engineered by Tim Summerhayes
Mixed at the Stoneroom Studios and engineered by Lee Hirons
Additional mixing in the Fleetwood Mobile thanks to Jan Dyckhoff
Assisted by Laura Whitaker & Tibor Kovacs
String arrangements by Pip Williams & Phil Lanzon
Produced by Pip Williams
ZOSTAVA:
Mick Box – guitar, vocals
Lee Kerslake – drums, vocals
Trevor Bolder – bass guitar, vocals
Phil Lanzon – keyboards, vocals
Bernie Shaw – lead vocals
Special Guest: Ian Anderson
The Uriah Heep Classic Rock Music Ensemble:
Liz Cheyen Liew – first violin
Sarah Chi Liew – second violin
Saskia Tomkins – viola
Pauline Kirke – cello
Stefan Hannigan – uillean pipes and percussion
Melvin Duffy – pedal steel and slide guitar
Kim Chandler – flautist on 3, 7 & 14
Pip Williams – additional acoustic guitar on 15
Emma Robbins, Kim Chandler, Billie Godfrey – backing vocals
Acoustically Driven
Uriah Heep
Acoustic, Hard Rock, Prog Rock
Classic Rock Legends
2001
CD, DVD
16
CD Classic Rock Legends ‎– CRL0676 /2001/