V roce 1988 vyšlo album trojice David Jackson, Hugh Banton a Guy Evans s názvem Gentlemen Prefer Blues, obsahující materiál, nahraný víceméně mezi lety 1984 až 1985. 
V roce 1981 vyšlo kompilační album Van der Graaf Generator Time Vaults, obsahující věci, které nahráli jako krátkodobě neexistující skupina v letech 1972-1975. Výborné album, obsahující např. ranou, ještě VdGG verzi kompozice (In the) Black Room, která se objevila v roce 1973 na Hammillově sólo albu Chameleon In The Shadow Of The Night. 
Je tak trochu záhadou, proč vůbec tato kompilace, Now And Then, vyšla. Peter Hammill z toho nadšený nebyl. Obsahuje totiž šest skladeb z alba Gentlemen Prefer Blues a dvě skladby z alba Time Vaults. Melodickou, neponurou, jedinou zpívanou skladbou na albu (zpívanou Peterem Hammillem) je píseň The Liquidator z roku 1973 a z podobné doby je také bláznivě veselá, také ne vandergraafovsky znějící, téměř funky(!) skladba Tarzan. 
Zbytek tvoří instrumentálky ze zmíněných osmdesátých let, povětšinou jazzově laděné (úvodní otvírák Saigon Roulette dokonce obsahuje i jakousi hudební etno-pasáž), jedna je experimentální, jedna je jazzovo/bluesová, občas se k jazzu přidruží i reggae a závěrečná skladba… Ta je snad nejlepší. Jmenuje se The Epilogue a složil ji Hugh Banton v roce 1977. Opravdu krásná, instrumentální, melodická kompozice. Znějící tak trochu jako hudba k filmu, založená samozřejmě chvílemi až na téměř orchestrálně znějících klávesách. Citlivě doplněná saxofonem a flétnou Davida Jacksona, kytarou hostujícího Iana Gomma a bicími Erika Cairnse. Guy Evans v této skladbě také hraje na bicí a kromě toho také na nějaký typ xylofonu a dokonce na trumpetu!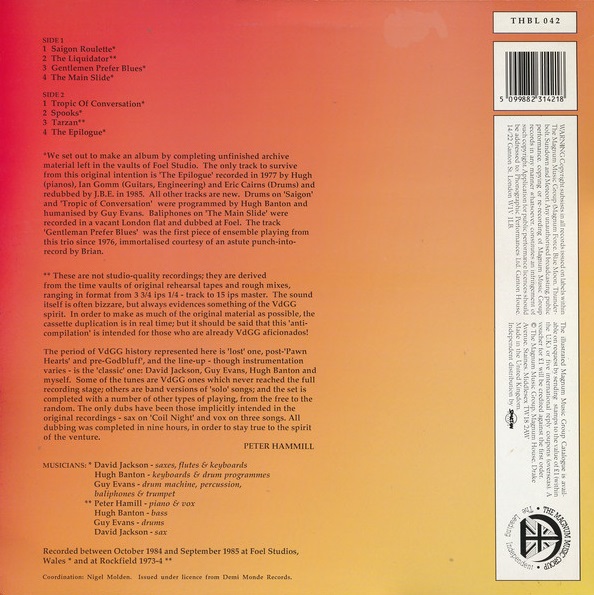 Pro toho, kdo zná jen řadová alba Van der Graaf Generator, tak musí být tohle kuriózní album solidní šok. Něco málo přes půl hodiny trvající CD tak obsahuje věci, které jsou k dispozici na jiných kompilacích… Když ale budu hodnotit hudbu samotnou, je to za tři a půl hvězdičky. Časová délka CD pro mě byla trochu zklamáním – když jsem ho v první půli devadesátých letech kupoval v Praze v Jungmannově ulici v tehdejší prodejně CD, stálo mě (pokud mě paměť neklame) necelých 500 Kč, možná dokonce i víc.
SKLADBY:
1. Saigon Roulette – Jackson, Banton, Evans (4:43)
2. The Liquidator – Van Der Graaf Generator (5:27)
3. Gentlemen Prefer Blues – Jackson, Banton, Evans (2:58)
4. The Main Slide – Jackson, Banton, Evans (4:07)
5. Tropic Of Conversation – Jackson, Banton, Evans (7:19)
6. Spooks – Jackson, Banton, Evans (5:15)
7. Tarzan – Van Der Graaf Generator (2:14)
8. The Epilogue – Jackson, Banton, Evans (4:10)
SESTAVA:
On the Van Der Graaf Generator tracks:
Peter Hammill – piano & vocals
Hugh Banton – organ & bass pedals (presumably, because he is credited with 'sax', which can't be true compared to the Time Vaults release)
Guy Evans – drums
David Jackson – saxophone
On the Jackson, Banton, Evans tracks:
David Jackson – saxophones, flutes & keyboards
Hugh Banton – keyboards & drum programmes
Guy Evans – drum machine, percussion, baliphones & trumpet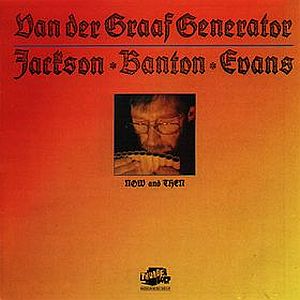 Now And Then
Van Der Graaf Generator / Jackson * Banton * Evans
Jazz Rock
Thunderbolt
1988
LP, CD
8