Nemecko bolo jednou z mála európskych krajín, kde sa na začiatku 70-tych rokov rozhlasové stanice aktívne zapojili do diania v novovznikajúcej rockovej scéne a poskytovali mladým skupinám možnosť v kvalitne zariadených hudobných štúdiách rozhlasov nahrať svoju hudbu, ktorú odvysielaním posunuli smerom k poslucháčom a takto v nemalej miere prispeli k vytvoreniu silnej a kvalitnej rockovej scény v krajine.
Mnohým skupinám sa vďaka takémuto vysielaniu podarilo dostať do širšieho povedomia hudobného fanúšika, rockového biznisu, získali nahrávacie kontrakty a vybudovali si úspešnú kariéru. Pre ostatné skupiny, ktorým popularita nebola súdená, zostali tieto rádiové nahrávky jediným svedectvom ich hudobného úsilia. V súčasnej dobe sa vydavateľstvá, ako Long Hair Records, v spolupráci s rozhlasovou stanicou SWR zameriavajú práve na vyhľadávanie týchto na dlhé desaťročia v archívoch postrácané klenoty, raritné nahrávky zvukovo obnovuje a vydáva na CD, najnovšie aj na LP.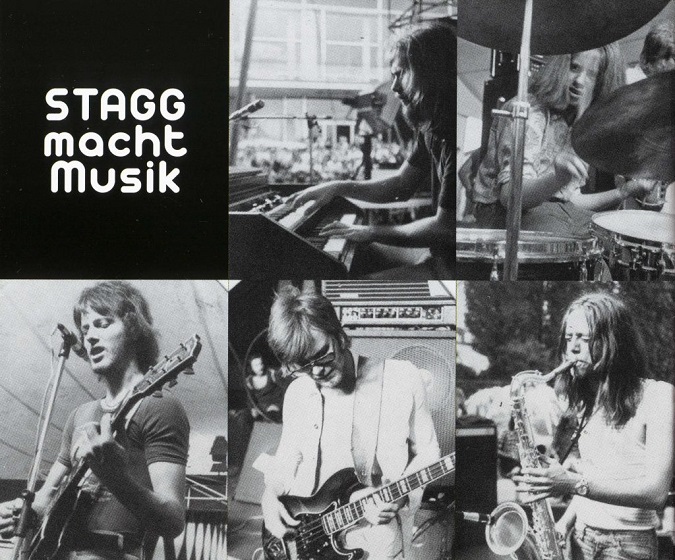 Jedným zo stratených a v roku 2018 znovu objavených hudobných klenotov bola aj džezrocková formácia Stagg, založená vo Frankfurte nad Mohanom. Donedávna bola ešte natoľko zabudnutá, že ušla pozornosti aj oboch prominentných encyklopédií venovaných Krautrocku, Asbjornsenovej Cosmic Play and Dream, aj Crack in the Cosmic Egg bratov Freemanovcov. Skupinu založili v roku 1973 študenti plní entuziazmu s úmyslom realizovať v budúcnosti výlučne vlastné hudobné nápady. Po rôznych zmenách v obsadení sa zostava ustálila do nasledujúcej podoby: Freddy Höhn (tenor a soprán saxofón, flauta, basová flauta), Ulli Ost (bicie), Harald Wanke (basgitara, flauta), Manfred A. Weisz (akustická a elektrická gitara, spev) a Joel Wesser (klávesy, vokál). Skupina, okrem vystupovania vo Frankfurte a jeho okolí, tiež hrala v rôznych kluboch v Berlíne, Kolíne, Mníchove a v Hamburgu. Do širšieho povedomia sa Stagg po prvýkrát dostali vďaka účasti na poslednom dni rockového workshopu usporiadanom v rámci rozhlasovej výstavy v Berlíne, SFB 1973. Úspešné vystúpenie im prinieslo ponuku od rozhlasovej stanice SWF, ktorá im prisľúbila štyri hodiny nahrávacieho času v hudobnom štúdiu rádia.
Nahrávanie sa uskutočnilo 11. januára 1974, Stagg nahrali päť unikátnych skladieb o ktorých už dnes s pokojným svedomím možno vyhlásiť, že ide o jeden z najlepších hudobných materiálov vydolovaných z bohatého archívu rádia SWF. Na ploche zhruba 40 minút sa tu jedná o rýdzo nemeckú záležitosť, precízny, energický, do detailov vypracovaný kraut(džez)rock, ktorý i napriek pomerne dlhým skladbám nenechá poľaviť v pozornosti poslucháča, čo svedčí o hudobných a skladateľských kvalitách kolektívu ako aj individuálnych schopnostiach členov skupiny. Napriek mladému veku muzikantov a relatívne krátkemu času strávenom na hudobnej scéne hudba skupiny pôsobí neuveriteľne vyzreto a kvalitou je porovnateľná s prácou známejších Out Of Focus, Eiliff alebo raných Thirsty Moon. Odpovede k otázkam, čo sa stalo so skupinou po ukončení nahrávok, aké boli ďalšie osudy jej členov a čo im zahatalo cestu smerom k úspechu, už žiadne zdroje nepoznajú, tak nám teda iné nezostáva, ako si užívať túto naozaj skvelú muziku a dúfať, že vydavateľstvo ešte nájde viac podobných klenotov v blízkej budúcnosti.
01. Tortured Life (5:45)
02. Wallfahrt (5:42)
03. Restless (6:26)
04. My Friend (10:33)
05. Rush Hour (11:23)
Freddy Höhn – tenor a soprán saxofón, flauta, basová flauta
Ulli Ost – bicie
Harald Wanke – basgitara, flauta
Manfred A. Weisz – akustická a elektrická gitara, spev
Joel Wesser – klávesy, vokál
Stagg
Stagg
Krautrock
Long Hair Records LHC 00214
2018
CD
5
CD