Debutové eponymní album britské kapely Caravan jsem poznal poměrně pozdě. U nás tahle kapela nebyla nijak zvlášť známá a ani hudební kritikové, kteří počátkem sedmdesátých let psali do časopisu Melodie, jí nevěnovali patřičnou pozornost. Zbývalo si ji tedy doobjevit ve vlastním pátrání. Myslím, že v Británii získali jisté uznání a respekt, ale přece jenom okrajově, než jiné známější a prosazovanější skupiny té doby. Bylo to do jisté míry i tím, že pocházeli z Canterbury a nikoliv z Londýna, nebo větších center, kde byly lepší podmínky pro prosazování.
Canterburská hudební scéna nebyla prostředím pro nějaký tancovačkový bigbít. Byla povětšinou tvořena intelektuály – studovanými hudebníky, básníky, výtvarníky a herci, kteří vytvářeli dané podhoubí hudby, které si poměrně dlouho uchovalo svoji uměleckou nezávislost. Prezentována byla spíš v divadlech, klubech a školních nebo soukromých seancích, kde chodilo trochu jiné publikum než hospodští drsňáci, rváči a opilci. Ostatně hudba sama o sobě to na albu velmi výlučně potvrzuje.
PLACE OF MY OWN – Bubenický virbl na kotle je otevíracím momentem pro album. Hned za ním se ozve varhanní nástup a hudba se výrazně zklidní v melancholickém rozkládání akordu kytary a čistého trochu posmutnělého hlasu. Skladbě vévodí Davoli varhany Davida Sinclaira, mají jiný tón než klasické hammondky. Kytarové doprovody Pye Hastingse působí krotce a nevýbojně, stejně jako bicí Richarda Coughlana a baskytara Richarda Sinclaira, kterou střídá s kytarou, patří do standardního pojetí hry. Úvodní píseň má spíš tendenci uklidňovat než vzrušovat a vířit vaši mysl. Nepřinesla nic, co by vás mělo tendenci porazit nebo konsternovat při poslechu.
RIDE – Perkusivní zvuk bicích, cinkání trianglu a indiánský rytmický rituál navozuje druhá skladba v úvodu. Jsme ale v britských poměrech a tak melodická linka přináší přehlednou píseň interpretovanou vypravěčsky uvolněným a klidným hlasem. Náhle se ovšem do poklidu vklíní varhany Davoli dokonce preparované wah wah pedálem. Richard Sinclair nám na baskytaru předvede zajímavé breaky, které vypadají velmi nadějně, ale nakonec se i ony přizpůsobí atmosféře skladby a jsou součástí instrumentace. Hlas zní pojednou nahallovaně jako v širokém neznámém prostoru. Varhanní sound zcela vévodí skladbě, to je zcela evidentní i v jejím závěru, který přinese pár pěveckých výbojů.
POLICEMAN – Melodická linka má téměř totožné postupy jako v předešlých případech. Žádná stopa po blues nebo jazzu, ale psychedelické výlety jsou zde hodně čitelné, třebaže pojímané jinak než třeba u raných Pink Floyd, nebo Pretty Things. Vokální vícehlasy jsou ovšem výtečně seřízeny a tvoří společně s údernou rytmikou a bzučícími varhanami základ skladby, ve které se toho už moc až do závěru nezmění.
LOVE SONG WITH FLUTE – Příjemná melancholická nálada. Kytara se pohybuje ve zvláštních tóninách, ve kterých přivolává jakési nespecifikovatelné tajemno, ale vokální linky jsou opět v popředí a je jim poskytován největší prostor. Tohle je jiné pojetí než hudba Moody Blues, ale vzdálená spřízněnost se zde dá místy připustit. Vokální složka je vedená velmi zvláštně. Není to žádný Mersey sound, ale trochu těch beatlesovských inspirací tahle parta nezapře. Teď ovšem skladbě kraluje vynikající sólo na flétnu hostujícího Jimmyho Hastingse. Ten vložil do instrumentace první zásadnější aspekt a je mě líto, že přišel konec skladby.
CECIL RONS – Tady jsme se ovšem do psychedelie zabořili až po pás. Varhany jsou opět v popředí a mají téměř dramatický nádech, stejně jako gradující atmosféra. Tohle má téměř divadelní podobu inscenovaného dramatu. Představím-li si do toho místnost, která je osvětlena jenom svícemi a v něm statičtí dlouhovlasí hudebníci stojící proti publiku, mám téměř dotvořenou představu. Myslím, že Syda Barretta by tahle skladba trochu vytrhla z introvertního zamyšlení. S odstupem času se mohou některé postupy možná jevit jako naivní, ale předobraz pozdějšího artrocku mohl mít i takové méně jasné kontury, kdy bylo třeba urazit ještě řádný kus cesty. Tenhle výlet do prehistorie canterburské psychedelie osobně vítám. Jsem nostalgik a tak s tím nemám větším problém.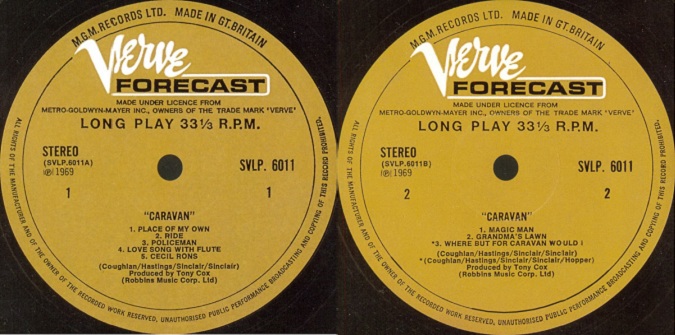 MAGIC MAN – Varhany v úvodu vypadají jako preludium k chrámové hudbě, cinkání akordů elektrické kytary a basové výměny nám s úspornou hrou na bicí přinášejí další skladbu. Žádný nářez neočekávejte. Tihle plašší hoši z Canterbury mají jiné vyjadřovací prostředky. Valivá harmonie a kouzlení na varhany přináší jakési uvolnění a otevření vlastní mysli, kde člověk hledá svoje druhé já, aby našel odpovědi na otázky, které ho v reálném světě trápí a nemůže na ně najít odpověď. Tohle je už mnou dříve zdůrazňovaný model britské hudby, který by v daných proporcích ani v USA nebo v Kanadě nemohl vzniknout.
GRANDMA'S LAWN – Tajemné zamručení tremola varhan a hned za ním se hlásí ke slovu kytarové intro. Výraznější rytmus v podobě nahallovaných bicích a baskytary navodí atmosféru místy připomínající nálady na prvních albech Pink Floyd. Jsou to jenom názvuky. Do zásadnějších experimentů se Caravan nepouštějí, melodická linka je pro ně svátost a třebaže varhany bublají, perlí a mňoukají, do nějakých uši drásajících disharmonií se uchylovat nebudou. Je tady cílená snaha sloužit hudbě jako smyslu životního poslání a cítění. Taky možná i tradiční britská výchova, vedená ke konzervativní umravněnosti. Přesto vás v písni nic neurazí nebo nezneklidní, ale navodí atmosféru nespecifikované melancholie.
WHERE BUT FOR CARAVAN WOULD I BE? – Také závěr se nese v téměř meditativním duchu. Členové kapely se střídají v sólových vstupech jako zpěváci a dodávají písni hladivou a umírněnou náladu. Harmonické proměny utlumených sborů mají svůj půvab, které podmiňují varhany. Zcela nečekaně se v závěru skladby přitlačí na pilu, varhany rhythmandbluesově ohýbají tóny a důraznější rytmika bicích a baskytary ovládne terén. Také elektrická kytara je pojednou hlasitější, i když setrvává v drolivých doprovodech. Dominují ale varhany Davida Sinclaira. Skladba graduje a najednou máte pocit, že Caravan mohou být vzdálenými příbuznými Vanilla Fudge a Iron Butterfly. Jsou to ale jenom náznaky. Poté se opět všechno zklidní do staroanglického modelu rozjímavého podání. Nejdelší skladba na albu (má devítiminutovou stopáž) jakoby oddaluje konec, který v předešlých skladbách přicházel někdy až příliš brzy. Tady se v závěru Caravan emocionálně více rozdávají: nebojí se zakřičet, změnit rytmy, posílit na důrazu a více se instrumentálně prosazovat, i když varhany mají zásadní prioritu. Coughlanovy bicí předvedou pár kulometných přechodů a neurotizovaný závěr naechovaných varhan s úderem do tympánů nastolí konec.

První album Caravan nastínilo, že s kapelou bude třeba počítat. Nebyl to samoúčelný pokus natočit jedno dílo. Přesto řada věcí na něm potřebovala uzrát, usadit se a najít jasnější tvář. Postrádal jsem zde více prostoru pro kytaru Pye Hastingse – ať elektrickou nebo akustickou a také flétna Jimmyho Hastingse měla častěji tvořit instrumentální součást písní. Na debut dobrý nástup, ale kapela nám v dalších letech nabídla mnohem zajímavější hudební proměny a tak jsem skrblík a dám jenom tři (a půl) hvězdičky s ohledem na budoucnost.
SKLADBY:
1. A Place Of My Own – 4:01
2. Ride – 3:42
3. Policeman – 2:44
4. Love Song With Flute – 4:10
5. Cecil Rons – 4:07
6. Magic Man – 4:03
7. Grandma's Lawn – 3:25
8. Where But For Caravan Would I Be? – 9:01
SESTAVA:
Dave Sinclair – keyboards
Richard Sinclair – bass, guitar, vocals
Pye Hastings – guitar, vocals
Richard Coughlan – drums, percussions
+
Jimmy Hastings – flute solo (4)
Caravan
Caravan
Psychedelic Rock, Prog Rock
Verve Forecast
1969
LP
8