Two Sides Of Uriah Heep, tak sa volá kolekcia, ktorú som si kúpil v roku 2001, v čase jej vydania. Uriah Heep ju ponúkli v rámci osláv 30. výročia svojho vzniku. Acoustically Driven a Electrically Driven, dve tváre jednej kapely, sú, spolu s ďalšími titulmi, veľmi dôstojnou oslavou vtedajšieho jubilea tejto žijúcej legendy. K prvému nosiču som sa už vyjadril v minulosti, dnes svoju pozornosť obrátim na elektrickú stranu.

Veľmi oceňujem skutočnosť, že kolekciou týchto dvoch koncertov má poslucháč možnosť vychutnať si historický prierez skupiny, od počiatkov, až po vtedy posledný štúdiový zárez Sonic Origami, datovaný do roku 1998. Čo je zvlášť chvályhodné, obsah záznamov je úplne odlišný. Výnimku tvoria iba skladby Circus a Blind Eye, kde, podobne ako na akustike, svojou zázračnou flautou vypomohol Ian Anderson z Jethro Tull. Zvyšok vystúpenia si kapela vystačí v pätici. A že si títo rockeri vystačia sami a vedia, to je snáď zbytočné pripomínať. Čo ma na tejto kapele, mimo iných atribútov, stále priťahovalo a priťahuje, sú aj zborové vokály – stále to tam je, cítim to. Preto mi nedá, aby som nespomenul bubeníka. S týmto názorom som sa stretol už viackrát, dnes už nebohý Lee Kerslake bol v tom čase najlepší spevák z doprovodnej štvorice. Skrátka, spievalo mu to.
Koncert otvára Return To Fantasy, ktorá nás prenesie do fantastických hard rockových sedemdesiatych a navodí správnu atmosféru na javisku i v publiku. Potešilo zaradenie troch ochutnávok z novšej produkcie – Universal Wheels, Between Two Worlds a I Hear Voices. Najväčšie prekvapenie je ukryté pod poradovým číslom 7. – smutná balada Come Away Melinda, nádherne a precítene zahraná i zaspievaná. Po dvoch osviežujúcich andersonovských vsuvkách nasleduje typický, uriašovsky vygradovaný záver. Klasické čísla Sunrise, Gypsy, July Morning a Easy Livin' sú dôstojným vyvrcholením celého večera v londýnskej Astorii.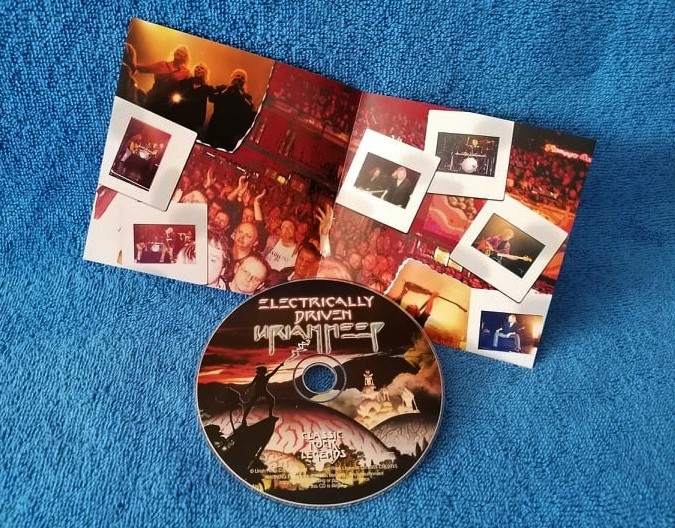 Osobne beriem hudobný život tak, ako prichádza, plynie. Chápem aj ostatných, že im prejav Bernieho Shawa nehrá do noty. Jasné, nie je to David Byron. Ja som prijal každého speváka tejto skupiny, pretože mám Uriah Heep rád. Môžeme polemizovať, čo by bolo, keby v kapele nebol Bernie, ale to je bezpredmetné. Možno by už dávno neboli nijakí Uriah Heep, preto som rád, že to fungovalo a doteraz vlastne stále funguje.
V poslednej dobe je tých živých záznamov priveľa, nielen od Uriah Heep. Neviem, čím to je? Možno je to dnešnou zvukovou technológiou lacnejšie a ľahšie realizovateľné. Nie je to výčitka, iba si myslím, že menej je niekedy viac. Táto skeptická úvaha sa však nevzťahuje na anglický koncert z marca 2001. "Elektrický pohon" považujem za veľmi vydarený, aj keď si ho cením o trošičku menej než Acoustically Driven. Ten je totiž výnimočný, také sa rodia iba raz za kariéru.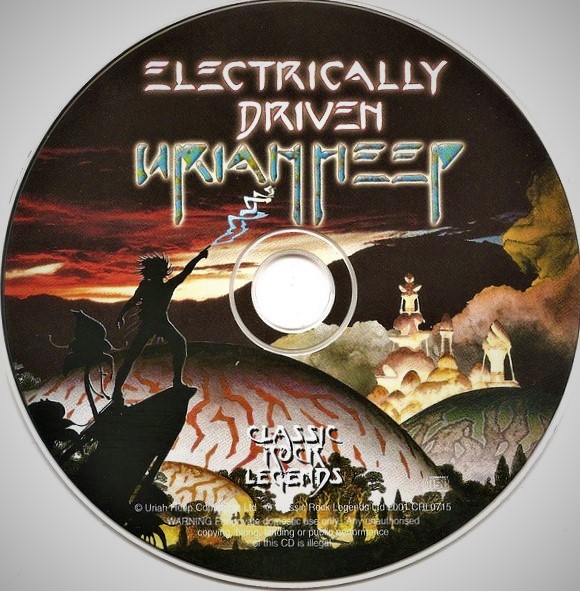 SKLADBY:
01. Return To Fantasy (Hensley/Byron) 4:44
02. Universal Wheels (Box/Lanzon) 5:27
03. Bird Of Prey (Box/Byron/Hensley/Newton) 4:41
04. Stealin' (Hensley) 5:45
05. Between Two Worlds (Box/Lanzon) 6:09
06. I Hear Voices (Bolder) 4:00
07. Come Away Melinda (Hellerman/Minkoff) 4:26
08. Circus (Thain/Box/Kerslake) 3:57
09. Blind Eye (Hensley) 3:35
10. Sunrise (Hensley) 4:10
11. Gypsy (Box/Byron) 3:21
12. July Morning (Hensley/Byron) 10:37
13. Easy Livin' (Hensley) 3:36
Total Time: 64:28
NOTES:
Released in May 2001.
Official Bootleg recorded live at the London Astoria on Friday March 23rd 2001.
ZOSTAVA:
Mick Box – guitar, vocals
Lee Kerslake – drums, vocals
Trevor Bolder – bass guitar, vocals
Phil Lanzon – keyboards, vocals
Bernie Shaw – lead singer
+
Special guest – Ian Anderson – flute (8, 9)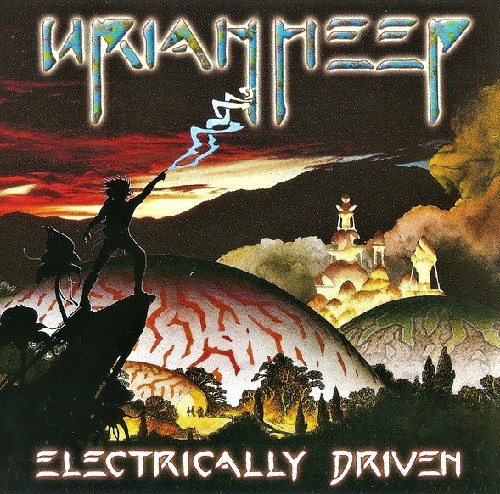 Electrically Driven
Uriah Heep
Hard Rock, Prog Rock
Classic Rock Legends
2001
CD
13
CD Classic Rock Legends ‎– CRL0715 /2001/