Slovenská skupina Fermáta přišla ze Slovenska jako blesk z čistého nebe. Legendární Beatmen a ani Soulmen jsem na vlastní uši nezažil, tak jsem si je doobjevoval z desek a ze vzpomínek starších kamarádů. Kapelu Prúdy jsem už samozřejmě vnímal jako zajímavý písničkářsky bigbítový útvar, který ale v pozdějších sedmdesátých letech hodně devalvoval a jejich původní kvalitu rozmělňovaly takové nesmysly jako Učitelka tanca a koncertně kapela dost upadala. "Zůstal mi" tedy hudební intelektuál Dežo Ursíny se svou podmanivou nezařaditelnou hudbou a samozřejmě vynikající Collegium Musicum. To bylo všechno.
Když v r. 1973 vznikla Fermáta, byla to velmi silná vibrace. Z populárního pořadu "Pozor, zákruta!" jsem znal instrumentální skladbu Postavím si vodu na čaj, ale tam ji nikdo nepředstavil a musel jsem si ji "doobjevit" sám. Jejich první album jsem si koupil téměř ihned, co je Opus dovezl na západ od slovenských hranic k nám, ale koncertně jsem je viděl později, až na vojně – na festivalu rockových skupin v Příbrami, kde vystoupili vedle Expanze, Bohemie, Etc… a dalších spíše lokálních kapel Středočeského kraje. Fermáta jako slovenský host sklidila velký úspěch, navzdory tomu, že kapela byla instrumentální jednotka a neměla svého zpívajícího frontmana.
RUMUNSKÁ RAPSÓDIA – Úvodní nástup zněl velmi nadějně. Původním autorem skladby je ovšem rumunský skladatel a hudebník George Enescu, který se proslavil v zahraničí (pohřben je v Paříži). Griglák skladbu zaranžoval pro rockovou kapelu. Hraje zde velmi rychlé kytarové běhy se suverénním technickým výrazem. Balkánská hudba se v téhle skladbě velmi promítala, možná bych v tom cítil i nějaké inspirace uherským čardášem. Prostě vynikající uchopení hudební formy, která se napojila na dobové ozvěny jazzrocku, ale i progresivního rocku a marně jsem přemýšlel, kdo by mohl v této podobě zareagovat na české scéně. Ani Jazz Q, ani Energit (třebaže také prezentovali jazzrockovou fúzi) tímto způsobem nehráli. Bylo zde hodně energetického potenciálu, ale chtělo to také jistou odvahu zpracovat symfonické dílo z r. 1901 a přepracovat ho do moderní elektrické instrumentace. Griglákovské ovládání kytary bylo jedinečné a znovu jsem si uvědomil, jak mimořádného kytaristu Slovensko má. Byla to nejenom rychlost, ale i myšlení a smysl pro aranžérskou práci a schopnost vybrat si ty správné hudebníky.
PERPETUUM II – Úvodní téma druhé skladby zní tajemně. Neidentifikovatelné škrabání. Hledání v nekonečnosti prostoru s nezřetelnými zvuky navozuje téměř meditativní atmosféru po předešlé hudební sprše. Zvuky konečně nabývají na konkrétních tvarech a přicházejí zvolna do popředí. Šumění činelů a subtilních bicích nástrojů Petera Szapu a kouzlení basových tónů Antona Jara získává ovšem během dalších fází výrazně odlišnou podobu. Jakoby uvnitř jejich hudební pospolitosti došlo k explozi. Tady cítím vliv Mahavishnu Orchestra poměrně silně, je ovšem prošpikován osobitými vstupy do tématu. Peter Szapu se zde blýskne bubenickém sólem a vzápětí se do skladby dostávají i další nástroje (Brand X, hmmmm…) Tomáš Berka, jazzový hráč zde kouzlí na Moog synthesizer svými sférickými tóny a používá i elektrické piano Fender-Rhodes, jehož perlivé sonické zvuky vytvářejí virtuální obraz barevných pěnových bublin. Tónové nájezdy kytarových eskapád se propojují s baskytarou – zatímco druhá playbackovaná kytara opakuje schematické téma preparované wah wah pedálem. Nedá mnoho práce přitlačit na představivost a vybavit si chod perpetuum mobile. Instrumentálně velmi precizně pojednané téma až do samotného závěru.

POSTAVÍM SI VODU NA ČAJ – Jazzrockový koncept v tom bytostném slova smyslu. Kouzlení na elektrické piano sice může mírně připomenout pražské Jazz Q na albu Symbiosis, ale je to jen pocit. Zádumčivé tónové perlení střídá výraznější rockový přínos se zkresleným dlouhým tónem kytarového sóla. Náladotvorné a přesto velmi proměnlivé a životodárné svými obrazci. Rytmické proměny a tónové nálady, které dotváří Berka na synthesizer, se skvěle prolínají s griglákovsky šťavnatými kytarovými party.
VALČÍK PRE KRSTNÚ MAMU – Úvodní téma na varhany pochází jakoby z jiného stylového pojetí. Pak ovšem přichází vynikající riff, který prokresluje do jedinečných detailů přesně akcentovaná hra unisona kytary a baskytary a vzácně stručných bicích nástrojů. Berka zapojuje klávesový park synthesizeru a elektrického piana. Dynamika hraje důležitou roli. Střídání rockových a jazzrockových aspektů se zde děje ve velkém stylu. Elektrické piano si zjedná prostor za asistence varhan a Szapu v polyrytmických obrazcích svoji bicí baterii udržuje v jízdě za drolivých basových modulací Jara. Po improvizačních poodlétnutích se Fermáta zase vrací zpět k základnímu tématu. Výtečné po všech stránkách! Nejsem sice tanečník, ale tančit valčík pod takovým hudebním doprovodem bych nezvládl ani s kmotrou, ani s tchyní.
(Skladba PERPETUUM III, která na vinylovém vydání původně byla, se na formát CD nevešla z důvodu připojení dalšího studiového alba.)
Kromě Zákruty si nepamatuji, že by tahle hudba byla nějak veřejně čířena na rozhlasových vlnách. Omezenost hudebních redaktorů a všelijakých kulturních metodiků byla za bolševické éry pověstná. Popravdě řečeno si myslím, že v tomhle ohledu se v současnosti málo změnilo, protože úroveň současných redaktorů (ve valné většině totálních ignorantů) dává v rockové sféře přednost Katapultu, Argemě, Turbu, než by raději zařazováním do playlistů pozvedla posluchačskou úroveň větší náročností a smyslem pro opravdový hudební kumšt v rockových dimenzích. To je neustále opakovaný problém neřešitelného charakteru. Když ovšem slyším hudbu skupiny jako je třeba Fermáta, znovu mi takové úvahy zákonitě musejí přijít na mysl.
Myslím, že v dané době prosadit vydání podobné hudby na Supraphonu nebo Pantonu by bylo velmi obtížné, ne-li vyloučené. Jazzový kritik Igor Wasserberger album velmi pochválil a doporučil ho obecné pozornosti i česko-moravskému publiku. Fermáta měla velmi dobrý start – tohle eponymní album bylo velmi nadějné a nastavilo měřítka kvalita hodně vysoko. Ano, cítím zde vliv Mahavishnu Orchestra, možná i King Crimson. Kdo by ale v té době nechtěl hrát a znít podobně, anebo z této zahraniční hudby občas nepřipravit "kuchařský základ" pro uvaření vlastního pokrmu?
Víte co mě pobavilo, někdo z recenzentů uvádí, že zde cítí i vliv britských jazzrockových Brand X. Skutečně, místy tuhle kapelu (kterou i já rád poslouchám) v určitých pasážích cítím, ale je to ironie. V r. 1975, kdy první album Fermáty vyšlo, se v Británii Brand X teprve formovali a jejich první studiové album Unorthodox Behavior vyšlo až v r. 1976!!! Kde by tedy skupina Fermáta mohla vstřebat jejich vlivy? Že by slovenské ministerstvo kultury "tajně" vyslalo skupinu Fermáta do Londýna a oni poslouchali za dveřmi firmy Charisma, se mi zdá opravdu velmi málo pravděpodobné. Logika tedy říká, že Fermáta přišla s určitými postupy ještě před Brand X! To je hodně pikantní.

Třebaže eponymní album Fermáty není jejich nejlepším albovým počinem, ta hráčská suverenita, aranžérské schopnosti i skladatelský potenciál (nadále se vzrůstající tendencí) mě natolik přesvědčily, že dávám plný počet hvězdiček!
SKLADBY:
1. Rumunská rapsódia (Roumanian Rhapsody) – 5:52
— /G. Enescu – F. Griglák/
2. Perpetuum II – 10:27
— /F. Griglák/
3. Postavím si vodu na čaj (I'll Put The Kettle On) – 4:20
— /F. Griglák – T. Berka/
4. Valčík pre krstnú mamu (Waltz For Godmother) – 7:03
— /T. Berka/
5. Perpetuum III – 11:47
— /F.Griglák/
SESTAVA:
Tomáš Berka – keyboards
František Griglák – guitar
Anton Jaro – bass, percussion
Peter Szapu – drums, percussion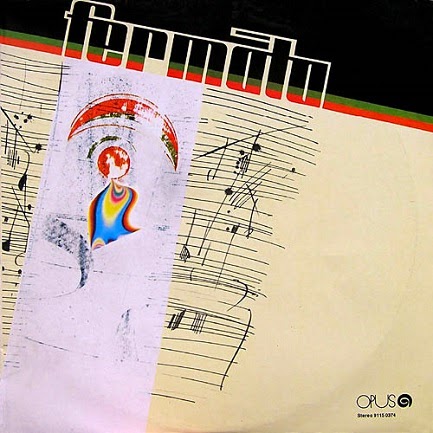 Fermáta
Fermáta
Jazz Rock
Opus
1975
LP
5
CD - Opus /1997/