Uriah Heep and Trapeze Ex-Lead Singer Peter Goalby Announces the First Release of His Long-Lost Solo Album Easy With The Heartaches – Out Now!
Peter Goalby was the lead singer of Uriah Heep during the band's classic Abominog era and also wrote their 1980s hit Blood Red Roses. He sang on the band's albums Head First and Equator plus he's also known for his time in Trapeze. Peter Goalby is now retired from the music industry.
After leaving the band, Peter Goalby recorded a number of solo songs, however, they were left unreleased until now. There has been constant speculation from fans on when they might hear the songs, given it was business reasons that precluded the release of the album at the time, but the way has now been cleared for the music to finally be heard.
The new artwork has been overseen and approved by Peter Goalby and its release has come about thanks to fans persistently pushing to hear these legendary lost recordings.
Peter Goalby said: "Finally, my best songs will be heard. Thirty years on. Never say never. I am so thrilled with my album release. I know I have a lot of friends out there who have wanted this day to arrive for many years. Thank you for sticking with me for all this time. I hope you love Easy With The Heartaches as much as I do. Thank you."
All the tracks were written by Goalby, except for three tracks co-written with Robin George. The vocal led style will appeal to Uriah Heep and Trapeze fans who have never stopped loving his voice.
Originally published: OUTSIDER ROCK /DECEMBER 10, 2021/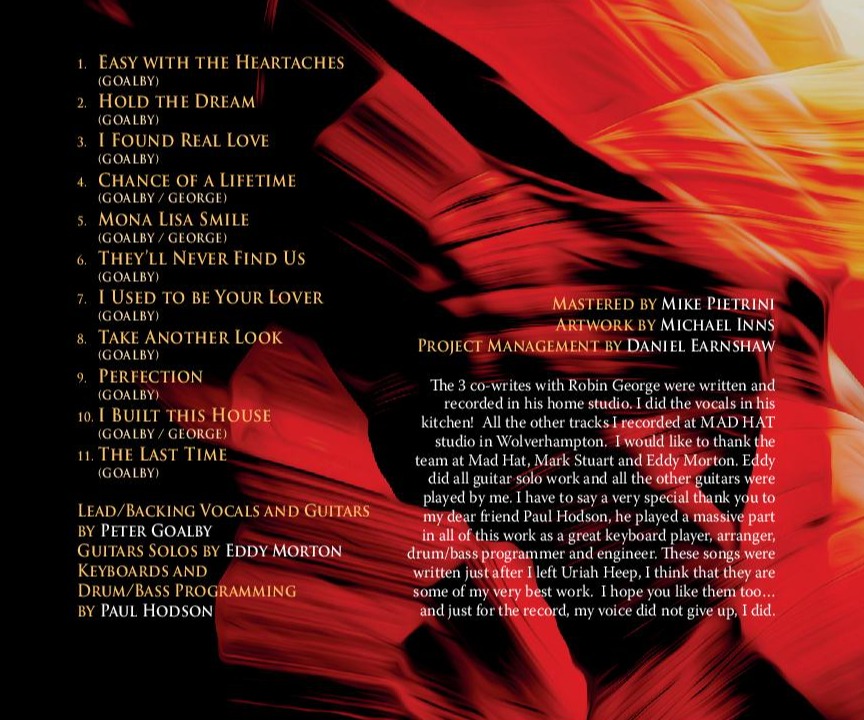 I can't remember many of the recordings, it was so long ago. The thing I remember more than anything was the excitement I had when it was time to record Pete's vocals. He made it look effortless, and for me, the guy on the other side of the glass, it was a dream. He knew how to deliver a vocal, not just with ballads but with the rockier songs too. It was great that, other than the guitar solos, it was just me and Pete on the recordings. The technology was just getting interesting at that time and allowed us to work without the confines of other musicians. I'd like to think we had a chemistry that allowed us to work without evening speaking at times! I knew what he wanted from me, he knew what I wanted from him. Having heard the recordings again for the first time in many years, I can almost feel that relationship in the music. I guess Easy With The Heartaches would be the song that gets me every time! When I heard the mix, I could picture a 20 something me smiling back at myself, also with a tear in my eye. I love Pete, with all I am! –Paul Hodson
Recorded in the immediate few years following Peter Goalby's departure from Uriah Heep, the songs on Easy With The Heartaches show that he had not only gotten better as a songwriter, but also that his voice was in fine shape [contrary to news at the time]. One fellow Heep fan commented that Peter "sounds better than he did with Heep!" Upon hearing this, as a fan, you might have a number of questions that all start with 'Why' – like why did no one pick this up and sign him at the time, why did no other artists record a bunch of these songs already, and why did it take over 30 years for them to get a proper release. All these answers are probably what lead to Peter's frustrations that lead him to leaving the music business in the early 90s, and not looking back. But I think the 'legend' of this 'lost' solo album, and the feedback so far since the announcement of Easy With The Heartaches shows just how many fans are still eager to hear more from Peter and what he did after Heep. Heck, dare I say – many many be much happier with this than Equator. 
If you've heard these songs on the internet, with crappy sound, having been passed around for many years on audio cassettes and computer files, you will be happily surprised to hear a proper remastered and authorized set of these songs. The sound is excellent, and the songs chosen are some of the best Peter wrote in his career. These songs were done in a studio in Wolverhampton with Peter, keyboardist Paul Hodson, and guitarist Eddy Morton [guitar solos]; Robin George also co-wrote 3 songs and plays guitar on those.
Many Heep fans may gravitate to Mona Lisa Smile, a track that saw a single release in 1988, and more so for it's being the basis for the track Voice On My TV on Heep's 1989 Raging Silence album [the first studio after without Peter]. it is an easily likeable song and Peter used the original recording of it here. For me it is those punchy 80s pop rock tracks that really jump out here. I think what Peter was best at was writing those catchy and most memorable choruses.
Hold The Dream is the standout (IMO), such a great chorus, you can easily imagine this on a Heep album, and more so see it as hit single; it might've suited nicely in an 80s movie somewhere [heck, a number of these tracks sound like they could've fit right in to an 80s movie]. But, there are a number of tracks that are upbeat and listeners will easily get in to, such as the title track, which one might (like Peter) imagine Tina Tuner singing. Chance Of A Lifetime, I Built This House (both with Robin George; the latter sounds like it would've fit nicely on Heep's Head First!) and They'll Never Find Us (Running For Our Lives).
Another favorite here is Take Another Look, it start's out soft, but gradually picks up, and by the time it gets to the chorus I am thinking of Foreigner, A shame Peter never got an offer to join Foreigner beyond Heep, because this song would've been a huge hit. (It reminds me slightly of Foreigner's Heart Turns To Stone & Lou's Just Between You And Me.) That track is one of a handful of excellent lighter songs, along with Used To Be Your Lover and Perfection – another favorite here.
If you liked the '80s, the sounds that came from that era, the keyboards, classy AOR rock, or recall Goalby's performances on Uriah Heep's 3 albums in that decade you will want to check this out. Also for those who might've appreciated the likes of Lou Gramm (Foreigner), Richard Marx, and perhaps even John Parr (who Peter would write songs for) For being deemed as 'demos' at the time, the sound and performances are outstanding, and well produced, It's a great collection of songs from a guy who sadly disappeared at the end of the decade (see his comments on the CD liner notes), but hopefully is back (enough) to clear out his archives for fans, and who knows …..!?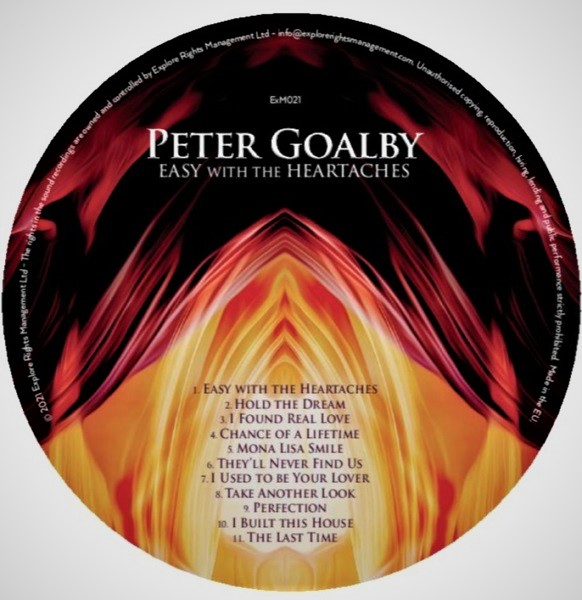 Paul Hodson recalls the technology and recordings – "If my memory serves me I think I used a program call C Lab Creator running on an Atari 1040 st computer. It was the the beginning of computer based sequencing and, despite it limited technology, it was really stable! Synth wise I guess I would have used a Roland D110 and an early sampler, either a Sequencial Circuits Prophet 2000 or a Casio FZ1 I guess. There may have been other synths but it was a long time ago! I think we were running a 16 track recorder onto 2 inch tape back then. I always remember we had a huge box of spare relays and a few hours before Pete came in I'd be swapping parts just to make sure it worked! We had a newer 24 track machine soon afterwards so the later recordings were done on that. I can't remember which desk I used at the time, I think it was a TAC Scorpion! Showing my age now!
For Pete's guitar we used a Tom Scholz Rockman, it was the sound of the 80s, I think we used the same on John Parr's album. Pete had got the best Telecaster I have ever heard, a real old one, I hope he still has it!
I don't do much now. I retired a few years ago from music and a enjoying my free time! I had a solo album out in 2004 and maybe I'll do another but I guess nobody would buy it! Been away too long!"

From Robin George – "My first recollection of Peter is, I bought a Gibson 330 guitar which was fab! A friend was opening a music store, and he asked me to lend it him for a window display. The first night, the shop got robbed and my guitar was stolen! He had no money so he gave me an MG Midget sports car as recompense. I loved the car so all was cool. The next time I saw the Gibson was at the Lafayette club where Trapeze were live (great band)… Peter was playing my 330 so I was really pleased it went to a really good home. Later Dave Holland, Trapeze drummer (later Judas Priest) introduced us and we got on well, so we started writing and recording together at my home studio. Peter would arrive with the titles and the choruses mapped out, so as he put it 'I brought my guitar and played you the choruses and any other bits then you would add from there putting verses together and finished the JIGSAWS.' I played the instruments and produced what we both agree were great songs. Peter later signed a deal with RAK records on the strength of the tracks, and Mickie Most produced Mona Lisa Smile, as a single. My memories of the sessions were mostly losing the great groove and atmosphere of the song, even a great gospel choir didn't help. It was released, but I don't know if it sold.
Peter later told me, 'The Mickie Most Session WELL? You can mention the fact that I have used our original version and NOT the Mickie Most version!' You can tell Kevin about me doing the vocals in your kitchen LOL' – He was in good company at the kitchen sink, Robert Plant, Glenn Hughes, Ruby Turner, Pete Way, Daniel Boone to name just a few of the stars who sang there… nobody washed up though 

Later Peter contacted me to say Estrella, the band, wanted to do a version of Mona Lisa Smile for their album Come Out to Play ( a good version it is too) which we were both pleased with.
They also covered our song Chance of a Lifetime.
Later Peter asked if I had the recordings we did for his new project (he only had a cassette tape of the sessions) so I tracked them down and had the 5 tracks re-mastered and they sound really good!
We're still very much in touch and I'm really pleased with the interest in Peter these days…"
Originally published: OUTSIDER ROCK /NOVEMBER 8, 2021/
Easy With The Heartaches
ExM021
Peter Goalby
AOR
Cherry Red
2021
CD
11