Budgie = dokonalý rockový démant. Prvních šest nahrávek patří bezesporu do zlatého hard-rockového fondu sedmdesátých let. A je to právě nahrávka číslo šest, o které si osobně myslím, že je tou nejpropracovanější, na kterou může být tato trojice nejvíce hrdá. Ono, každému sedne něco jiného. Někdo dá přednost tvrdosti a entusiasmu na In For The Kill, jiný upřednostní čarokrásné melodické výmalby z Bandolier a někdo zase progresivnější struktury zachycené právě na If I Were Brittania I'd Waive The Rules. Každopádně, tahle deska zní opravdu hodně variabilně a je až po okraj naplněná poživačnou chutí z euforie, dokázat oslovit co možná nejširší spektrum případných posluchačů.
Úvod desky obstarává řádně nabušená jízda Anne Neggen. Progresivní technický klenot s čitelně vykreslenou kytarovou malbou, to je titulka If I Were Brittania I'd Waive The Rules. Pod číslem tři se ukrývá jedna z vůbec nejluxusnějších baladiček Budgie, píseň You're Opening Doors. Následuje, na geniálním riffu postavená, jemně schizofréní pecka Quacktors And Bureaucats. Další nášup nese název Sky High Percentage, ve kterém se hlasivky Burke Shelleyho zakousnou do našich sluchovodů se vší vervou. Balada číslo dva je opět výborná, tuze smutná a plná nářků, toť píseň Heaven Knows Our Name. A závěr má na svědomí totální prog rockový monolit, s parádně vymyšlenou koncepční stavbou a košatou strukturou, Black Velvet Stallion.
Budgie ve vrcholné formě, to je pecka If I Were Brittania I'd Waive The Rules. U téhle kapely si občas tak říkám, celé to tvrdě se tvářící metalové hnutí může jít do kytek. Budgie to je totální nátěr a ta nejtvrdší kapela na světě.
SKLADBY:
1. Anne Neggen 4:08
2. If I Were Brittania I'd Waive The Rules 5:50
3. You're Opening Doors 4:20
4. Quacktors And Bureaucats 3:54
5. Sky High Percentage 5:58
6. Heaven Knows Our Name 3:50
7. Black Velvet Stallion 8:09
SESTAVA:
Burke Shelley – bass guitar, vocals
Tony Bourge – guitar
Steve Williams – drums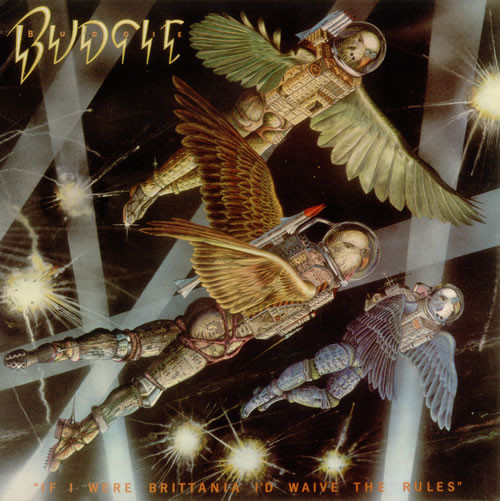 If I Were Brittania I'd Waive The Rules
Budgie
Hard Rock
A&M Records
1976
LP
7