Možná to bude znít mírně řečeno nepatřičně, ale se skupinou Chicago Transit Authority jsem se seznámil na diskotéce! Bylo to na jaře 1971 a já jsem uslyšel skladbu Tisíc tváří lásky, kterou interpretovala ostravská "Lady soul" Marie Rottrová a doprovázelo ji Flamingo trumpetisty Richarda Kovalčíka.

Tato píseň byla takový úžasný energetický a muzikantský nářez, jaký jsem v té době u nás se zpěvačkou-frontmankou ještě neslyšel. Začal jsem se zajímat o tuhle skladbu a zjistil jsem, že autorem je jistý R. Lamm a v originále má název 25 Or 6 To 4. Na diskotéce jsem se dozvěděl, že ji v originále hraje americká skupina Chicago Transit Authority, kterou jsem znal jenom časopisů. Od října 1972 jsem začal uvádět rockové diskotéky i já a můj kamarád, jehož otec emigroval do USA, vlastnil jím zaslané dvojalbum s eponymním názvem, které mi nabídl k přehrávání na mém double chassis mix-pultu. Zmíněná skladba tam sice nebyla, ale album se mnou pořádně zacloumalo a od té doby patří ke mně.
INTRODUCTION – Základní schéma úderné rytmiky, hammondek a řízné dechové sekce odvíjí první skladbu. Spojení jazzu s rockovými principy korunoval i zpívající kytarista Kath, který měl v hlase až soulovou drsnost, která velmi dobře korespondovala s tématem. Aranžmá dechové sekce ve spojení s harmonizováním hammondek je na vysoké úrovni. Další část se posune do hladovější polohy, kde dostane příležitost Loughnaneova trubka a Lamm si odsedne od hammondek k elektrickému pianu. Melodickou proměnlivost mají i důrazné Ceterovy basy, propojované se Seraphinovou bicí baterií. A skladba získá na patřičné rockové emocionální erupci, kdy Kath vystaví zajímavé kytarové sólo a dechová sekce nabídne divoký les břeskných tónů. Skladba je v podstatě písničkou, ale výtečně proaranžovanou a zahranou v ambiciózních rovinách.
DOES ANYBODY REALLY KNOW WHAT TIME IT IS? – Klavírní téma otevírá další skladbu na dvojalbu. Podle melodické linky cítíme klasické hudební vzdělání zapojené do jazzových služeb. Do hry vstoupí dechová sekce a skladba získává nový rozměr řadu rytmických proměn, s melancholického jazzu se přesouvá do swingu a máme možnost posoudit i výtečně zazpívané sbory. Téměř všichni členové kapely mají sborové cítění a tak nasazovat správný hlas jim nečiní žádné potíže – třebaže hlavními zpěváky zůstávají Cetera, Kath a Lamm.
BEGINNINGS – Kath se ujímá akustické kytary a skvělými doprovody se odvíjí další skladba, jíž sekundují dechy a sborové zpěvy s dobře nastavenými rytmickými výstupy. Jazzové pojetí cítíme v obecných náladách než přímo v hudební formě. Cetera se blýskne zajímavými basovými figurami. Se Seraphinem vytvářejí skutečně vynikající rytmický motor. Pankow vystřihne výborné sólo na trombon, následován Loughnaneovou trubkou a Parazaiderovým saxofonem. Bicí nástroje za výpomoci percussion ženou skladbu ve zrychleném tempu vpřed. Perkusivní aplikace rytmického spektra navozuje atmosféru přírodních národů tropické Afriky s nezřetelnými výkřiky v pozadí. Zcela chápu, proč kapela tehdy inspirovala Flamingo, Flamengo, ale později i Šest strýců a Golem.
QUESTIONS 67 AND 68 – Dechová sekce se potkává s party elektrické kytary Terryho Katha a za mikrofonem je baskytarista Peter Cetera, střídán Robertem Lammem. Výtečně vystavěná melodická linka, na svou dobu hodně progresivně proaranžovaná. Akordické akcenty klavíru a dunivé baskytary s výborně šlapajícími bicími nástroji mění rytmická a harmonická spojení a nabízejí značnou proměnlivost. Ceterův hlas má jasnou barvu, srozumitelnost a expresi – je výrazným vkladem do skladby.
LISTEN – Dlouhý kytarový tón, proříznou ostré dechy a my se posouváme k adresnější rockové platformě. Cetera na baskytaru hraje velmi precizní melodickou linku, dodávající skladbě napětí, ale to už dostává příležitost drásavé kytarové sólo Katha, který neučesaným a hřmotným způsobem agresivně vstoupí do tématu, kde se z pozadí připomínají dlouhé tóny hammondek a dechy ostré jako bič. Výtečné aranže a velmi zdařilá skladba. Zajímavý přínos na projekt.
POEM 58 – Téměř funkově znějící doprovody elektrické kytary a akcentování rytmiky. Kath ponechává kytaře syrový tón a vyřezává výborné sólo, kde si pohrává s jednotlivými detaily a přitom neustále udržuje napětí. Baskytara a bicí nástroje proti tomuto rockovému výpadu staví jazzové struktury rytmiky. Kath ubere mírně plyn, nechá bloudit tóny v harmonii a po několika Seraphinových breacích opět nastupuje další zdivočelou kytarovou jízdu. Hendrixovský opar tu mírně pociťujeme, ale stejně tak jazzové metrum, ale rockově jsme pořád na daném základě, který graduje a harmonizuje ve zběsilém tempu. Pak se ovšem skladba zklidní a nastupuje zpívaná část se zajímavými sbory a s opakujícím se rytmickým tématem. Dechy se zařezávají do kompoziční struktury a je zde zase Kath s elektrickými kytarovými výpady. Pankow a Loughnane na trombon a trubku prokreslují skladbu výtečnými přiznávkami. Skladba má v sobě přes různé aranžérské a rytmické proměny stále napětí až do závěru.
FREE FORM GUITAR – Vzdálené hučení nabývá konkrétního tvaru a slyšíme vyprecizovanou kytarovou vazbu. Terry Kath se nijak netajil, že ho zajímal Hendrix jako kytarista a vynálezce zvukových stěn (třebaže feedback "vymyslel" Pete Townshend z The Who). Destruktivní zvuky kytary s vazbením a zesilovačovým podílem nabízí kakofonii, kterou bychom po předešlých skladbách a postupech jen těžko očekávali. Zvuková bouře se vzdaluje a vrací se svou agresí jako předobraz poutníkovi stojícímu u brány pekel – v té době a v takové míře něco naprosto nevídaného!
SOUTH CALIFORNIA PURPLES – Výrazný kytarový riff nám otvírá další hudební příspěvek, ke kterému se v unisonu přidává baskytara, dusavé bicí nástroje a krátké přerušované tóny hammondek. Od počátku je nám jasno, že tenhle riff bude základem celé skladby. Výtečné řízné dechy sekundují Lammovi, který dostane příležitost na hammondky rozehrát další téma. Vypjatý vokál uvolňuje prostor elektrické kytaře a dalšímu dobře vystavěnému sólu, které se svižně pohybuje v harmonických proměnách a dechová sekce neustálými vstupy a následně dlouhými tóny dovytváří celou hudební formu. Najednou se do skladby dostanou The Beatles a my slyšíme zřetelně zpívaný text Lennonovy skladby I Am The Walrus(!), ale základní riff se neomylně opakuje se železnou pravidelností. Závěrečný kytarový výjezd skladbu ukončí. Vynikající přínos pro album!
I'M A MAN – Coververze hitu Stevie Winwooda a skupiny Spencer Davis Group. Originál je samozřejmě originál, ale to, co vytvořilo Chicago Transit Authority z této hudební předlohy, bylo nade vší očekávání! Ceterova baskytara rozbíhá opakující se basovou linku a na ni se napojují v kruzích percussion, bicí nástroje, hammondky, ostré a dlouhé tóny elektrické kytary. Výtečný soulový zpěv Terryho Katha vzápětí střídá expresivní Peter Cetera. Opět se nám opakuje dané téma a získává na gradaci. Sbory opakují refrén a Kath už prošlapuje wah wah pedal a dodává skladbě správné ostří. Pak ovšem prostor dostávají Seraphinovy bicí nástroje, které jsou ve masivních breacích doprovázeny percussion. Vzniká tak úžasný rytmický útvar, inspirující k dalším improvizacím. Tam, kde Spencer Davis Group podle tradiční anglické výchovy jenom mírně naznačují exprese, americká skupina Chicago Transit Authority zcela bez respektu rozvíjí rytmické téma a pořádně tlačí na ostří rotující virtuální pily. Kath je zase v akci a vypálí jedinečné kytarové sólo, dechy sázejí ostré přiznávky a my máme co dělat s pořádně nezřízenými emocemi, které byly vypuštěny do prostoru.
PROLOGUE, AUGUST 29, 1968 – Členové skupiny Chicago Transit Authority byli levicového zaměření a podobně jako studentská společnost Ameriky i oni se zúčastňovali masových protestů proti militantní politice Johnsonovy administrativy a vyjadřovali odpor proti válce ve Vietnamu. Producent a manažer Guercio tomu nijak nebránil. Na začátku skladby slyšíme hlučné hlasy s pouličních demonstrací, ale potom se koncept promění ve zpívanou píseň s jasnou melodií a sborovými hlasy doprovázenými dechovou sekcí, klavírem a basovými figurami. Do skladby se vrací hlasy demonstrujících a celé konfrontační napětí podmiňují dlouhé tóny dechů. Někteří hledači skrytých významů hledali v datu jakousi analogii se srpnovou invazí Varšavské smlouvy u nás v srpnu 1968, ale byl to jenom omyl. Amerika měla dost svých starostí.
SOMEDAY (AUGUST 29, 1968) – Bloudivé zvuky ze studia a v rychlém tempu se rozbíhá další skladba. Seraphine nabídne něco ze svého bubenického umění a Lamm na hammondky udržuje napětí společně s rychlými basovými figurami. Kath je zde s elektrickou kytarou, aby rozběhl výborné až detailně vyprecizované sólo, které má základ v jazzové improvizaci, ale rocková linie je stále čitelná. Určitá neurotická atmosféra, jakoby měla navozovat napětí panující na amerických univerzitách a konfrontaci odbojných studentů s americkou policií. Výtečné propojení jazzu s rockem v rytmických proměnách s gradujícími okamžiky v závěrečných fázích, do kterých se připojuje i elektrické piano a Kath sešlapuje wah wah pedal v hendrixovském stylu. Skutečná muzikantská erupce emocí a expresivity. Další velmi významný hudební vklad na album!
LIBERATION – A konečně jsme se probojovali k závěru. Mohli bychom hovořit skutečně o "osvobození" od jakýchkoliv mantinelů a pravidel, přesto je všechno na svém místě bez nějakých nahodilostí. Ve finální části se hudba promění v jakousi variantu free-jazzu, už ne pro každého stravitelnou a srozumitelnou. Je tu ale ještě zklidnění a Kathova kytara nabídne dumavou studii za vzdálených dlouhých tónů dechů z pozadí a rozvážnou baskytarou, ale do hry vstupují důrazné akcenty a skladba nabírá nový dech a gradující atmosféra nám skladbu rozběhne v divokém tempu vpřed s výtečným kytarovým doprovodem a překrývanými dechovými nálety. Seraphine rozběhne sérii breaků na bicí nástroje a ukončuje dlouhý výlet.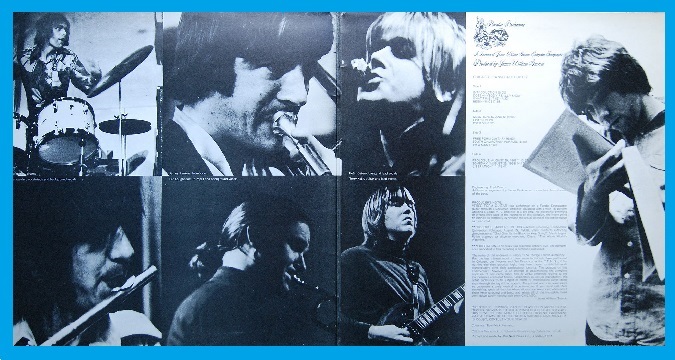 Skupina s dalším projektem zredukovala dlouhý název na Chicago a nějaký čas vydávala alba s širším formátem. Od poloviny sedmdesátých let ale začala dělat řadu hudebních kompromisů k hlavnímu komerčnímu proudu orientovanému na většinového posluchače a diváka. Alba osmdesátých let (dlouhá léta byla označována jenom číslovkami místo názvů) už byla těžkým komerčním balastem určená víceméně pro požírače hamburgerů, špaget a coca-coly pro průměrného amerického měšťáka a klesla na úroveň pochybných celostátních estrád. Někteří muzikanti zemřeli, jiní odešli a byli nahrazeni popově orientovanými univerzály s módními účesy, keckami, mrkváči. Velmi smutný případ kapely, která na přelomu šedesátých a sedmdesátých let patřila v USA k progresivnímu proudu.
Velký kus práce v progresivních časech udělal známý producent, skladatel a hudebník James William Guercio. Pro milovníky zajímavostí ještě uvedu, že se v r. 1974 u nás promítal v kinech americký krimifilm Modrá Electra Glide s Robertem Blakem v hlavní roli. Dramatický příběh nás zavede mj. do komunity mániček, žijících na okraji společnosti. Mezi těmito "vlasatci" se objevili i členové Chicaga – Walter Parazaider, James Pankow i Terry Kath a film režíroval již zmíněný James William Guercio.
Album je v mnoha ohledech pro mě pionýrským počinem. Nabízí vynikající muzikantské, pěvecké a aranžérské výkony. Myslím, že by se v jejich nejlepších časech stali ozdobou československých Mezinárodních jazzových festivalů, což se, bohužel, nestalo. Album pro mě zůstává opravdovým milníkem. Proto mu dávám plný počet hvězdiček!
SKLADBY:
LP 1
1. Introduction (6:35)
2. Does Anybody Really Know What Time It Is? (4:35)
3. Beginnings (7:54)
4. Questions 67 and 68 (5:03)
5. Listen (3:22)
6. Poem 58 (8:35)
LP 2
7. Free Form Guitar (6:47)
8. South California Purples (6:11)
9. I'm A Man (7:43)
10. Prologue (August 29, 1968) (0:58)
11. Someday (August 29, 1968) (4:11)
12. Liberation (14:38)
Total Time: 76:36
SESTAVA:
Terry Kath – electric & acoustic guitars, lead (1,9,12) & backing vocals
Robert Lamm – piano, Wurlitzer, Hammond, Hohner pianet, maracas, lead (2-11) & backing vocals
Lee Loughnane – trumpet, claves, backing vocals
James Pankow – trombone, cowbell, brass arrangements
Walter Parazaider – saxophones, tambourine, backing vocals
Peter Cetera – bass, lead (4,9,11) & backing vocals, agogo bells
Daniel Seraphine – drums, percussion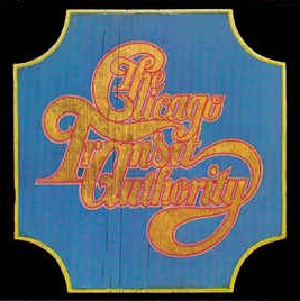 Chicago Transit Authority
Chicago Transit Authority
Prog Rock, Jazz Rock, Fusion
Columbia
1969
2LP
12