Tom Scholz, syn architektky a stavitele z Toleda v Ohiu, absolvent Ottawa Hills High School, bakalář i magistr v oboru strojírenství na Massachusetts Institute of Technology, inovátor z Polaroid Corporation, který je držitelem 34 amerických patentů, multiinstrumentalista a perfekcionalista, duchovní otec stylotvorné hudební formace, z rytířů urozeného rocku (© Jaromír Tůma) ten nejurozenější. Mr. Rockman.
Curriculum vitae vůdčí osobnosti skupiny Boston neobsahuje úplně běžné položky a ne zcela obvyklé okolnosti provázely i vznik debutového alba.
V bezejmenných souborech či málo známých skupinách The Monks, The Hard Core, Freehold, Bagshot Row, Middle Earth, Revolting Tunes Revue a Mother's Milk se od konce šedesátých let střetávali Tom Scholz (kytary, klávesové nástroje), Barry Goudreau (kytara), Jim Masdea (bicí), Fran Sheehan (baskytara), John 'Sib' Hashian (bicí) a zpěvák Bradley Delp, který zrod kapely glosoval: "Já jsem znal Frana, ten znal Barryho a hrával se Sibem, který hrál s Tomem, a Tom znal mě…"
Dlouhodobé působení na klubové scéně hlavního města státu Massachusetts však místo kýžené smlouvy s nahrávací společností vedlo začátkem roku 1974 k dočasné rozluce. Scholz ovšem skálopevně věřil v kvalitu rozpracovaného materiálu a za Delpova přispění neváhal ve vlastním dvanáctistopém studiu Foxglove ve Watertownu dopilovat šest skladeb.
"Byli jsme dva kluci, kteří ve svém volném čase psali písně a s pomocí Jima a dalších přátel je nahrávali v domácím suterénním studiu. Celých šest let jsme tuto činnost financovali z vlastní kapsy, až jsme byli jen krůček od krachu. Štěstí se na nás usmálo doslova na poslední chvíli a zájem projevily hned tři významné labely," vzpomíná Scholz na první polovinu sedmdesátých let.
Z nejasných důvodů dostala přednost firma Epic Records (CBS), přestože trvala na výměně bicmena (při konkurzu v listopadu 1975 jím byl David Currier) a na doplnění sestavy pro živá vystoupení. Vrátil se tedy Goudreau a rytmiku propříště obstarávali Sheehan s Hashianem.
A navzdory mnoha dostupným údajům nelze úplně spolehlivě zmapovat ani historii zrodu prvního alba. S jistotou lze uvést, že i přes nátlak společnosti Scholz nadále preferoval (a prosadil) práci ve Foxglove, že Delpův nadoblačný vokál byl zachycen v hollywoodských Capitol Studios na jaře 1976, a že vedle ústřední dvojice dostal na albu největší prostor Sib Hashian. Účast ostatních byla pouze sporadická, Masdeaovi byla připsána v Rock & Roll Band (s původně uváděnou délkou 2:60), Sheehanovi v první části Foreplay/Long Time a Goudreauovi v jejím pokračování. Jediným číslem, které odráželo společnou práci kvintetu, tak nakonec bylo Delpovo gradující finále Let Me Take You Home Tonight, natočené v losangeleském studiu The Record Plant.
Přes všechny potíže spojené se svým vznikem přineslo eponymní album neslýchanou porci majestátního pompézního rocku, jemuž Brad Delp svým nenapodobitelným projevem vtiskl duši. Vzniklý časuodolný skvost byl srozumitelný masám i v době nastupující discománie a vzestupu zájmu o punk, vyšplhal se na 3. příčku hitparády Billboard 200 a přinesl singlové hity More Than a Feeling (#5 US), Long Time (#22 US) a Peace of Mind (#38 US).
Nevídaný ohlas (titul se na celé desetiletí stal nejrychleji prodávaným debutem) zajistil formaci již během léta 1976 ohromnou publicitu a umožnil účast na celosvětovém turné s Black Sabbath a Moxy. "Byli jedni z mála, na které jsem se díval každý večer," přiznal Geezer Butler.
Taky bych si dal říct.
Dodnes se bostonského debutu jen ve Státech prodalo 17 miliónů kopií, celosvětově ještě o osm víc, k čemuž přispěla i vydařená digipacková reedice, kterou Scholz s pečlivostí jemu vlastní připravil ke 30. výročí vydání alba.
Kytarové kosmické lodě z jeho přebalu, jenž je dílem vystudovaného ekonoma Rogera Huyssena, měly podle původního návrhu chystat invazi na naši planetu, což frontman příznačně odmítl s tím, že by měly Zemi chránit, ne na ni útočit.
Nakonec se vesmírné kytarokoráby v Bostonu zabydlely natolik, že se v odlišných verzích v podání různých autorů objeví i na všech dalších albech. Málo známý je ale Huyssenův nerealizovaný návrh na přebal druhé desky Don't Look Back ze srpna 1978.
Stejně jako jiné Scholzovo vyjádření, jež třeba zmínit: "Nejcennější jsou dopisy od lidí, kterým naše hudba nějakým způsobem pomohla překonat těžké časy, nebo nastartovat pozitivní změnu v životě. Takový druh úspěchu pro mne znamená mnohem víc, než cokoli jiného."
I kdyby to byl jediný důvod, proč začít poslouchat Boston, šel bych do toho znovu.

PS: Do titulku jsem si neodolal vypůjčit název proslavený Nirvanou, bo hrdinové devadesátých let se též nerozpakovali obšlehnout riff z More Than a Feeling. A co s tím nadělali slávy!
SKLADBY:
A1. More Than a Feeling (Tom Scholz) 4:45
A2. Peace of Mind (Tom Scholz) 5:02
A3. Foreplay/Long Time (Tom Scholz) 7:48
B1. Rock & Roll Band (Tom Scholz) 3:00
B2. Smokin' (Tom Scholz/Brad Delp) 4:20
B3. Hitch a Ride (Tom Scholz) 4:12
B4. Something About You (Tom Scholz) 3:48
B5. Let Me Take You Home Tonight (Brad Delp) 4:43
Nahráno: ve Foxglove Studios, Watertown, Mass. (zima '75);  Capitol Studios, Hollywood, Cal. (jaro '76) a The Record Plant, Los Angeles, Cal. (jaro '76)
Aranže: Tom Scholz a Brad Delp s pomocí Jima Masdeay
Zvuková režie: Tom Scholz a Warren Dewey
Produkce: John Boylan a Tom Scholz
Design přebalu: Paula Scher
Ilustrace na přebalu: Roger Huyssen
Fotografie: Jeff Albertson
SESTAVA:
Tom Scholz – sólová a rytmická kytara, akustická kytara, speciální kytarové efekty, basová kytara, varhany, clavinet a perkuse
Brad Delp – sólový zpěv a vícehlasy, akustická 12 strunná kytara, rytmická kytara a perkuse
Barry Goudreau – sólová a rytmická kytara
Fran Sheehan – basová kytara
Sib Hashian – bicí, perkuse
&
Jim Masdea – bicí v Rock & Roll Band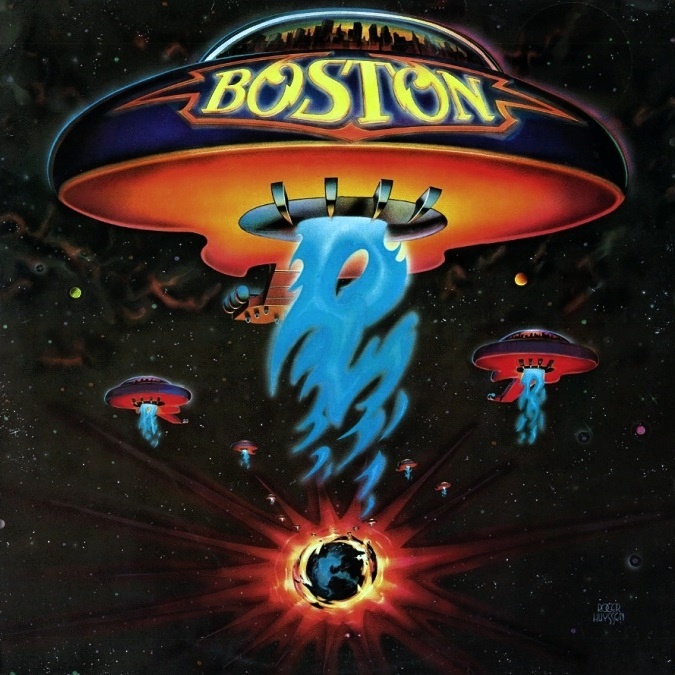 Boston
Boston
Pomp Rock
Epic Records
1976
LP
8