Poľská hudobná scéna počas uplynulých desaťročí vyprodukovala množstvo pozoruhodných skupín, ktoré sa podpísali pod vytvorenie rôznofarebnej palety rockových smerov a štýlov v krajine. Skupina Skaldowie v roku 1972 nahrala kultový album, ktorý ani po päťdesiatich rokoch nestratil nič na hudobnom pôvabe a stále pôsobí ohromujúco.
Skupina Skaldowie, bola založená v roku 1965 v Krakowe bratmi Zielińskimi, pôvodom z Vysokých Tatier, narodených v Zakopanom. Starší Andrzej Zieliński obsluhoval klávesy, skladal hudbu, spieval, mladší Jacek Zieliński hral na husle, trúbku a tiež spieval. Postupnými zmenami v zostave sa v roku 1968 príchodom gitaristu Jerzy Tarsińskeho, bicmena Jana Budziaszeka a basgitaristu Konrada Ratyńskeho zostava ustálila do podoby, ktorá pôsobí až do súčasnosti. Hudba skupiny sa počas nasledujúcich rokov menila a prispôsobovala sa aktuálnym trendom, takzvane plávala s prúdom a užívala si priazne obrovského tábora fanúšikov skupiny. Vďaka tejto skvele fungujúcej taktike sa kariéra skupiny dobre vyvíjala, v roku 1981 však Wojciech Jaruzelski vyhlásil v krajine výnimočný stav, líder skupiny Andrzej Zieliński sa rozhodol zostať v Spojených štátoch a kapela sa na niekoľko rokov odmlčala. Po politických zmenách naštartovaných Gorbachevovou perestrojkou sa oficiálne stále existujúca skupina aktivovala, s väčšími-menšími prestávkami pôsobí i v súčasnosti, dokonca v roku 2019 vydala i 2CD Taki Blues.
Nové vetry v rockovej hudbe vejúce od západu nenechali ani Skaldowie chladnými, do tohto času výlučne pesničkovo orientovaná poprocková skupina v roku 1972 nahrala v koncertnej sále Varšavskej národnej filharmónie a Štúdiu PN vo Varšave také majstrovské dielo, ktoré si právom zabezpečilo trvalé miesto medzi legendárnymi albumami poľského rocku. Siedmemu albumu skupiny s názvom Krywań, Krywań dominuje prepis goralskej ľudovej piesne Krywaniu, Krywaniu, ktorú do výslednej podoby prekomponoval Andrzej Zieliński a pokrýva celú A stranu platne. Skladateľ si v rozhovore spomínal, že inšpiráciou k vytvoreniu tohto diela bola jeho mamička, ktorá mu vnukla originál ľudovej pesničky. Andrzej sadol ku klavíru a počal prácu na kompozícii, nápadov pribúdalo a nová skladba naberala na rozsahu až sa rozrástla do 18 minútovej suity. Skladbu otvára tichá hra organu, huslí, v pozadí počuť zvonenie ovečiek a spevák sa nám zdôverí "A mojemu idzie zol, kochaniu, hej Krywaniu wysoki, Krywaniu". Po úvode skladba naberie na grádoch a začína základný folkrockový prepis ľudovej pesničky. Posúvajúc sa ďalej po 18 minútovej časovej osi skladby čoskoro nasleduje prvá inštrumentálna pasáž, ktorej jednoznačne dominuje hra Andrzeja Zielińskeho na hammondoch. Po krátkom koketovaní zo space rockom i náznakoch džezrocku príde prvá vsuvka klasickej hudby v podobe prepisu tretej časti Borodinovej opery Knieža Igor, tanec Polovtsianských diev. Ak niekomu v tejto chvíli hudba pripomenie prácu nášho Mariána, Fedora a Dušana, sme v tom dvaja. Po krátkom pozdravení sa Musorgského obrázkami z exhibície sa prvá inštrumentálna časť končí návratom k pôvodnému ľudovému motívu. Ani nie po minútke spievanej časti začína ďalšia inštrumentálna pasáž, ktorej pre zmenu panujú husle Jaceka Zielińského. Skupina tentokrát predstaví aj svoju freerockovú grejtfuldedovskú tvár, táto časť skladby sa na živých vystúpeniach ľubovoľne naťahovala podľa nálady skupiny dávajúc priestor voľnej improvizácii. Ku koncu sa suita pretaví do záveru predohry Rossiniho diela William Tell, po ktorom už prichádza finálna inštrumentálna pasáž a posledná minúta skladby vyvrcholí do základného motívu, ktorým sa suita rozlúči a končí. Je až neskutočné, s akou samozrejmosťou si skupina poradila pospájaním jednotlivých fragmentov do celku a s akou profesionalitou sa pohybuje medzi progrockovými žánrami v rámci jednej skladby. Kompozícia počas trvania 18-tich minút nenechá poľaviť v pozornosti, nenudí ani na sekundu a každým ďalším vypočutím sa objavujú nové a nové drahokamy tohto klenotu. (Mimochodom, skladatel tvrdí, že zakomponoval do skladby aj fragment z Bachovej tvorby, mne sa ju ani po ikstom vypočutí nepodarilo objaviť, asi mi je to konkrétne Bachovo dielo neznáme). Odlišné verzie skladby Krywaniu, Krywaniu skupina nahrala aj pre východonemecké kompilačné LP Hallo nr. 12 u vydavateľstva Amiga a tiež pre sovietske hudobné vydavateľstvo Мелодия, ktorá skupine v roku 1973 vydala autorské LP Скальды. V súčasnosti sa objavila živá bootleg nahrávka skupiny z vystúpenia v Leningrade z roku 1972 tiež obsahujúca suitu Krywaniu, Krywaniu, pre môj vkus však znie nepočúvateľne zle. Skladbu by som odporučil vypočuť si tiež aspoň raz so zameraním sa na prácu bubenika a basgitaristu, ide o majstrov svojich nástrojov.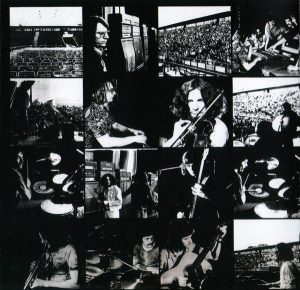 B strana albumu obsahuje štyri nahrávky. Prvá s názvom Juhas zmarl (Pastier skapal) je tak isto fúzia slovanského folklóru tentokrát latinorockovými rytmami, vďaka čomu výsledný dojem znie, akoby Carlos Santana jamoval so Skaldowiemi. Tentokrát však nejde o prepracovanie autentickej ľudovej pesničky, skladba bola celá napísaná Andrzejom Zielińskim. Ďalšia pesnička Jeszcze kocham (Ešte ľúbim) je návrat ku komerčnejšej poprockovej minulosti. Posledné dve skladby sú kvalitné hard/prog/rockové perly, Gdzie mam ciebie szukać (Kde ťa mám hľadať) mi úvodným nástupom hammondov pripomína Atomic Rooster v akomsi bluesovejšom prevedení ku koncu ponúkajúce parádne Tarsińskeho gitarové sólo. Záverečný inštrumentálni progresívny hardrock Fioletowa dama (Dáma vo fialovom) dáva ešte raz priestor gitare, ktorú neskôr vystrieda sólo na husle.
Sú tu však aj dve veci, ktoré by som predsa len albumu vytkol. Prvá ide na vrub produkcie, podľa mňa skladba Krywaniu, Krywaniu mohla byť skôr na B strane albumu, tak, ako to urobili New Trolls na Concerto Grosso vol. 1 s kompozíciou Nella Sala Prove alebo Caravan svetoznámou Nine Feet Underground. Je ťažké sa pod dojmom týchto dlhých skladieb potom sústrediť na ďalšie pesničky. Druhá ide na vrub skladateľa a je to neprítomnosť gitary v dlhej skladbe. Akože, skladba v pohode funguje i bez gitary, ale už keď mali v základnej zostave v osobe Tarsińskeho gitaristu považovaného za jedného z lepších v Poľsku, mohol dostať aspoň málo priestoru sa prejaviť gitarovým sólom, určite by svojím partom žiadne škody nenapáchal.
Moja CD reedícia z roku 2011 pochádza od vydavateľstva Kameleon Records a ponúka 11 bonusových nahrávok, zväčša skoré, inštrumentálne verzie skladieb z albumu nahratých pre poľské rádio. Najviac ma zaujalo inštrumentálne prepracovanie stredovekej anglosaskej balady Scarborough Fair, svetoznámej v podaní dua Simon and Garfunkel (ticho poznamenám, pre čitateľov Rockovice by som odporučil túto pesničku si radšej vypočuť od Holanďanov Brainbox). Folkovú pesničku zahrať inštrumentálne vyžaduje od muzikantov určitú dávku sebavedomia, Skaldowie ho v tomto období mali na rozdávanie. Spev nahradili trúbkou Jaceka Zielińského a hudobným základom postaveným na hammonde a doprovodnej gitare s dávkou latinského rytmu sa razom folková pesnička zmenila na progrock koketujúci s latinským džezrockom a skladba sa kľudne mohla objaviť i na trekliste albumu.
Na záver mi dovoľte byť kúštik subjektívny, u albumov takéhoto formátu mi už termín dobrá hudba nestačí na vyjadrenie hudbou vyvolaných emócií, ja osobne tu už hovorím o poézii zvuku. Skladba Krywaniu, Krywaniu bezpochyby patrí k tomu najlepšiemu čo v Poľsku kedy vzniklo a celý album sa právom pýši prívlastkom kultový.
Jerzy Tarsiński – gitara
Andrzej Zieliński – hammond, klavír, vokál
Jacek Zieliński – trubka, violin, perkusie, spev
Konrad Ratyński – basgitara, vokál
Jan Budziaszek – bicie
01. Krywaniu, Krywaniu (17:45)
02. Juhas zmarł (4:35)
03. Jeszcze kocham (2:34)
04. Gdzie mam ciebie szukac (5:16)
05. Fioletowa dama (5:14)
Bonusy k CD Kameleon Records 2011:
06. Juhas Zmarł (Wersja Instrumentalna) (3:50)
07. Nie Lyj Dyscu, Nie Lyj (3:11)
08. Nie Chcę Odejść (Wersja Instrumentalna) (2:42)
09. Na Wirsycku (Wersja Instrumentalna) (2:59)
10. Scarborough Fair (3:43)
11. Gospel Song (3:24)
12. Lady In Violet (2:58)
13. Juhas Zmarł (Wersja Radiowa) (4:46)
14. Jeszcze Kocham (Wersja Radiowa) (2:37)
15. Gdzie Mam Ciebie Szukać (Wersja Radiowa) (5:25)
16. Fioletowa Dama (Wersja Radiowa) (5:44)
Krywań, Krywań
Skaldowie
Progressive Rock
Polskie Nagrania, SXL 0888
1972
LP
5
CD Kameleon Records, KAMCD 07 2011