Neúnavný Ian Anderson po albu Heavy Horses obrátil svůj zrak k aktuálním problémům své doby a stal se strážcem bouří, drsným mužem ošlehaným chladnými větry a bouřemi, který přes optiku svého dalekohledu vyhlíží blížící se nebezpečí. Takový dojem ve mně budí obal třináctého alba Jethro Tull nazvaného Stormwatch. Sám Anderson se později vyjádřil, že na albu měla být směsice smutných a temných písní, odrážejících problematický stav hospodářství, jejichž vznik ovlivnilo zvyšování cen ropy, energetická krize a ostatní depresivní události světa. Řekl bych, že se vlastně trefil i do naší současnosti a album se tak možná nechtěně opět stává aktuálním.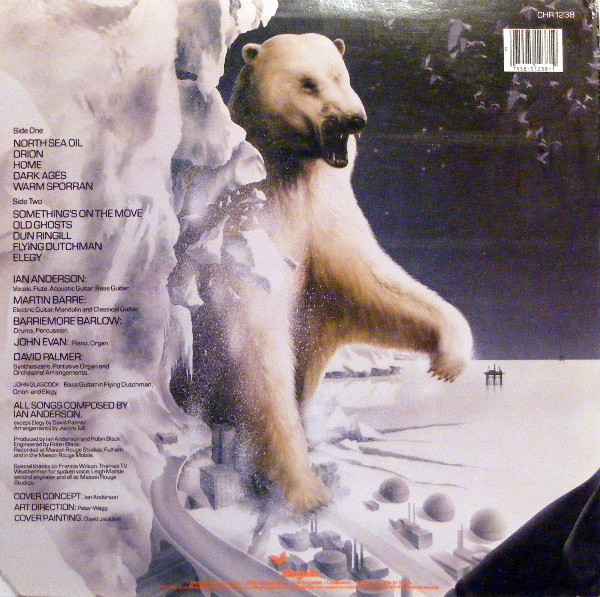 Hudebně se deska nese v podobné linii jako oba předchozí opusy, ale už tam není ta hravost fungující na první dobrou, již známe z dřívějška. Písně působí temněji a vlastně se jedná o docela hard záležitost. Samozřejmě v mezích Jethro Tull, i když za skladbu Dark Ages by se nemuseli stydět ani Black Sabbath. No dobře, uznávám, je to asi příliš odvážné přirovnání, ale pravdou je, že se jedná o aranžérsky bohatou a propracovanou skladbu na jedné straně a o přímočarou tvrďárnu na straně druhé. Každopádně je radost tento skoro desetiminutový kousek poslouchat.
Album ale začíná jinou skladbou, svižnou North Oil Sea, v níž si vychutnávám Barreho kytaru a typickou Andersonovu flétnu. Pěkný začátek. To následující Orion začne v posluchačích vyvolávat ty temné struny, které jsou vyvažovány harmonickou bohatostí. Pak přijde smutně krásná a tesklivá píseň Home, která mi však chvílemi přijde trochu přeslazená. Ale to je pouze a jenom můj dojem, jiný to určitě může vnímat jinak. Naštěstí si spravím chuť u oné již zmiňované tvrďárny Dark Ages. Tu mohu poslouchat neustále dokola a vypadá to, že se jí jen tak nenabažím.
Někdo by možná ještě přidal na ostrosti, ale Jethro Tull vždy věděli, kdy je čas zvolnit. Pátá skladba na desce, instrumentálka Warm Sporran, přináší mimo jiné nádherný dialog mandolíny a flétny a stejně jako na předchozích deskách nás pocitově zavede až někam ke keltským inspiracím. Velice osvěžující kousek.
A opět nám Jethro Tull dokazují, že to umí pěkně tvrdě od podlahy. Something's On The Move je po všech čertech pěkně ostrá záležitost vystavěná na kytarovém riffu, za nějž by se nemuseli stydět ani hardrockoví ostrostřelci. Hudebně docela návrat k albům Stand Up a Benefit. A když už jsem u toho srovnávání, tak ze skladby Old Ghosts mám pocit, že vypadla z předcházející desky Heavy Horses. Tam by se určitě neztratila.
Akustická drobnůstka Dun Ringill ve mně vyvolává duchy starých keltských bájí a vzpomínky na dětství, kdy jsem četl o irském hrdinovi Kukulínovi a bájném Ossianovi. Mám rád, když se mi občas propojí zážitky z poslechu hudby s tím, co se mi podařilo kdysi přečíst.
Předposlední píseň Flying Dutchman svou komplikovanou strukturou, v níž se střídají temné tóny s typickou Tullovskou hravostí, mě sice udržuje v neustálém posluchačském napětí, ale mám dojem, že už je toho na mě příliš. Ty bohaté aranže mě vlastně již unavují a potřebuji dát unaveným a opotřebovaným sluchovodům odpočinout. A odpočinku se mi dostává s závěrečnou instrumentálkou Elegy, nádhernou melodií, která mě rázem odstřelí až někam do nebes.
Album Stormwatch jsem oproti jeho předchůdcům objevil poměrně nedávno a velice mě okouzlilo. Sice v mých uších desku Songs From The Wood nepřekoná, ale jsem rád, že jsem se mohl s písněmi lehce hrajícími na temnou strunu seznámit. Bez nich by určitě něco podstatného v mém poznávání tvorby Jethro Tull chybělo.
Skladby:
1. North Sea Oil 3:11
2. Orion 3:58
3. Home 2:45
4. Dark Ages 9:14
5. Warm Sporran 3:35
6. Something's On The Move 4:27
7. Old Ghosts 4:23
8. Dun Ringill 2:42
9. Flying Dutchman 7:45
10. Elegy 3:34
Sestava:
Ian Anderson (flute, acoustic guitar, bass, vocals)
Martin Barre (electric guitar, mandolin, classical guitar)
Barriemore Barlow (drums, percussion)
John Glascock (bass, vocals) plays on tracks 2, 9 and 10
John Evans (piano, organ)
David Palmer (synthesizers, portative organ, orchestral arrangements)
Stormwatch
Jethro Tull
Folk Rock, Prog Rock
Chrysalis
1979
LP
10