Vinnie Moore (*14. dubna 1964, New Castle, Delaware) je americký kytarista a člen anglické hard rockové skupiny UFO. Spolu s Yngwie Malmsteenem, Tony MacAlpinem a jinými kytaristy, je Vinnie Moore známý jako jeden z nejvlivnějších kytaristů tzv. shredderského boomu v polovině 80. let.
Když Vinnie jako 12letý vzal do rukou svou první kytaru (Kay), opanovalo ho, jak sám říká, kytarové šílenství. Velký vliv na něj, krom jiných kapel, měli Jeff Beck, Beatles, Led Zeppelin, Deep Purple a Queen. Jako 14letý brával lekce od soukromého učitele, založil vlastní skupinu, ve které hráli převzaté skladby. Po pár letech hraní s různými kapelami se Vinnie rozhodl, že je na čase skončit s covery a začít tvořit vlastní hudbu. Odešel ze skupiny, koupil si 4 stopý magnetofon a začal experimentovat s vlastními nahrávkami, které přeměňoval na skladby. Po mnoha hodinách skládání Vinnie poslal svou demo nahrávku do časopisu Guitar Player, přes který se dostal do širšího povědomí v rubrice "Spotlight". To vedlo k jeho první profesionální práci v hudební branži. Složil a zahrál skladbu pro reklamu firmy Pepsi (v reklamě je vidět jen ruce v detailním záběru). V roce 1987 vydala firma Shrapnel jeho debutové album Mind's Eye. Vinnieho velmi rychle označili za "nejlepšího nováčka" v časopisech Guitar Player, Guitar a Guitar World. Alba se prodalo víc než 100 000 kopií.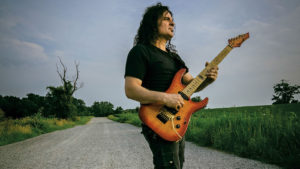 Tolik tedy pro začátek stručná charakteristika tohoto kytarového mága, který nám nabízí český překlad Wikipedie. V této recenzi se nebudeme věnovat Moorovi jako kytaristovi UFO, ale zaměříme se na jeho dráhu sólovou. V ní po účinkování ve stáji Mikea Varneye a několika albech, na kterých se představil jako klasický guitar hero přelomu osmdesátých a devadesátých let stylem, ne nepodobným jeho krajanům z této branže – rychlé prsty, přehrávání stupnicí a vůbec celý klasicistní nádech, Vinnie jaksi zmoudřel, usadil se a postupně převzal jiné techniky hry a odlišné taktiky skládání. V druhé polovině devadesátých let se začal s Varneyeho vlivu pomalu vymaňovat a skládat trochu odlišným způsobem. Po pětici desek, to byla až ta následující Defying Gravity, která přepadla do nového milénia a odhalila Moorea coby mnohem variabilnějšího umělce. Širší interpretační záběr a odlišná kytarová práce najednou pozvedla tohoto skromného umělce jako bájného fénixe z popela a rázem jej zařadila mezi smetánku rockové kytary, kde trůní Joe Satriani a Steve Vai.
Právě Satrianiho neobvyklé kytarové obrazce, široká paleta stylů, ohromující technika variabilnosti a možnosti zaměřit se v té určité skladbě na silný melodický nápad, jež se mu na ploše řekněme pěti minut daří neuvěřitelně zušlechťovat a rozvíjet, jej rázem posunuly do mnohem zajímavější kytarové extra třídy. Vinnieho následující deska To The Core, pro mne pak představuje tu vůbec nejlepší esenci instrumentálně rockové kytarové hry. Vyšla v roce 2009, tedy už v letech Mooreova působení u UFO a vystřelila jej coby skladatele do kosmických výšin. Na první poslech je jasné, v čem ho jeho nové angažmá při přehrávání sedmdesátkových skladeb předchůdce Michaela Schenkera obohatilo. Vinnie Moore tady píše, skládá, hraje a aranžuje zcela novým způsobem. Nápaditost tohoto repertoáru, ale i věcí nahraných na dalších albech Aerial Visions a Soul Shifter je odzbrojující.
Úvodní skladba Fly v sobě spojuje hned několik hudebních odvětví najednou. Pozorný posluchač postřehne jak inspiraci jazzem, fusion, ale i tvrdým rokem a ve vzduchu visí též lehký závan funky. Píseň obsahuje zapamatování hodnou melodickou linii a Vinnieho aranžérské schopnosti krásně přizdobují a zkrášlují už tak dokonalý základ. Druhá Panic Attack jede kupředu jako parní válec. Má mocné groove a moderní dosamplované nuance jsou třešničkou na cukrářsky-kytarově zpracovaném korpusu. Off The Hook trošičku zvolní, aby následující Transcendence mohla přivést kila metalové natlakovanosti, spojené se zurčící spásonosnou energií. Tohle je charismatická věc jako blázen. Pátá Soul Caravan odpovídá ve svém názvu hudebnímu charakteru celé písně. Mooreva vláčná šestistrunka v doprovodu opojného saxofonového sóla, vyvolává v divákovi iluzi karavany, pomalu se sunoucí rozpálenou africkou pouští, za vše spalujícího poledního žáru. Další písně už do svého rozboru zahrnovat nebudu, stejně bych musel jen chválit a chválit, pověvadž jedna brilantní položka tu stíhá druhou, přesto… osobního favorita mám až v samotném závěru alba. Předposlední Into The Open Highway je hřmotná, mocným tvrdým hard rockem natlakovaná pumelice, která v člověku dokáže vyvolat ty nejpříjemnější a nejfantastičtější emoce. Emoce, které dokonale jitří také poslední, snivě ležérní záležitost Into The Sunset.
Spolu s trojicí Tim Lehner (klávesy), Van Romaine (bicí) a John DeServio (basa) a za přispění mixážního mistra Paula Northfielda, stvořil Vinnie Moore roku 2009 jeden ze svých opusů magnum, ve sféře instrumentální kytarové hudby. Pro mě je tahle nahrávka naprosto ultimativní a proto je její obodování jasně nejvyšší.
1. Fly 04:51
2. Panic Attack 06:19
3. Off the Hook 05:15
4. Transcendence 03:53
5. Soul Caravan 05:55
6. Jigsaw 03:41
7. Remorse 07:02
8. Tailspin 05:33
9. Over My Head 03:57
10. Into the Open Highway 06:47
11. Into the Sunset 05:41
Total playing time 58:54
Vinnie Moore – guitar, production
Tim Lehner – keyboard
Van Romaine – drums
John DeServio – bass
Tim Conklin – engineering
Paul Northfield – mixing
Ryan J-W Smith – mastering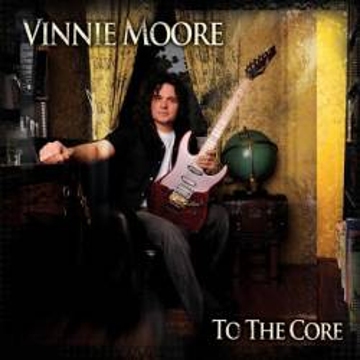 To The Core
Vinnie Moore
Instrumental Rock
Mascot
2009
CD
11