Hellbound Train, osmé řadové album britských Savoy Brown, mě bylo nabídnuto výměnou za Small Faces. Doma už jsem měl LP Looking In a kapela se mi líbila svým zvláštním soundem. V sedmdesátých letech sice zaznamenala na britské scéně propad zájmu, ale naopak, americký trh se jim otevřel a také v kontinentální Evropě patřili mezi žádané zboží. Album jsem neznal a nevěděl jsem do čeho jdu. Uvěřil jsem ale výměně a po domácím poslechu nelitoval a Hellbound Train si rychle oblíbil.

Podmanivý byl už obal alba, na kterém se objevil parní stroj ve stylu Union Pacific s několika vagony. Páry z komína a ventilů představovaly všelijaké nepojmenovatelné příšerky a příšery jako z horroru, také cestující a strojvedoucí byli rekrutováni z podobných příšer. Producentem alba byl Neil Slaven, který se později proslavil jako hudební publicista s řadou knih s rockovou tematikou. Bezpečně dokázal rozpoznat, co kapele chybí a co by ji naopak předimenzovávalo a za spolupráce Kima Simmondse se podařilo vytvořit velmi slušné album, třebaže nepřinášelo nějaké superprogresívní ambice.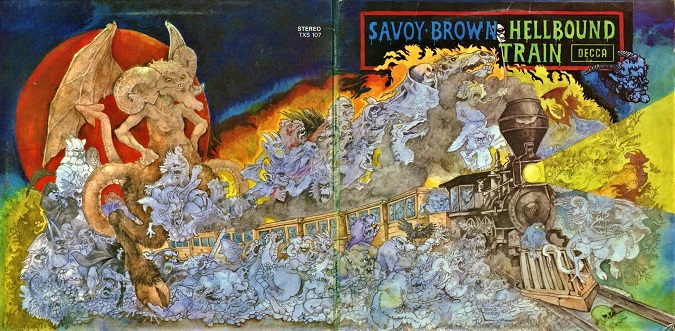 DOIN' FINE – Úvodní skladba zněla hodně odpichově. Když jsem se do ní zaposlouchal, ucítil jsem jakoby countryovou melodickou linku. Bicí šlapou bez jakýchkoliv komplikovaných vzorců podporovány baskytarou. V mezihře vstoupí do tématu sólo na klavír v barovém stylu. Veškerá instrumentace běží v hodně odvázaném přímočarém stylu, který má udržet napětí, ale žádné nadbytečné komplikace.
LOST AND LONELY CHILD – Druhá skladba zpomalí. Varhaník Paul Raymond drží harmonii dlouhými tóny a bubeník Dave Bidwell zemitým způsobem zdůrazňuje rytmický přechody za asistence baskytary Andyho Silvestera. Místy mají jeho breaky blízko k funku, ale jenom v okamžicích, kdy prokreslují rytmickou změnu. Konečně je to i hlavní mozek a "ideologický vůdce" kapely – kytarista Kim Simmonds. Doposud jsme vnímali jeho akustickou kytaru a nyní se zviditelní jako hráč na elektrickou kytaru. Nasadí sólo, které hraje víceméně úsporným způsobem za doplňování hammondkovského soundu. Sólovým zpěvákem na albu je Dave Walker. Ostatní instrumenty se zvolna vzdalují a varhanní tóny skladbu ukončují. Čitelnost písně má svou podmanivost a krásu prvního plánu.
I'LL MAKE EVERYTHING ALRIGHT – V téhle skladbě zabloudí Savoy Brown do boogie a dělají to velmi dobře. Dusavý šlapavý rytmus propojuje kytaru s rytmikou a nad tím vkládá Raymond hammondky, ale také používá elektrické piano. Kapela byla podezřívána, že rezignovala na domácího britského fanouška, který ujížděl hardrockovým vlakem té doby a že se orientovala na amerického diváka. Naštěstí jsem tohle dilema nemusel "řešit", protože mě se skladba líbila svou rázností a nekomplikovaností a je tomu tak dodnes.
TROUBLED BY THESE DAYS AND TIMES už má má ryze americký sound. Blues zde cítíme v pocitu a dané téma podporované výrazným klavírem tomu nasvědčuje. V mezihře Simmonds mírně zasóluje na kytaru v uměřeném poměru podporován bubenickými breaky. Pěvecká linka výtečně frázuje, doprovázena dalšími hlasy. Neřeší se zde nějaké rafinované harmonické proměny, ani instrumentální dravé sebeprosazování, přesto skladba drží výtečně pohromadě, místy jako bych slyšel zpívat Paula Rodgerse z Free blahé paměti. Dave Walker sice nemá tak výraznou Rodgersovu emocionalitu, ale v rámci kapely se jako vokalista neztrácí. Skladba graduje za maximálního nasazení emocí, které jí dodávají patřičnou energii.
IF I COULD SEE AN END – V téhle skladbě se Savoy Brown vracejí ke kořenům rock and rollu, který zde není nijak potlačován, třebaže v dané době byl už tak trochu mimo módní trendy. Údernost a šlapavost rytmu přitáhne kytarové téma Kima Simmondse, který zde výtečným úsporným způsobem vloží svoje cítění. Klavírista Raymond také přesvědčí, že mu není tato hudební forma cizí.
IT'LL MAKE YOU HAPPY – Akcentovaný rytmus upozorní na výtečnou Silvesterovu baskytaru. Úsečné krátké akordy Raymondových hammondek se posléze rozvinou do zajímavé mezihry a máme tu precizní rhythm and blues. Simmondsova kytara je v obraze, ale nepřebíjí celý koncept. Výtečná práce Bidwellových bicích nástrojů nás přivádí k závěru téhle dobře proaranžované skladby.
HELLBOUND TRAIN – Pokud jste celou dobu čekali na nějaké vyvrcholení, naplnění a obecnou katarzi, tak ta přichází v poslední skladbě. Jakoby z dálky přichází dlouhé tóny hammondek, za nimiž se proderou do popředí výtečně šlapající bicí nástroje v strojově pojatém rytmu. Po imaginárním dně šlapou modulované tóny baskytary a z pozadí se hlásí klavírní téma, které dokresluje velmi sugestivní atmosféru. Kytarové postupy se velmi dobře propojí s napětím ve skladbě a už jsou tu zesílené hammondky, vypjatý vokál a skladba získává větší napětí. Vracíme se však zpátky do ponurého soundu stojícím na psychedelickém odéru. Kytara hraje krátký, úsporný, ale superúčinný riff, který má velkou sílu. Jednoznačný vrchol celého alba a řekl bych, že i v bohaté diskografii Savoy Brown by zaujala čelné místo. Raymondovy hammondky mají bluesový nátisk, ale i v sólové pasáží neexhibují jako u Cranea, Emersona, Lorda, Augera nebo Winwooda. Jsou ale výraznou posilou a tónují v osobitých barvách celkový sound kapely. V další části se bicí baterie rozběhne rychlým až zdivočelým rytmem vpřed a cloněný tón elektrické kytary dokresluje ponurou psychedelickou atmosféru. Skladba graduje za tajemných zvuků v pozadí a ztrácí se zvolna v nekonečnu. Hudební vize se spojuje s popisovaným obalem desky téměř v dokonalých konturách.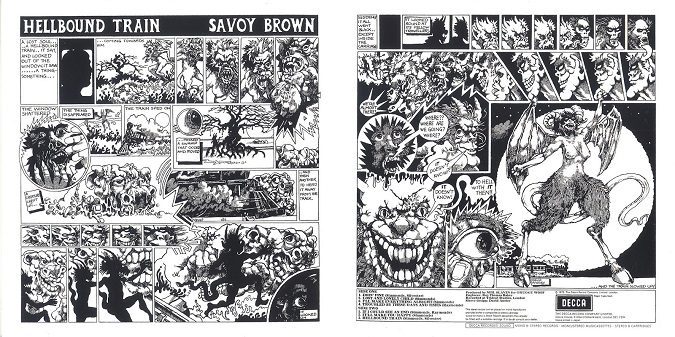 Není snadné hodnotit produkci Savoy Brown. V dlouhé řadě alb se najdou výtečné počiny, ale také projekty, které mnohdy rozmělňují již danou koncepci a tak střídání hudebníků razítkuje album v zajímavějších, ale i méně zajímavých obrazech. Neporazí nás tady nějaké geniální instrumentální výkony, ale přesto cítíme, že Simmonds se obklopuje pečlivě vybranými hudebníky, kteří blues rock i boogie cítí a jsou schopni ho dokořenit různými zajímavými ornamenty. Přestože mám Hellbound Train v oblibě, váhám mezi třemi až čtyřmi hvězdičkami. Závěrečná skladba je ale natolik pohlcující a emotivně pojednaná, že způsobuje moje přiklonění ke čtyřem hvězdičkám.
SKLADBY:
1. Doin' Fine (Simmonds/Silvester) 2:46
2. Lost And Lonely Child (Simmonds) 6:00
3. I'll Make Everything Alright (Simmonds) 3:18
4. Troubled By These Days And Times (Raymond) 5:43
5. If I Could See An End (Simmonds/Raymond) 2:54
6. It'll Make You Happy (Simmonds) 3:26
7. Hellbound Train (Simmonds/Silvester) 9:07
SESTAVA:
Kim Simmonds – guitar, vocals
Dave Walker – vocals
Paul Raymond – keyboards
Andy Sylvester – bass
Dave Bidwell – drums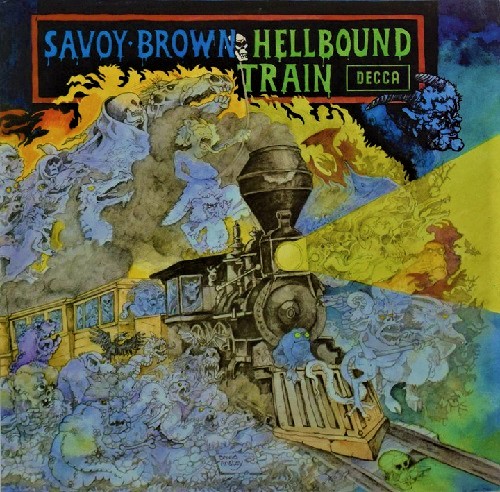 Hellbound Train
Savoy Brown
Blues Rock
Decca
1972
LP
7