Fed up the current wave of progressive rock and looking for something more raw and raucous, yet played with great skill and dexterity? If that is the case, then Red Jasper are the band for you. I asked Davey how he would describe the sound of Red Jasper to the unknowing and was told "Motörhead meets Jethro Tull". Curious? Read on.
Red Jasper were originally formed in 1987, but of the original line-up only two remain, Davey Dodds (vocals, mandolin, tin whistle) and Robin Harrison (guitars). Based in Wiltshire, they started an extensive gigging campaign to bring their brand of 'Political Folk Rock' to the masses, yet it is political more in the manner of Guy Fawkes than Karl Marx. The folk roots are there, but Red Jasper are far heavier and harder than Folk Rock and the songs tend to deal with social conflicts and the insanity of the current society. Environmentally Friendly Jasper: they describe it as English Ethnic Rock! Their first album, England's Green and Pleasant Land (1987) was self-financed, as was the follow-up LP, Pull That Thumb Off The Top Of Your Head (1989). This sold well and attracted the attention of HTD Records who in 1990 duly signed the band.
The resulting album, Sting In The Tale, attracted a lot of attention and manged to get reviews in both metal and folk magazines, surely an unusual accomplishment. The album really is a mix of different styles, and at the time Red Jasper included a sax player in the line-up, and this was used to great effect. Kicking off with Faceless People, Davey's very English singing style (sort of a rough Ian Anderson) features well in a song that starts slowly but gradually builds up into a climatic electric guitar finish. Guy Fawkes is just superb, with a sound very similar to that of Steve Taylor. It is a very catchy anti-political song with a great chorus, "Hey now let's shout, Kick the politicians out, Let's all raise a ringing cheer, Guy Fawkes had the right idea". Second Coming has a great mandolin and powerful drumming introduction and the song itself is atmospheric with good use of tin whistle, while lyrically it tells how people have turned away from the Church to follow the false gods of greed and profit. Secret Society starts off with a powerful rock version of the James Bond theme, and is very rocky with strong lead guitarwork throughout. Magpie incorporates the old rhyme ("one for sorrow, two for joy…") and starts and ends with harmony vocals. An electric song but with a folky feel, I Can Hew tells the story of a miner, with Davey's voice totally unaccompanied for the first verse and chorus, and then joined by bass and drums for the second. Ric Sanders (Fairport Convention) guests on this number, and when he joins in it heralds a complex transformation for the song, as it turns into a manic jig with complex musical interplay between all the band. Absolutely brilliant.
There are nine songs on the album, and I loved them all. It is totally different to anything else on the prog scene, so if you are at all interested in Jethro Tull or Fairport yet at the same time have a healthy regard for hard rock then you cannot fail to fall in love with this. Red Jasper's strength is not only their musical and songwriting ability, but the fact that within each song they combine instruments and moods in a constructive yet interesting manner.
SETLIST:
1. Faceless People
2. Guy Fawkes
3. T.V. Screen
4. Second Coming
5. Old Jack
6. Company Director
7. Secret Society
8. Magpie
9. I Can Hew
MUSICIANS:
Davey Dodds – vocals, Tin Whistle, mandolin
Pat D'Arcy – saxophones, bass, backing vocals
Robin Harrison – guitar, bass
Tony Heath – bass, keyboards, guitar
Dave Clifford – drums, backing vocals
+
Ric Sanders – fiddle (1., 8., 9.)
Original publishing:
Feedback ≠12, May 1992.
Paperback:
The Progressive Underground Volume 2,
September 2019, Page 248.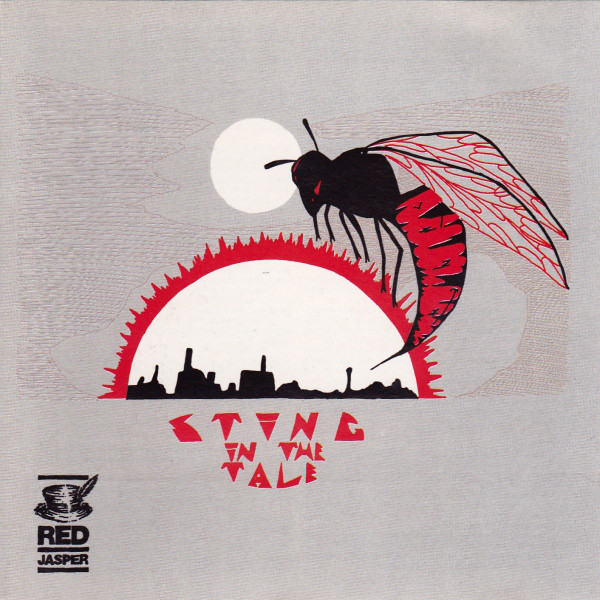 Sting In The Tale
Red Jasper
Prog Folk, Prog Rock
HTD Records
1990
CD, LP
9