2CD AMS – AMS 222 CD  /2013/
Není tribut, jako tribut. Viděl jsem jich pár takovejch, co nestály za zlámanou grešli a jejich jediným smyslem bylo trochu vydělat na známém jméně, ovšem doma jich mám aj několik docela povedených. Working Man (Rush) a Encores, Legends & Paradox (ELP) z kdysi velmi agilního vydavatelství Magna Carta, nebo čtyřdiskový box set s poctou italskému progresivnímu rocku sedmdesátých let Zarathustra's Revenge od dnes již poněkud živořícího labelu Mellow Records. A mezi ty opravdu zdařilé bych zařadil i tuto dvojcédé "poklonu" Pink Floyd z produkce italského vydavatelství AMS.
Italská firma, italskej produkt a tak není divu, že většina zůčastněných kapel působí v Itálii. Zahraničí zastupují Jay Tausig a Spirits Burning z USA, Permanent Clear Light z Finska a "supergroup" The Samurai of Prog. Potěšitelnou skutečností je to, že většina skladeb pochází z raného období Pink Floyd – hned pět je jich z legendárního "Pipera" a tři z následujícího alba A Saucerful Of Secrets, ovšem jsou tu i písničky ze singlů Apples And Oranges, nebo Arnold Lane. Na takové ty z komerčních rozhlasových stanic nejopotřebovanější šlágry typu Another Brick In The Wall part 2, nebo Wish You Were Here – naštěstí – nedošlo.
Mojí výhodou (nebo nevýhodou?) je fakt, že Pink Floyd prakticky neposlouchám (pár napálených kopií jsem doma sice měl, ale při úklidu skončily v popelnici) a tak ty originální verze v mnoha případech ani neznám. Nemusí mě tedy trápit nějaké srovnávání a ty písničky si jednoduše užívám tak, jak přijdou. Jsou tu skvělé momenty – např. nástup Hey You v podání Marie Teresy Soldani po divočině Flaming ztřeštěných S.A.D.O., na druhou stranu ne všechno mi sedí. Astronomy Domine Fabia Zuffantiho, nebo následující Careful with That Axe, Eugene kapely Fungus jsou prostě divné. Ovšem jestli to nebude tím, že divné budou už původní verze…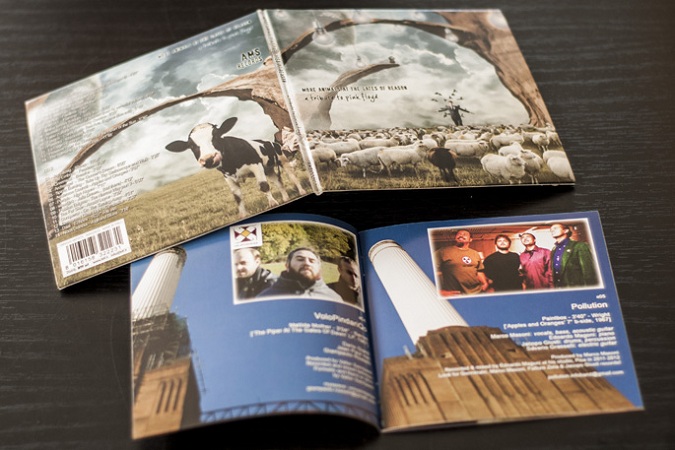 Oba – takřka osmdesát minut dlouhé – nosiče obsahují po čtrnácti skladbách a jako velmi šikovnej dramaturgickej tah se mi zdá zařazení Dogs (The Samurai of Prog) na konec prvního, respektive Sheep (Jay Tausig) na začátek druhého CD. Při porovnání obou cédéček mezi sebou mi o fous lepší připadá to druhé. Jednak tu úplně chybí podivnosti typu Astronomy Domine a druhak je hitovější, melodičtější a díky dívčinám za mikrofonem aj – ehm – romantičtější. Skladbám Fearless (The Embryo), The Gunner's Dream (Archangel), High Hopes (Periplo), Julia Dream… (slow@rk), nebo On The Turning Away (Conqueror) by to asi slušelo v jakékoliv úpravě a třešničkou na dortě je šestnáct minut dlouhá Echoes od temných náladotvůrců Daal.
Zvuk je výbornej, plnotučnej a dynamickej tak, jak to mám rád. Ani se nechce věřit tomu, že každá píseň vznikla za jiných podmínek a v jiném studiu. Booklet o čtyřiadvaceti stránkách je napěchovaný informacemi – u každé skladby je uvedený autor, z jakého alba (nebo singlu) pochází a sestava kapely i (ve většině případů) s malou fotografií. Grafika bookletu, potisku CD aj samotného obalu je parádní a má ji na svědomí Davide Guidoni. S těmi kolážemi si docela vyhrál a v mnoha případech jsou to takové nenápadné (jak pro koho) odkazy na původní obálky Pink Floyd. Jedinou nevýhodou rozkládací mini vinyl repliky je to, že se začíná rozlepovat a zanedlouho tak dojde na šikovné ruce a lepidlo.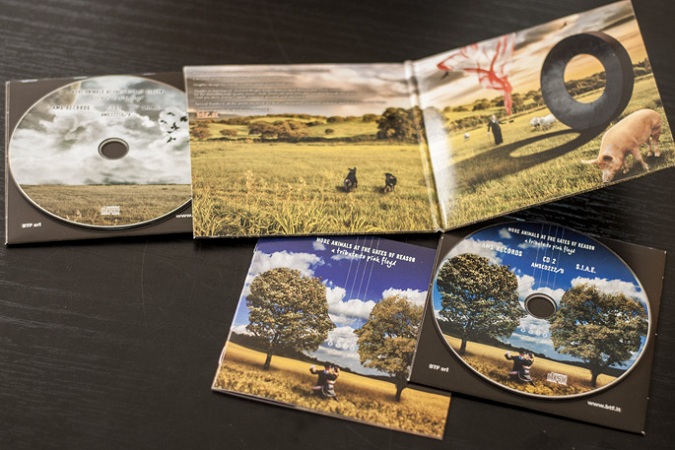 Album jsem si velmi rychle oblíbil a točím ho teď poměrně často. Díky výběru písní by mohlo sednout nejen fanouškům Pink Floyd, ale aj "běžným" rockerům a díky pěkné grafice stalo by se ozdobou každé prog rockové sbírky. Myslím, že ty čtyři hvězdule si zaslouží.
Celé se dá poslechnout na Spotify, nebo youtube (CD1 a CD2 – ofiko kanál labelu AMS).
CD 1
01. 3chevedonoilrE – The Hero's Return (Parts I and II) – 4'30"
02. Test Number Two – Chapter 24 – 4'34"
03. EgoBand – Have a Cigar – 6'32"
04. VoloPindariQo – Matilda Mother – 3'06"
05. Pollution – Paintbox – 3'45"
06. S.A.D.O. – Flaming – 2'47"
07. Maria Teresa Soldani – Hey You – 5'40"
08. Atomato – A Saucerful of Secrets (part IV, celestial voices) – 4'15"
09. Fabio Zuffanti – Astronomy Domine – 6'29"
10. Fungus – Careful with That Axe, Eugene (live edit) – 5'08"
11. Pandora – Marooned – 5'28"
12. La Cage – Embryo – 6'59"
13. Prowlers – Set the Controls for the Heart of the Sun – 5'38"
14. The Samurai Of Prog – Dogs – 11'46"
CD 2
01. Jay Tausig – Sheep – 10'08"
02. The Embryo – Fearless – 5'31"
03. Greenwall – Breathe – 3'13"
04. Archangel – The Gunner's Dream – 6'03"
05. Spirits Burning – Take Up Thy Stethoscope and Walk – 2'24"
06. Anderson Council – Apples and Oranges – 3'05"
07. Periplo – High Hopes – 7'14"
08. slow@rk – Julia Dream… (out there) – 4'05"
09. Publius Enigma – The Narrow Way part 3 – 5'00"
10. The Far Side – Arnold Layne – 3'51"
11. Conqueror – On The Turning Away – 4'52"
12. Permanent Clear Light – Cymbaline – 3'31"
13. Daal – Echoes – 16'29" edit vsn
14. Nous Dianoia – Jugband Blues – 3'20"
More Animals At The Gates Of Reason - A tribute to Pink Floyd
Various Artists
progressive rock
AMS
2013
2CD
28