Poslední album s Robem Sowdenem uzavírá tak trochu další z kapitol této originální anglické party. Deska je krapet jiná než její předchůdci, je z ní cítit větší příklon k přehlednější stavbě skladeb a z povzdálí jako by vane občasný více metalický odér.

Album startuje s Bedlam Fayre, kde prvotní zdání, že skladbě kralují mohutné klávesové plochy, nahrazuje proplétající se geniální a zapamatovatelné kytarové sólo, u kterého si přejeme aby nekončilo. Smoke And Mirrors začíná jemným předivem akustik, kytarové vyhrávky protkané sólovou prací se pojí s Robovým hutným vokálem, nastupují emoce a zpěvně nakažlivý refrén žene skladbu do hitových obrátek. V The Shattered Room se čaruje s náladou pomocí krásných Nolanových kláves, skladba přechází do kytarového tempa melodickými riffi a vzdušnými akustikami, vše šlape jak má, za půli se nám objevuje jev popsaný na začátku, heavy metal se na nás řítí prostřednictvím melodie, jež nutí si podupávat do rytmu. Romantikou načichlá The Eyes Of Lara Moon patří k těm klidnějším. Tantalus a Purgatory Road jsou klasické Arena skladby se změnami temp a kouzelnou atmosférou, odkazující k textové složce alba, zabývající se povahovými vlastnostmi postav z období viktoriánské Anglie. Obzvláště druhá jmenovaná má všechny znaky pravého progresivního přístupu. Poslední je Opera Fanatica, bombastická to metalová suita s výrazně chytlavým kytarovým motivem a střídáním bezpočtu vokálních poloh.
Z alba mám pocit, že se jim pánové bavili, čiší z něj pohoda a uvolněnost, krapet i chuť vyzkoušet něco jiného.
SKLADBY:
1. Bedlam Fayre (6:08)
2. Smoke And Mirrors (4:42)
3. The Shattered Room (9:45
4. The Eyes Of Lara Moon (4:30)
5. Tantalus (6:51)
6. Purgatory Road (7:25)
7. Opera Fanatica (13:06)
SESTAVA:
Rod Sowden – vocals
John Mitchell – guitars, backing vocals, engineer
Clive Nolan – keyboards, backing vocals, engineer & producer
Ian Salmon – bass, acoustic guitar
Mick Pointer – drums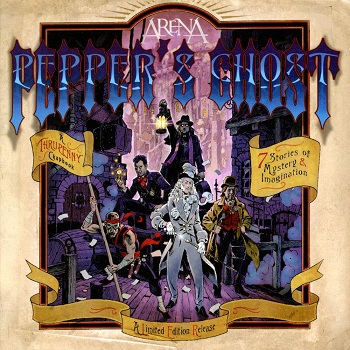 Pepper's Ghost
Arena
Prog Rock, Neo Prog, Symphonic Rock
Verglas Music
2005
CD
7