Tvorba italské progressive art rock kapely Premiata Forneria Marconi byla u nás za totalitního režimu známa jen opravdu zasvěceným příznivcům a těm, kteří měli pravidelný přístup k pašovaným albům. Jinak se u nás v hudebním tisku o nich moc nepsalo a tak byli pořád v tehdejších časech známější především Emerson, Lake And Palmer, Pink Floyd, Yes, Genesis a King Crimson, než tahle vynikající kapela z Apeninského poloostrova. Ortodoxní rockeři si navíc nebyli schopni v té době přiznat, že by rocková hudba té vyšší kategorie mohla vznikat jinde než v Británii, USA, Holandsku a v NSR.
Tihle Italové ale všem vytřeli zrak, protože dokázali velmi brzy, že jejich díla jsou srovnatelná s alby britských kapel věhlasných jmen a album Per Un Amico to potvrdilo na celé čáře. Po delším čase jsem na jmenovaný titul dosáhl i já a dnes patří mezi špičkové opusy daného žánru. Trochu nad ním zamedituji a těm, kdo ho neznají, se ho pokusím přiblížit.
APPENA UN PO' – Z velké dálky se přibližuje zvolna plující harmonický závan nekonečna, který se rozlévá prostorem. Poté se ozve koncertní akustická kytara, která zní jako etuda od J. S. Bacha a další postupy už běží v duchu barokní hudby. Je zde flétna, cembalo, akustická kytara a varhany. Přidává se ovšem ostinátovaná baskytara a poté jsou zde hutné nástupy rytmiky a výtečně seřízený basy Giorgia Piazzy i bicí nástroje Franze Di Cioccia. Trochu zde vnímám v další části vliv King Crimson, Gentle Giant, ale i Van Der Graaf Generator. Zpívané hlasy jsou hodně subtilní a něžné, jak bývá v Itálii zvykem a už se zde rozlévá velebně ortelný sound mellotronu. Ten celkový dojem je velmi příznivý a nabízí proměnlivé sekvence akustické historizující hudby s rockovými postupy. Hodně zvukově a instrumentálně barevné téma. Nádherná instrumentální práce, ale i citlivé ovládání dynamických odstínů činí z této skladby miniaturní rockovou symfonii. Začátek velmi nadějný a hodný obdivu od samého začátku!
GENERALE – Rockovější pól nabídne dravější kytarové pojetí Francona Mussidy, který neváhá zmáčknout wah wah pedál a výborně se doplňuje s precizními houslovými party Maura Paganiho a klavírními běhy Flavia Premoliho. Při poslechu této skladby musím konstatovat velmi vyspělou hráčskou polohu všech instrumentalistů kapely, ale zároveň je zde znát i klasické hudební vzdělání, které se promítá do kompozičních postupů, daných přísnými zákonitostmi. Kooperace rocku a "vážné hudby" s moderním myšlením je zde zastoupena velmi názornými hráčskými schopnostmi, které proměňují běžnou rockovou hudbu v opravdové umění. Líbí se mi, že zde nikdo zvlášť nevyčnívá a přesto je evidentní, že si hráčská základna přepouští prostor k samotným prezentacím, ale celek působí jako kompaktní hutné dílo, z něhož nic nevyčnívá a v kterém také nic nechybí. Synthesizery, klavír, akustické kytary, elektrická kytara, cembalo, bicí a basy, flétny a lidské hlasy jsou zde prostě v úžasně vyrovnaném profilu. Vynikající po všech stránkách.
PER UN AMICO – Flétnový úvod s klavírními party zní mírně melancholicky a může upomínat jiné britské skupiny, nicméně italsky zpívaný text nás vyvede z nějakých mylných představ, že posloucháme nějaké neznámé Van Der Graaf Generator, Genesis nebo Beggars Opera, nebo snad zástupce Canterbury scene. Úžasný smysl pro vygradování a vnitřní muzikantskou kázeň je znát málem v každém dalším taktu kompozice. Teď se proderou do "popředí" velmi uvolněné Paganiniho houslové party a to vyvažování akustických nástrojů se zde vynikajícím způsobem spojuje s plnotučnými basy a kreativními bicími postupy, jež zastřeší synthesizery. Přediva mlýnků dvanáctistrunné kytary jsou nejen přesná, ale krásně kolotavá a hedvábně hladivá.
IL BANCHETTO – Akustické kytary (šestistrunná a dvanáctistrunná) trochu připomenou rané Genesis. Hlas zní ovšem jasně a melodicky otevřeně bez naříkavého timbru Petera Gabriela. Na poměry skupiny je tohle v podstatě "písnička", ale její intelektuálně hudební background i overground jsou na velmi vysoké úrovni. Odpíchnutá flétnová hra a závany mellotronu působí zasněně až pohádkově v nejasných pastelových barvách. Jako bych slyšel i harfu a závaný mořského větru. Tónové kouzlení za mírné vypomoci synthesizerů má Premoli v rukou a nedovolí, aby se mu vymklo kontrole. Přesto ty dynamické odstíny jsou famózní a vnímat pianissima a fortissima ve vzájemném protikladu je pro ucho velmi libé. Místy mám pocit, že bratři Shulmanové z Gentle Giant nad těmito Italy měli "patronát" a něco z jejich hudebního myšlení zde uvízlo v tom nejpozitivnějším slova smyslu. Klavírní party mají klasické běhy v duchu artificiální hudby a výrazně se vzdalují nějakým rockovým výbojům. Nevím, jestli Premoliho inspiroval Sergej Rachmaninov nebo Fryderyk Chopin, ale v každém případě je mistr klavírní hry vysokého levelu každým coulem. Pokud se instrumentalisté z Premiata Forneria Marconi promění ve sborové vokalisty, je zde cítit i vliv Crosby Stills And Nash. Jejich hlasy jsou italsky vyzpívané, měkké a vroucně podmanivé a k danému typu hudby velmi příhodné.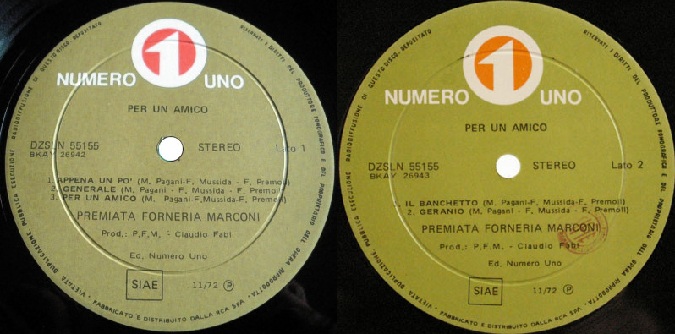 GERANIO – Inspirace hudbou baroka, ale i italské renesance je někdy velmi názorná, ale nikdy ne většinově určující. Je to spíš lehký základní nátěr, v několika vrstvách virtuálně vykrývaných laků (nátěrů), které se překrývají, ale nelikvidují. Prolínání soundtrackových prvků s hudbou k baletnímu představení, doteky dvorské hudby na zámcích se zde snoubí s rockovými výboji obtížně zařazeného typu a stylu. Výtečné poměry basových základů a rytmů s melodickými složkami, nechybějí ani tubular bells a dravé fortissimo s dominantním dopadem na posluchače jako v barokních fugách. Hudba krásná, nadčasově pojednaná, přesto asi ne vhodná pro méně informovaného posluchače, který je zvyklý poslouchat prvoplánové rockové masáže. Další příklad fantastického cítění hudby, které muselo být přesvědčivé nejen při poslechu, ale i při koncertních prezentacích. Výtečné po všech stránkách!
Jediným "kazem" na kráse je stopáž alba. Necelých 35 minut je opravdu málo. Ano, byl to zřejmě autorský a umělecký záměr, ale koncentrovanější posluchač se cítí být v jistém slova smyslu ošizen. Jinak ovšem po stránce instrumentální a aranžérské Premiata Forneria Marconi stojí na velmi vysokém piedestalu a přesvědčují řadou svých mimořádností ve schopnostech ovládání nástrojů, v aranžmá a ve vokálních partech. Pochválit lze jednoznačně všechny zainteresované instrumentalisty. Je zde cítit určitá pokora před hudbou a respekt jednoho k druhému a řekl bych, že i identický názor na hudební směřování.
Pět hvězdiček bez jakéhokoliv váhání!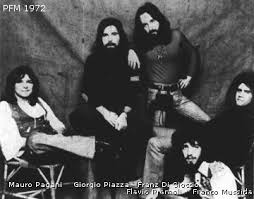 SKLADBY:
1. Appena un po'  (7:44)
2. Generale!  (4:18)
3. Per un amico  (5:24)
4. Il banchetto  (8:39)
5. Geranio  (8:04)
SESTAVA:
Flavio Premoli – pianoforte, clavicembalo, organi Hammond e Pari, spinetta, mellotron, moog, campane e voce solista
Franco Mussida – chitarra acustica, chitarra 12 corde, chitarra elettrica, mandoloncello e voce solista
Franz Di Cioccio – batteria, percussioni e voce
Giorgio "Fico" Piazza – basso e voce
Mauro Pagani  – flauto, flauto contralto, piccolo, violine e voce
Per Un Amico
Premiata Forneria Marconi
Art Rock, Prog Rock
Numero Uno
1972
LP
5