CD Vinyl Magic ‎– VM016CD /1989/
Měkčí prog rock v typicky italském, melodickém stylu s charismatickým vokálem kytaristy a leadera Roberta Zoly. Jediné a pohříchu zapomenuté album ještě zapomenutějších Odissea vyšlo v roce 1973 a tak si ho pojďme v krátkosti představit…

Skupina Odissea pochází ze severoitalské provincie Biella a jako Pow-Pow vznikla někdy na samém začátku sedmdesátých let. Jméno si změnila teprve po příchodu kytaristy Luigi Ferrariho a v dubnu 1972 dostala šanci předskakovat Genesis na jejich italském turné. Další koncertní šňůru absolvovala jako support Banco del Mutuo Soccorso a vystoupila aj na legendární přehlídce nových, "avantgardních" skupin Festival d'Avanguardia di Mestre. Dalším ze zaznamenáníhodných okamžiků byla její účast v soutěži mladých umělců Mostra di Musica Leggera a Venezia (v Benátkách pravidelně pořádané v letech 1965-81), která slibně se rozjíždějící kapele vynesla smlouvu s labelem Rifi (aka Ri-Fi).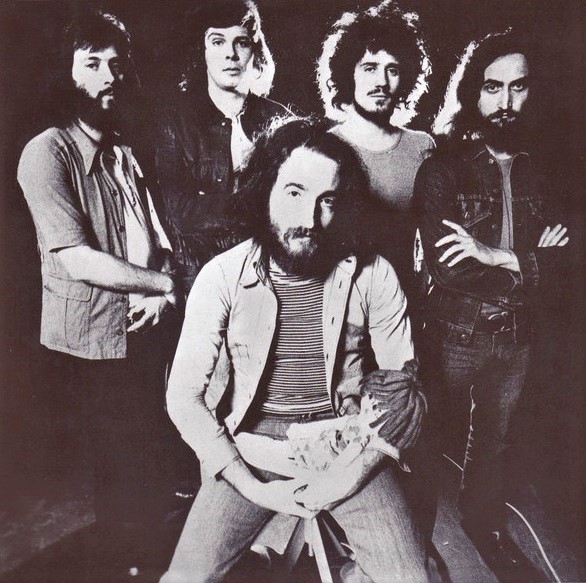 Eponymní debut v interesantním, rozkládacím obalu obsahuje osm skladeb v celkové délce 37 minut a nějaké dlouhé, art rockové opusy bychom na něm hledali marně. S výjimkou instrumentálky Crisalide jsou to všechno příjemné, melodické písničky, ozdobené lahůdkovými instrumentálními kouzly a potvrzením mých slov budiž hned úvodní Unione, která si mě okamžitě získala a omotala kolem prstu. Trochu zastřenej, nakřáplej hlas Roberta Zoly má úžasné charisma a tak není divu, že se stal nejvýraznějším markantem celého alba…
Úvodní Unione je pěkná a přítulná, ovšem následující Giochi nuovi carte nuove je ještě lepší. Z její nálady a instrumentálního doprovodu čuchám Genesis a když se to celé překlopí do symphonic rockové instrumentálky Crisalide, jsem na vrcholu blaha. Rejstříky hřejivejch, zvukomalebnejch kláves opět připomínaj výše uvedenou, britskou legendu z období alba Nursery Cryme a tak to vypadá, že se Ennio Cinguino od Tonyho Bankse během společného hraní aj něčemu přiučil. Posledním trackem na první straně původního vinylu je balada Cuor di rubino. Docela milá věc s textem francouzského básníka Jacquese Préverta, která si vystačí s akustickými kytarami, zahuštěnými klávesovou polevou…
Druhá strana alba má popovější tendence a je o něco slabší té první, ovšem pořád je co poslouchat a jako první je tady něžnej duet zvědavého, všetečné otázky pokládajícího děvčátka a dospělého muže Domanda. Až na krátkou instrumentální vsuvku v polovině skladby se toho v ní moc neděje, ale dětský hlásek malé Simonky v kontrastu s chraplákem Roberta Zoly mají své kouzlo. V následující písničce Il risveglio di un mattino se znovu přidá i bubeník Paolo Cerlati, nicméně skladbu jako takovou beru spíš jako odrazovej můstek před posledním vrcholem alba, za kterej považuji epickou baladu Voci. U cinkajících dvanáctistrunek si vždycky vzpomenu na debut Reale Accademia di Musica, ovšem jakmile se otevřou nebesa a spustí masivní, mellotronová bouře, jdu do kolen. Klečím, špicuju uši, v pazourech žmoulám rádiovku a děkuju Bohu za tu nádheru. Povedenou tečkou za celým albem je melodická a svižnou, instrumentální vsuvkou opatřená Conti e numeri.
Co dodat? Snad jen tolik, že krátce po vydání alba od kapely zběhl leader Roberto Zola s cílem vydat se na sólovou dráhu. Ta se však vlastně nikdy ani pořádně nerozeběhla a zbytek skupiny pak po mnoho let fungoval jako doprovodnej band italské popové star Michele.
Původní vinyl se dá po bazarech a aukcích sehnat za ceny do 100 Euro, ovšem s CD reedicemi to není žádná sláva a ta aktuální, od japonskej Belle Antique, je už devět let stará. Mě se podařilo koupit prastarej výlisek od Vinyl Magic (1989), kterej neobsahuje nic jiného než rozkládací, čtyřstránkovej booklet s kopií originální obálky, jednou fotografií a texty. Poněkud archaickej, ale vzdušnej a načechranej zvuk v široširém stereu je výbornej a dám krk na to, že dneska už vám takovej nikdo neudělá…
Slabší čtyřka.
SKLADBY:
1. Unione (5:58)
2. Giochi nuovi carte nuove (4:49)
3. Crisalide (4:40)
4. Cuor di rubino (2:39)
5. Domanda (5:22)
6. Il risveglio di un mattino (4:07)
7. Voci (3:56)
8. Conti e numeri (4:30)
SESTAVA:
Roberto Zola – 12 string guitar, acoustic guitar, vocals
Luigi "Jimmy" Ferrari – electric & acoustic guitar, 12 string guitar
Ennio Cinguino – piano, organ, mellotron
Alfredo Garone – bass, 12 string guitar
Paolo Cerlati – drums
+
"little" Simona – voice

Odissea
Odissea
Prog Rock
Rifi
1973
LP
8
CD Vinyl Magic ‎– VM016CD /1989/