Jsou chvíle kdy vyloženě chápu určité jedince, kteří si doslova libují v neznalosti angličtiny. Tak třeba zrovna tady, vlastně když o tom tak přemýšlím, tak nejspíš u kompletní diskografie bílého hada. Ty Coverdalovi texty jsou opravdu příšerné, prostě hrozné. Obyčejná, někdy docela tupá póza, se všemi těmi lehkými ženštinami, zlomenými srdéčky, nebo naopak fráze plné sexuálních úspěchů a nikdy nekončícího libida. David se v podobných oblastech prostě vyžíval a s trochou nadsázky se dá tvrdit, že právě tento žánr byla jeho parketa. Když ale odhlédneme od dětinských textů směrem k hudbě, dostáváme k daleko zajímavějším oblastem. Osobně mám rád několik etap Whitesnake a každá z nich mně vyplavuje některou nahrávku jako tu nej.
Odzadu je to třeba famózní Forevermore, na konci osmdesátých epochální jízda Slip Of The Tongue, nebo trojice nejoblíbenějších desek natočených v jednom šiku a hned z kraje jejich kariéry, s vrcholem Ready An Willing, dále Come An Get It a dost možná i recenzovaná Saints And Sinners. Právě na nich zní kapela vesměs (blues)rockově, komerčně-popová stránka tu zdaleka není tak silná, jako tomu bude na dalších dvou nahrávkách.
Songy mají tah na bránu, bluesový feeling, skvělý Birchův zvuk, solidní instrumentální výkony a……a pak je tu samozřejmě Davidův fantastický zpěv. Ten sám o sobě posílá tvorbu bílé hadice o podlaží vzhůru, jen je třeba se oprostit od těch otřepaných frází, banálních textových slátanin, opěvujících stereotypní až úchylnou sexuální tématiku. Tato deska obsahuje dva obrovské hity Whitesnake, které David později umístil na slavnou lp 1987. Skladby Crying In The Rain a Here I Go Again mám v této prostší verzi daleko raději. Nezní přeplácaně a zbytečně komerčně. Spolu s povedeným odpíchnutým úvodem Young Blood a Rough An Ready, boogie věcmi Love An Affection, Rock An Roll Angels a hravou Dancing Girls, patří k tomu lepšímu, co Whitesnake kdy napsali. Nejpovedeněji na mě však působí závěrečná titulní Saints And Sinners, do které kluci jistě čerpali nápady z Párplovského Bolinova alba Come Taste The Band.
Přestože mám Whitesnake-ovských desek doma pořádnou hromadu, k nějak zvlášť oblíbeným interpretům tito woman boys nepatří. Když ale hledám nenáročnou muziku, co cílí svými rychle do ucha jdoucími popěvky přímo na komoru, většinou se v nich nezklamu. Vždyť posluchačova nálada nevyžaduje úplně vždy jen tu technicky náročnou muziku.
1. Young Blood (3:30)
2. Rough An' Ready (2:52)
3. Bloody Luxury (3:23)
4. Victim Of Love (3:33)
5. Crying In The Rain (5:59)
6. Here I Go Again (5:08)
7. Love An' Affection (3:09)
8. Rock An' Roll Angels (4:07)
9. Dancing Girls (3:10)
10. Saints An' Sinners (4:22)
Total Time 39:18
– David Coverdale / Lead Vocals
– Micky Moody / Guitars
– Bernie Marsden / Guitars, Backing vocals
– Jon Lord / Keyboards
– Neil Murray / Bass
– Ian Paice / Drums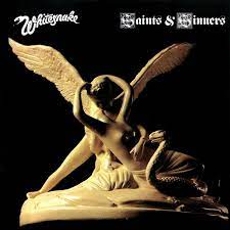 Saints And Sinners
Whitesnake
Hard Rock
Geffen
1982
LP
10