Talianska, všeobecne rocková scéna, ale aj špecificky tá, ktorá je venovaná progresívnym hudobným výbojom bez nejakých ohraničení, je nesmierne bohatá a rozmanitá. Projekt/kapela NOT A GOOD SIGN je relatívne mladá záležitosť, vznikom datovaná do roku 2011. Verejne je aktívna v podstate až od roku 2013, ale hlavne jej dvaja hlavní protagonisti, hráč na klávesové nástroje, skladateľ a aranžér Paolo «Ske» Botta a gitarista, skladateľ a v tomto prípade aj majoritný textár Francesco Zago sú nesmierne skúsení harcovníci, ktorí majú na svojom konte albumy rešpektované aj tými najväčšími maškrtníkmi nekonvenčnej, progovej, či až avantgardne hľadačskej hudby.
Obaja sú ideovými vodcami už teraz kultových virtuózov YUGEN, Paolo «Ske» Botta nahrával aj koncertoval s americkými FRENCH TV a navyše vydal pod vlastnou prezývkou SKE aj fenomenálny album/projekt 1000 Autunni, Francesco Zago bol zakladateľom genesisovsko–crimsonovskej kapely The NIGHT WATCH (čo je vlastne predchodca už veľmi známych The WATCH Simone Rosettiho) a nespočetné množstvo participácie týchto dvoch umelcov na albumoch iných progresívnych a avantgardných kapiel by bolo na značne dlhý výpočet…
Ich spojenie so spevákom Alessio Calandriellom a basgitaristom Gabriele Guidi Colombim zo skupiny LA COSCIENZA DI ZENO (predstavitelia už tradičného novodobého "italo prog rocku") možno považovať za čiastočne prekvapivú záležitosť. Najmä Alessio Calandriello, ktorý spieva pomerne tradične a navyše v rodnom jazyku v materskej kapele, zrazu rapídne zmenil hudobný výraz po angažovaní do tohto projektu, je expresívny, radikálne výraznejší a ukazuje skutočný register svojich vokálnych schopností, v tomto prípade v univerzálnej angličtine s textami od Francesca Zaga. Na kompletný kvintet ich dopĺňa bubeník Martino Malacrida, ktorý má pomerne bohaté hudobné skúsenosti aj s jazzom a fusion.
Album stojí predovšetkým na perfektnej zohratosti tandemu Paolo Botta/Francesco Zago a znalosti seba samých aj vzájomne jeden druhého. Títo dvaja talentovaní, invenční a nekonečne variabilní hudobníci už spolu zložili, zaranžovali a nahrali celú škálu hudby, od sofistikovaného progrocku, canterburskej školy, cez rôzne fúzie avantgardy, hudby s komponentami klasiky, jazzových sekvencií a ozvien etnickej produkcie. Talent Paola Bottu pre silu skutočnej melódie, dynamiku, dramatičnosť a schopnosť skĺbiť množstvo parciálnych fragmentov a drobnôstiek do jedného súdržného celku je snáď nekonečná a bezhraničná.
Na albume Not A Good Sign je asi najviac počuť to, čo by sa dalo pomenovať termínom retro prog, lebo čerpanie vplyvov zo 70. rokov a množstvo reminiscencií, jasne počuteľných zo samotných skladieb, je tu nepopierateľné. Francesco Zago je evidentne inšpirovaný predovšetkým frippovským spôsobom hrania i programovania a album pôsobí v mnohých chvíľach posluchu, ako istá forma pokračovania placky Twilight od The NIGHT WATCH, čo je z môjho pohľadu ten najintenzívnejší odkaz nesmierne rozmanitej talianskej progresívnej scény na éru a vplyv raných King Crimson a Genesis na rockovú produkciu na Apeninskom polostrove. Na album sa dostali aj skvostné a vytríbené inštrumentálne kúsky, spoločne skoncipované tandemom Botta/Zago, ktoré z nejakého dôvodu nezapadali koncepčne, či strategicky na štúdiovky YUGEN či SKE (konkrétne Almost I, Making Stills či Afraid To Ask).
Zo spievaných skladieb je špecifická najmä Witchcraft By A Picture, kvôli hosťujúcemu éterickému vokálu Sharron Fortnam z britských CARDIACS, v kontraste s hutnými,  pochmúrnymi a tajomnými inštrumentálnymi motívmi oboch hlavných protagonistov albumu v nespievaných pasážach.
Zostávajúcich päť trackov spieva už spomínaný Alessio Calandriello. LA COSCIENZA DI ZENO, domovská kapela tohto speváka, znie v záplave nesmierne plodnej "italo-prog scény" pomerne fádne a neprináša niečo zásadné. Aj samotný Alessio neznie nijak výrazne v taliansky spievaných textoch. To je ale v ostrom kontraste s Not A Good Sign, kde z neho Botta a Zago vytlačili jeho skutočný a skrytý potenciál. Akcent angličtiny je síce do istej miery priehľadný, ale to nie je, myslím vôbec podstatné.
Všetkých päť kúskov, kde Alessio Calandriello dostal priestor, je skutočne príťažlivých, skvele aranžovaných, harmonicky vyvážených a návykových. Almost II je pomalšia, citovo podfarbená doplnková kompozícia, ako protiklad gradujúcej crimsonovskej inštrumentálke Almost I. Titulná, dramatická Not A Good Sign, silne evokuje formou výstavby klasicky ladenú taliansku fusion scénu a najviac asi rešpektovaných DEUS EX MACHINA. Dynamická, variabilne sa meniaca a stupňovaná Coming Back Home vám ostane v hlave ako loopová slučka práve vďaka speváckemu partu Allesia, je tu skvelý. Flow On je ukážkou zvládnutého frázovania tohto speváka a táto skladba presvedčí aj skutočne väčšieho skeptika, že jeho výber na post frontmana bol nepochybne správny. Viac hardrockovo znejúca The Defeaning Sound Of The Moon ukazuje, že aj v tejto polohe je Allesio, ako ryba vo vode a takúto formu "hard rocku" by som kľudne počúval aj denne.
Skladateľský, kompozičný, aranžérsky talent, zmysel pre harmónie a nesmierna hráčska a inštrumentálna zručnosť tandemu Botta/Zago, podporeného skutočne v tomto projekte pasujúcim spevom Calandriella a veľmi slušný výkon nenápadnej (vzhľadom na príliš silné individuality oboch protagonistov) rytmickej sekcie, robia z tohto dielka istým spôsobom skvost. Myslím, že som pomerne náročný poslucháč, a len tak niečo so mnou už nezvykne zamávať, ale prvotinu NOT A GOOD SIGN počúvam ako nejaký závislák, pretože Paolo «Ske» Botta a Francesco Zago ma opäť raz prekvapili variáciou na tému "krása hudby"…
SKLADBY:
1. Almost I (6:37)
2. Almost II (3:12)
3. Not A Good Sign (7:54)
4. Making Stills (6:43)
5. Witchcraft By A Picture (7:37)
6. Coming Back Home (5:52)
7. Flow On (6:07)
8. The Deafening Sound Of The Moon (4:33)
9. Afraid To Ask (3:08)
ZOSTAVA:
Alessio Calandriello – vocals
Francesco Zago – electric & acoustic guitars
Paolo Ske Botta – keyboards, glockenspiel
Gabriele Colombi – electric bass
Martino Malacrida – drums
+
Maurizio Fasoli – piano (3,5,9)
Bianca Fervidi – cello (5,7,9)
Sharron Fortnam – vocals (5)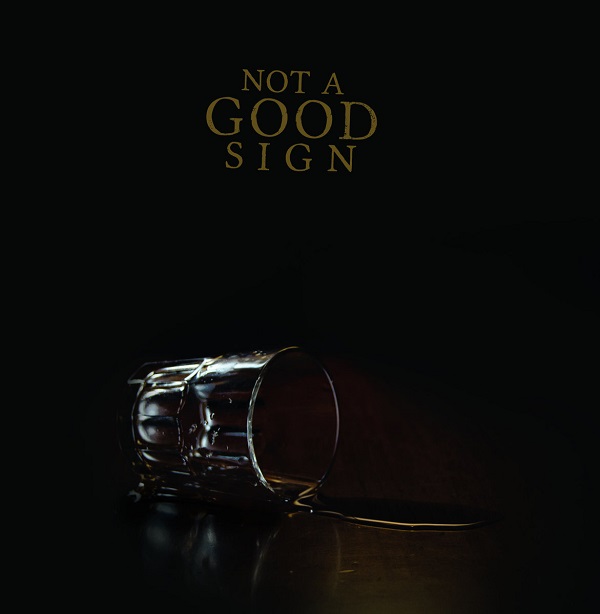 Not A Good Sign
Not A Good Sign
Prog Rock
Fading Records
2013
CD
9