Za necelý měsíc konečně vychází nová studiovka melodiků Journey! Než na ni přijde řada a pompou spoutaní fandové ji řádně protočí na svých přehrávačích, nebude od věci společně si připomenout jeden z novějších kotoučů Nealovi party. Záměrně vybírám takový, který poprvé do záře reflektorů uvedl posledního z velkých pěveckých osobností souboru, Arnela Pinedu.
Padesátiletou kariéru amerických Journey si můžeme pro větší přehlednost rozdělit do několika etap. Etap, v nichž se budeme orientovat podle zpěváků, kteří tou dobou v kapele zrovna účinkovali. Jako prvního tu máme Gregga Rolie, kterého si Neal Schon s sebou přetáhl z jejich první společného působiště, souboru Carlose Santany.
Druhým a u obrovských mas fanoušků jasně nejoblíbenějším pěvcem, se od čtvrté desky stal miláček slečen, dívek a dam, pan "mocné hrdlo" Steve Perry. Po nepříliš povedeném comebacku z poloviny devadesátých let, Perry odchází a místo něj se na přelomu milénia hřeje na výsluní Journey do té doby v širších hudebních kruzích ne tolik známý shouter Tall Stories, Steve Augeri. Silný charismatický pěvec však ze zdravotních důvodů vydrží pouhé dvě desky, aby přenechal místo, mladšímu bráchovi S. Perryho, Filipínci Arnelu Pinedovi, alespoň co se hlasové vizáže tyče. Toho si Neal vyhlédl v cover kapele, která právě staré fláky Journey tak ráda a s přehledem přehrávala. Arnel jako by Stevovi z hrdla vypadl, ten pocit podobnosti těchto dvou individualit je přítomný v každém slově, frází, popěvku, refrénu, prostě v každé písni. Déjá vu jako hrom, což se tak jeví jako ideální volba. A také tomu tak je.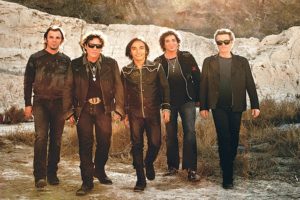 Pocit z maximálně dobré volby při výběru zpěváka, zvěčnili Journey hned do dvojice po sobě jdoucích nahrávek. Nejprve se na trhu objevila parádní fošna Revelation, které náleží letopočet 2008 a za tři roky když ne ještě vydařenější, tak přinejmenším stejně úchvatná Eclipse. Tedy dvojice desek, které si nic nezadají s tím absolutně nejlepší, co kdy Nealova parta dokázala stvořit.
Zbaveni pozlátka doby osmdesátých let, oproštěni od zbytečného sladkobolu, mnohdy přítomného v některých z balad, servírují tito muzikanti desky maximálně upřímné a svým účinkem trefující přímo na komoru. Zvukově vyleštěné, hudebně vycizelované, bravurní a nápadité.
Stejně jako nástupce Eclipse, nabízí i Revelation ve svém nitru písně dnes už v pravdě památné, momenty odzbrojující, místa leckdy doslova dech beroucí. Variabilita materiálu je hnacím motorem obou desek. Nenuceně tu vedle sebe fungují emocemi přetékající balady – obzvlášť dojemná Like A Sunshower, dále After All These Years a především osobní jednička mezi zdejšími zaláskovanými písněmi, oduševnělá What I Needed. Stejně pevné místo patří energií a nevyčerpatelnou melodikou natlakovaným skvostům – úvodní Never Walk Away, na středních tempem plující What It Takes To Win, nebo vyloženě krásná závěrečná epická Let It Take You Back. Samostatnou sortou jsou pak emoční odvazy Change For The Better, která vás kope do zadku jako pochodující boty nějakého plukovníka, Wildest Dream – rychlopalný, právě explodující granát s mimořádně klenutou Pinedovou artikulací a do škopků divoce mlátícím Castronovem, nebo Where Did I Lose Your Love, ve které s vámi Schonova melodická kytara cloumá jako vichřice s řadou statných stromů.
Sám ani nedokážu upřímně vyjádřit obdiv, který k Journey chovám. Ke všem jejich etapám a ptáte li se, která že z nich je mému srdéčku nejbližší odpovím lakonicky, no přece ta, kterou zrovna poslouchám. A dnes jsou to desky Revelation a Eclipse.
1. Never Walk Away (4:19)
2. Like A Sunshower (4:29)
3. Change For The Better (5:52)
4. Wildest Dream (5:02)
5. Faith In The Heartland (6:18)
6. After All These Years (4:10)
7. Where Did I Lose Your Love (5:02)
8. What I Needed (5:28)
9. What It Takes To Win (5:23)
10. Turn Down The World Tonight (4:56)
11. The Journey (Revelation) (5:25)
Total time 56:24
– Arnel Pineda / lead vocals
– Neal Schon / all guitars, backing vocals
– Jonathan Cain / keyboards, backing vocals, rhythm guitar (II:11)
– Ross Valory / bass, backing vocals
– Deen Castronovo / drums, percussion, backing vocals, lead vocals
Revelation
Journey
Hard Rock
Frontiers
2008
CD
11