E Pluribus Funk – šesté album legendární americké hard rockové akvizice Grand Funk Railroad – patří mezi stěžejní počiny kapely. Unikátní bylo už jenom tím, že jeho obal nebyl standardně čtvercový, ale firma Capitol jej vyrobila jako kruhový, což bylo dost originální řešení. Pokud se pamatuji, tak první LP s kruhovým obalem měli v r. 1968 Small Faces – Ogden's Nut Gone Flake, ale v USA byli Grand Funk Railroad první. Dnes si tak říkám, že pokud někdo tuhle variantu vlastní a album má postaveno v regálu, asi existuje jisté riziko, že se mu deska "vykutálí"…

Mně se dostalo do rukou nejdříve jejich dvojalbum Mark, Don And Mel 1969-1971 (Capitol 1972), a tak jsem Footstompin' Music a Loneliness, první a poslední píseň z E Pluribus Funk, znal. Potom také ze singlu druhou výraznou skladbu – People, Let's Stop The War, ale nakonec jsem si koupil i tohle album a jsem s ním dodnes spokojen, jako s dílem klasiků americké hard rockové hudby.
FOOTSTOMPIN' MUSIC – Výtečný nástup! Správně dunící, kompresorem podporovaná, baskytara Mela Schachera, úderné bicí nástroje Dona Brewera a samozřejmě, Mark Farner, který sedí za hammondkami a hraje model rhythmandbluesového cítění, který je naroubován do syrového hard rocku. Pamatuji si, že jsem viděl tehdy kdysi dávno na ORF nějaký střih z koncertu Grand Funk Railroad a právě tahle skladba hřměla jako o život. Farner seděl za varhanami a na krku měl elektrickou kytaru a v patřičném okamžiku zvedl ruce a chopil se kytarového krku. Bylo to velmi efektní a on ještě navíc zpíval a mával hustou hřívou vlasů, která mu padala skoro k pasu…
Tohle je velmi zdařilá skladba, dramaturgicky citlivě vybraná na úvod, aby strhla pozornost a naladila posluchače do pořádné porce drsné, ale přesto stále melodické skladby, ve které dostávají prostor i společné vokály Farnera a Brewera. Nemá to chybu! Farner zvládá i správně forsírovaný zpěv, je to velkokapacitní člověk! Závěr patří dramatickému finále s bubenickými breaky a syrovým tremolem hammondek.
PEOPLE LET'S STOP THE WAR – Začátek se odehrává v bloudivých basových tónech a akordických rozkladech s ostrými akcenty. Kompresor u baskytary málem shodí reprobedny ze skříňky. Farner velmi důrazně, vedle kytarových postupu, mocně sešlapává wah wah pedal a dodává kompozici na pořádné razanci. Konstrukce skladby není nijak závratně rafinovaná, vychází se zde z prověřeného hard rockového riffu a forsírovaného vokálu s výbušnými bicími nástroji. Uprostřed skladby Farner zaexhibuje svým melodickým sólem, ale jeho stopáž není nadměrně nesnesitelná a tak vnímáme jeho kytarové téma jako naservírovanou porci žahavých tónů.
Skladba se stala velkým hitem kapely, ale také vzbuzovala nevoli americké administrativy Bílého domu. Byla protest-songem, který burcoval za striktní zastavení války ve Vietnamu a Grand Funk Railroad patřili mezi hlasité odpůrce amerického válečného prosazování demokracie v jižní Asii. Kapela na koncertech vyzývala povolávané brance k neposlušnosti – najednou byli zbavování dlouhých vlasů a měli se stát holohlavými mariňáky, kteří měli krvácet ve vietnamských džunglích. Grand Funk Railroad pocházeli z proletářského prostředí průmyslového státu Michigan a významným způsobem ovlivňovali myšlení tehdejší mládeže.
UPSETTER – Úvodní kytarová studie začíná poměrně nenápadně, doprovázená škrbaním strun a pak ráznými akordy. To už vstupuje do hry kompresorová baskytara a šusticí bicí nástroje s řadou breaků. Farner, za doprovodu Brewera, zpívá dané téma, ale můj výrazný obdiv patří především baskytarové práci. Mel Schacher hraje s velkým citem, ale zároveň nasazením – vytváří tak do značné míry nový basový sound, který se v hard rockové hudbě v podobné míře neobjevoval. Skladba má čitelnou strukturu s melodicky nosným refrénem a sázenými rytmickými akcenty. V mezihře Farner hraje na foukací harmoniku, kterou ozvláštnil aranžmá skladby…
I COME TUMBLIN' – Začátek je rychlým kytarovým nástupem v mírně hendrixovském duchu. Píseň se rozbíhá ve velkém stylu. Harmonická struktura vychází s opakovaného riffu, v mezihře Farner vypálí výtečně vystavěné kytarové téma – pouze za doprovodu bicích nástrojů a s pauzou baskytary. Nečekaně dochází ke zlidnění a skladba se proměňuje v poklidnou baladu, v níž je prostor pro jistý druh melancholie, kde vokální linka působí téměř hladivě, divoké bubenické breaky ovšem přivolají zase drsně zrychlený a akcentovaný hard rock. Energetický potenciál je zde bičován do nadstandardní míry, proměny baskytarových attacků a změn rytmů bicích se výtečně propojují s elektrickou kytaru. Schacher dostane příležitost vypíchnout baskytarové sólo za doprovodu Brewerových bicích a nový nápor energie se na vás valí jako nezvratitelná smršť. Krocení dravé zvěře za pořádně vydrážděných okolností vás nenechá v klidu do závěrečného záseku.

SAVE THE LAND – Jeden dobře vystavěný riff, na kterém se veze kytara, baskytara a bicí – šlapající jako namazaný stroj, který podporuje dobře vystavěná melodická linka. Nic harmonicky nečekaného, ale stará dobrá poctivá kovářská práce, která strhujícím způsobem působí na posluchače a na koncertech musela dělat pravé divy. Škoda, že Farner odpočátku alespoň tu a tam nepoužil hammondky nebo elektrické piano pro rozšíření hudebního spektra – záměr asi zněl nekompromisní hudební platforma neředěná žádným dalším zvukem. Trio je výtečně sehrané a drtí svoje modely rockové filosofie bez dalších příkras a tečkou (jak jinak) je vygradování celého tématu.
NO LIES – Další šlapající skladba s úderně podmanivým riffem. Zatímco Farnerova kytara má roli cirkulační pily, Schacherova baskytara má úlohu vibrační brusky a Brewerovy bicí nástroje jsou oním elektromotorem, který vytváří (téměř) nezničitelnou energii pohonu. V mezihře se Farner pohrouží do kytarového sóla, které vyšívá s velkou přesností, bez ztráty dravosti a syrovosti. Rytmické proměny skladby jsou opravdu plnotučné, Farner neváhá sešlapovat ve vypjatých momentech wah wah pedal a umocňuje tak celou atmosféru.
LONELINESS – Závěrečná skladba přináší úvodem několik zrychelných akordových výměn a pak se všechno ztiší, jako při vážném prožitku. Farnerovy akordické proměny doprovázejí hluboké basové tóny. K téhle skladbě mám velmi osobní vztah. Když jsem odcházel na vojnu, byla to poslední rocková píseň, kterou jsem si sebou nesl v mysli do té nejistoty a nekonečného pobytu mezi zelenými mozky… Farnerův vokální projev je famózní. Obdivuji jeho práci s hlasem v harmoniích, takhle by žádný jiný "zpívající kytarista", které znám, nedokázal zazpívat. V jeho hlasu je vykřičená samota, osamělost, bezbřehost, úzkost, starost, nejistota. Myslím, že po kompoziční a aranžérské stránce je tohle opravdový vrchol na albu. Nazvat to hard rockovou symfonií by asi bylo pro uši muzikologa hodně odvážné, já se ale toho termínu zase tak moc nebojím, protože tady se přede mnou promítá spousta skladatelských, melodických, harmonických a emocionálních poloh, ve kterých nechybějí flétna, smyčce a, samozřejmě, rockový inventář. Velmi hutné, téměř monumentální, téma vyzpívávané do vysvlečení z vlastní kůže. Když už máte pocit, že ve vygradovaném fortissimo musí přijít závěr, tak jste na omylu. Kapela se najednou rozběhne vpřed s šíleným rytmem jako čtyřtaktní motor a nad jeho strojovitostí se vznášejí nebeské smyčce a flétny, které se v protirytmickém přeléváníi krásně snoubí s rockovým základem. I po tolika letech cítím mocné vibrace. Loneliness je velká emocionální erupce. Po takovéto skladbě už nemůže přijit nic – protože je třeba vychutnat onu muzikantskou a pěveckou monumentalitu.
E Pluribus Funk je výtečné album. Výkladní zboží s výrazným přínosem americkému hard rocku, který byl přece jenom odlišný od evropského pojetí. Amerika sedmdesátých let (zejména jeho první poloviny) má několik zásadních hudebních mýtů a Grand Funk Railroad jsou jedním z nich. Pět hvězdiček!
SKLADBY:
1. Footstompin' Music – 3:45
2. People, Let's Stop The War – 5:13
3. Upsetter – 4:09
4. I Come Tumblin' – 5:42
5. Save The Land – 4:12
6. No Lies – 3:55
7. Loneliness – 8:38
SESTAVA:
Mark Farner – vocals, guitar, harmonica, organ, songwriter
Mel Schacher – bass
Don Brewer – vocals, drums, percussion
+
Tom Baker – arranger, conductor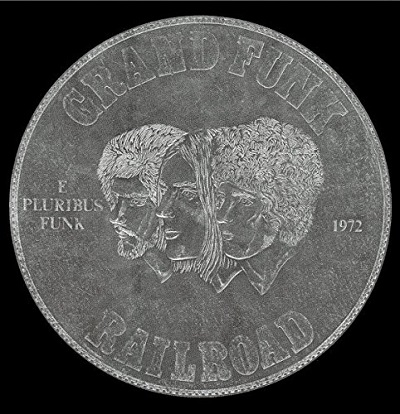 E Pluribus Funk
Grand Funk Railroad
Hard Rock
Capitol Records
1971
LP
7