Seventh Star měla být první Iommiho sólovka, ale firma nakonec přitlačila kytaristu ke zdi a deska nesla znovu logo Black Sabbath. Tony se tu poprvé, a ne naposledy, spojil s pěveckou hvězdou první velikosti Glennem Hughesem, který se tou dobou – v letech osmdesátých – neustále potácel mezi alkoholovou a drogovou závislostí. V tomto pro něj tak nechvalně známém desetiletí vydal jen hrstku alb, ale jeho výkon ve studiu byl vždy prvotřídní.
V osmdesátém šestém se vyloženě vytáhl a řadu "obyčejných" písní znovu pasoval mezi Iommiho elitu. Nahrávka dostala na poměru kdy z výrobních pásů vyběhla klimaticky příjemný pružný zábal a slušný heavy odér. Z doprovodné sestavy se tu vyloženě blýskne Kissák Eric Singer na bicí, jehož nezdolný apetit kolikrát žene desku do pořádných obrátek a několika libozvučnými polohami i klávesák Geoff Nicholls.
Intenzivní rozjezd pomocí energicky spanilé jízdy In For The Kill nemohl dopadnout lépe. Skladba prostě šlape, má výborný riff a Hughesův vokální vklad ji pasuje na nejlepší song desky. No Stranger To Love zahajují spanile znějící hradby kláves, které Iommi protne exkluzivním krátkým sólem. Hraje se na atmosféru a emoce. Turn To Stone znovu nasadí do tempa, podobně jako úvodní šlupka. Člověk si řekne normální hard, jenže když Glenn otevře ústa, okamžitě se na člověku vyloudí úsměv.
Sphinx (The Guardian) je intrem předcházející epochálně mysteriózní těžké váze songu titulního. To jsou staří Sabbath Diovského střihu. Danger Zone i Heart Like A Wheel jsou takové nemastné neslané záležitosti, které vám z mysli za chvíli vypadnou. Nebo je vytlačí následující song Angry Heart, s moc pěknou frázovací technikou a povedenými vyhrávkami a harmoniemi. Na závěr je tu balada In Memory. Mimochodem, moc pěkná. Ta se dvojici Iommi – Hughes náramně povedla.
Co tedy říci závěrem? Utajený klenot Black Sabbath? To určitě ne, utajený možná, ale ke klenotu mu přece něco chybí, v mém případě nějaká ta hvězda a půl. Za Hughese zaokrouhluji na čtyři.
SKLADBY:
1. In For The Kill 3:48
2. No Stranger To Love 4:28
3. Turn To Stone 3:28
4. Sphinx (The Guardian) 1:12
5. Seventh Star 5:20
6. Danger Zone 4:23
7. Heart Like A Wheel 6:26
8. Angry Heart 3:06
9. In Memory… 2:35
Music By, Lyrics By – Tony Iommi.
Lyrics By [Additional] – Geoff Nichols*, Glenn Hughes, Jeff Glixman.
NOTES:
Recorded at Cheshire Sound Studios, Atlanta.
Management [Worldwide Representation By] – Don Arden.
Mastered By – Greg Fulginiti.
Photography By – Kevin Stapleton.
Art Direction, Design – Steve J. Gerdes.
Producer, Engineer – Jeff Glixman.
SESTAVA:
Glenn Hughes – lead vocals
Tony Iommi – guitar
Geoff Nicholls – keyboards
Dave "The Beast" Spitz – bass (1, 3-9)
Eric Singer – drums
+
Gordon Copley – bass (2)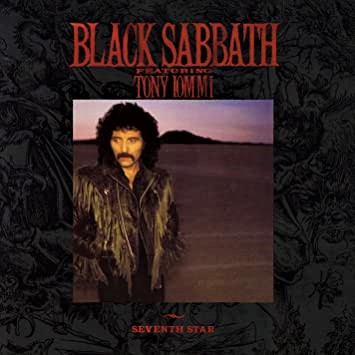 Seventh Star
Black Sabbath Featuring Tony Iommi
Hard Rock
Vertigo
1986
LP, CD, Cass
9