Poznám prvých 11 albumov Nektar a práve som si uvedomil, že mi z nejakých neznámych dôvodov ušiel Prodigal Son z roku 2001. Na skupinu som však časom stratil stopu a od roku 2008, vydaním Book of Days, som nič nepočul.

Je smutné, že Roye Albrighton zomrel v roku 2016 a od tej doby sa v radoch skupiny objavil rozkol, ktorý viedol k tomu, že je tu teraz Nektar i New Nektar. Vzhľadom na to, že druhá verzia, založená v Nemecku, neobsahuje žiadnych zakladajúcich členov a ani hudobníka, ktorý by hral s kapelou pred rokom 2007, niet pochýb o tom, kto je skutočným pokračovateľom značky Nektar.

Dnešnú podobu tvoria zakladajúci členovia skupiny, Ron Howden (bicie, perkusie, doprovodné vokály), Derek "Mo" Moore (basy, klávesy, vokály a texty) a Mick Brockett (vizuálna interpretácia a texty). Mick je zaujímavá postava a treba to pripomenúť, že je vo svete hudby jedným z mála takých, ktorý v skutočnosti nehrá, pritom je plnohodnotným členom kapely. Ďalšími do partie sú Ryche Chlanda (gitara, vokály), ktorý v skupine pôsobil v roku 1978 a Randy Dembo (basová gitara, vokály), ten bol členom Nektar v rokoch 2004 a 2005. Úplným nováčikom je Kendall Scott (klávesy).
The Other Side je prvý štúdiový album od smrti Roye Albrightona, takže určite nebolo ľahké zachytiť klasický zvuk Nektar, ale dokázali to. Toto dielo nielen že znie, ako keby bolo nahraté v sedemdesiatych rokoch, ale niektoré skladby aj boli vtedy napísané a prezentované. Pre fanúšikov Nektar sú tu aj ďalšie prekvapenia. Nezaznamenaná pieseň Skypilot z roku 1978 dostala nový text – zmenila sa na Skywriter a dokonca vyšla aj ako singel. I'm On Fire je hudobná adaptácia básne, ktorú napísal Mo pre svoju budúcu manželku Nicki počas toho istého obdobia.
Skutočným prekvapením je však skladba Devil's Door. Hoci ju kapela hrala naživo už v roku 1974, nikdy sa nedostala na žiadnu štúdiovku Nektar. Pieseň bola aktualizovaná a nahraná špeciálne pre tento album, ale úvodná gitarová časť je prevzatá zo živej nahrávky z roku 1974, v ktorej účinkuje Roye Albrighton.

Albrightonovu prítomnosť je však cítiť na celom diele. Chlapci to podali takým spôsobom, že The Other Side je ozajstnou poctou tomuto hudobníkovi – nazreli do minulosti, ale zároveň ukazujú, že pred sebou majú sľubnú budúcnosť. Už dlho som fanúšikom Nektar a tento album je pre mňa veľkým potešením. Odporúčam každému, kto má rád túto kapelu alebo miluje klasickú progresívnu rockovú hudbu sedemdesiatych rokov.
Moje hodnotenie: 9/10.
SKLADBY:
1. I'm On Fire (8:32)
2. Skywriter (7:52)
3. Love Is / The Other Side (17:57)
4. Drifting (9:11)
6. Devil's Door (8:11)
5. The Light Beyond (2:51)
6. Look Through Me (5:01)
8. Y Can't I Be More Like U (2020) (6:31)
ZOSTAVA:
Derek "Mo" Moore – bass, vocals, lyrics
Ron Howden – drums, vocals
Mick Brockett – lighting [visual conceptions], lyrics
Ryche Chlanda – guitar, vocals, lyrics 
Randy Dembo – bass, pedalboard [bass pedals],12-string guitar 
Kendall Scott – keyboards
+
Roye Albrighton – guitar (Devil's Door)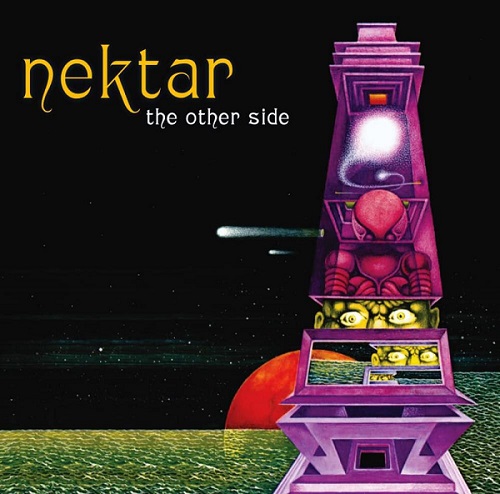 The Other Side
Nektar
Prog Rock
Cosmic Cowboy Records/Esoteric Antenna
2020
2xLP, CD
8