Box Set Universal Music Italia s.r.l. – 0602527316451  /2010/
Ve Skotsku narozený Billy Gray proslul především jako kytarista italsko-neitalských The Trip, s nimiž natočil dvě výborná alba – The Trip (1970) a Caronte (1971). Potom, co se od nich odpojil vydal ještě sólové album Feeling Gray? a vytratil se z hudební scény. Zemřel v roce 1984… 
Pouhých 32 minut dlouhé album Feeling Gray? obsahuje devět, většinou baladických a v podstatě nekonfliktních rockových písní šmrncnutých blues. Je mi docela záhadou, jak může v Itálii natočené album skotského kytaristy znít tak americky. Na druhou stranu, mě zní americky aj Chris Rea a přitom je to Brit…
Hned úvodní skladbě Harleytown nemůžu upřít jistý hitový potenciál a řadím ji mezi nejpovedenější položky alba, ale osobně mám nejraději dojemnou a smyčci podbarvenou baladu Summer Nights. Pěkná je i následující a rovněž pomalá, ovšem daleko zemitějším bluesovým základem podepřená Falling Of The Edge a pak už se těším až na písničku číslo šest – akustickou a jímavě melodickou Writing On The Wall. Z podobného soudku je i předposlední Ann, ale po ní následuje závěrečná a všemu ostatnímu se zcela vymykající Blue – Gray. Těžkotonážní a syrové blues s fantastickou sólovou kytarou. Být takových skladeb víc, tak tu jednu hvězdičku přidám, ale takhle?
Nevím, kolik kusů vyšlo a čert ví, kolik se jich nakonec prodalo. Něco mi však říká, že tady Billovi o nějaká prodejní čísla nešlo. Z těch písniček na mě dýchá klid a pohodová atmosféra, jako kdyby si chtěl nahrát desku pro radost sobě a svým nejbližším. Prostě "jen tak si trochu brnknout"….
Původní album vyšlo u labelu Polydor a je velmi vzácné. Neexistuje žádná reedice a zájemci o elpíčko se pořádně prohnou. Prakticky jedinou šancí, jak se dostat k originálnímu nosiči je nákup 6 CD box setu Progressive Italia gli anni '70 vol. 3 z roku 2010. Jednoduchá obálka nenabídne víc, než reprodukci přední strany obalu, track list a sestavu, ale hraje to výborně.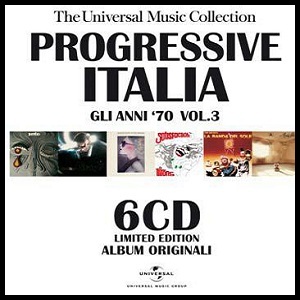 SKLADBY:
1.  Harleytown
2.  Leavin' A Big Town
3.  Summer Nights
4.  Falling Of The Edge
5.  Midnight Swinger
6.  Writing On The Wall
7.  Borderline
8.  Ann
9.  Blue – Gray
SESTAVA:
Billy Gray – lead vocal, lead guitar, acoustic guitar, 12 string guitar, slide guitar
Adalberto Andreozzi – guitar
Roby Favero – bass
Gaby Moschini – drums and various percussion
Gian Luigi Pezzera – piano´s
Shel Shapiro – ocassional rhythm guitar and keyboards
Feeling Gray?
Billy Gray
rock, blues rock
Polydor
1972
LP
9
CD - Universal Music Italia, 2010